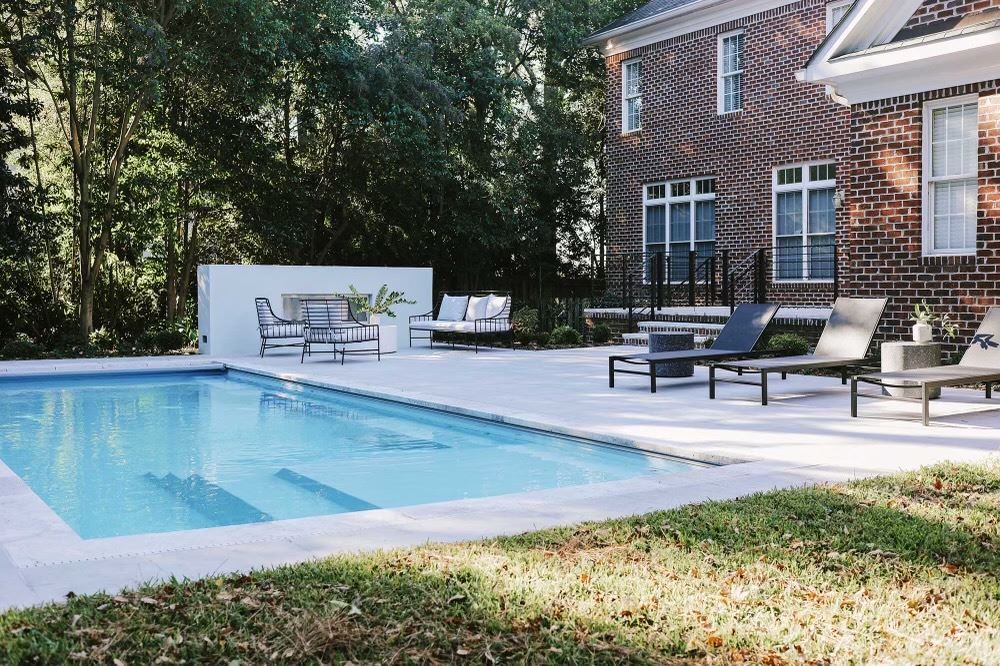 Subscribe
COVID and Swimming Pools: Building Your Perfect Pool in a Pandemic
Finding A Pool Contractor | Installation & Construction | Cost and Pricing | Retaining Walls, Fence, and Landscaping | Swimming Pool FAQs
Thinking about adding some splash to your backyard with a new pool?
You're not alone… and it might be because of COVID.
When most of the country shut down a year ago, millions of homeowners (and their families) suddenly realized they might need new ways to entertain themselves and stay physically active. This nationwide reckoning only gained steam as spring turned into summer, and people across America started pining for the outdoor activities that had been closed off by COVID restrictions.
Like many businesses, we dreaded the lockdowns at River Pools, and we were mentally preparing for the worst… until we started hearing from our customers. (Check out our initial assessment of the COVID pandemic, from early March 2020, at this link).
It didn't take long for us to shift from fear into "full steam ahead" mode as we began handling a truly unprecedented volume of orders and inquiries during the lockdowns. We've been on a hiring spree for months, to put all the right people in place so we can build and install the pools our customers deserve.
If you're past the "thinking about a new pool" stage, and you're ready to work with one of the industry's leading manufacturers (that's us) and an independent authorized dealer of our inground fiberglass pools, click the link below to contact us and get started!
Why pandemics drive pool popularity
Demand for new fiberglass pools was off the charts in 2020. The trend doesn't seem to be tapering off in 2021, even with nationwide vaccination campaigns kicking into full gear. News reports from New Jersey to Michigan to California all have quoted overwhelmed pool builders with order backlogs stretching into 2022.
According to Opendoor's 2021 Real Estate Trend Report, about 30% of all American home buyers had to significantly reconsider their buying choices and priorities because of COVID. Pandemic-driven lifestyle changes forced buyers and owners to think about what they really want from their homes... especially since most of us have been spending more time at home than we ever did before.
For Millennials and Gen Xers, new housing priorities often include dedicated spaces for productivity, fitness, and fun. Over 60% of Millennial and Gen X home buyers have sought out homes with outdoor space, and many -- 43% of Millennials and 39% of Gen Xers -- want a pool and/or hot tub in their big backyards.
A new pool can transform your yard into a more engaging and entertaining space, but it's often a much bigger investment than a home gym (another feature popular with Millennial and Gen X home buyers).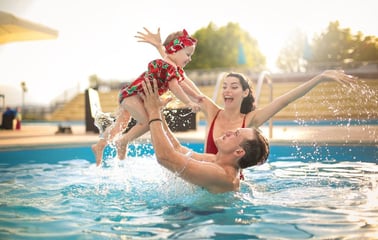 Do you know what to expect and what it might cost? If you don't, you've come to the right place. We've been providing honest pool pricing estimates on our website for years. In this article, we'll go one step further, to show you what other home improvements might cost as well...
What other home improvement projects can cost
Adding a new swimming pool can be a costly undertaking. However, it's hardly the most expensive home improvement project you might consider.
If you're evaluating a new pool against other potential home improvements, it's worth considering not only their upfront cost, but how much you might expect to use these additions or enhancements while you're in your current home…
Turnkey home improvements tend to not add more value to your home than you've spent, so the biggest consideration for homeowners is simply...
"What will give me the most enjoyment for the cost?"
Many homeowners don't bother to think about the second half of that question, but it is worth asking, especially when you realize that most major home improvements -- including pools -- are considered luxuries, and may not net you positive returns when you eventually sell your home.
Will you enjoy a new bathroom more than a new pool? Will a better kitchen make stay-at-home time more fun than a backyard in which you can swim and entertain? If your options carry similar costs, go with whatever will make you happiest.
Before buying (or building) a new pool...
COVID has given many of us new perspectives on our homes and which parts of them we value the most. It's important to consider how much new additions will cost upfront, but ongoing costs are worth including in your decision-making process as well.
Any outdoor improvement will require some degree of maintenance, whether it's as simple as mowing the lawn or presents as a more complex issue, such as pool water PH balances or long-term pool resurfacing demands.
But before you maintain it, you've got to build it first.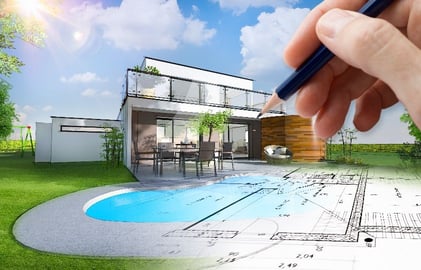 If you've got a smaller backyard, want to keep your initial costs low, or both, you might be thinking about an above-ground pool. On their own, above-ground pool kits can start at $1,000 for small circular structures with no add-ons (such as stairs, decking, and other accessories) or professional installation.
If you're not super-handy and would rather leave setup to the pros, you'll probably wind up paying at least $2,500, and potentially over $5,000, to add an above-ground pool to your backyard.
Want more information on above-ground pools? Check out these two guides:
Inground pools will cost you more to install up front, but they're often easier to deal with and can (potentially) add more value to your property.
The least expensive way to add an inground pool to your backyard would be to dig out a hole on your own and install a vinyl liner. You could theoretically complete a do-it-yourself vinyl liner pool project for less than $20,000 (not including extras like patios) according to our cost and pricing guide… but you might not want to spend your whole summer digging up your backyard and doing all the associated installation work, when you can hire a team of pros to do it for you instead.
Once you enter the realm of turnkey inground pool installation, your all-in costs will settle in the range of $35,000 to $100,000. This range doesn't include any work you might need to beautify your backyard afterwards.
Got more pool questions? We've got the answers...
If you're still in the research phase of your pool-buying journey, you've come to the right place. We've put together many resources and guides to help you make the best decision about your prospective pool.
Here are some of our most popular posts for homeowners (and prospective homeowners) who need more information… especially if you're still considering a pool among several other major purchase options:
If you're a home buyer instead of a homeowner, you'll have different considerations and concerns. The next part of this guide is for you, whether you're about to sign a contract on a home with a pool, or if you'd like to add a pool to your next home.
Should you buy a house with a pool or build one?
There are many things to think about when hunting for a new home.
One of those concerns might center on whether you want a home with a pool, or if you'd rather install a new pool on your property. You'll answer this question differently if you're having a new home built than you would when buying an existing home.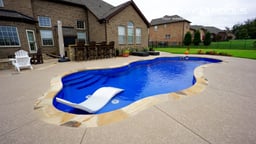 New construction offers more flexibility, and you may be able to roll the cost of pool installation into your mortgage. However, adding a pool to the backyard of a home under construction isn't as simple as saying "I want a pool, too."
We have two popular resources for homeowners looking to add a pool to properties with homes still under construction:
We also put together a guide for home buyers who want to make sure they're purchasing an existing house with land that's pool-ready from the start:
There are at least 10.4 million homes with pools in the United States, so you might already be looking at places with pre-built pools. A home with an existing pool can save you a lot of money... or give you a lot of headaches, depending on what you want from your pool and what condition it's in when you move.
Before you sign that contract, make sure you check out our guide: 6 Things You Need to Know Before You Buy a Home With a Pool.
Your perfect pool: preparing and vetting builders
If you've read this far, considered the pros and cons, looked at all your options, and made official… congratulations, you're definitely getting a pool! You've taken an important step, but as with any other home major addition or renovation, it's far from the last decision you'll make in this process.
This section was written for new homeowners whose homes don't yet have a pool installed. If you've bought a home with an existing pool, or have broken ground on the pool of your dreams, you can scroll to the next section(s) for detailed guides to optimizing everything around your pool for cost, functionality, and appearance.
There are two big questions you'll have to answer as a prospective pool owner, before you move forward with your project…
"What do I want or need from my pool?"
And…
"Who should I hire to help me create the pool I want?"
The first question addresses a range of considerations, including the size and depth of your pool, the features you want in or around the pool, its overall appearance (including the surrounding backyard environment), what you'll need to do to keep your pool functional and enjoyable for years to come, and what it's all going to cost.
Trying to answer every pool-related question you might have on your own can become overwhelming rather quickly. That's why most homeowners enlist professional pool manufacturers and installers (like River Pools, for example) to streamline the process of moving from "I want a new pool" to "my new pool is so awesome!"
Different pool builders will utilize different materials and methods to create your pool. These differences make it critical that you can identify the most important elements you want from your pool, before you look for someone to build it.
Let's start with the three major types of inground pools: fiberglass, concrete, and vinyl liner. We've put together this handy visual guide to these three types: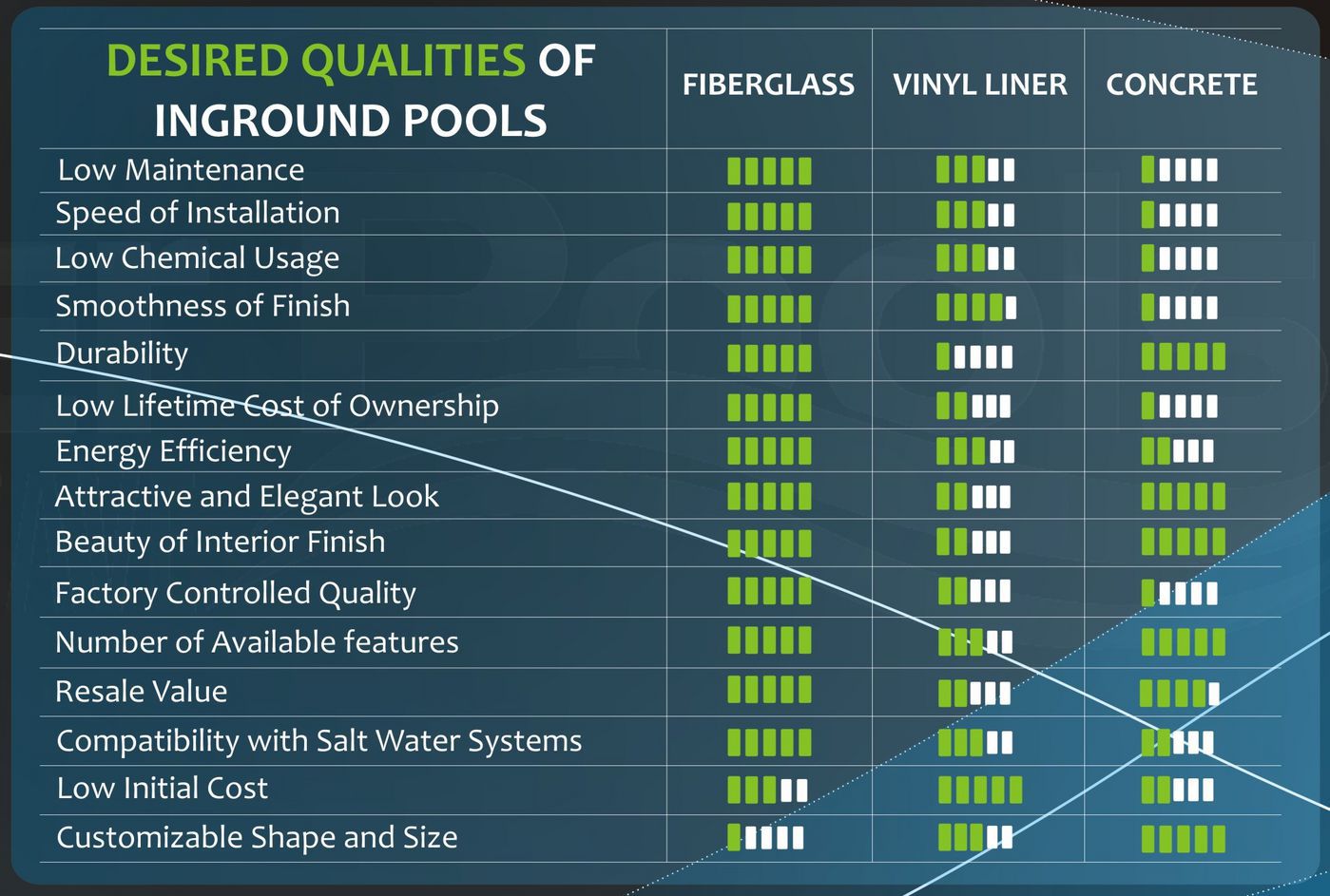 An infographic can't explain everything, of course, which is why we also have a range of educational guides to each pool type, the differences between each of them, and other key details. We've written a detailed (and totally free) ebook to help you gain an in-depth understanding of the three main inground pool types. It's a great place to start when you're still trying to decide which pool is best for you. Click the banner below to download it:
Want to continue finding answers on your own? Check out some of our favorite articles on the differences between fiberglass, concrete, and vinyl liner pools, key considerations and costs for each type, and pitfalls to avoid:
Comparing fiberglass, concrete, and vinyl liner pools
More details on concrete pools
More details on vinyl liner pools
More details on fiberglass pools
There's a lot to learn about pools before you put one in your backyard. But knowing what you want can give you massive leverage -- and save a lot of headaches -- when you're ready to hire professional builders and/or installers to put your dream pool together. However, you might not really know what you want right now, except in the sense that you do want a new pool.
If that's the case, a chat with a reputable builder, installer, or manufacturer (or someone who does all of the above, like River Pools) can help you fine-tune your vision and get a better handle on designs, costs, timelines, and everything else.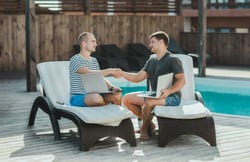 We always encourage you to do your own research, whether you're taking a hands-off approach or want to do it all yourself. You might not install your pool on your own, but you'll spend far more time with it than anyone else -- including your builder -- so it's important to know what to expect, both during installation and over the long run.
Hiring the right builder or contractor for your pool project
Most pool builders focus on one type of pool construction, whether it's vinyl liner, concrete, or fiberglass. Any reputable builder should be able to provide testimonials and a demonstrable track record of successful projects using your material of choice.
It's easy to check track records on your own through a quick Google search, but you'll probably want to contact a few finalists before signing a contract with anyone. You can also vet potential contractors on Angie's List, which has a thorough process for validating customer reviews to ensure every reaction comes from real customers.
Here are some guides to help you properly and thoroughly vet any prospective builders before hiring them to install a new pool…
There's one more important step between finding a great contractor and having a great pool… paying for it, of course. If you don't have enough saved to pay for everything up front (or maybe you don't want to cash out your Bitcoin hoard just yet), you can finance your pool project.
Many of our clients go to their banks or will work with an independent financing company to secure a second mortgage or a line of credit against their home equity. This isn't the only way to get the funds you need to pay for your pool, but it's a popular choice.
If you'd like to know more about your options for financing a new pool, please take a look at our two comprehensive pool financing guides:
How to prepare for your new pool
You're not the only homeowner who wants a new pool during this pandemic.
You might discover your preferred pool builder has a backlog of projects and won't be able to start for months… if they have any 2021 availability at all.
There are a few things you can do between your contract signing and the first day of breaking ground to streamline the process, minimize problems, and get more out of your pool budget. Here are a few pre-ground-breaking guides you might find helpful:
Creating the perfect pool environment
Whew. Time for a deep breath.
Everything we've covered so far is among the many "pre-pool" considerations you'll encounter in your journey towards pool ownership.
Have you thought about what you'll do with your pool after it's installed?
Of course you'll go for a swim, right?
You'll probably stretch out to get a nice, even tan fairly often, too.
But we both know a pool is rarely just a pool. Our clients' pools typically become the centerpieces of their entire backyards. An appealing pool is a natural focal point for entertaining, parties, and staycations.
The design and layout of your new pool inevitably influences the look and feel of everything else in your outdoor space, from landscaping to accessories to patio furniture… and that's just the start.
A beautiful backyard with a sparkling new pool can be one of the best places to host a party in this era of social distancing.
There's no evidence pools and spas can spread COVID, and outdoor gatherings are inherently safer than indoor spaces with central air conditioning systems.
Ordinarily, new pool owners will start thinking about accessorizing their pool and (re)decorating their backyards while construction is underway. But COVID-related demand might keep you waiting for a while.
Planning your post-pool backyard early can not only offer a fun diversion, it can also help you manage your costs, create a more beautiful landscape, and even get in some practice with new toys, so long as you don't need to be in the water to enjoy them.
Here are a few resources we've created to help you and your family design the perfect backyard for your new pool, starting with stuff you can start enjoying right away before breaking any ground…
And finally, let's talk about pool accessories -- all the things you can use to enhance the functionality and fun of your new pool while keeping it clean and safe…
Got enough information to confidently plan out your 2021 pool project? If you're ready to move forward, you should get in touch with us today. At River Pools, we manufacture world-class fiberglass pools for customers across North America. If you're shopping around for a fiberglass pool, feel free to take a look at our catalog of models, visit our extensive video library, try out our pool cost calculator, or request custom pricing using the button below.