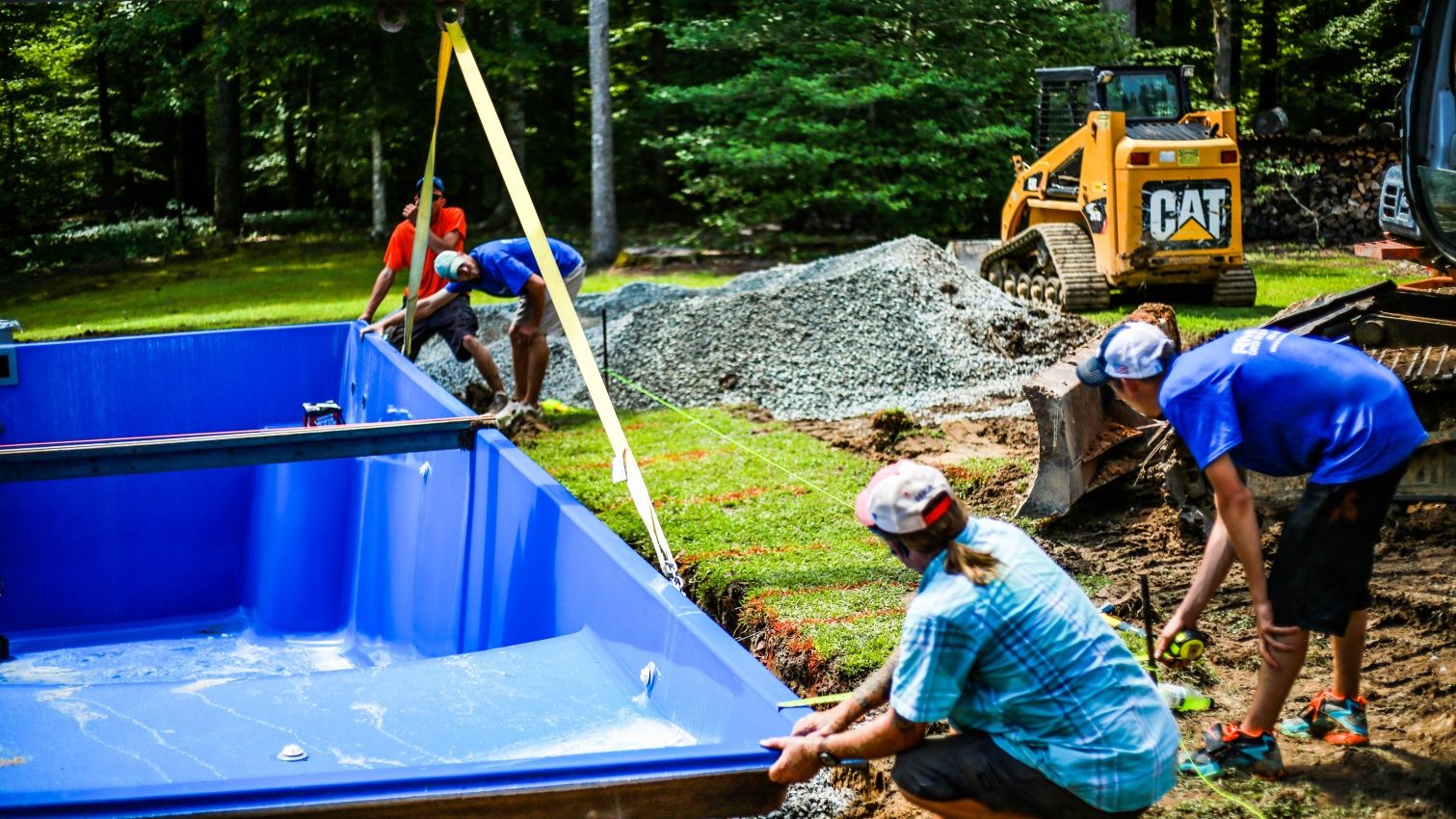 Subscribe
Who are the Best Pool Builders in Des Moines, Iowa?
Finding A Pool Contractor | Fiberglass Pool Information | Installation & Construction | Swimming Pool FAQs | Concrete Pool Information
Looking for a high-quality inground pool in the Des Moines, Iowa area? It can be tough to know which pool builder or installer to hire, especially in a midsized to smaller metropolitan area like Des Moines, which is Iowa's largest (and only major) city.
There are different review sites available to assess previous customer experiences with Des Moines' top pool builders, but it's important to remember that no one site can provide comprehensive and completely accurate assessments of your prospective builders. The most popular review tool for Des Moines pool builders appears to be Google Maps and its Google My Business review scores, so we'll use those as a starting point for our list.
You should always ask targeted questions of any prospective pool builder, to figure out if they've got the track record and talent to pull off your project. Use our pool builder vetting checklist to interview your prospects (click here to get and/or print out these critical questions).
Some installers work with multiple pool types, but many prefer to specialize in one, whether it's fiberglass, concrete, or vinyl liners. If you're not yet sure which type of pool you should get, our new Pool Type Selector tool can help you narrow your focus and figure out what to install in our backyard. Click below to try it out!
Once you know enough about what you want, it's time to start vetting pool builders for your project in the Des Moines metropolitan area.
This list of ten pool builders serving Des Moines includes all top-rated installers -- everyone on this list has a minimum 4-star average across multiple Google local reviews.
Each installer is listed with information from their own websites (lightly edited for grammar and/or clarity), as well as the types of pools they install and their known service areas. Make sure you ask prospective contractors if they work in your area before diving into the vetting process!
Valley Pools and Hot Tubs

"It all started with Joe Aeschliman, who worked in the pool industry for many years. This quickly became his passion, so he and his wife, Christy, opened the doors of Valley Pool & Hot Tubs. What they accomplished is exactly what central Iowa needed: reasonable prices, competitive services and products, and a staff that knows what they're talking about!


A lot has changed since 1989, but Valley Pool & Hot Tubs' philosophy hasn't. We are still committed to offering our customers a knowledgeable service staff, a dedicated construction crew, and friendly office personnel. Stop in today to see how we can change your backyard into the dream scape you have always wanted."
Pool types: Fiberglass, concrete(?)
Areas served: Des Moines area
Central Iowa Pool & Spa
"Welcome to Central Iowa Pool & Spa, Des Moines' premier pool, spa and billiard experts since 1996. For more than 20 years, Central Iowa Pool & Spa has provided the area with all of its pool care needs, including new pool and spa construction and installation, reliable pool service and maintenance, and outfitting your outdoor living space or game room with furniture, grills, billiard tables and much more. We take pride in providing the community with a place where they can find anything for their backyard, all while experiencing complete customer satisfaction."
Pool types: Fiberglass, vinyl liner
Areas served: Des Moines, Ankeny, and Urbandale areas
Premier Pools & Spas of Des Moines
"Premier Pools and Spas Des Moines Pool Builders offers a high level of service and attention to detail for each client we work with. At Premier, we remain relentless in the pursuit of perfection and love the opportunities we have to help people build their dream pools in Iowa.


As part of the nation's largest pool company, Premier Pools Des Moines Pool Builders incorporates minimum building practices that exceed local standards. With little to no regulation on pool construction practices in Iowa, Premier continues its high standard of quality construction. We realize what you don't see at the end of the project is just as important as what you do see."
Pool types: Fiberglass, vinyl liner
Areas served: Greater Des Moines area (includes Ankeny, Waukee, Polk City, Johnston, and more)
Wet Dream Pools
"At Wet Dream Pools, we take pride in supplying high quality fiberglass pools from the best manufacturer. Our team of professionals will take the time to listen to your project needs, understand what you are looking for and provide a variety of options to deliver the exact design you envision.
As a locally owned family company, we get it: your pool is an extension of your home and should include all of your specifications, designs and features the exact way you want. Give us a moment to share your vision, we'll happily provide and suggest several options. We look forward to facilitating memories that will last a lifetime!"
Pool types: Fiberglass
Areas served: Des Moines, Urbandale, Waukee, Johnston, Ankeny, and surrounding areas
CMC Pools of Iowa
"CMC Pools of Iowa, located in Indianola, sells, installs and maintains built-in or inground swimming pools, or fiberglass pools, throughout the Des Moines metropolitan area, central Iowa and beyond.

We have chosen to work with three of the finest in-ground fiberglass pool manufacturers in the world: Barrier Reef, Thursday and Blue Hawaiian. It is of the utmost importance to us to do your complete pool installation the right way, the first time, and the quality of the pool we have installed for you is a key ingredient so that we are able to stand behind our work."
Pool types: Fiberglass
Areas served: Des Moines metropolitan area and central Iowa
Aqua Oasis Pool & Spa
"Aqua Oasis Pool and Spa is a family owned and operated pool and spa retailer and installer located in Johnston, Iowa on Merle Hay Road. The business is owned by the Kohles family. Kevin Kohles has been a custom home builder in the Des Moines area for nearly 40 years. He and his wife Carol opened Aqua Oasis in 2008. Their son AJ runs day-to-day operations of the store and installations of fiberglass pools and Caldera line of portable spas."
Pool types: Fiberglass
Areas served: Des Moines area
Speck USA
"Looking to start from scratch? Our experienced construction team will be there to help you every step of the way! We are proud to use top of the line products and distributors throughout the construction process to best fit our customer's needs and wants.

With pools, there are many design decisions to make. We make this process easy by providing a step-by-step process that creates easy communication from the first strike of a shovel, to the first splash in your new swimming pool...

To get started on your backyard oasis, please contact us, or visit us at The Showroom to view our brand-new pool display and discuss the details of your design style with one of our estimators. After we gather some details from you, and determine what your expectations are for shape, size, and accessories, we can get started on making your dreams a reality!"
Pool types: Vinyl liner
Areas served: Des Moines area
Backyard Paradise
"When you want an in-ground pool installed in the Indianola, IA area, Backyard Paradise is the name to know. We're a one-stop shop with our own concrete guys, electricians, and all the equipment needed to install pools quickly. You'll never have to deal with subcontractors, we do it all backed by over 30 years of construction experience. Call us today to schedule a free consultation."
Pool types: Fiberglass
Areas served: Central Iowa
Juarez Excavating & Fiberglass Pools
"Juarez Excavating is a local family owned business. We are a very strong and united family, that enjoys the hard working construction field. We started with one Skid Loader doing small services and works. Now we have grown and own multiple machines.
One of the things we take pride in is making projects or dreams come true. We specialize in fiberglass pool installations. We are your number one construction company to go to in Central Iowa. We are based out of Des Moines, IA. We love what we do and take pride in our work.
Our goal at Juarez Excavating is to bring you the best possible service. Our clients are our number one priority, we'll go the extra mile to make sure you're completely satisfied with our work. Have a specific project that requires professional attention? Looking for someone to take on a whole project no matter how big or small, from pool, excavation, site preps, concrete pours, Landscaping and much more? Call us today!"
Pool types: Fiberglass
Areas served: Central Iowa
River Pools of Des Moines
"Ryan and Eric started Outdoor Design Solutions, a landscaping company, in 2010 to provide customers with a complete landscape design build experience. Their goal has always been to blend the customers' ideas with their unique designs and construction experience.
A rapidly growing part of the business was the incorporation of pools into the backyard landscape. Ryan and Eric had worked with many different pool contractors over the years but realized the potential of having the ability to install the pool and the landscaping all in house. This full service approach will be easier for the homeowner and will streamline the installation timeline.
Ryan, Eric, and Ben Broich (Outdoor Design Solutions project manager) were immediately impressed by River Pools for the quality of fiberglass pool shells and also the River Pools philosophy. They were drawn in by the brands focus on the customers experience, transparency, and industry innovation. All attributes that would help drive an experience for the customer in better design, faster build times, and higher quality.
Ryan, Eric, and Ben are excited to be a part of the River Pools family and help lead the way to providing the best pool option in the Des Moines area."
Pool types: Fiberglass
Areas served: Des Moines and Central Iowa
All River Pools fiberglass pool shells are manufactured in-house and delivered to highly-trained local River Pools franchise installers, to ensure a superior experience throughout your pool-buying experience.
If you're shopping around for a fiberglass pool, feel free to take a look at our catalog of models, visit our extensive video library, try out our pool cost calculator, or request custom pricing and start your pool-buying journey with our free Design and Price tool, available through the button below: