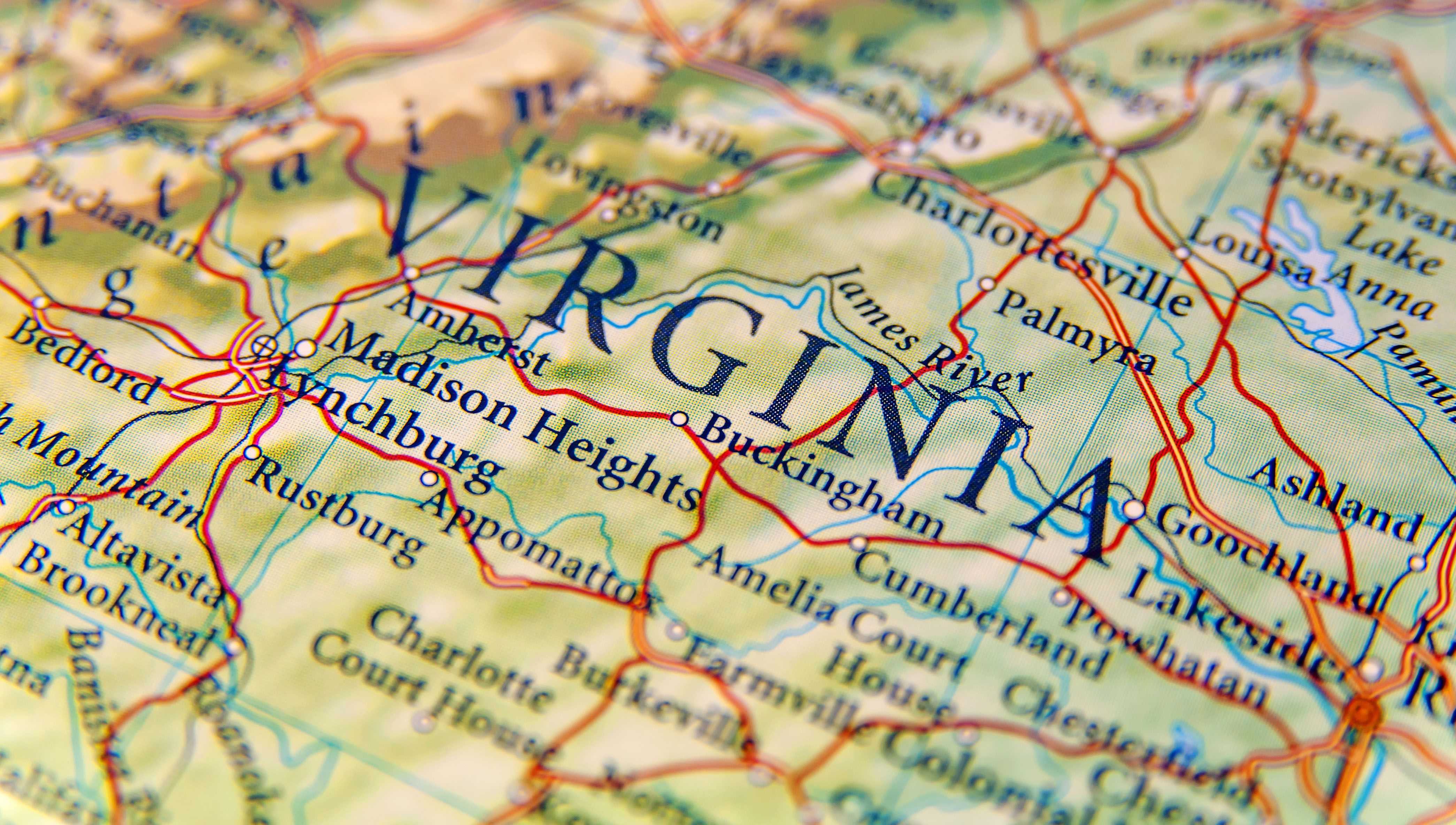 Subscribe
Shopping for an Inground Swimming Pool in Virginia? Here Are 7 Things You Should Know
Finding A Pool Contractor | Installation & Construction | Cost and Pricing | Swimming Pool FAQs
Buying an inground swimming pool is the same no matter where you live, right?
Actually, buying and installing a swimming pool in Virginia can be a totally different experience than installing one in, say, Texas or Utah. The state you live in can often mean additional costs to build your pool, whether that's due to local regulations or the nature of your landscape.
So, what if you live in Virginia and you want an inground pool? As Virginians, we at River Pools know the requirements and challenges of installing inground pools in Virginia (we manufacture and install fiberglass pools).
In this article, we'll break down seven things that you need to know before you can install a swimming pool in Virginia. Let's start by looking at some of the requirements that you'll need to meet.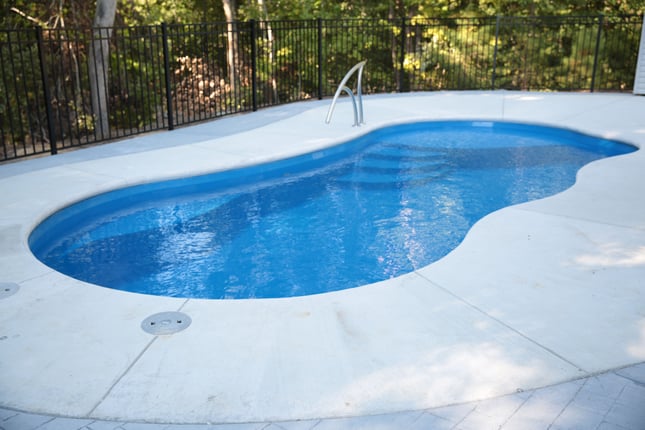 1. Know your setback requirements
No matter where you live, you'll need to comply with your local setback requirements, which dictate how near you can build a structure to certain things. For example, there will be rules regarding how far away your pool needs to be from your property line, your home, or a well.
In many areas of Virginia (like Powhatan, Henrico, and Chesterfield Counties), setback rules require that your pool be installed at least 8 feet away from the property line, 20 feet away from wells or septic, and 10 feet away from your home.
Pro tip: Check with your city or county's development services to find out your area's setback rules.
2. Your pool needs to have a fence or wall around it
If you live in Virginia, your swimming pool will also need to have a fence completely blocking it off from unwanted guests. Before you start going through your outdoor living space Pinterest board, there are a few pool fence requirements that you need to know about:
Your fence needs to be at least four feet tall (preferably 5 feet or higher).

It can't be climbable (many lattice fences, wood fences, and even brick walls won't comply.) Anything with handholds or footholds that make the fence climbable will not count as a compliant barrier.

It needs to be completely closed so that small children cannot get under it or in between panels.

A fence or barrier that surrounds the pool is better than a fence that uses the house as one side of the barrier.

You have to make sure there aren't any boxes, garbage cans, trees, or other structures or items around your fence that kids could use to climb into your pool area.
Read Next: 16 Pool Fence Ideas That Will Upgrade Your Yard
3. Your swimming pool might need to have a pool cover
One other thing that you have to think about when you're building a pool in Virginia is that you might need to buy a pool cover. Is this a federal requirement? No, but in Virginia, we have special laws regarding pool barriers for safety reasons.
Specifically, you might need a pool cover if you don't have adequate fencing, but it's good to be on the safe side even if you do have fencing that complies with the law.
Your children would be much safer with a pool cover in place (and your friends or neighbor's children would be safer as well). Having a pool cover and a fence might seem like too much, but it's always good to be cautious.
What kind of pool cover do you need in Virginia?
A powered safety cover is preferred for meeting the pool barrier requirements. These typically cost between $12,000 and $22,000, so keep this in mind while planning your pool budget.
Read Next: Swimming Pool Covers: The Good, the Bad, and the Ugly
4. Your swimming pool will cost a minimum of $25,000
The cost of your inground pool will ultimately depend on the type of swimming pool that you decide to build. You'll pay the least for a vinyl liner pool ($25,000-$65,000) and the most for a concrete swimming pool ($50,000-$100,000 and up). Fiberglass pool prices are similar to concrete pool prices at an average of $40,000-$85,000 and up.
The price of your pool will also depend on the size, features, and materials that you use (like whether you use plaster, aggregate, or tile and the type of deck that you install).
Check out our articles on swimming pool prices to learn more, or download our free ebook below for an in-depth comparison of the three main inground pool types.
A Guide to Inground Swimming Pool Size, Costs, and Prices
Inground Swimming Pool Maintenance Costs
5. You might have to work around your trees
When you live in a wooded state like Virginia, there's a decent chance that you have trees in your backyard (forests cover almost 63% of the state). Trees and pools don't always go together, though, so how do you know if your trees are going to be a problem?
As a rule, your pool should be no less than 15 feet from the base of a tree. If you are keeping trees near your pool, you also have to consider the type of trees that you have and how that will impact your pool maintenance. The more trees you have around your pool, the more you will have to clean up when leaves and debris fall in the water (and some trees shed more than others).
Trees can also create a lot of shade in your pool area, which can affect the water temperature. It's nothing a pool heater can't fix, but it will add to the cost of your project. You can read our full guide on swimming pools and trees here.
6. You'll need to factor in additional costs of working with your terrain
The terrain across the state of Virginia varies and we have tons of beautiful natural features, but this isn't always great for construction.
Uneven land, too much rock, and excessive groundwater are all problems that we have encountered while installing our swimming pools in various parts of the state. Much of the time, putting a system in place to deal with groundwater or building a retaining wall will do the trick, but these things can add to the cost of your project (retaining walls cost $7,000-$20,000 each).
Blasting through rock can also get expensive, and some people even find that it's better to install their pool above ground. If you know that your land is going to need some modification before a pool can be installed or built, factor in at least an additional $4,000 to your budget to be safe.
Note: You might not know what your land will need before you can put in a pool. Most often, the pool builder won't know either until they start digging.
Read Next: Removal and Cost of Hitting Rock or Water During Inground Pool Construction
7. Where to get a swimming pool in Virginia
You will have many options when it comes to picking a contractor to build or install your pool, but your options can be limited by the type of pool that you want. Some pool builders install all three types of inground pools while others, like us, specialize in one pool type.
Take a look at our review of pool builders in Virginia to find someone in your area, and be sure to check out our pool contractor vetting checklist to help you select the best contractor for your project.
At River Pools, we manufacture world-class fiberglass pools for customers across North America. If you're interested in learning more about fiberglass swimming pools, feel free to visit our learning center, browse our pool models, or try out our fiberglass pool pricing calculator to see how much a fiberglass pool might cost.
You can also use the button below to contact us and request custom pricing on a fiberglass pool today!
Up Next:
Inground Saltwater Pool Cost: Salt, Cells, Generators, and More
DIY Concrete Swimming Pool: Construction, Cost, Problems, and More
Inground Pool Kits 101: Types, Costs, Tips