Subscribe
How Do I Make Sure My Pool Is Right for Me?
Finding A Pool Contractor | Patio and Coping | Cost and Pricing | Pool Design Guides | Swimming Pool Accessories | Swimming Pool Design
Most people shopping for a pool think that they know just what they want.
For example, 90% of the people who want a diving board think they need it. But after education on the pros and cons of a diving board, only 10% of those people will still get a diving board.
You're spending a lot of money on this swimming pool investment. You expect that the person that you invite into your home will be an informed professional and have your best interest at heart.
In reality the person who shows up will probably be a salesperson trying to earn a commission that will feed his family or lifestyle. That's what is in his/her best interest, not yours.
All too often, the homeowner says, "I want a pool this size and a deck this big," and the salesperson quotes them on what they ask for.
It's far easier to sell a pool when the homeowner knows what they want, so why rock the boat? That's the mentality of most salespeople today.
The problem: in most cases, what the homeowner thinks they want, and what they really want, are two different things.
How much patio you actually want
Many people tell me they want 10 feet of concrete around the pool, on all sides.
In most cases they will be wasting concrete. People generally congregate in one area (often near the steps of the pool).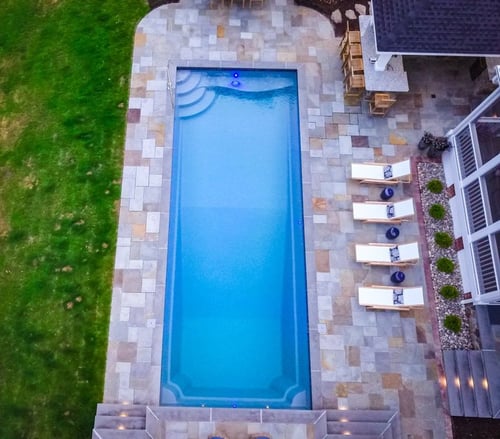 As the professional that the homeowner expects me to be, I try to educate them on what is best for them—on how much concrete decking should go around the pool and how it should be done.
In the initial purchase, keep most of your patio space on one side of the pool. You want to have that group space available from the beginning.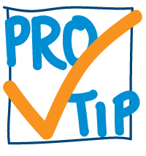 ---
On a budget?
Set up your pool patio so you can build on to it later.
---
You also don't have to get your full-size patio right away.
When working with a budget, I try to set things up so you can build on your backyard dream.
Sometimes that means less concrete to start with. I will encourage you to use neutral material that will be easy to add to at a future date, such as pavers or decorative concrete.
The pool accessories you actually want
Some accessories and details are built into the pool itself, so you're out of luck if you don't get them up front, in the installation. Other details are separate from the shell, so you can set yourself up to add them later.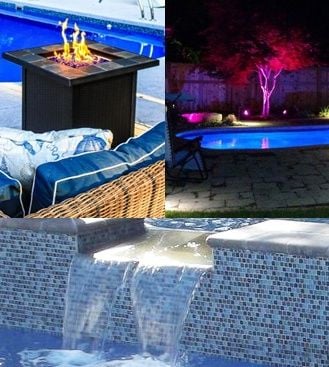 Some things you can add to your pool later:
Heater

Automatic vacuum

Security cover

Slide

Water features

Landscaping

Patio lights

Bigger patio
Some things you can't add to your pool later:
In-pool lights

Inlay tiles

Perimeter tile

Pool color
More things can be added than not, so use your installation budget to get the features that are only available during installation.
Like with the patio, a good pool builder will help you plan for any future additional accessories.
The key is setting up the pool design so you can add to it without looking like it was an afterthought.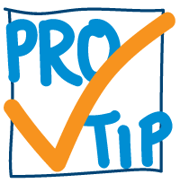 ---
Does your dream pool have a lot of details?
Get the permanent features first, and plan for the others.
---
This is the difference in working with a professional as opposed to a salesperson.
Now, don't get me wrong.
As owners of our company, we are salesmen, and we state that clearly to our potential clients. We don't mask who we are or our intentions. We let you know up front that our intentions are to sell you a pool when we show up. After all, isn't that why you asked us into your home?
As professionals, our intentions are to add value not only to your home but to your lifestyle.
We'll do a low-budget pool if that's all that you are looking for. But there's a reason some people say a pool is just a hole full of water that you dump money into.
When you're advised by the right people, with your best interest at heart, a pool can add value to your home and lifestyle.
It can not only enhance your backyard by adding on to your home, but it can also enhance your life by A) creating a healthy environment with exercise and B) promoting family togetherness and fun.
How much money you actually want to spend
One of the hardest things to overcome with potential pool clients? Pricing.
So many companies out there will get you to focus on price, rather than quality and service. In turn, they give the whole pool industry a bad name.
Let's say a salesman with his own interest at heart comes into your home, and he hears you say, "I only have $40,000 to spend." He will focus on keeping the pool at $40,000, most of the time at a cost to you. He wants his commission and he knows you are willing to spend $40,000.
At this point, his job is to keep you focused on cost and not quality.
That can be easy if you are not an informed shopper.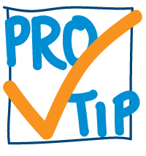 ---
A good pool builder will help you make the best decisions to get what you're looking for.
---
Pools are not cars; we don't buy a pool every few years. At most you will buy one, maybe two pools in your lifetime.
Because of this, most homeowners are not experienced pool shoppers and are at the mercy of the so-called experts.
When you invite River Pools and Spas into your home and we hear $40,000, what we really hear is "Help me make the right decisions." Sometimes that means making some adjustments to your budget or getting you into a position to have a pool this year, which you can build on next year.
Sometimes we feel it is our job to save you from yourself, because our competitors won't.
How many references the pool builder has
There are more companies out there giving more bad service than good.
It sounds obvious: work with an expert. Look at the pool builders' résumés to confirm each one is an expert and not just a salesperson.
When you are talking to a pool company, they should give you all their customers' names and phone numbers.
After all, if they are happy customers, they want to tell everyone they can to help you. If they are not happy, they would want to be on the list even more, so they can tell anyone who will listen.
That is what we do. We put virtually all our customers on our reference list.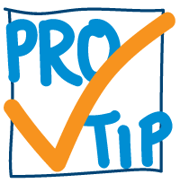 That's why there are over 1,000 people on the list—and counting.
---
First, ask how many pools they've installed.
Then, ask how many customers are on their reference list. It should be about the same number!
---
You may say, "My pool company doesn't have a lot of references, but they've got great prices!"
Don't make the mistake of getting focused on price.
This isn't a car. You can't just trade it in if it's not a good fit. The pool will become part of your home and life.
The best part of working in the pool industry is seeing the joy it brings these families.
However, a bad pool experience leads to statements like "I just want to fill the stupid thing in" or "don't go there; it's a touchy subject."
Instead of happiness, there's work to be done. You'll brush the walls, replace a liner, look at ugly concrete, buy chemicals, test water… It's all the usual stuff you do. But it feels like that's all you do when you own a pool sold by the wrong person.
And that's the horror show we want to help you avoid.
Want to learn more about buying your perfect pool?
River Pools' core focus is to be the best fiberglass pool manufacturers, installers, innovators, and educators in the world. That mission includes helping pool shoppers on every step of the journey.
Wherever you are in the pool shopping process, we're excited to help you figure out which pool type is best for your family and how you can customize the whole project to your needs.
Our blog articles and YouTube videos are just two of the ways we do that. Our free ebook "How to Buy a Fiberglass Pool in 2018" also covers all topics common to pool buying.
We're based near Richmond, VA, with pool dealers across America. If you want to learn more about our pools specifically, check out our pool designs page or request a call from us. We'd love to hear from you!
Up Next:
What Are the Best Materials for a Pool Patio?
Should You Buy a Fiberglass Pool? (Infographic)
---
Editor's note: This blog article was updated on February 25, 2019. A different version of this blog article was originally posted in 2009 as "So You Think You Know What Pool You Want!"