Have you ever been blasted by a cold breeze just as you were climbing out of the swimming pool? Did you think about jumping back in just to get warm again? If you've been swimming on a cool and breezy day, we're guessing that you know what we're talking about. While shivering in a beach towel is a small price to pay for swimming in less than ideal weather, we want you to know that it doesn't have to be this way. In fact, getting out of the pool can be just as pleasant as getting in it. Enter the poolside fire pit.
As we take our last dips in the pool and start deflating our giant pizza slices and rainbow unicorn floats, we are reminded that all good things must come to an end. At least until next summer. Within a few weeks, it will be time to close up your sparkling oasis and say goodbye for the winter. And if you don't want your pool to become a swampy mess until then, you might want to consider adding a pool cover.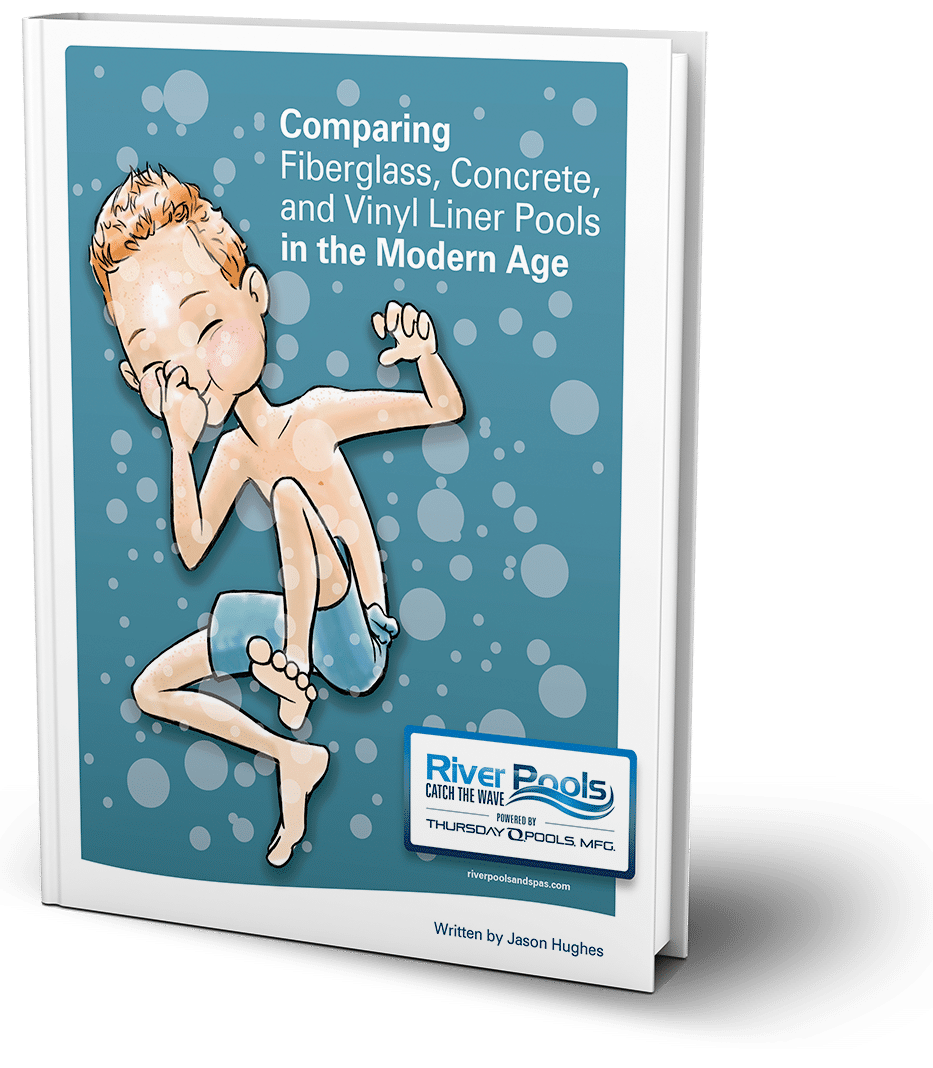 Comparing Fiberglass, Concrete, and Vinyl Liner Pools in the Modern Age
Don't blindly wonder if a fiberglass, concrete, or vinyl liner pool is right for you. Our educational ebook does a deep-dive comparison of the 3 types, all while noting the advantages and disadvantages of each.
Have you ever jumped into a pool expecting it to be cool and refreshing only to discover that the water is hot? That's exactly when you need a pool chiller. Many people write-off pool chillers, thinking that their pool water won't get hot enough for one. While this can be the case in certain climates, it certainly is not the rule. As fiberglass pool manufacturers who offer installation services, we are constantly asked how to cool down pool water. Although there are a few other things that you can do (like adding shade or running your filter at night), our best answer is always to invest in a good pool chiller.
Cost and Pricing | Swimming Pool Accessories
Fun fact: Some states virtually demand that inground pool owners have a pool cover. Others are less picky. In certain situations, pool shoppers are even required to cough up the cash for an automatic pool cover during the pool's construction (we're experienced fiberglass pool manufacturers and contractors, and we see this from time to time). Needing a pool cover is not necessarily a bad thing, though.
Options and Accessories | Swimming Pool Accessories | Swimming Pool Design
Inground pools aren't just for people with big yards and big budgets. Actually, some of the coolest projects we've worked on have been with small swimming pool models. While there are tons of reasons why you may want a small inground pool, we've discovered over the years as fiberglass pool manufacturers that people prefer small inground pools because they tend to cost less and fit in most spaces.
Options and Accessories | Swimming Pool Accessories
If we've learned anything during our many years in the swimming pool industry, it's this: Kids LOVE swimming pools, no matter the type, size, or cost. Throw in a couple of pool toys, and they won't get out for the rest of the summer. Add a pool slide, and the pool practically becomes Disneyland.
Options and Accessories | Swimming Pool Accessories
Picture this: It's a beautiful, warm day. The sun is shining, your sparkling pool is open, and you're ready for a swim. You dip your toe in the water and jump back in horror. Despite the warm weather, the water is ice cold. Most of us have experienced this in our own pools (or in community pools) on days that otherwise seem like the perfect time to swim.
Options and Accessories | Pool Maintenance | Swimming Pool Accessories
Let us guess - you couldn't take it anymore. Just the idea of calling in friends to help you pull the giant, heavy tarp-like winter cover off the pool in the spring made you almost put off opening your pool another week. Even if you have a more durable version, such as a mesh or solid security pool cover, putting them on and taking them off is difficult. Too difficult to do it frequently enough to keep the pool clean and warm.
Options and Accessories | Swimming Pool Accessories
Lying on your lounger by the pool requires a few important essentials: sunglasses, a drink, a book, and something to browse the internet with. Let's be honest, you'll quickly tire of squinting to read the book and inevitably move to your phone or tablet. Why? To post pictures, check e-mail, peruse the internet, watch a show, listen to a podcast, or shop. But what happens when you're lounging with your feet in the water taking a video on Snapchat and it doesn't go through? You load Facebook...nada. E-mail? You just see that little circle loading thing.
Options and Accessories | Swimming Pool Accessories | Tanning Ledges
Have you ever wanted to take the recliner from your living room and set it up in your pool? Maybe you'd like to stretch out on the couch underneath the summer sun while basking in the water. Okay, that sounds like a bad idea, but the good news is, there's a lot of potential for pool furniture.