Installation & Construction | Swimming Pool Design
Interested in getting your own swimming pool? You have two options: inground and above ground. But what if you want a little bit of both? That's what they call a semi inground pool, and technically, it's a third option.
Cost and Pricing | Pool Maintenance | Swimming Pool Design
Most people work hard to keep their pools from turning green. Others don't mind it. In fact, they'll dive in for a swim when the pool is as green as a swamp. Why? That swampy green color is intentional and it's actually keeping the pool clean.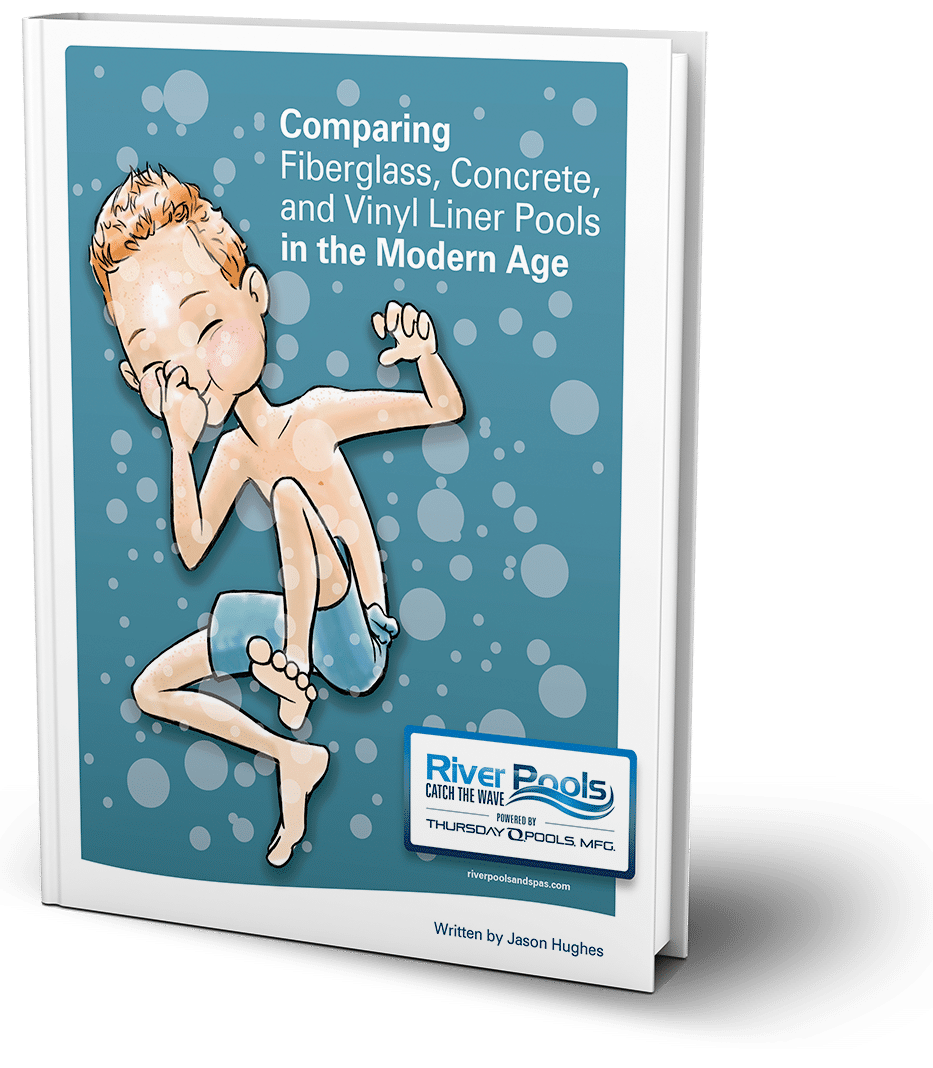 Comparing Fiberglass, Concrete, and Vinyl Liner Pools in the Modern Age
Don't blindly wonder if a fiberglass, concrete, or vinyl liner pool is right for you. Our educational ebook does a deep-dive comparison of the 3 types, all while noting the advantages and disadvantages of each.
Cost and Pricing | Installation & Construction | Swimming Pool Design
Let's say you'd like to get a pool, but you don't have a yard to put it in. Maybe you're in a tight neighborhood and can't fit anything bigger than a kiddie pool on that little patch of grass outside your door. You can give up on the idea, or you can get creative and put a pool on the roof. Everyone knows that it's possible in theory, but can you really put a pool on the roof?
Pool Design Guides | Swimming Pool Design | Swimming Pool FAQs
If you're looking for a cozy spot that brings life to your home, a cocktail pool can do the job. They're a lot smaller than your standard pool, but that's what some people love about them. Cocktail pools have tons of benefits: they're ideal for entertaining in small spaces, they can be affordable, and they are more environmentally friendly than large pools. But are they really worth the money?
Options and Accessories | Swimming Pool Design | Tanning Ledges
How would you feel if we told you that there is a feature that could double the usefulness of your swimming pool? We know that you're not spending thousands of dollars on your pool just to stare at it (although swimming pools are beautiful things!). The feature we're talking about puts you back in the pool for all the activities you would traditionally do poolside.
Pool Design Guides | Swimming Pool Design
They're cheap, they're stylish, they look cool...so what's the catch? We agree that shipping container pools are awesome, but like anything else in life, they don't offer a one-size-fits-all type of experience. Some people are attracted to all that the shipping container design has to offer, while others would not be able to meet their needs with this type of pool.
Fiberglass Pool Information | Fiberglass Pool Manufacturers | Swimming Pool Design | Swimming Pool FAQs
Once upon a time, fiberglass technology was in its infancy. Fiberglass pools often looked plain or cheap, simply because technology hadn't advanced very far yet. However, with time, science, and a passion for splashin', modern fiberglass pool manufacturers have blown those outdated appearances out of the water. Today's fiberglass pools are elegant and stylish, fitting beautifully into any backyard landscape.
Options and Accessories | Swimming Pool Accessories | Swimming Pool Design
My mom is big on interior design, and her most recent project is redoing the tile on her kitchen wall. It wasn't old-fashioned or broken, but she likes everything to be up-to-date and looking its best. In the same way, for fiberglass pools, tile is a matter of taste, not necessity. Here at River Pools, it's important to us that you get the pool you want. Some customers love tile, and we're happy to put it on. Others choose to save the money toward other features and accessories. There's no wrong option!
With real-estate being a premium even in difficult economies, many backyards today simply don't have a whole lot of space. This being said, just because you have a small backyard doesn't mean you shouldn't consider installing an inground swimming pool. In fact, a small yard can really flourish with the addition of a small pool design and all it has to offer. This article will discuss some of the common questions associated with installing an inground swimming pool in a small backyard.
Pool Design Guides | Swimming Pool Design
One of the big concerns about fiberglass pools is that they aren't "customizable" the way vinyl liner and concrete pools are—the pool shell itself is pre-made in a factory, and you're limited to existing designs. But in reality? Everything else is customizable, even down to the pool color and features. What you do with color, tile, elevation, water features, and more will dramatically change the look of your pool. River Pools manufactures and installs fiberglass pools every day, so we know quite a bit about this. Our designers work with each client to create a unique aesthetic that's perfect for that family.