Concrete Pool Information | Fiberglass Pool Information | Swimming Pool Design | Swimming Pool FAQs | Vinyl Liner Pool Information
You look out into your yard to see that open, green space and it just feels like something's…missing. You've been dreaming about having more quality time with your family at home - a private space for you and the ones you love to unwind. After thinking and thinking and some more thinking, you realize having your own pool just might be exactly what you're looking for. We've been there too, friends - the appeal of your own private swimming spot is hard to match with anything else. Bringing families together is one of the things that makes us most passionate about the world of inground pools. You know you want it, so now the question is what size/shape/style/color do you want? Deciding on a size is often the first step since your backyard may only be able to accommodate a pool so large. What is a good size swimming pool, anyway? This is a pretty broad question with a lot of good answers, so we'd like to take a shot at helping you reach the answer that's right for you. We'll primarily focus on rectangle inground pool sizes since the rectangle shape is most popular. Today, we're going to discuss what are the different sizes of pools available, what you might see most often, how a pool's size may (or may not) affect the cost of your pool, and even what other shapes are out there in case a rectangle isn't suiting your fancy. We also want to let you know up front - inground fiberglass pools are our wheelhouse, but they may not be a best fit for everyone. We're going to give you some information to hopefully help you make an informed decision on not only pool size and shape, but the pool type, as well.
Pool Design Guides | Swimming Pool Design
Let us guess…you're sitting there right now, knowing you want an inground pool, but alas…you can't seem to decide on the right shape and design for you and your backyard? We're envisioning this internal struggle looking something like this: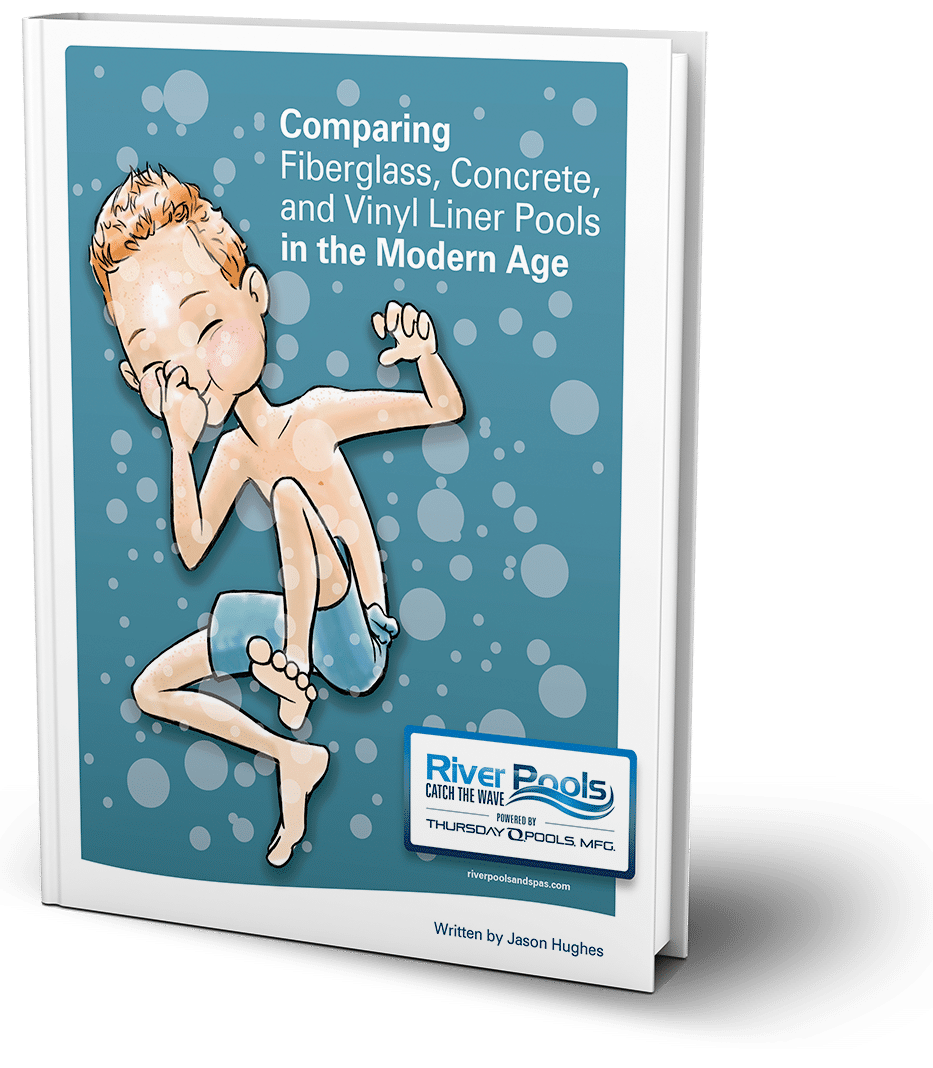 Comparing Fiberglass, Concrete, and Vinyl Liner Pools in the Modern Age
Don't blindly wonder if a fiberglass, concrete, or vinyl liner pool is right for you. Our educational ebook does a deep-dive comparison of the 3 types, all while noting the advantages and disadvantages of each.
Options and Accessories | Swimming Pool Accessories | Swimming Pool Design | Swimming Pool FAQs
If you've ever been to Vegas, you know just how compelling a big, beautiful water fountain can be. The shapes, the lighting, synchronization with music... they're visual shows, staged with sprayed water, and they can really capture folks' attention.
Cost and Pricing | Installation & Construction | Pool Design Guides | Swimming Pool Design
Infinity pools are among the most modern and sought after pool designs today. If you have a gorgeous landscape or waterfront view that you want to show off, an infinity pool can make having that view ten times better. But what is an infinity pool, how does it work, and does it cost more to build?
Fiberglass Pool Information | Swimming Pool Design
Shipping container pools are growing in popularity thanks to their quick installation and unique look, but how does a shipping container pool compare to a traditional inground pool? Because we manufacture fiberglass swimming pools and consider ourselves experts in our field, we decided to make an in-depth comparison of fiberglass pools vs. shipping container pools to highlight the key differences between them. We hope that by the end of this article, you'll understand the main factors that separate container pools and traditional inground pools so that you can choose the best swimming pool for your home.
Pool Design Guides | Swimming Pool Design
Do you ever wish that you had a private beach in your backyard without all the critters living in it or the forces of nature to contend with? We know that's only a fantasy, but you can get close. Enter the beach entry swimming pool. It doesn't really compare to a real beach, but it might be as close as it gets. Beach entry pools have been around for several decades in the swimming pool world, but what exactly is a beach entry pool and how does it change your options?
Fiberglass vs Concrete vs Vinyl Liner | Options and Accessories | Pool Design Guides | Swimming Pool Design | Swimming Pool FAQs
A dark bottom pool is a swimming pool that has a dark surface, like deep blue, gray, or black. These pool designs have been around for decades, but they have only recently become a widespread trend. In fact, we've seen a considerable increase in dark bottom pool color requests from our customers over the last several years (we manufacture fiberglass pools and spas). If you're on the fence about your pool color or are strongly considering a dark bottom pool, keep reading.
Options and Accessories | Swimming Pool Accessories | Swimming Pool Design
Inground pools aren't just for people with big yards and big budgets. Actually, some of the coolest projects we've worked on have been with small swimming pool models. While there are tons of reasons why you may want a small inground pool, we've discovered over the years as fiberglass pool manufacturers that people prefer small inground pools because they tend to cost less and fit in most spaces.
Cost and Pricing | Pool Design Guides | Swimming Pool Design | Swimming Pool FAQs
Are you finally ready to install an inground pool? If you are, you might find yourself having the discussion of indoor vs. outdoor pools. As fiberglass pool manufacturers, we know that most pool shoppers go down that road, even if it's just for a brief moment. If you're currently in the middle of this debate, we want to help you decide which is right for you so that you can know without a doubt that you are building the pool of your dreams.