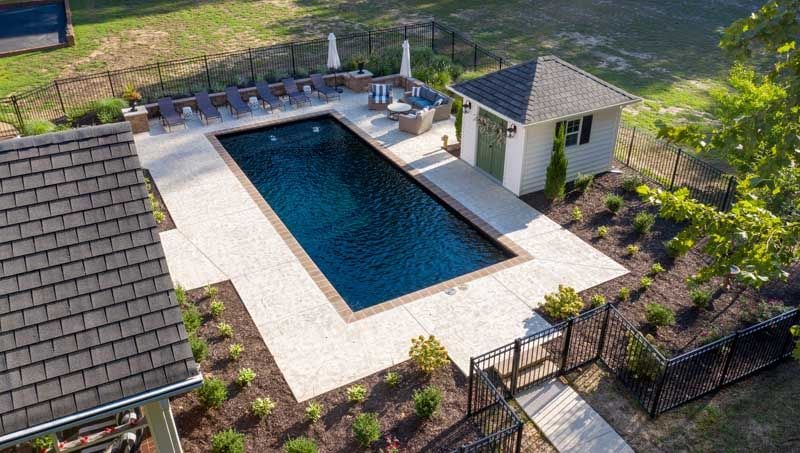 Subscribe
Dark Bottom Pools: Colors, Materials, FAQ
Fiberglass vs Concrete vs Vinyl Liner | Options and Accessories | Pool Design Guides | Swimming Pool FAQs | Swimming Pool Design
A dark bottom pool is a swimming pool that has a dark surface, like deep blue, gray, or black.

These pool designs have been around for decades, but they have only recently become a widespread trend. In fact, we've seen a considerable increase in dark bottom pool color requests from our customers over the last several years (we manufacture fiberglass pools and spas).

If you're on the fence about your pool color or are strongly considering a dark bottom pool, keep reading.

In this article, we'll list some of the things you need to know before getting one of these pools, and we'll show you a ton of examples of what dark bottom pools look like to help you plan your project.

Let's start with some color choices to give you a good idea of what your options are.
Note: Dark bottom pools are not permissible in some localities due to the possibility of a distortion in depth perception (we'll talk more about that towards the end of this article), so check with your municipal department before making plans to build a dark bottom pool.
Dark Bottom Pool Colors
Your swimming pool's color is a major decision as it can last around ten years or even the entire pool's lifespan, depending on the pool type. (Fiberglass surfaces can last 20 years and longer, concrete surfaces typically last about 10 to 15 years, and vinyl liners need to be replaced about every 5 to 9 years.)
If you can't decide which dark bottom pool color you like best, here's some inspiration to help you pick.
Black Pools
Black swimming pools, AKA black bottom pools, are the ultimate dark bottom pools. They are also available across all three of the main inground pool types.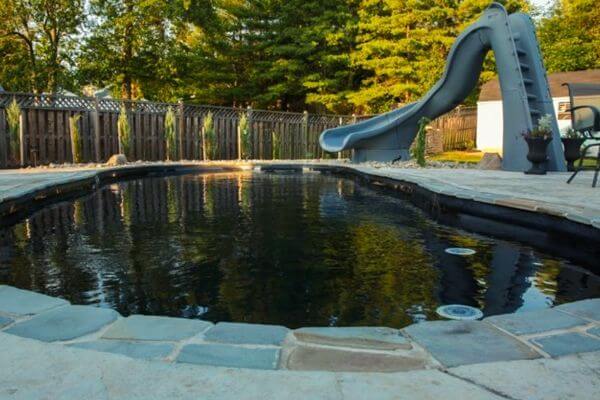 Freeform fiberglass black swimming pool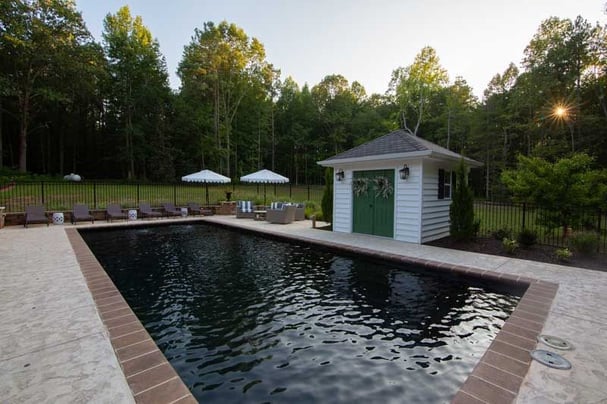 Rectangular fiberglass black bottom pool
It might look like you can't see the bottom of the pool, which can be worrisome if you have small children or pets. Despite how it looks from this angle, in real life you'll still have full visibility of the entire pool, which is a crucial safety feature to consider no matter the age group of the swimmers.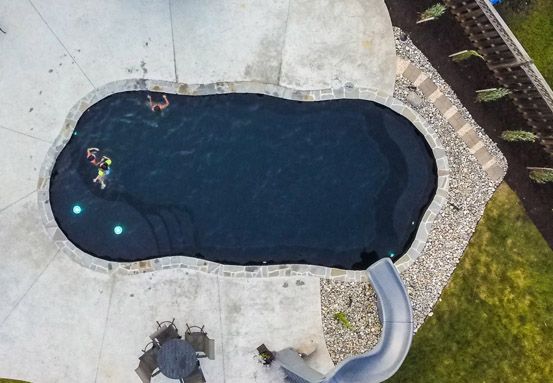 Aerial view of black pool bottom
Indoor Black Pools
Indoor pools that are black or another dark bottom shade will appear much darker without the advantage of direct sunlight. So, be sure to keep lighting in mind when choosing a color for any sheltered or fully enclosed inground pool.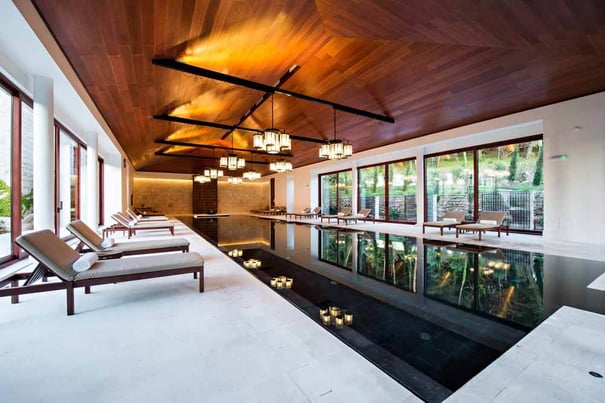 Black indoor swimming pool
Gray Pools
Another popular pool color option that we see across all inground pool types is gray. Gray pools can range from very light to almost black and give the water a beautiful deep blue hue.

Fun fact: No matter what color your pool's surface is, the water will always be a blue shade because water naturally carries a blue tint.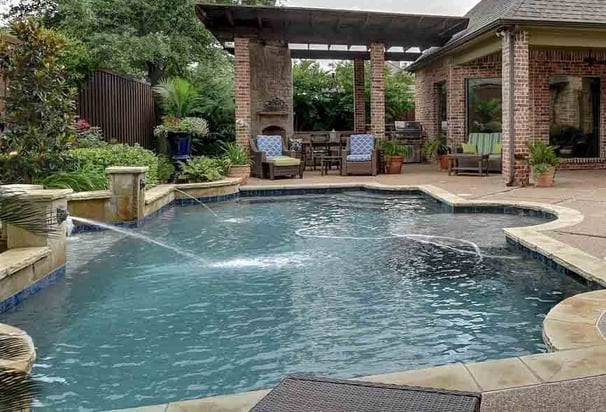 Light gray inground pool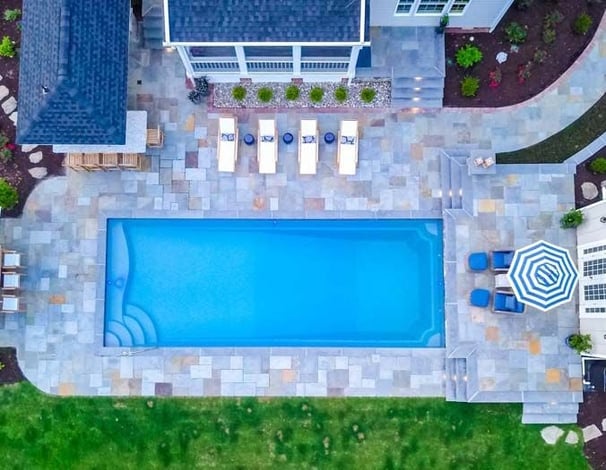 Granite gray fiberglass pool
Dark Blue Pools
Blue is one of, if not the most, popular pool surface colors across all swimming pool types. If you're looking for a blue inground pool, you'll have tons of options and should have no problem finding a shade that works for you.

When it comes to dark bottom pools, blues also dominate the scene with gorgeous oceanic shades.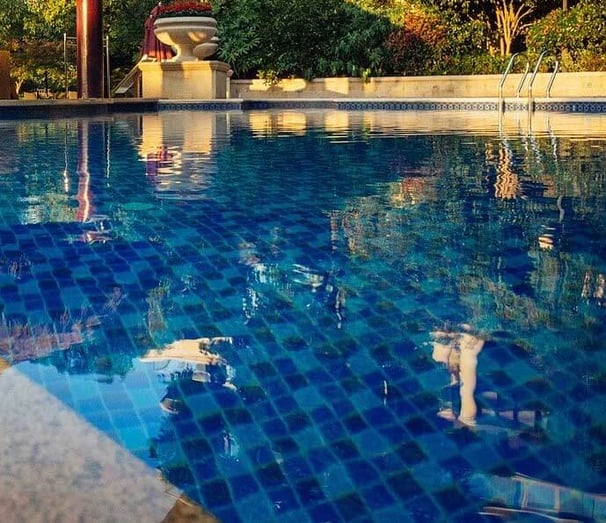 Dark blue tiled swimming pool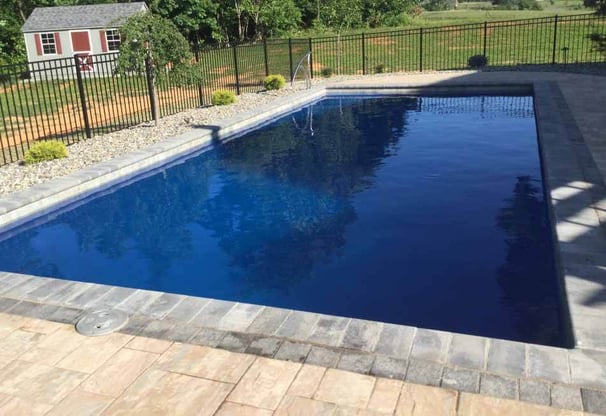 Dark blue fiberglass pool
Green Pools
The possibilities for dark bottom pool shades are endless, and one that we sometimes see in addition to blues, grays, and blacks are green dark bottom swimming pools. These are perfect for lagoon pools and other backyard designs that incorporate a lot of natural features.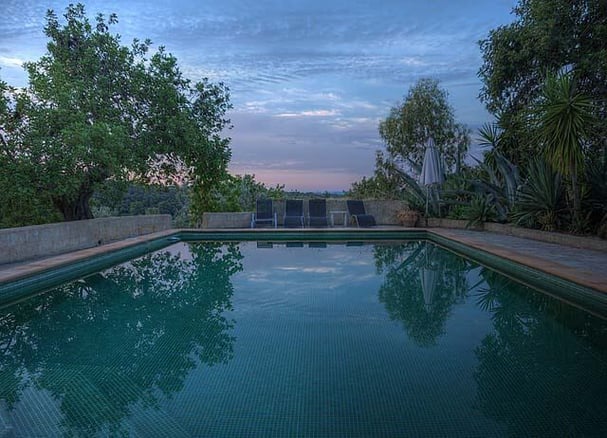 Dark green tiled swimming pool
Fiberglass vs. Concrete vs. Vinyl Liner Dark Bottom Pools
You'll find many color variations across all inground pool types and manufacturers, but there are some slight distinctions that you need to know about. Let's quickly break down the differences between choosing a fiberglass, concrete, and vinyl liner dark bottom pool.
Fiberglass Dark Bottom Pools
Fiberglass pool gelcoat comes in many different colors, including the most popular black, blue, and gray dark bottom pool shades. Fiberglass pools may even have a bit of sparkle and shimmer to them, and they are the most vibrant and pigmented of the main inground pool types.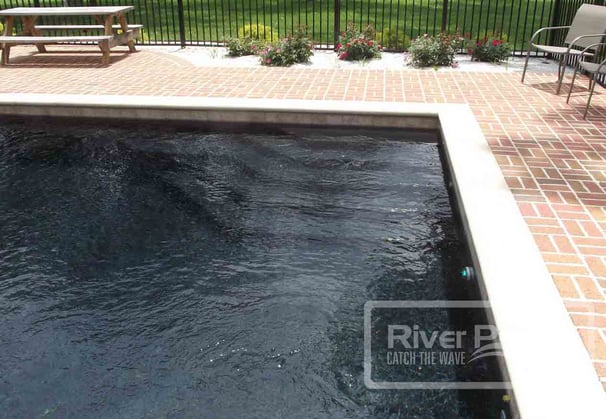 Black fiberglass swimming pool steps
Concrete Dark Bottom Pools
Concrete pool plaster can be dyed virtually any color, including black, dark grays, dark blues, and deep shades of green. It might not be quite as pigmented as a fiberglass pool, though, and the surface likely won't last as long (about ten years).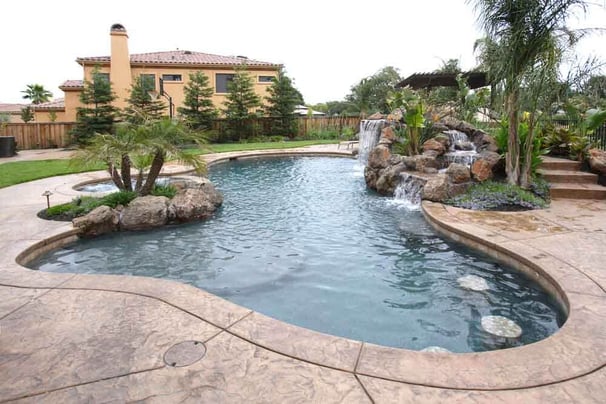 Gray concrete swimming pool
The main benefit of choosing a concrete pool is that you will have multiple surface options. If you want to use only tile on the surface of your pool, for example, you can choose any dark tile you like to turn it into a beautiful dark bottom design.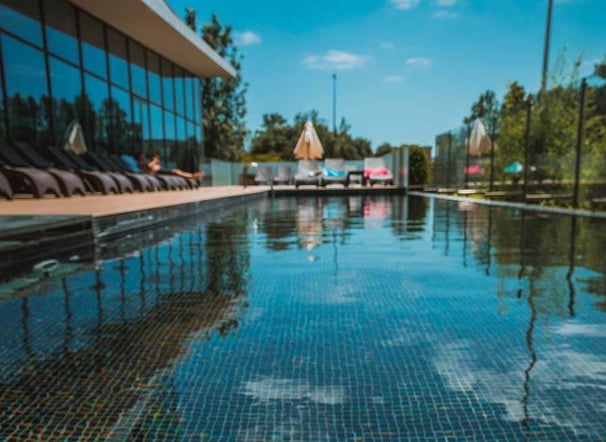 Tiled black bottom concrete pool
Aggregate (pool pebble) is another popular choice and may also be available in darker colors, including blue, black, gray, and green, depending on the manufacturer.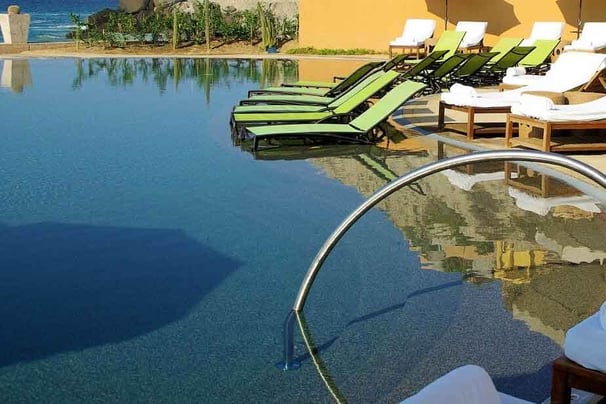 Gray pebble pool
Vinyl Liner Dark Bottom Pool
Vinyl pool liners come in a wide range of dark bottom pool shades, and many of them include patterns that look like tile, mosaics, or marble, among other designs. One thing to note with vinyl pools is that pool liners can fade with excessive exposure to chlorine. This can quickly turn your dark bottom pool a much lighter color than you intended.

The good thing about pool liners, in this case, is that they need to be replaced frequently (about every 5 to 9 years). So, if you don't like your dark bottom pool color, you can always change it out for a different color scheme and design when it's time for your next replacement.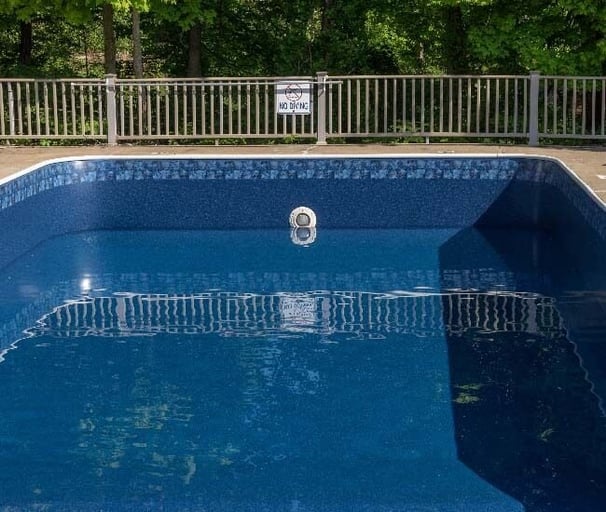 Dark bottom vinyl liner pool
Keep in mind that all swimming pools will fade gradually in color over time, so if you want to preserve the deep pigment of your pool longer, you might want to consider going a shade darker.
The color of your pool is, of course, only one of many considerations on your pool-buying journey. If you're still thinking through all the options and possibilities -- but you've got at least some idea of what you really want -- try our Pool Type Selector quiz. You'll get a personalized pool type recommendation with just a few clicks:
Dark Bottom Pool FAQ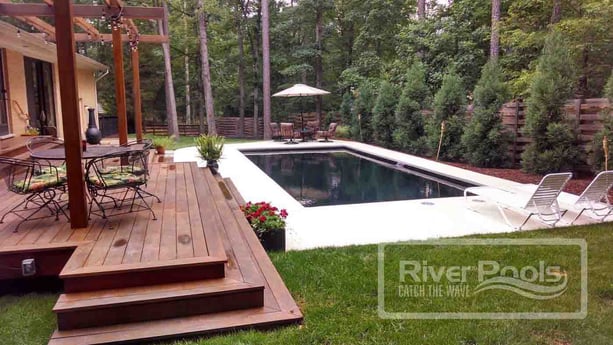 Are dark bottom pools more expensive?
With most pool builders and manufacturers, the price of the pool will come with a standard surface color, like white or blue. Many offer additional colors or surface options as an upgrade, which can add hundreds or thousands of dollars to the project. The pool's size may also determine how much more a color upgrade will cost, depending on the materials.

More than likely, a custom dark bottom pool finish will be considered an upgrade and will cost extra.
Are dark and black bottom pools warmer?
As we all know, a material's color can affect its temperature. That's why many of us avoid wearing dark colors on hot days and why many rooftops are painted a reflective white.
When we tested the temperature difference between pavers based on color variations, we found a difference of up to 16 degrees.
Pools are no different. A dark bottom pool will likely be a few degrees warmer than a sandstone or white pool. The deeper your pool's pigment is, the more heat you can expect it to retain.
This might be a bonus if you're looking for natural or easy ways to heat your pool, but it can also be a drawback if you're more likely to need a pool chiller.
Are dark bottom pools safe?
While some dark bottom pools can make the water appear murky or solid in color, you will still be able to see every part of the pool for safety monitoring.
One issue that you might experience, however, is a distortion of depth perception. Dark bottom pools may appear deeper than they really are, which can pose a hazard when jumping or diving into the pool.
If your pool is not a suitable depth for diving, please verbally make it clear to your guests and put up a sign that prohibits it. This is a best practice to put into place regardless of your swimming pool's color.
What do you think about dark bottom pools? Let us know in the comments!
At River Pools, we manufacture world-class fiberglass pools in a range of vibrant colors from midnight black to granite gray to ocean blue. If you'd like to explore your fiberglass pool color options, you can browse our gallery or view our color swatches. You can also check out our fiberglass pool shapes or request custom pricing using the button below. For a fast estimate, feel free to try our pool pricing calculator today.
If you haven't decided which pool type you want to install, you can download our free ebook below for an in-depth comparison of fiberglass, vinyl liner, and concrete pools. Not in the mood to read? Check out our video library for more educational inground pool content.
Up Next:
Should You Get a Fiberglass Pool with a Spa?
Poolside Fire Pit Ideas, Types, Reviews
The Best Low Maintenance Pool, Landscaping, and Outdoor Living Space Ideas