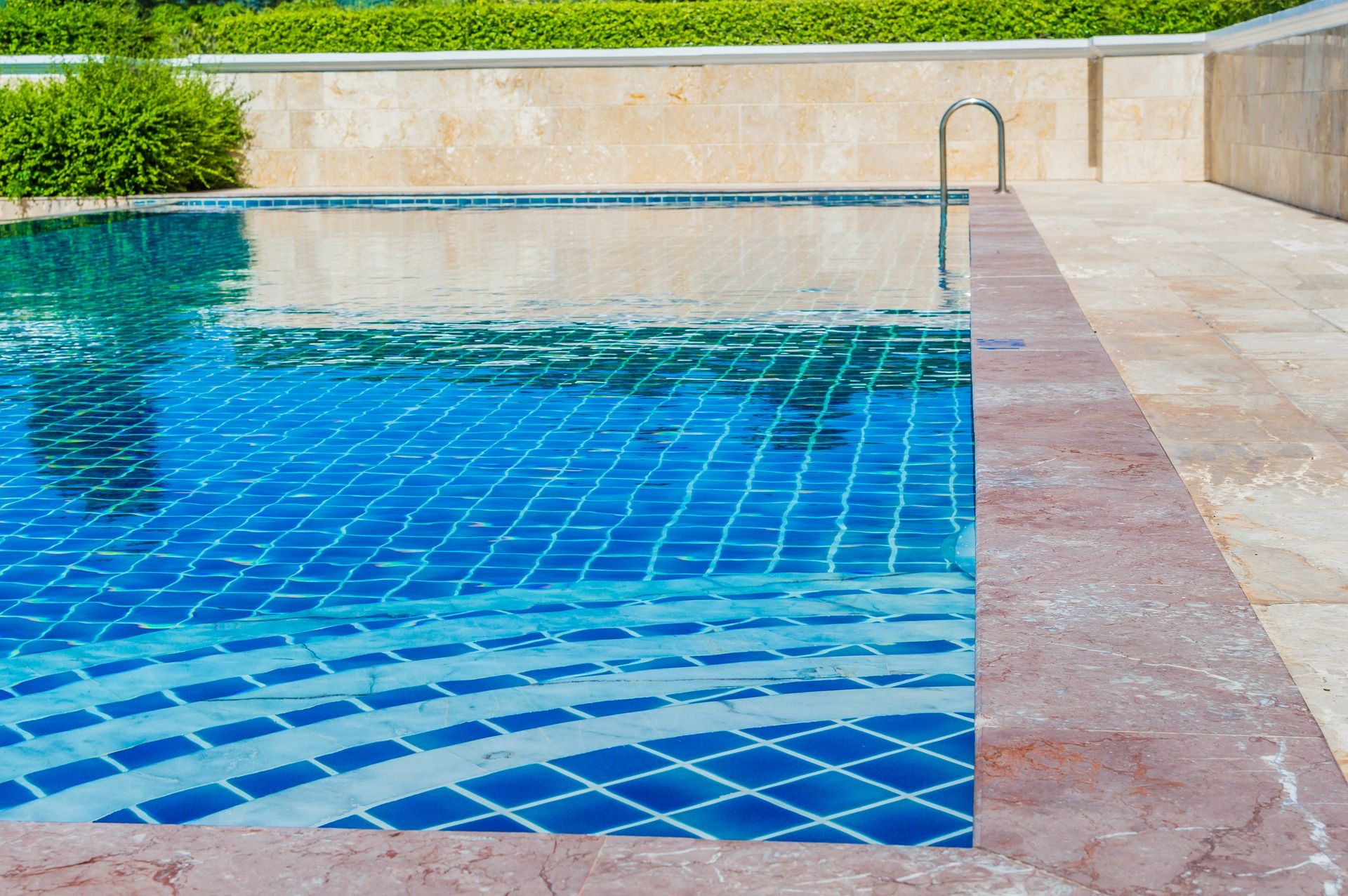 Subscribe
A Massive Review of Concrete Swimming Pools: Costs, Maintenance, Longevity, and More
Fiberglass vs Concrete vs Vinyl Liner | Pool Maintenance | Cost and Pricing | Concrete Pool Information
If you're looking into getting an inground swimming pool, you might be asking yourself, "Should I get a concrete pool?"
Here At River Pools, although we may be exclusively in the fiberglass pool manufacturing and installation business, we readily admit that concrete pools are sometimes a better fit for some people. In fact, there are even times when we encourage shoppers to choose a concrete pool over other types.
Why would we do that?
Well, first of all, our commitment is to be the most educational, non-biased resource for inground pool shoppers in the world. If this is going to be a reality, we've got to be willing to call a spade a spade.
Unfortunately, more often than not, most manufacturers and builders in the swimming pool industry simply aren't willing to admit their product (or service) may not be the best fit for every individual need out there.
Because our end goal solely comes down to providing the best education for you, the actual owner of the swimming pool, we make sure to give you the facts every time. Thus, we're glad you're here.
Now let's get down to the nuts and bolts of concrete swimming pools. In this article, we're going to discuss cost, styles, features, and more. Here we go...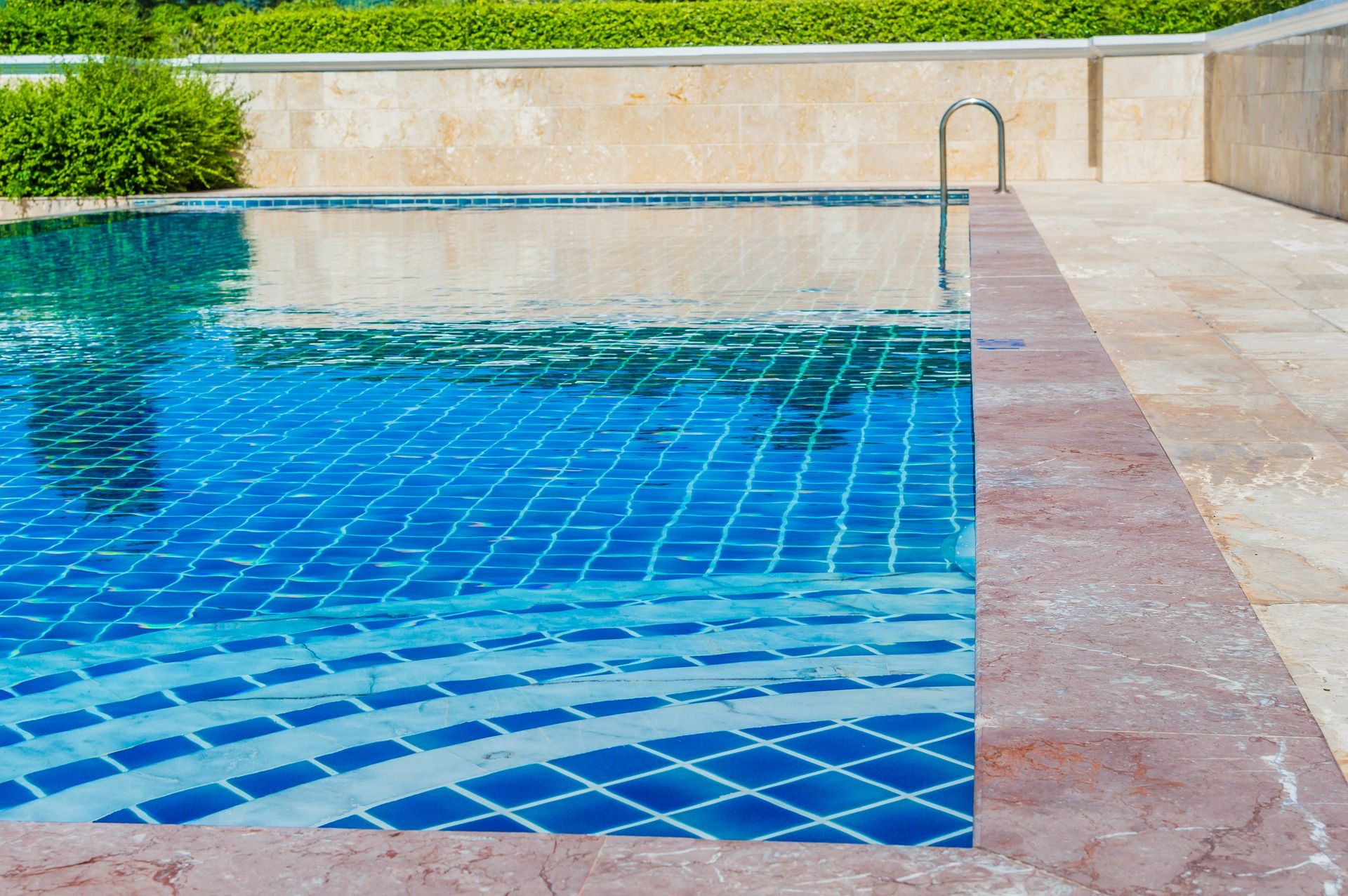 Yes, but when should I get a concrete swimming pool?
You might want to choose a concrete pool if you…
Like the look of concrete pools

Want to customize your pool in terms of shape, size, and overall design

Are willing to spend at least $50,000 for initial building and setup costs (in most cases)

Don't mind higher maintenance costs

Are okay with a longer build process

Are okay with a lot of hands-on maintenance

Are okay with a rougher surface that is not as ideal for play and sports (like volleyball)
We'll break down these points over the next few sections to fill you in on what to expect if you buy a concrete swimming pool.
Concrete Pool Cost
We all know that an inground pool isn't a minor investment, and the cost of a swimming pool is one of the primary concerns of most pool shoppers. In addition to paying at least $50,000 (sometimes even more than $100,000) for building and setup costs, you'll have to keep up with maintaining the pool (which will cost you an additional $20,000 minimum over the lifespan of your pool).
If that's out of your set budget, you might want to consider a fiberglass pool or a vinyl liner pool. A fiberglass pool falls within the same price range as a concrete pool, but you may be able to get one for as low as $45,000 (depending on your needs) plus you won't have to worry about high maintenance costs.
While your best options for durable, inground pools are concrete and fiberglass, vinyl liner pools tend to be much more affordable in terms of building costs ($25,000-$40,000). You can also consider different types of above ground pools like shipping container pools.
Take a look at this chart to see just how much each type of pool will cost to own over time.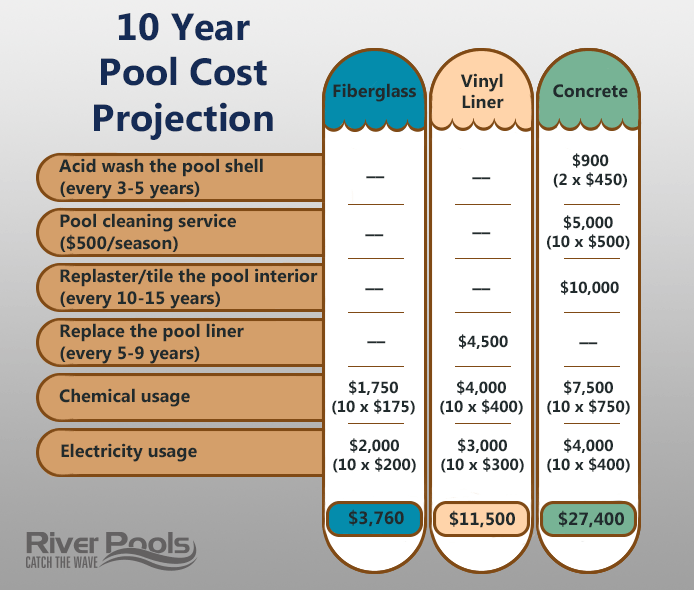 Concrete Pool Maintenance
Maintenance is another major concern for pool shoppers because you need to know what kind of time demands your swimming pool will require. As with all pools, you're going to have to regularly measure the chemicals in a concrete pool to keep the chemistry at the right balance. You'll also need to keep the pool clear of debris with skimming and vacuuming.
Because algae tends to accumulate in the porous surface of concrete swimming pools, it's also a good idea to brush the entire surface of the pool with a steel brush at least once per week.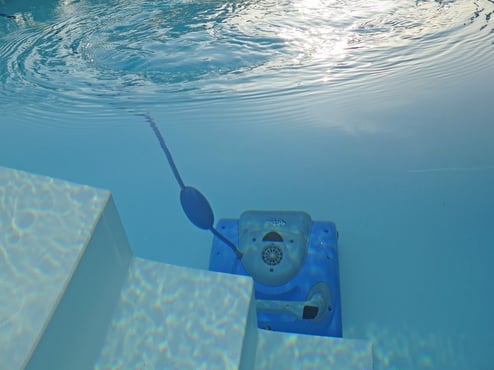 How long does it take to build a concrete pool?
Most people putting a pool in their yard are anxious to see the project finally come to an end. If you want a concrete swimming pool, you'll be waiting a while.
Concrete or gunite pools usually take anywhere from 3 to 6 months to complete from start to finish (note: there will always be exceptions to this, depending on the installer and other factors). That means that if you start building at the beginning of summer, you might have a few weeks of warm weather to actually swim in it before fall hits, if you're lucky.
This is a worthy trade-off for most people desiring a concrete pool because they get to enjoy it for the rest of their lives. What's a few more months compared to that?
To give you a better idea of what the building process looks like, take a look at our in-depth article on swimming pool construction and watch our video below.
Concrete Pool Designs: Shapes and Sizes
The fact that you will have unlimited design options is one of the biggest benefits of choosing a concrete pool. Unlike fiberglass and vinyl liner pools, you can pretty much design any type of pool that you want in any shape or size when working with concrete.
Want to feel like you're at the beach? A beach entry concrete pool can give you that. Want your pool to wrap around an island like a moat with a drawbridge and everything? You're not going to get that with fiberglass or vinyl liner.
You can even build a pool that's shaped like a heart, a car, or a tree. Keep in mind that these may not be the best designs for functionality, especially if it's going to be your only swimming pool. Customizations will add to the overall cost of your project, so keep that in mind as well.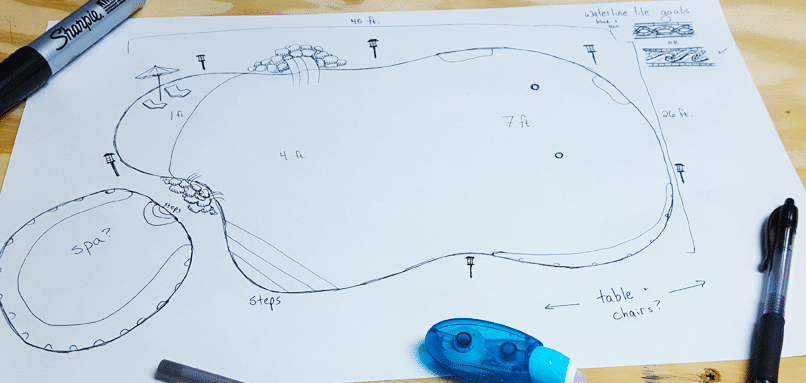 Concrete Pool Options: Gunite vs. Shotcrete
Did you know that the concrete is sprayed rather than poured to form the shell of your pool? If you didn't, it's okay. Most people actually don't know that.
You have two options when it comes to how you want the concrete to be applied: gunite or shotcrete.
Gunite is a dry concrete mix that is combined with water in the spray nozzle at the last second. Shotcrete is a wet mix that is loaded into the sprayer with the water mixed in.
While both can create high-quality swimming pools, choosing between the two can come down to your preferences, or more likely, your builder's preferred method. Take a look at our guide discussing the differences between gunite and shotcrete in-depth, or watch our video below.
Concrete Pool Surface Options
Another great thing about concrete pools is that you can cover the entire surface with different materials, depending on the look you're going for.
Most people will opt for plaster (a mix of white cement + white sand or marble aggregate + water) which is nice looking but not the most comfortable to walk or sit on. Plaster is also the least durable of all finishes, lasting between 5-10 years.
Many people also like to cover their concrete pools with tile, and this leaves a lot of room for creativity (not to mention that it looks amazing). As you can probably imagine, tile of any kind (glass, porcelain, stone, ceramic, etc.) will cost the most when it comes to surfacing a pool. It can also crack and leave sharp raised edges if installed incorrectly.
A third option is aggregate (pebbles, glass beads, quartz, or another material mixed with cement) which can be smooth or bumpy, depending on what you like. Aggregate finishes last longer than plaster, but bumpy finishes can be pretty uncomfortable to walk on.
Want to learn more about your concrete pool surface options? Check out our guide comparing plaster, tile, and aggregate finishes for a full overview of each.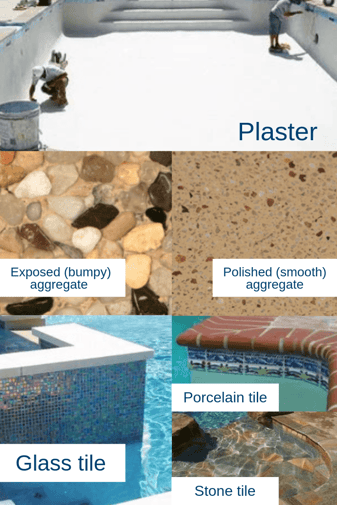 How Long Will a Concrete Pool Last?
A concrete pool should last decades (we're talking 50 years or more) if it is properly maintained. While the shell of the pool can become damaged if the building was not done correctly, a well-constructed concrete swimming pool should last a lifetime.
Keep in mind that while the pool itself can last a really long time, the finish that you apply (plaster, tile, aggregate) will not. These will need to be replaced and maintained over time as well as any surrounding patio concrete or tile. Your pool will also require deep cleaning and acid washing every few years.
Think about how a car works. If you never clean it, rotate the tires, or change the oil, it's not going to function as well or last as long. Your swimming pool works the same way. If you keep it clean and maintain it the way you're supposed to, it will stay in good condition.
Concrete Pool Problems
Now, let's get into some of the problems that you could encounter with your concrete pool. Fortunately, these pools are extremely tough, so you don't have to worry about punctures and tears like you would with a vinyl liner pool.
However, concrete does come with its own set of potential problems:
The surface can be too rough for comfort

Your pool may develop structural cracks if designed or built incorrectly

Light surface cracks, or craze cracks, can appear due to shrinkage

Scaling can occur (the buildup of calcium or other minerals) when the pH, alkalinity, or calcium are not maintained at the proper levels

Plaster can easily get discolored, especially at the waterline

Thin layers of plaster can peel or flake off with improper trowling

The pool can pop up, float, and shift

Plumbing leaks can be messy and expensive to fix
Like any swimming pool, your likelihood of encountering these problems often correlates with the quality of the builder. To read more about concrete pool problems that you need to consider, see our full guide where we break down each of these points individually.
Is a concrete pool right for you?
Concrete pools are beautiful and extremely customizable, but they're also among the most expensive swimming pools and they have the highest maintenance demands of all (expect to spend a lot of time and money on cleaning, chemicals, acid washing, refinishing, etc.)
If you want a unique, personalized design or if you'd like to surface your entire pool with tile or stone, a concrete pool can give you exactly what you're looking for. To be frank, you can't get these things from a fiberglass or vinyl liner swimming pool.
If, however, you're not so sure about the high costs and maintenance that a concrete pool demands, you might want to look into a fiberglass or vinyl liner swimming pool.
To explore those two options in depth, check out our guide comparing fiberglass and vinyl liner pools to help you decide which one is right for you.
If you still have no idea which pool is best for you, take a look at our guide comparing all three types of swimming pools or download our free ebook below.
At River Pools, we manufacture, install, and service world-class fiberglass swimming pools across the United States. If you're shopping around for a pool, take a look at our models while you're here, and check out our pricing guide today.
You can also request a custom quote to see how a durable fiberglass pool will fit with your budget.