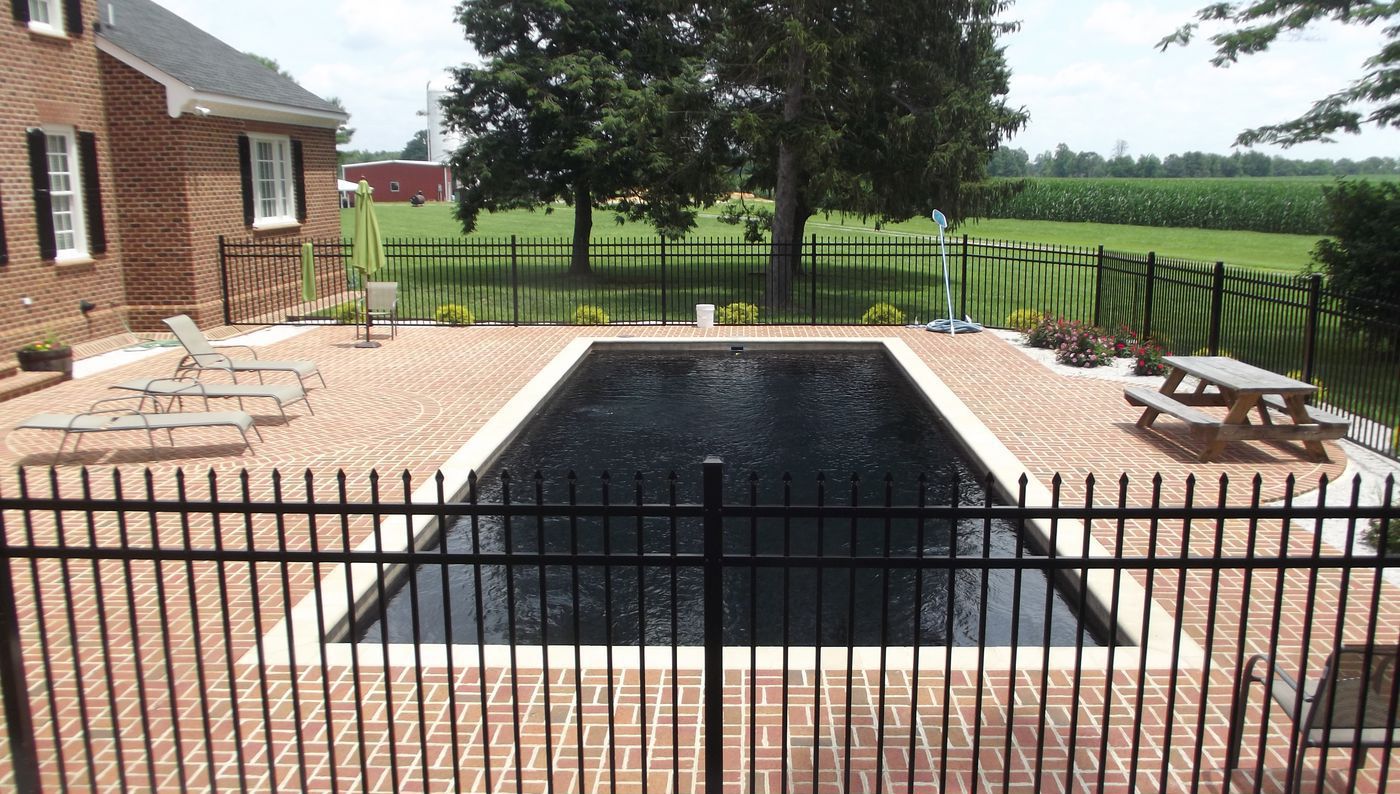 Subscribe
Your Swimming Pool Color Options: Concrete, Vinyl Liner, and Fiberglass
Fiberglass vs Concrete vs Vinyl Liner | Options and Accessories
One of the really cool parts of buying your own inground pool is that you get to pick the pool color.
That's right. Not all swimming pools have to be white or blue.
Swimming pools of all types are finished in a wide range of colors like green, grey, and even black.
So, why are so many swimming pools blue?
It's true that most pool color options for all pool types fall into the blue color family, and it's easy to see why. Blue is a color that's associated with water and, for many people, it's the most refreshing and inviting.
Whether you picture yourself with a blue, white, grey, or whatever color pool you have in mind, we've got you covered.
At River Pools, we specialize in fiberglass swimming pools and know that not all swimming pool shoppers want the same thing when it comes to color. In this article, we'll discuss the color options that you can expect to find while shopping around for each inground pool type and explain some of the pros and cons of the different choices.
Concrete Pool Colors
Concrete pools can have a wide variety of finishes, including aggregate, tile, and plaster. With tile, the sky's the limit when it comes to color choices, patterns, and designs. You can even commission an artist to install a Van Gogh Starry Night mosaic on the bottom of your pool if you wanted to (that would be pretty expensive, though).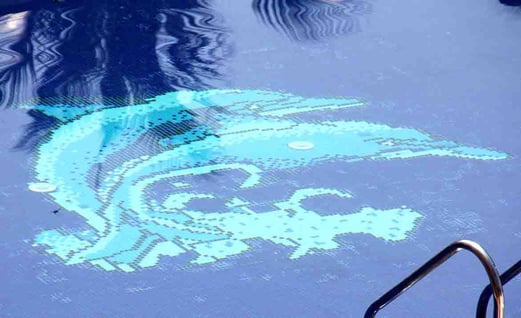 Aggregate Color Options
Aggregate isn't as diverse as tile, but you will still have a few choices to make. First, you get to choose between a bumpy and smooth finish. Bumpy means that the pebbles, quartz, or glass beads are sticking out of the plaster, creating a bumpy surface. With a smooth finish, this surface is sanded down, but you still get to see all of the different pebbles or beads inside: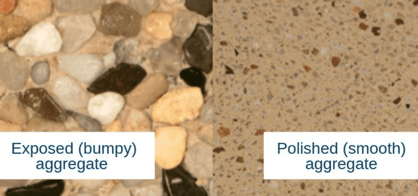 As with other pool surfaces, with pebble aggregate, you'll get to choose the colors that you want. Traditionally, you would get to choose within a spectrum of tans, browns, greys, and whites. Now, with more color options available, you'll be able to select a variation of blue, green, grey, or black aggregate colors.
Wondering how the final result would look? Try out Pebble Tec's water color selection tool to see which finish would work best for your aesthetic preferences.
Pool Plaster Colors
If you go with the traditional plaster or marcite finish on your concrete swimming pool, you're going to have a variety of color options as well. White is the traditional concrete pool plaster color, and it's also the least expensive.
Although it is white, it appears as a light blue when the pool is filled with water. Here's a cool fact: Water actually has a slightly blue tinge because of the way that it reflects light.
Pool plaster colors are made by mixing colored pigment or dye with the plaster before applying it to the pool surface. These colors typically range from blue to grey to black with grey being one of the most popular choices outside of white and blue.
A shade of tan or sandstone may also be a great option if you want your pool plaster to resemble sand on a beach (especially if you have a zero-entry pool).
Can't find what you want? You might be able to create your own custom plaster color, depending on the builder.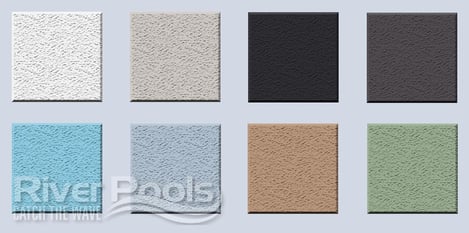 Pool plaster color options
Note: the color of the plaster does not necessarily reflect the color that the pool will be when it is full of water. Like white plaster will result in a light blue pool, a black plaster might result in a very dark blue pool.
Vinyl Pool Liner Colors
Choosing a vinyl pool liner color is different from choosing a color for your fiberglass or concrete swimming pool. Most vinyl liners have patterns and they often mimic the appearance of tile or plaster, although you can get a solid colored vinyl liner (typically in blue, white, grey, or tan). Many pool liners even have intricate designs along the waterline (think dolphins, Roman mosaics, and seashells).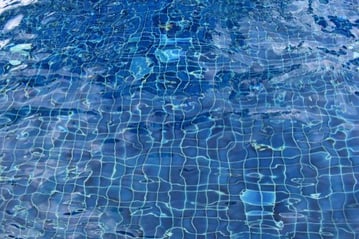 Vinyl pool liners often use patterns that mimic tile
Vinyl pool liners come in a variety of colors, but most of your options will be in some shade of blue, green, or grey. You'll also find sandstone and maybe a few other color schemes and patterns, depending on the manufacturer.
Fiberglass Pool Colors
We're not going to lie, the color that you choose for your fiberglass pool gelcoat is a big decision. Fiberglass gelcoats are the most durable pool surfaces, and if made and maintained well, they can last a long time.
Compare this to vinyl liners which need to be replaced about every 5-9 years and concrete pools which need to be resurfaced about every 10 years or so.
When you're choosing your fiberglass pool color, know that you're likely choosing the color that your pool will be for the foreseeable future. That means you have to choose a color that you not only like now but that you will like down the road, too.
If you plan to sell your house in the future, consider choosing a color that will be appealing to most people (like our classic Maya Shimmer).
The fiberglass pool color options that we have seen over the years include:
Light blues

Dark blues

Turquoise

Greens

Tans

Greys

Black

White
To give you an example of your available options, here are the colors available for our fiberglass pool models:
Many of the best fiberglass pool colors (at least by popular opinion) fall into the blue family. If you're shopping for a blue fiberglass pool, you'll easily be able to find a range of blues from very light ice blues to deep sapphire blues.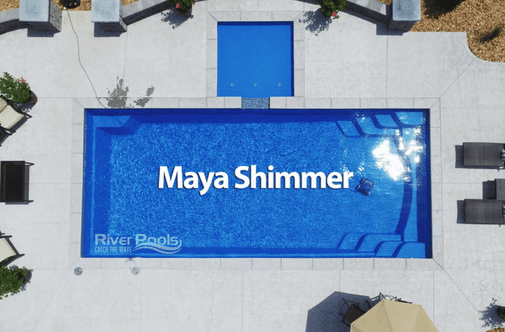 In recent years, we've seen an increased interest in black swimming pools (also referred to as dark bottom pools). A black swimming pool can be quite elegant and can offer a lot of personality to your outdoor space. (Check out our page on fiberglass pool colors here).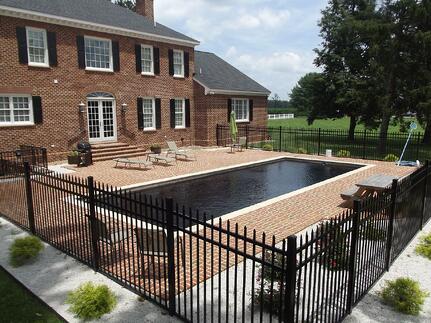 Black fiberglass pool AKA dark bottom pool
How does the swimming pool color affect the water temperature?
The same way a patio paver color affects its temperature, the color of your pool can also affect the temperature of your pool water.
As a general rule, darker colors absorb heat and sunlight while lighter colors reflect heat and sunlight. A black swimming pool that absorbs heat can be a good or bad thing, depending on where you live.
If you live in a region where there is a lot of direct sunlight and extremely high temperatures, you might want to steer clear of dark pool colors and go with something lighter. If, however, you live somewhere that is cooler and you want to take advantage of the sun to heat your pool, a dark or black swimming pool would be a good way to go.
As far as temperature, it's likely that you'll see an increase of about 3-5 degrees in direct sunlight from a white swimming pool to a black swimming pool. It's also possible that you won't feel much of a difference at all, especially if you have a pool chiller installed.
If you're looking for pool color ideas, be sure to check out our idea gallery to see the different pool color options side by side.
Want to get an in-depth comparison of fiberglass, vinyl liner, and concrete pools? Download our free ebook below to start your inground pool research.
Take a look at our full catalog of pool models (each one is available in a variety of colors) and feel free to visit our learning center to further explore your inground pool options.
Want to know how much a fiberglass pool might cost? Contact us today to request pricing from an independent installer, and in the meantime, try out our fiberglass pool pricing calculator for a fast estimate:
---

Want to see about how much that cost will be with all your favorite pool accessories?
Use our Design and Price Tool to walk through your options and approximate price!
---
As always, if you have any questions, please leave them in the comments below.
Up Next:
Inground Pool Shopping: Can You Buy a Pool Online?
Swimming Pool Sanitizers: The 7 Best Options to Consider (Pros/Cons)
What Is an In-Floor Pool Cleaning System? How It Works, Cost, Pros, and Cons
Editor's note: This article was updated on September 20, 2023.