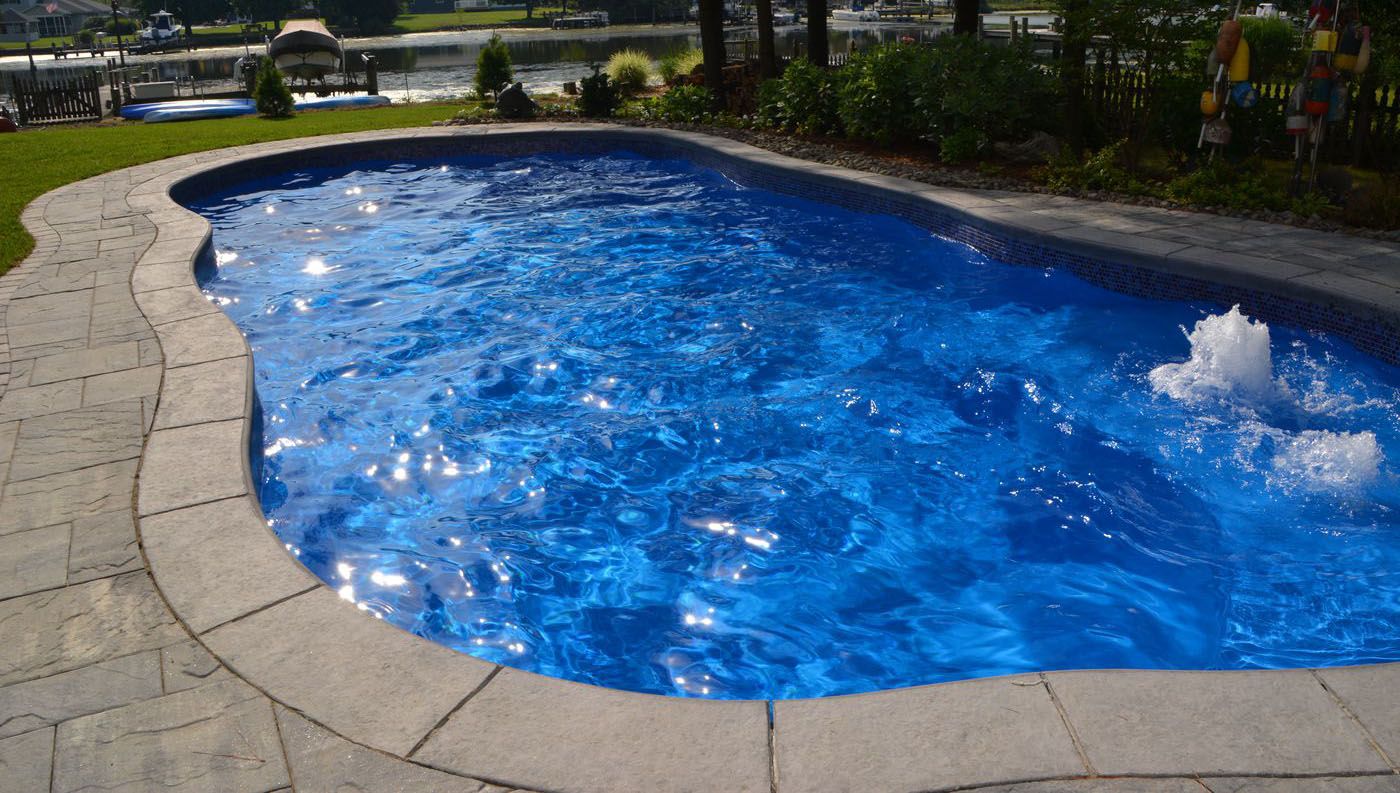 Subscribe
Inground Pool Shopping: Can You Buy a Pool Online?
Fiberglass Pool Information | Installation & Construction | Concrete Pool Information | Vinyl Liner Pool Information
These days, you can buy just about anything online.
Food, furniture, heavy machinery, and yep, even inground swimming pools. We're not talking inflatable kiddie pools either. These are massive, permanent structures, and they are sold online every day from various retailers.
When you shop for an inground pool online, it can be as simple as picking the pool you want, paying for it, and having it delivered to your door.
But how does buying a swimming pool online change your installation options? What choices do you have when you buy a pool online?
Since we at River Pools are swimming pool experts with many years in manufacturing and installing premium fiberglass pools, we decided to write this article to help you learn what to expect when you choose to buy a pool online.
By the time you finish reading this, you'll know what your options are for online pool shopping and you'll know what to look out for if you decide to go this route.
Let's start by going into each pool type and answering whether they can be purchased online.
Can You Buy a Vinyl Liner Pool Online?
Absolutely. In fact, if you're looking to buy your inground swimming pool online, you'll have the most options with vinyl liner swimming pools.
Why?
Vinyl liner pool kits come with most of the materials that you need to build the pool (like the walls, plumbing, and the vinyl liner itself), making them easy to sell anywhere. There are a few things that you have to decide on while ordering your pool, though.
One thing is that you get to choose whether you want steel, aluminum, or polymer walls. There will be a noticeable difference in price with polymer walls usually costing more, but there is also a difference in function and performance. If you want a saltwater system, avoid the metal walls and opt for polymer instead. Salt and metal do not mix well, and you'll end up with a corroded pool.
The thickness of the liner is another thing to consider that will affect the final price of your pool kit. Thick liners can be more challenging to install, but they don't tear as easily and can have a longer lifespan than thin liners.
You also need to select the shape and size of your pool (At least this part is fun!) and make sure that your selection is appropriate for your yard. Make sure that you 1) check what size pool can fit in your yard, and 2) check that you can actually get a pool (click here to see all of the steps that you should take before buying an inground pool).
In general, expect to pay between $5,000 and $10,000 for your vinyl liner pool kit.
To recap, be sure to take each one of these points into consideration before hitting the checkout button:
The size of your yard - how big can your pool be?

The thickness of the liner

The walls of your pool

The shape of your pool
Installation
Keep in mind that the cost of your pool kit does not include installation. More than likely, you'll need to hire a contractor to put the pool together and install it in the ground when you buy a vinyl liner pool online.
The cost of installing an inground vinyl liner pool can vary based on the size, your backyard, and the materials that you use. Remember, the kit only comes with parts for the pool, but you'll still need tools and supplies to install the pool and some heavy equipment to dig the hole.
Check out our guide on vinyl liner pool installation costs and read more about vinyl liner pool basics to get started.
Can You Buy a Fiberglass Pool Online?
Most fiberglass pool companies won't just sell you the shell over the internet, but it is possible to find someone who will. This is typically the route you would take if you're interested in a DIY pool installation or if you want to outsource the job to a third-party contractor.
For a fiberglass pool, expect to pay between $9,000 and $24,000 for the shell alone, depending on the size.

There are a few things that you need to consider when it comes to buying a fiberglass pool online:
#1 The shipping price will vary greatly depending on where the pool ships from and where it's going. It also gets delivered fully formed and ready to put in the ground, not in a box like a vinyl liner pool kit. This is why you may not be able to simply put it in the cart and check out like you can with some vinyl liner pool retailers.
#2 The installation is one of the most critical parts of a fiberglass pool project. A DIY installation can even affect your warranty, meaning if you damage your pool while trying to install it yourself, you have to pay for the damage. As a general rule, the installation must be performed according to the manufacturer specs in order for the warranty to be valid.
Not only that, you want to make sure that your swimming pool is installed correctly by people who have experience with fiberglass pools. A poor installation job can result in a wide range of issues that can be difficult and expensive to fix.
#3 The price of your installation will vary based on the type of yard that you have. We don't always know what's under your yard until we start digging. If we hit rock or groundwater, for example, the price of the installation can increase because more work will be required.
What's our best advice as fiberglass pool experts?
Although you can buy a fiberglass pool shell online from some manufacturers, it has been our experience that many times a very reasonable effort to save money turns into a nightmare scenario. Self-install fiberglass pool projects often result in long-term problems that ultimately cost more money than having the pool installed by a professional.
Our recommendation is to avoid buying your pool online and going the DIY route unless someone with fiberglass pool installation experience is directly involved with the installation of the pool.
Equally important, do some research on the quality of the pool before you buy. See how we manufacture our fiberglass pools and how we install our fiberglass pools the River Pools Way.
Can You Buy a Concrete Pool Online?
Most likely, no.
You can get a quote online and you can probably hire a contractor online, but very few contractors, if any, will charge a flat rate payment for a pool without visiting your site first and seeing what they're working with. Most credible contractors simply will not do this.
Why?
Overlooking a critical issue can cost the contractor thousands of dollars if they do it this way. They risk charging way less than they actually need to get the job done, or on the flip side, they could charge you for work that you don't need as a precaution.
Plus, you may not be able to properly vet the builder if you jump into working with them without first meeting and discussing your project.
Overall, buying a concrete pool online is not very practical for you or the builder.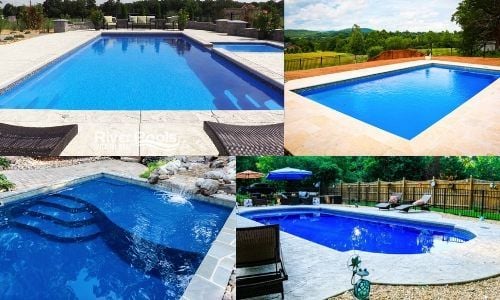 At River Pools, we manufacture world-class fiberglass swimming pools for customers all over North America. We specialize in professional installations which can include patio, landscaping, and more.
To view our full catalog of fiberglass models, click here. Want to see how much that fiberglass pool might cost? Check out our pool cost calculator tool below (100% free).
---

Want to see about how much that cost will be with all your favorite pool accessories?
Use our Design and Price Tool to walk through your options and approximate price!
---
Up Next:
DIY Inground Pools: Costs, Types, and Problems to Consider
A Quick Guide to Pool Patio Furniture and Outdoor Living Spaces