Fiberglass Pool Information | Pool Maintenance
Fiberglass pools are durable, low maintenance, and they have the fastest installation of all inground pools, but you might still be asking, "What is the life expectancy of a fiberglass pool? How long should a fiberglass pool last?"
Fiberglass Pool Information | Fiberglass vs Concrete vs Vinyl Liner
There is an excitement that comes with getting a new pool that's hard to describe. You find yourself dreaming about lounge chairs, the smell of sunscreen, and how magical your pool will look at night. Then reality hits, and you remember that these aren't the only things you have to worry about as a pool shopper. Cost, upkeep, environment, and safety are all factors to keep in mind when choosing which type of pool to purchase.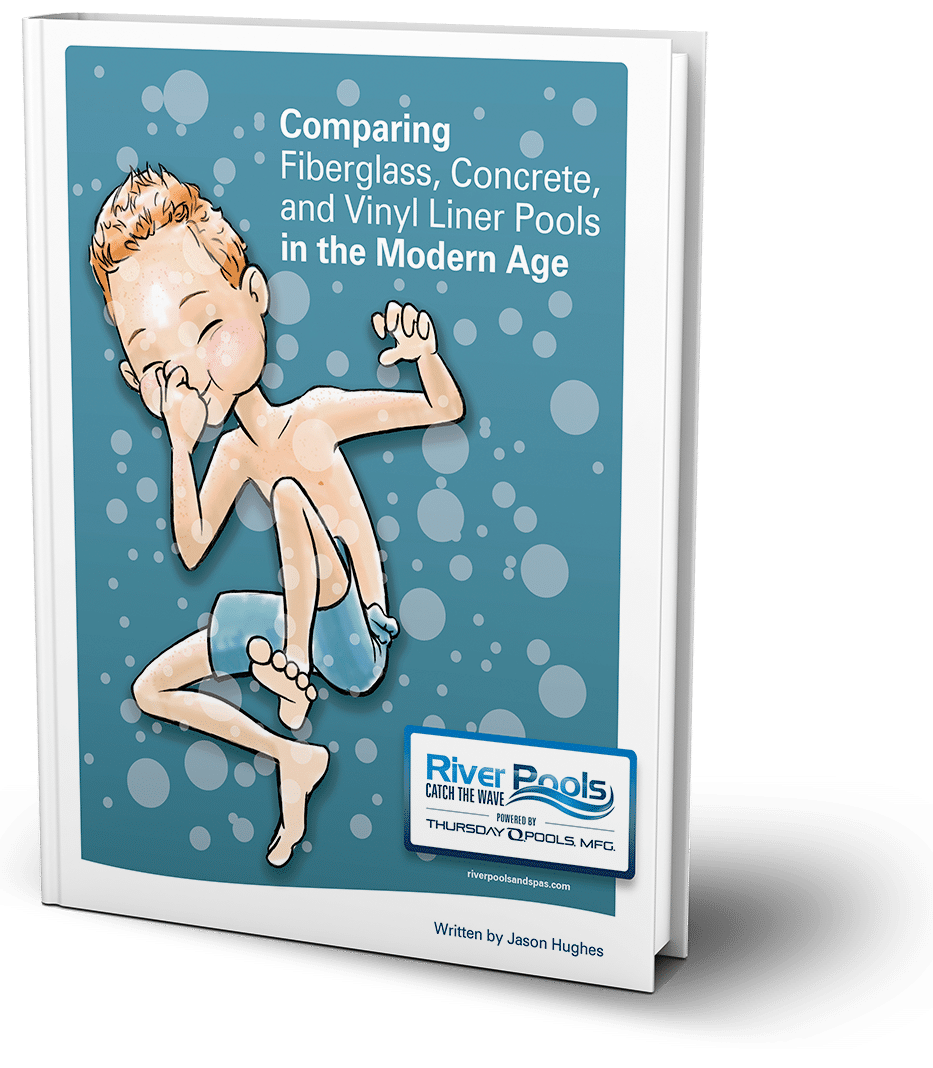 Comparing Fiberglass, Concrete, and Vinyl Liner Pools in the Modern Age
Don't blindly wonder if a fiberglass, concrete, or vinyl liner pool is right for you. Our educational ebook does a deep-dive comparison of the 3 types, all while noting the advantages and disadvantages of each.
Fiberglass Pool Information | Fiberglass Pool Manufacturers | Swimming Pool Design | Swimming Pool FAQs
Once upon a time, fiberglass technology was in its infancy. Fiberglass pools often looked plain or cheap, simply because technology hadn't advanced very far yet. However, with time, science, and a passion for splashin', modern fiberglass pool manufacturers have blown those outdated appearances out of the water. Today's fiberglass pools are elegant and stylish, fitting beautifully into any backyard landscape.
Fiberglass Pool Information | Fiberglass Pool Manufacturers | Pool Design Guides
Fiberglass pools come in many different sizes and shapes. Back in the 1970s and '80s, you were limited in the selection of sizes and shapes of fiberglass pools. Fiberglass pools came in two colors, white and powder blue. But today there are a wide variety of fiberglass pools to choose from, including a wide variety of colors to pick from. This is due to more people getting into the manufacturing of fiberglass pools and the advancements that have been made in the gel coat industry.
Fiberglass Pool Information | Pool Maintenance | Swimming Pool FAQs
Owning a pool is constantly a balancing act. You must balance the time you spend caring for your pool with the time you spend enjoying it. Spend too much time on maintenance, and there's no free time left to have fun in your pool! That is just one of the many advantages of fiberglass pools: the lowest-maintenance in-ground pool available on the market today.
Fiberglass Pool Information | Pool Design Guides
I was at an appointment recently with a customer who asked a question that I've heard so many times before. In the midst of her struggle to justify a swimming pool purchase, this is what she said: It's a tough call, Marcus. We are just not sure if we should take the plunge... I just wonder if a swimming pool is worth the money we are going to put into it?
Concrete Pool Information | Cost and Pricing | Fiberglass Pool Information | Fiberglass vs Concrete vs Vinyl Liner | Swimming Pool FAQs | Vinyl Liner Pool Information
Here at River Pools, our mission as educators in the pool industry is to answer all your questions—the common, the technical, and even the bizarre. (Don't worry; it's a judgment-free zone.) The most common question? Cost. Whether vinyl liner or concrete or fiberglass pools, whether extravagant or minimalistic aesthetics, people want to know about how much they're going to spend. You ask; we answer.
Fiberglass Pool Information | Swimming Pool FAQs
Fiberglass pools are becoming more and more popular...but they're still a relatively new addition to the pool scene, compared to vinyl liner and concrete pools. What do you actually know about them? If the answer is "not much," fret not. This is a judgment-free zone, and we've got you covered. We've collected the fiberglass pool FAQs, and succinct answers for all of them. Plus links if you're interested in more in-depth info. Let's dive in! (Get the pun?)
Fiberglass Pool Information | Pool Manufacturing Process
"Gelcoat" is a funky word to describe the surface of a fiberglass pool. Personally, it makes me think of the expensive nail polish option in a salon. Plus, "gel" sounds like it'll be soft and squishy—not the ideal texture for a pool. So what gives? What is a gelcoat, really? Here at River Pools, we specialize in fiberglass pools. Between manufacturing and installing them, we know them inside and out (literally). We want to share our knowledge so that you can be fully informed when you make that big pool decision for you and your family. Let's start at the beginning: the gelcoat surface.
Fiberglass Pool Information | Pool Maintenance
In my house, we take turns doing chores, but I'm exclusively in charge of laundry. My favorite (?) part is collecting all the stained clothes so I can apply stain remover and then scrub them like an old-timey washerwoman. It feels as if I should later buy hardened brown sugar in paper bags tied with twine like I live in a Laura Ingalls Wilder book. But that's just washing clothes. How do you feel about being an old-timey washer for your inground fiberglass pool stains?