Concrete Pool Information | Cost and Pricing | Fiberglass Pool Information | Fiberglass vs Concrete vs Vinyl Liner | Swimming Pool FAQs | Vinyl Liner Pool Information
Here at River Pools, our mission as educators in the pool industry is to answer all your questions—the common, the technical, and even the bizarre. (Don't worry; it's a judgment-free zone.) The most common question? Cost. Whether vinyl liner or concrete or fiberglass pools, whether extravagant or minimalistic aesthetics, people want to know about how much they're going to spend. You ask; we answer.
Fiberglass Pool Information | Swimming Pool FAQs
Fiberglass pools are becoming more and more popular...but they're still a relatively new addition to the pool scene, compared to vinyl liner and concrete pools. What do you actually know about them? If the answer is "not much," fret not. This is a judgment-free zone, and we've got you covered. We've collected the fiberglass pool FAQs, and succinct answers for all of them. Plus links if you're interested in more in-depth info. Let's dive in! (Get the pun?)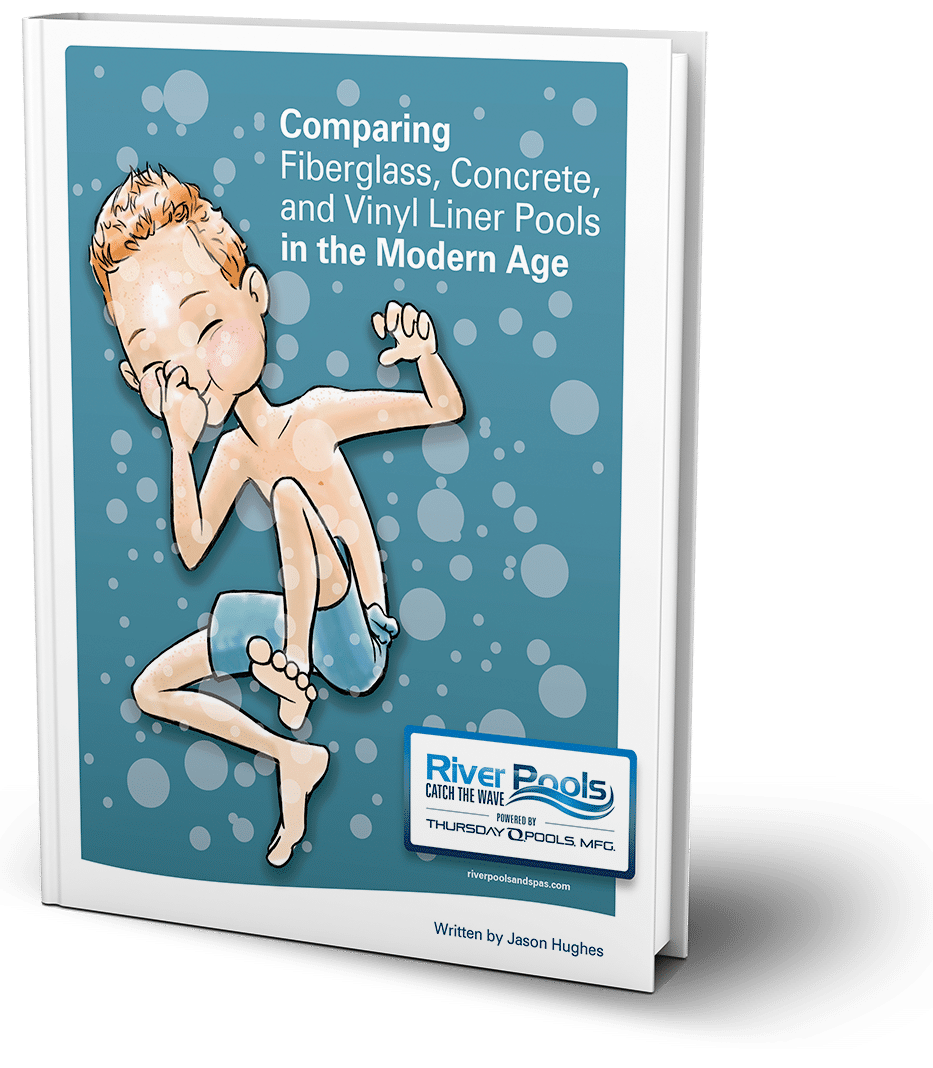 Comparing Fiberglass, Concrete, and Vinyl Liner Pools in the Modern Age
Don't blindly wonder if a fiberglass, concrete, or vinyl liner pool is right for you. Our educational ebook does a deep-dive comparison of the 3 types, all while noting the advantages and disadvantages of each.
Fiberglass Pool Information | Pool Manufacturing Process
"Gelcoat" is a funky word to describe the surface of a fiberglass pool. Personally, it makes me think of the expensive nail polish option in a salon. Plus, "gel" sounds like it'll be soft and squishy—not the ideal texture for a pool. So what gives? What is a gelcoat, really? Here at River Pools, we specialize in fiberglass pools. Between manufacturing and installing them, we know them inside and out (literally). We want to share our knowledge so that you can be fully informed when you make that big pool decision for you and your family. Let's start at the beginning: the gelcoat surface. What you should know about fiberglass pool gelcoats: What they are How they're applied How they're tested How they compare to a plaster finish How they compare to a vinyl liner What makes River Pools different
Fiberglass Pool Information | Pool Maintenance
In my house, we take turns doing chores, but I'm exclusively in charge of laundry. My favorite (?) part is collecting all the stained clothes so I can apply stain remover and then scrub them like an old-timey washerwoman. It feels as if I should later buy hardened brown sugar in paper bags tied with twine like I live in a Laura Ingalls Wilder book. But that's just washing clothes. How do you feel about being an old-timey washer for your inground fiberglass pool stains?
Fiberglass Pool Information | Installation & Construction | Pool Manufacturing Process | Swimming Pool FAQs
When I first visited River Pools in person, the first things I noticed were the...red-orange lumps outside. What kinda yard decorations are those? The answer: Not decorations at all. (Whew!) Turns out, these are pool molds—we make them ourselves and then use them to manufacture our fiberglass pools. Fancy, right? But what does all that really mean? Let's talk about these weird-looking lumps: What a pool mold is, and what it is not How we make a mold for a fiberglass pool How we use a mold for a fiberglass pool How we maintain a mold for a fiberglass pool
Fiberglass Pool Information | Swimming Pool FAQs
Considering a fiberglass pool? Every pool type has its advantages and disadvantages, and these are no exception. Weird, I know—a fiberglass pool manufacturer is saying that? Out loud? (Well, metaphorically out loud.) Yeah. At River Pools we believe pool buyers should have all the information, regardless of whether you buy a fiberglass pool from us. So we're going to go over the things you should know about fiberglass pools, both good and bad, so you can make an informed decision on whether or not it's the right choice for you and your family.
Fiberglass Pool Information | Swimming Pool Design
We can all admit that, back in the day, fiberglass pools used to be a bit of an eyesore. But science is an amazing thing: the technology has developed so that not only are these pools now gorgeous, but you can find the exact design and accessories to create your dream backyard. We at River Pools take nigh-parental joy in creating fiberglass pool shapes and designs to fit all kinds of needs. Disclaimer: The shape and size of fiberglass pools can't be customized the way concrete or vinyl liner pools can. A, they're built from existing molds, rather than from scratch. B, they have to be 16 ft by 40 ft or smaller, since they travel via highway to get to your house. It's sad, I know. However, that's not to say you have no choices! There are plenty of options available, and every fiberglass pool manufacturer produces different designs. Most people are able to find a fiberglass pool design that they love and that fits their needs.
Fiberglass Pool Information | Pool Maintenance | Swimming Pool FAQs
Lifespan matters for just about everything. As an exotic pet owner, I check how long a snake breed is expected to live before adding that snake to my menagerie. As a laptop buyer, I check user reviews for the real-time battery life before purchasing that model. So how long will your fiberglass pool last?
Fiberglass Pool Information | Pool Maintenance
We say "Don't drain your pool." Then we say, "At some point, every pool will need to be drained." So, fiberglass pools: to drain or not to drain? That is the question. Yes, I know this Hamlet-style pondering can be confusing. But are we contradicting ourselves? Not quite. To keep your pool living its best life, don't jump on the drain train. Problems can happen if the groundwater around an inground swimming pool is higher than the water in the pool, no matter what type of pool it is.
Fiberglass Pool Information | Installation & Construction | Swimming Pool Accessories
Are you considering an inground pool or, more specifically, a fiberglass pool with an integrated tanning ledge? Are you a fiberglass pool installer looking for best practices regarding tanning ledge pool installations? If so, you're in luck! Today we're going to share our system for installing tanning ledge pools—and reveal our unique manufacturing process to ensure your tanning ledge pool is super awesome. Let's dive right in!