Fiberglass Pool Information | Installation & Construction | Pool Manufacturing Process | Swimming Pool FAQs
When I first visited River Pools in person, the first things I noticed were the...red-orange lumps outside. What kinda yard decorations are those? The answer: Not decorations at all. (Whew!) Turns out, these are pool molds—we make them ourselves and then use them to manufacture our fiberglass pools. Fancy, right? But what does all that really mean? Let's talk about these weird-looking lumps: What a pool mold is, and what it is not How we make a mold for a fiberglass pool How we use a mold for a fiberglass pool How we maintain a mold for a fiberglass pool
Cost and Pricing | Installation & Construction
Sometimes it's time for a switcheroo. I'll reorganize my nonfiction bookcase, or my mom will plant new flowers around her house, or my cat will suddenly start sleeping on a new corner of the sofa for no reason. You might have reasons behind it, or you might just feel like a change. Maybe for you—whether for money, maintenance, or just a plain ol' change of pace—your vinyl liner pool is the subject of that change. At River Pools we manufacture and install fiberglass pools, and several times each year, we replace vinyl liner pools with fiberglass units. Our clients are thrilled with the results, and with fiberglass pools gaining market share every year, we expect to take on more and more of these replacement projects.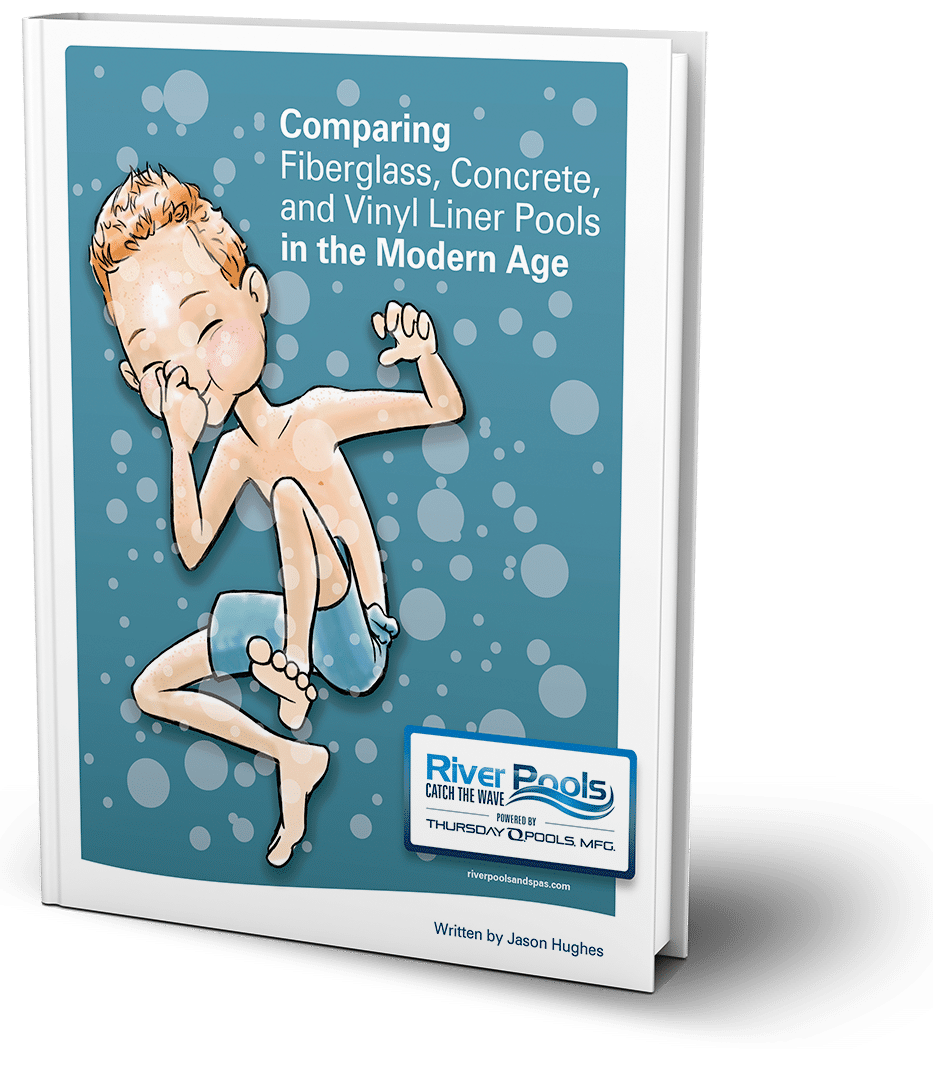 Comparing Fiberglass, Concrete, and Vinyl Liner Pools in the Modern Age
Don't blindly wonder if a fiberglass, concrete, or vinyl liner pool is right for you. Our educational ebook does a deep-dive comparison of the 3 types, all while noting the advantages and disadvantages of each.
Fiberglass Pool Manufacturers | Installation & Construction | Pool Videos
In February 2018, River Pools had the opportunity to build a fiberglass pool for former Vice President Joe Biden. This was in Delaware, though—outside the River Pools installation area. A problem? Not at all. Enter one of our nationwide dealers, Clean Cut Pavers and Pools. River Pools manufactured the Greco fiberglass pool shell and transported it to the dealer, who installed it in the Bidens' backyard. Some of the River Pools family went out that week to watch the installation and to highlight this dealer, their employees, and their good work. (Others of us—that is, me, myself, and I—were left at the office. I was kind of sad.) The visit was a great experience, and the installation went well! We're growing as a manufacturer, so we're talking to dealers all across the country. This is a new partnership we're excited about and they are as well. During the pool installation process, we spoke with Doug Arcos and Rich Bell from Clean Cut Pavers and Pools to get their perspective as fiberglass pool dealers: What do dealers look for in a pool manufacturer? What do dealers look for in a pool product? What do dealers want in leads from the manufacturer? What are some current trends in backyard pools? How do dealers handle pools in smaller lots?
Fiberglass Pool Information | Installation & Construction | Swimming Pool Accessories
Are you considering an inground pool or, more specifically, a fiberglass pool with an integrated tanning ledge? Are you a fiberglass pool installer looking for best practices regarding tanning ledge pool installations? If so, you're in luck! Today we're going to share our system for installing tanning ledge pools—and reveal our unique manufacturing process to ensure your tanning ledge pool is super awesome. Let's dive right in!
Concrete Pool Information | Installation & Construction | Options and Accessories
Concrete pools are often referred to as "gunite" pools, but then what's shotcrete? Are gunite, shotcrete, and concrete all the same thing? Not to worry… all will be revealed. (Doesn't that sound ominous? I love it.) Quick refresher: concrete is a mix of water, cement, sand, and a coarse aggregate, which is usually stone or gravel. The cement, sand, and aggregate are the initial mixture. How the builder mixes in the water determines how we refer to it.
Cost and Pricing | Installation & Construction | Vinyl Liner Pool Information
Most of us have been around vinyl liner pools at one time or another. (For example, my grandparents have one. I now know that they needed to replace the liner years ago. Don't blame the grandkids for rusted wall panels, Nana.) But personal experience doesn't necessarily mean someone knows the details. Curious about the basics? Here at River Pools, we worked exclusively with them for years before we discovered and fell madly in love with fiberglass pools. We're all about making information available to you and easy to understand. That includes all types of pools.
Concrete Pool Information | Installation & Construction | Swimming Pool Design
What's the best concrete thickness for your pool? If you're asking this question, you're probably already looking at and comparing the pool contractors in your area. The vast majority of us can't DIY a concrete pool; the process is too complicated and technical. You'll contract professionals to engineer and construct it. Be sure to ask them the relevant questions we lay out in our Swimming Pool Builder Vetting Checklist to confirm their integrity and expertise.
Installation & Construction | Options and Accessories | Vinyl Liner Pool Information
As tempting as it may be sometimes, you're not allowed to leave people stranded in your pool. There are laws against that. Swimmers need a way to get out of the water, so you need a ladder at least, if not actual steps, and you have to include them in your design from the beginning.
Installation & Construction | Vinyl Liner Pool Information
Planning a new vinyl liner pool and unsure what to do with the floor? Although River Pools now specializes in fiberglass pools, we started out working only with vinyl liner pools, and we want to share our knowledge so you can make the best decision for you and your family.
Concrete Pool Information | Fiberglass vs Concrete vs Vinyl Liner | Installation & Construction
If you're planning to buy a concrete pool, have you ever wished you could time-travel to the future and see what the construction process is like? Time travel is, of course, the best solution to any question, but in this case we can provide answers without it.