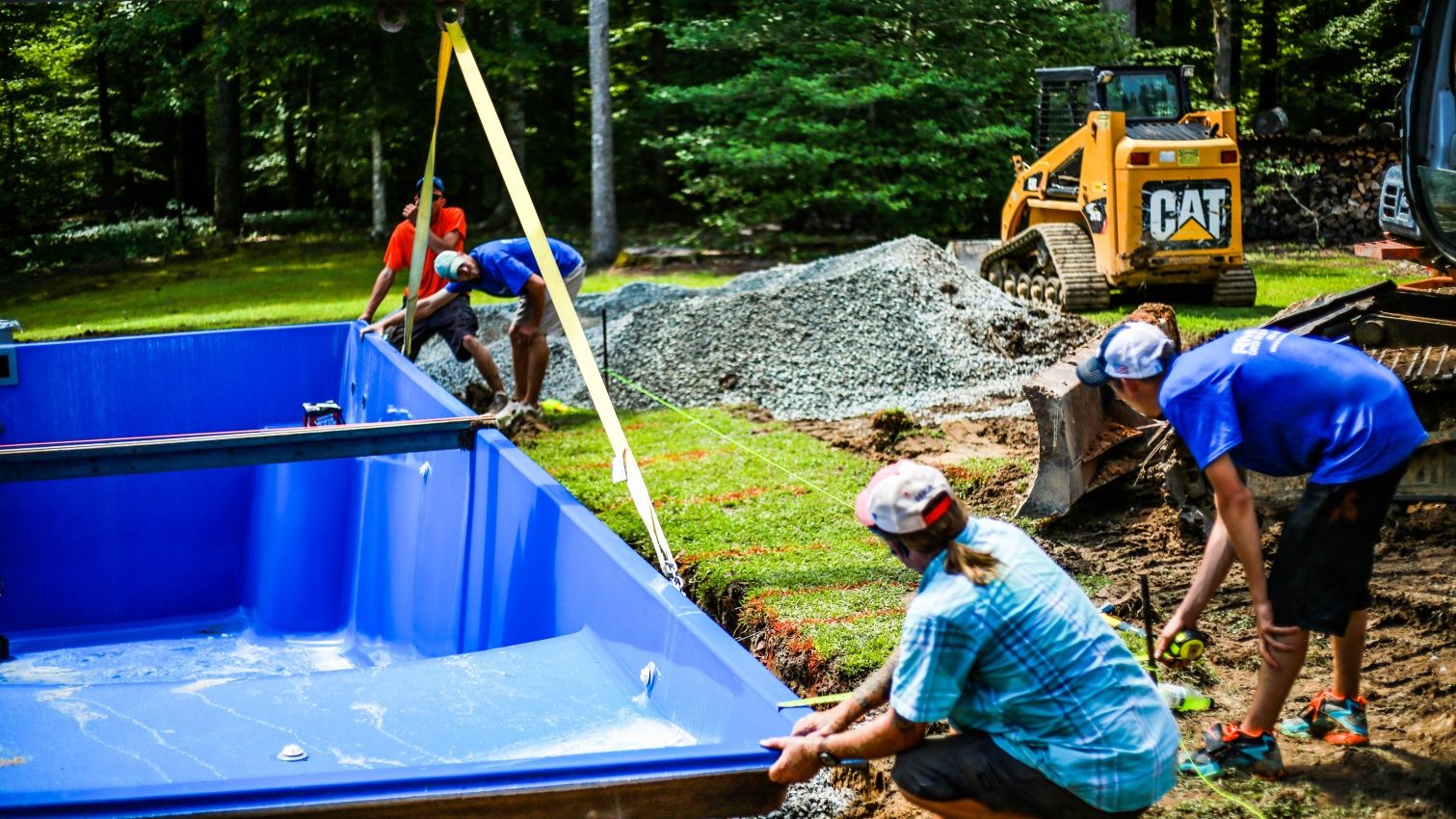 Subscribe
Who are the Best Pool Builders in St. George, Utah?
Finding A Pool Contractor | Fiberglass Pool Information | Installation & Construction | Swimming Pool FAQs | Concrete Pool Information
Looking for a high-quality inground pool in southern Utah? It's often hard to know which pool builder or installer to hire, especially when you live in a smaller metropolitan area like St. George, which is only about 15% as large as the Salt Lake City metro area.
Most pool builders in southern Utah don't have much presence on Yelp, so you might need to rely on Google's local review scores to narrow down your list of potential builders.
You should always ask targeted questions of any prospective pool builder, to figure out if they've got the track record and talent to pull off your project. Use our pool builder vetting checklist to interview your prospects (click here to get and/or print out these critical questions).
Some installers work with multiple pool types, but many prefer to specialize in one, whether it's fiberglass, concrete, or vinyl liners. If you're not yet sure which type of pool you should get, our new Pool Type Selector tool can help you narrow your focus and figure out what to install in our backyard. Click below to try it out!
Once you know enough about what you want, it's time to start vetting pool builders for your project in St. George, or anywhere else in nearby southern Utah.
This list of ten pool builders serving southern Utah includes all top-rated installers -- everyone on this list has a minimum 4-star average across multiple Google local reviews. Each installer is listed with information from their own websites, as well as the types of pools they install and their known service areas. Make sure you ask prospective contractors if they work in your area before diving into the vetting process!
Sunshine & Co. Pools & Spas
"Sunshine & Co. Luxury Pools is an industry leading luxury swimming pool builder, swimming pool contractor, and landscape design company. We pride ourselves on being one of the most innovative companies in the industry, and one of the fastest growing landscape design companies in Southern Utah. Our goal is to always stand apart from the competition by providing the professionalism, customer service, quality, and attention to detail every client deserves."
Pool types: Fiberglass
Areas served: Washington County and Southern Utah
Oasis Pools
"Oasis Pools has been Southern Utah's custom pool and spa builder since 2005. As such, you can expect to receive the highest quality with our experienced craftsmen. We are dependable – we do what we say we will do and we finish when promised."
Pool types: Concrete
Areas served: Southern Utah
Epic Custom Pools
"There's no better way to create and enjoy a fulfilling leisure lifestyle than to have your own swimming pool. It's a healthy place for kids and their friends to play outdoors without leaving the relative safety of home. A focus for family barbecues and gatherings. A wonderful way to enjoy exercise and achieve a healthier life.
As one of the world's largest composite swimming pool manufacturers, we have developed a stylish and innovative range of swimming pools, in a variety of designs and sizes, with a multitude of features and benefits, so that we can provide you with the ideal Epic Custom Pools swimming pool for your home. Coupled with great designs, we use state of the art production processes and superior raw materials, backed by in-house research and impressive stringent quality controls, to ensure that the quality of every Epic Custom Pools swimming pool is the very best on the world market."
Pool types: Fiberglass
Areas served: St. George and Southern Utah
Caliber Pools & Hardscapes
"CALIBER has nearly two decades of experience in the building and landscaping industry. We've worked on a variety of projects along the way, and the thing that sets us apart and that our clients always comment on is that they trust us and our expertise because we are honest and take the time to really listen to what they want."
Pool types: Fiberglass
Areas served: St. George and Southern Utah
Premier Pools & Spas of St. George
"Premier Pools and Spas St. George Pool Builders work with each client, using an unmatched design process. We can custom build your existing or new home pool and outdoor living space via 3D design. This eliminates the guesswork in what your gunite or fiberglass pool will look like when completed.
Our St. George pool builders offer every client the most efficient and economical pool by hydraulically engineering the entire plumbing and circulation system and properly sizing all plumbing, equipment, and fittings to provide a system that is safe, efficient, and saves you money now and for years to come.
Contact pool builders Richard Holm and Justin Harwood today to see how the area's premier swimming pool contractors can help you with your swimming pool dreams. We can also help you with swimming pool financing."
Pool types: Concrete/gunite, fiberglass
Areas served: St. George, Washington, Hurricane, Santa Clara, Ivins, and the surrounding areas of Southern Utah
California Pools of Southern Utah
"California Pools can help you make your Southern Utah-area home a sanctuary of leisure and indulgence to share with family and friends for decades to come. Whether you're in the market for a custom pool and spa, outdoor fireplace, landscaping or decking, the California Pools team of experts can turn your vision into reality. No job is too big or too small. To us, it's about walking you through every step and delivering the backyard of your dreams."
Pool types: Concrete
Areas served: St. George, Washington, Hurricane, Santa Clara, Ivins, and the surrounding areas of Southern Utah
LCI Pools & Spas
"Backed by 30 years of experience, LCI Pools & Spas is a locally owned, owner-operated business. Over the years, we have built a number of top-grade swimming pools and spas for the residents of St. George, Southern Utah, Washington County and the surrounding areas. Also we have built Commercial Pools in over 20 Midwest and Western States including Alaska."
Pool types: Fiberglass, concrete
Areas served: Washington County and Southern Utah
Cutting Edge Pools
"Cutting Edge Pools is here to help you with design options and the many choices you will need to make during the swimming pool construction process. Our years of experience with swimming pool installation allows us to help guide you through every step of the process.
We work with the best equipment, and latest installation techniques to ensure that you get the very highest quality pool, rock feature or landscaping possible."
Pool types: Concrete
Areas served: St. George and Southern Utah
Tropical Pools (Tropical Bullfrog Spas)
"With over 40 years of experience, quality, and integrity is the difference that sets us apart from others. Nobody has installed more fiberglass pools in Southern Utah than Tropical Fiberglass Pools.
After 4 plus decades of being in business, Tropical Fiberglass Pools is here to stay!"
Pool types: Fiberglass
Areas served: St. George and Southern Utah
Ecogreen Landscaping and Pools
"Pools are a St. George and Southern Utah backyard necessity for sure. Ecogreen Landscaping offers complete pool installations including 3D renderings and video as well as digging, prep and installation of your brand new custom pool.
Ecogreen has years of experience creating both the perfect landscaping layout and design, as well as turning your backyard into a beautiful oasis in the desert."
Pool types: Fiberglass
Areas served: St. George and Southern Utah
River Pools has served Salt Lake City since 2020, and we're proud to now offer installation services in St. George and Southern Utah as well. Our fiberglass pools are manufactured in-house and delivered to highly-trained local River Pools franchise installers, to ensure a superior experience throughout your pool-buying experience.
If you're shopping around for a fiberglass pool, feel free to take a look at our catalog of models, visit our extensive video library, try out our pool cost calculator, or request custom pricing using the button below.