Inground Swimming Pools
As you consider purchasing a River Pools fiberglass pool through one of our independent dealers, this cost and pricing guide will help you develop an initial budget and plan for the ownership costs associated with each type of inground pool.
Final prices will vary by location and independent dealer.
Want a comprehensive buying guide that answers not only budget questions, but all common questions people have when buying an inground pool? Check out our FREE eBook, How To Buy A Fiberglass Pool in 2022.
Costs of Inground Swimming Pools: A Couple Things to Consider
There are two things to consider when researching the cost of inground pools:
The initial purchase price of the pool
The lifetime cost of ownership associated with the pool
First, let's take a look at the initial cost of concrete, vinyl liner, and fiberglass pools to get an idea of how much to budget for each.
Keep in mind that these prices will vary greatly from region to region.
Then, we'll look at the long-term cost associated with owning each type of pool.
Fiberglass, Concrete, and Vinyl Liner Cost Comparison
Fiberglass Pools: Initial Cost
There are four distinct types of fiberglass pool packages:
Self-installation

Assisted installation (dig, set, fill)

Basic installation

Turn-key installation
Let's take a look at each to learn more.
Fiberglass Pool Self-Installations
A self-installation package would include the pool shell and delivery of the pool to the home. The customer takes it from there.
The obvious advantage of installing your own fiberglass pool is what you'd save from reducing the swimming pool installation cost. On average, most people will save between $6,000 and $10,000 depending on the scope of the project and who does the majority of the work.
Before we go into the next section it is important to understand that River Pools shells must be purchased through and installed by an independent dealer or franchisee. We've found this to produce the most successful outcome for our customers.
The price of the pool shell is determined by two things: the size of the pool and the cost to deliver the pool to your home.
If you are considering a self-installation, ask if the quoted price includes delivery.
If it does not, get a delivery quote in writing.
Fiberglass pools are basically classified into three size groups:
small—less than 27 feet long
medium—between 28 and 34 feet long
large—35 feet long or longer
In most cases, you can expect a small fiberglass pool shell without delivery to cost between $20,000 and $30,000.
A medium pool shell will cost between $25,000 and $35,000.
A large fiberglass pool shell typically costs between $30,000 and $40,000.
Delivery fees could be anywhere from $1,500 to $4,500 or more, depending on your location and any state or local transport regulations involved.
Resources are available to teach homeowners how to install their own pool shell, but the vast majority of pool owners prefer to leave the installation of the pool to authorized dealers.
Related Articles:
Assisted Installation
An assisted installation differs from a self-installation in that it includes:
The pump and filter system

Plumbing

Labor to set and level the pool shell, do all the plumbing, and partially backfill the pool
These are the most critical (and unfamiliar) phases of the installation.
The customer provides all other labor, materials, and equipment.
This is a great option for those who can excavate their own hole and handle the patio work, but would rather not deal with the headache of leveling the pool, setting the pump and filter, and doing all the plumbing.
Assisted installations typically cost around $50,000 to $75,000.
Standard Fiberglass Pool Packages
A standard fiberglass pool package typically includes the following:
The pool shell

Delivery of the pool shell to the site

The pump and filter system

Installation

Gravel for backfill

Water to fill the pool

Maintenance and cleaning equipment

Building permit

Some concrete around the pool
Standard packages can vary greatly from company to company, so ask specifically what it includes.
It's surprising how often a company's base package price doesn't include permits, water, delivery fees, etc.
Check out our article Top 6 Hidden Costs of an Inground Pool Project to learn more.
It's also important to consider other details like warranties, the type of pool equipment provided, and the fiberglass pool manufacturer.
To save money, many homeowners choose to handle the balance of the project themselves, including the completion of the patio, electrical work, and the pool fence.
On average, most folks can save several thousands of dollars doing this.
As a general rule most standard fiberglass pool packages will cost between $40,000 and $100,000.
Most people will spend another $15,000–$40,000 on pool accessories, electrical work, patio, and fencing.
Turn-Key Fiberglass Pool Packages
The overwhelming advantage of a turn-key installation is convenience.
The fiberglass pool company handles all of the above, plus these details:
Hiring contractors

Getting bids

Scheduling and overseeing their work
The customer doesn't need to oversee or manage any aspect of the project.
Many customers find it worth the investment to let someone else handle everything—not to mention the added peace of mind knowing that there is only one company responsible for the project.
On average, turn-key fiberglass pool projects cost $70,000–$135,000.
Projects that require extensive retaining walls, water features, or other elaborate elements can cost much more.
Check out this more in-depth explanation of fiberglass pool prices.
You can also receive an online fiberglass pool quote of your own.
Want to start building a budget and figuring out what your perfect pool project might actually cost, with all the add-ons, accessories, and any related services and functionalities needed to transform your backyard into an aquatic oasis?
Try our Design and Price tool! It's free, and you can get a better idea of your potential costs, while also determining what you need in your perfect pool, and what options and add-ons you might want to reconsider. You'll get your estimate in just a few quick clicks, so tap the button below to get started:
Concrete/Gunite Pools: Initial Cost
Just to be clear, a gunite pool is a concrete pool.
Gunite is simply a way of applying the concrete that makes up the pool shell.
When it comes to the initial price of a concrete pool vs. a fiberglass pool, the primary difference is that there is no DIY option for concrete pools (for most people, anyway).
Often people are surprised to learn that the fiberglass pool and concrete pool prices aren't all that different.
Turn-key gunite pool projects typically cost between $50,000 and $160,000+.
The average cost of a concrete inground pool is usually around $85,000 and up for basic packages, depending on the size of the pool.
The disparity in price between concrete and fiberglass isn't in the initial swimming pool cost, but the cost of owning the pool over time, which we'll discuss in more detail in a minute.
Related links:
Vinyl Liner Pools: Initial Cost
Despite losing significant market share over the past 5 years, vinyl liner pools are still extremely popular in certain regions of the United States.
This is undoubtedly due to their low initial cost, which is by far their most appealing attribute.
For the DIY-er, vinyl liner kits are available for purchase online... and for cheap!
Someone building their own vinyl liner pool can probably do so for under $40,000.
Base vinyl liner packages from most pool builders typically cost $45,000–$70,000.
Turn-key vinyl liner packages will typically cost $50,000–$90,000.
Related links:
Still not sure which type of pool would best suit your needs?
We've got an app (well, a quiz) for that! Just click the button below, answer a few quick questions, and we'll show you whether concrete, vinyl liner, or fiberglass is the material that can best deliver the pool of your dreams.
Get some answers now by clicking below:
Lifetime Cost of Ownership Associated with Each Type of Pool
Now, let's take a look at how much it costs to own each type of pool over time.
This chart compares the 10-year swimming pool cost of fiberglass, vinyl, and concrete pools: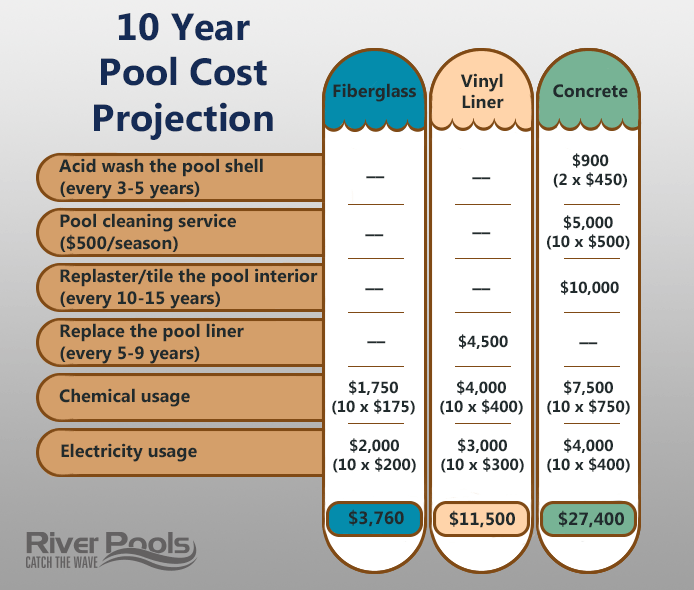 You can see the huge disparity between the maintenance costs of these three types of swimming pools.
Why is the cost to own a fiberglass pool so much less?
First, they are incredibly durable.
Second, they are very efficient.
Let's take a closer look.
Why Are Fiberglass Pools So Durable?
Modern fiberglass pools are so durable because of the scientific developments in the pool's gelcoat layer that have occurred over the past decade.
The gelcoat layer is the part of the pool we see and touch.
Modern gelcoats will last decades, or possibly even a lifetime. This eliminates the need for costly refinishing.
In contrast, concrete pools will require expensive resurfacing every 10 to 15 years, on average.
And you can plan on replacing the liner in a vinyl pool every 5 to 9 years, on average, at a very high cost.
Why Are Fiberglass Pools So Efficient?
Fiberglass pools are incredibly efficient because the gelcoat layer of the pool is non-porous, preventing troublesome algae from embedding into the surface.
This equates to less chemical usage, less time maintaining the pool, and the ability to run the pump and filter in shorter cycles or at lower speeds depending on the system.
This makes for substantial energy savings.
To sum it up, you will have significantly less maintenance and repair expense with a fiberglass pool.
Couple that with the lower cost of chemicals and energy usage, and you have, far and away, the most affordable pool to own on the planet!
That's inground swimming pool pricing in a nutshell.
Check out the other questions below to continue your journey to find the perfect pool. You can also further explore the differences between fiberglass, concrete, and vinyl liner pools.
Related Links:
---
Editor's note: This page was updated on February 25, 2019.
Ready to Request a Quote?