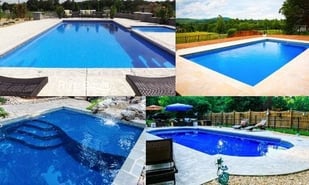 How much does a fiberglass pool cost?
Since you're interested in a fiberglass pool, this is probably one of the first questions that you want to answer before moving forward.
Although this is a tough question to answer, we will do our best here to explain some general pricing guidelines.
You see, buying a swimming pool is a lot like buying a car.
Just as a Tesla Model 3 can start around $35,000 with just a basic package, it can quickly cost over $50,000 once you add all of the upgrades that you want, like black and white interior, sport wheels, and full self-driving capability.
Considering that the average American sells or trades in their vehicle within the first five years of purchase, why do so many people get upgrades?
The answer is because most people understand the importance of getting what they want to make sure their vehicle will provide them with the comfort, quality, ease of use, and other values that they're looking for.

These same principles apply to you as an inground swimming pool shopper.

You're going to see your pool every day for as long as you live in your home, and picking the right pool with the right options is how you ensure that you get the most enjoyment out of your pool without having to worry about maintenance issues later on.
But unlike a vehicle, a swimming pool can't be traded in if you're dissatisfied with its appearance or performance.
This is why focusing on the initial price isn't really the best way to approach your pool project. You need to consider things like maintenance, the quality of the pool, warranties, and the overall look of your pool. In other words, it's okay to be picky. In our opinion, it's a good thing because it saves you trouble later down the road.

Some of the most common swimming pool add-ons and upgrades to choose from are:
Perimeter/waterline tile

Colored pool surface finishes

LED lighting

Extra concrete decking

Decorative concrete decking (stamped concrete, spray deck, colored broom finish, pavers, etc.)

Water slides

Mosaic inlays

Salt chlorine generators

Security covers

Automatic covers

Diving boards

Handrails and ladders

Water features (cascades, waterfalls, deck jets, bubblers, etc.)

Additional jetting

Automatic vacuums

Inground and above-ground hot tubs

Tanning ledges

Raised bond beams

Retaining walls
As you can see, there are a lot of options to choose from. We thoroughly go through each add-on with you to help you decide whether you really want or need it in your pool so that you don't have to do all the research by yourself. This can help to both minimize the cost of your project and ensure that you end up with the features that you really want.
---

Want to see about how much that cost will be with all your favorite pool accessories?
Use our Design and Price Tool to walk through your options and approximate price!
---
How much does a fiberglass pool cost?
The average price of a fiberglass pool (including patio and accessories) is $45,000–$85,000.

But over the course of 10 years, you'll spend only $3,760 maintaining your fiberglass pool. Compare that to the $11,500 that you would spend on a vinyl liner pool or the $27,400 that you would spend on a concrete pool in that same period.

Why is there such a discrepancy in maintenance costs?

Simply put, a fiberglass pool's structure and surface is much more durable than that of concrete or vinyl liner pools. Vinyl liners need frequent replacing while concrete pools need periodic (and expensive) resurfacing. Take a look at our graphic below for a breakdown of the long-term maintenance costs for each.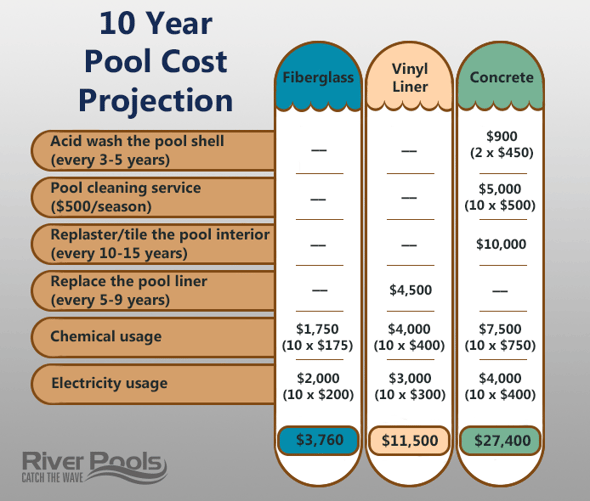 How the pool installation affects the cost
With River Pools, you have four different packages to choose from:
1. Self-Install (DIY)
With this package, the pool shell is shipped directly to your home where you will be taking over responsibility for all labor including excavation, setting the pool, backfilling, adding water, concrete prepping and forming, final grading, electrical work, fencing, permits, and every other aspect of the project.
A DIY fiberglass installation might seem easier at first compared to other pools because the pool comes in one piece, but it requires a lot of attention to detail and there is a very small margin for error. We would only recommend that you take this route if you're skilled with excavation, knowledgeable in construction, and that you have the equipment or can get the equipment to finish the project.
Fiberglass pool shell prices vary by size and type, but the average person spends between $12,000-$30,000 on a self-install, depending on the size of the pool and the options that come with it.
2. Pool without Concrete Decking
With this package, you get the shell, shipping, pool equipment, excavation, setting of the pool, backfill, pool water, pool installation, and the pool permit.
You will still be responsible for concrete forming and prepping, final grading, cleaning of the pool, electrical work, and fencing. This package saves you several thousand dollars at $20,000-$45,000, depending on the size of the pool and the options you select.
3. Pool with Concrete Decking
Package #3 includes everything mentioned in #2, but it also includes the concrete decking, pool cleaning, and final grading.
You can expect to spend on average $30,000-$65,000 for this package.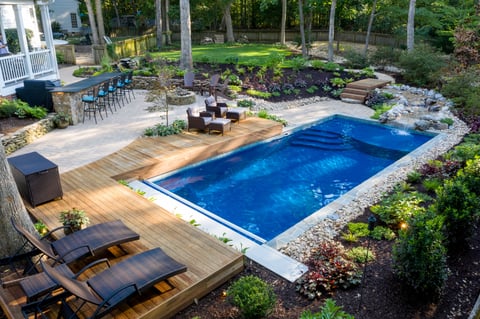 4. Turn-Key
If you're like most homeowners, you'd probably rather deal with one company rather than work with many at once. With the Turn-key package, you get everything listed in the previous packages plus fencing and electrical work.
You can expect to spend between $65,0000-$85,000 for this type of project.
We at River Pools and Spas are one of the few companies that offer this true turn-key pool installation, which eliminates your need to work with multiple contractors and specialists and makes the process of transforming your yard a lot easier.
Keep in mind that these are average price ranges and may not reflect the actual cost of your project. Fiberglass pool prices will vary by pool size and the individual needs of your home and yard. To get the most accurate estimate for your fiberglass inground swimming pool, click the request pricing button below.
How fiberglass pool costs compare to other pool types
As you can see, the price ranges for fiberglass pools vary depending on the package and the add-ons that you choose. But how does this compare to the prices of other types of inground pools?
Let's take a look:
Vinyl Liner Inground Pools
A typical vinyl liner pool will cost less at $35,000-$65,000 because they are not viewed as permanent structures within the pool industry.
Simply stated, a vinyl liner swimming pool is a short-term solution to a long-term investment. Although its initial cost is normally less than a fiberglass or concrete pool, its long-term cost is often much more.
With the average liner replacement costing around $4,000, you can easily make up the price difference within 10–15 years after the pool's installation. In contrast, a Fiberglass pool's structure can last more than 50 years when properly cared for, and the surface of the pool can last several decades or even the entire lifetime of the pool without needing to be refinished.
This doesn't even factor in the money that you save on chemicals alone with a fiberglass swimming pool.
Concrete/Gunite Inground Pools
Concrete pools typically cost $50,000-$100,000 upfront, which isn't that much more than a fiberglass pool. When you analyze long-term costs, however, you'll find a huge discrepancy.
Concrete pools typically have to be replastered every 8–12 years and that usually costs $6,000–$10,000 each time. Keep in mind that this is the cost of plaster, the cheapest resurfacing option. If you use aggregate or tile, the cost of resurfacing the pool will be much higher.
Concrete pools also have the disadvantage of requiring high chemical use, constant wall brushing, scrubbing, and acid-washing, not to mention that the surfaces are rough and they frequently have issues with discoloration.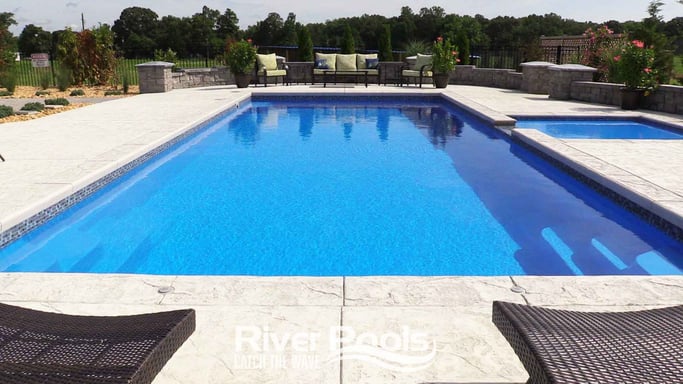 Fiberglass pools have many advantages, but we know that buying an inground pool is a big deal. If you're not quite ready to take the plunge and get your dream pool, be sure to download our ebook below to learn more about fiberglass pools and how to buy one that's right for you.
Why our customers love River Pools
Ready to Request a Quote?