One of the first questions potential pool owners want to know when they call our company is: How much does a fiberglass pool cost?
Although this is a very difficult question to answer, I will try to do my best here to explain some general pricing guidelines.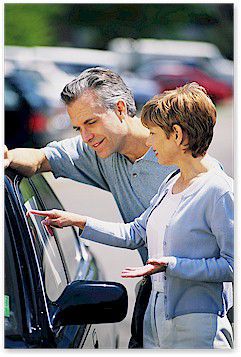 The purchase of a swimming pool is much like the purchase of a vehicle or even a home. With so many options available, price ranges can vary drastically.
Just as a Ford F150 can start around $20k with just a basic package, it can quickly cost over $40k once a shopper adds such items as power windows, CD player, all-leather interior, chrome finishes, extended cab, 4-wheel drive, 4 doors versus two, upgraded wheels, dual exhaust, spray-on bedliner, built-in GPS system, etc.
Considering that the average American sells or trades in their vehicle within the first five years of purchase, why do so many people elect to get so many upgrades? The answer is because most people understand the importance of getting what they want the first time so as to not have any regrets down the road. Because most Americans spend over 30 minutes a day in their vehicles, they want to make sure their vehicle will provide them with comfort, quality, longevity, and ease of use.
These same principles typically apply to most inground swimming pool shoppers.
You're going to see your pool every day for as long as you live in your home, and picking the right pool with the right options the first time is critical to ensure maximum enjoyment with minimum maintenance. Because of this, most shoppers elect to get the pool that will make them happiest in the long-run.
Unfortunately, some people only focus on the initial price of the pool with the goal of finding the cheapest contractor, therefore sacrificing low-maintenance, quality, warranty, and aesthetics, which inevitably leads to regret—especially considering that unlike a vehicle, a swimming pool cannot be traded in if one is dissatisfied and disenchanted.
Some of the most common "add-ons" found in the purchase of a swimming pool:
Perimeter/waterline tile
Colored pool surface finishes
Fiber optic lighting/low voltage lighting
Extra concrete decking
Decorative concrete decking (stamped concrete, spray deck, colored broom finish, pavers, etc.)
Sliding boards
Mosaic inlays
Salt chlorine generators
Security covers
Automatic covers
Diving boards
Handrails and ladders
Water features
Additional jetting
Automatic vacuums
Inground and above-ground hot tubs
Raised bond beams
Retaining walls
As you can see, there are many options available. When someone receives a quote from our company, we thoroughly examine each option as to educate the homeowner on the option's benefits. We want to identify its overall importance to the success of the project.
How much does a fiberglass pool cost?
The average price of a fiberglass pool (including patio and accessories) is $45,000–$85,000. For comparison, liner pools cost $35,000–$65,000, and concrete pools run $50,000–$100,000. But over 10 years you spend only $3,760 in maintenance, rather than $11,500 for vinyl-liner or $27,400 for concrete.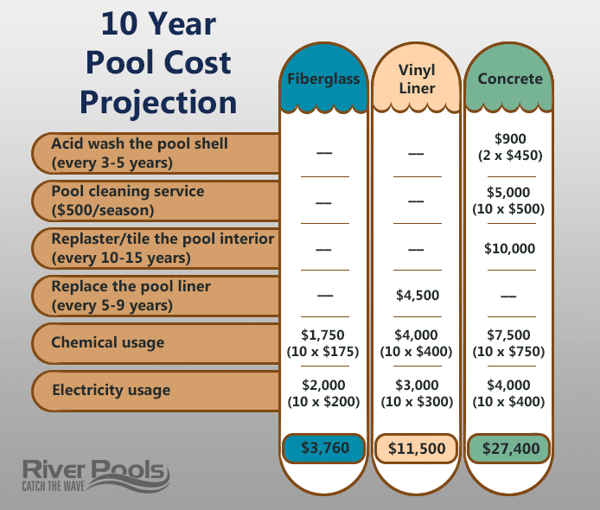 How the pool installation affects the cost
When someone inquires how much our pools cost, extent of installation is also a key factor. What I mean by this is that as a company, we have four different packages we offer our customers. Unlike most pool companies, we will do as much or as little as our customers would have us do. This flexibility leads to less stress and more savings for the customer.
The installation packages are as follows, with their corresponding price ranges:
1. Self-Install (DIY)
This package includes the pool shell to be shipped to the homeowner's house. With a self-install, the homeowner is responsible for all labor involved with the project, including excavation, setting of pool, backfilling, adding water, concrete prepping and forming, final grading, electrical, fencing, permits, etc, etc.
Although the concept of installing a fiberglass pool is not very complex, it does require quite a bit of attention to detail and there is a small margin for error. I recommend self-installs to homeowners who are very skilled with excavation and construction knowledge, and have the needed equipment to facilitate the process.
The average person spends between $12,000–$30,000 on a self-install, based on the size of the pool and the options that come with it.
2. Pool without Concrete Decking
This package includes pool shell, shipping, pool equipment, excavation, setting of pool, backfill, filling pool with water, installation and pool permit.
The homeowner is responsible for concrete forming and prepping, final grading, cleaning of pool, electrical, and fencing.
The price of this package typically ranges from $20,000–$45,000, again depending on the size and options.
3. Pool with Concrete Decking
Package #3 includes everything mentioned in #2, but it also includes the concrete decking, pool cleaning, and final grading.
Most homeowners will spend on average $30,000–$65,000 for package #3.
4. Turn-Key
Many homeowners would rather just deal with one company instead of many. We at River Pools and Spas are one of the few companies that will offer our clients true 'turn-key' pool installations. This package includes all that is found in package #3, as well as fencing and electrical.
Most customers will spend $45,000–$85,000 for a turn-key project, with a large majority falling in the $45,000–$65,000 price range.
---

Want to see about how much that cost will be with all your favorite pool accessories?
Use our Design and Price Tool to walk through your options and get an approximate price!
---
**See our extensive fiberglass pool video library, including various installation videos.
How fiberglass pool costs compare to other pool types
As you can probably see, the price ranges vary quite a bit, just as they should. Everyone has different tastes, goals, and budgets when it comes to building a swimming pool. As far as composite/fiberglass price comparison with other types of pools, one might expect to find the following:
Vinyl Liner Inground Pools
For obvious reasons, a vinyl-lined pool will cost $35,000–$65,000 initially. This is because it is not viewed within the pool industry as a permanent structure.
Simply stated, a vinyl liner swimming pool is a short-term solution to a long-term investment. Although its initial cost is normally less than a fiberglass or concrete pool, its long-term cost is often much more. With the average liner replacement costing around $4,000, you can easily make up the price difference within 10–15 years after the pool's installation.
This doesn't even factor a fiberglass pool's appeal to a potential home buyer (again due to its low-maintenance and longevity) as well as its general year-to-year savings on chemicals.
Concrete/Gunite Inground Pools
Concrete pools typically cost $50,000–$100,000 initially. That's not that much more than a fiberglass pool. When you analyze long-term costs, though, you'll find a huge discrepancy.
For example, concrete pools typically have to be replastered every 8–12 years. This repair usually costs $6,000–$10,000.
There is also a substantial difference each season on chemical/maintenance costs. Concrete pools have the disadvantages of high chemical use, constant wall brushing, discoloration, scrubbing, acid-washing, and surface roughness.
It is rare that an educated consumer will choose concrete over fiberglass unless the shape or size of the pool is very unusual and low-maintenance is not a concern.
Above-Ground Pools
There are two pricing components when purchasing an above-ground pool: the kit and the installation.
Many swimming pool companies only sell above-ground pool kits, and do not actually do the pool's installation.
The average above-ground swimming pool kit will cost between $1,500 and $4,500, depending on the quality of the pool. Typically, the more resin and less metal the pool has, the higher the price will be and the longer it will last.
Above ground pools usually run $1,000–$3,000 to install, depending on the size and type of pool.
Keep in mind that oval pools normally cost more to install than round pools, and the kits are also more expensive.
In recent years, big-box stores like Walmart have started selling above-ground pools also. The main manufacturer of these pools is Intex. Such 'set and fill' pools are very inexpensive, usually costing $100–$800 and in most cases last 1–3 summers before they need to be replaced.
Finally, there are some rectangular above-ground pools available on the market as well. The most well-known rectangular above ground pool company is Kayak Pools. Because rectangular above-ground pools are almost always surrounded by a wrap-around deck (necessary for structural support), they usually cost over $10,000.
Read our award-winning article: Top 5 Fiberglass Pools Problems and Solutions by Jason Hughes.
---
Editor's note: This page was originally published in November 2015 and has been updated and revamped for accuracy and appearance.
Ready to Request a Quote?