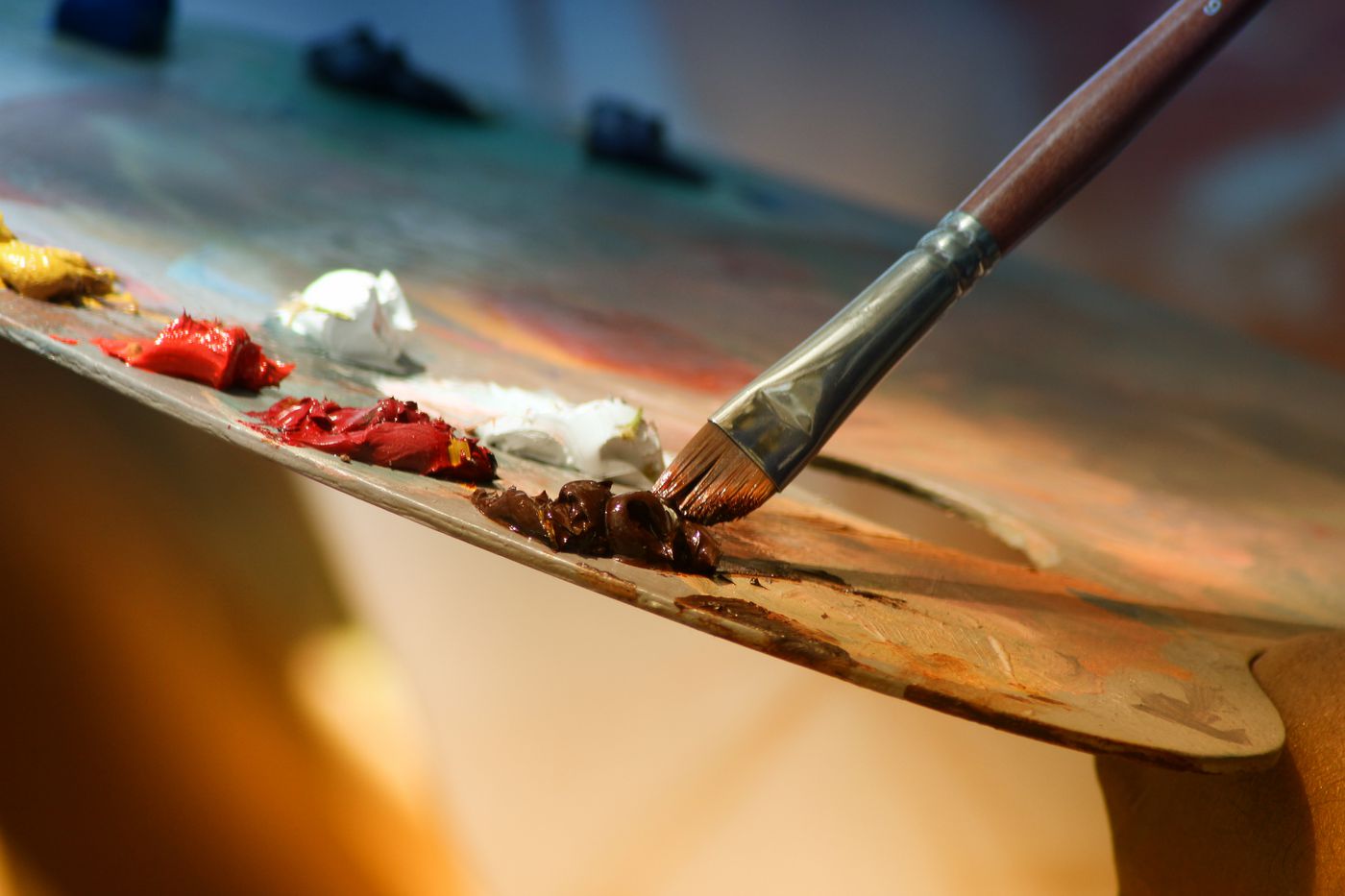 Subscribe
How to Make Vinyl Liner Pools More Attractive
Options and Accessories | Swimming Pool Design | Vinyl Liner Pool Information
Ever watched "What Not to Wear"? I wish Stacy London would hand me $5,000 for new clothes. The catch: those clothes didn't come off the hanger magically the right shape. All those outfits were tailored to the shopper. They looked amazing afterward, yes, but that tailoring also used up a big chunk of their shopping money. Now prepare yourself...that's basically what you have to do to a vinyl liner pool.
For some people, vinyl liner pools are the best fit for their needs. However, this pool type has its own set of maintenance and cosmetic issues, many of which we discuss on our blog.
River Pools specializes in fiberglass pools, but we recognize that they aren't for everyone, and that's okay! We aim to provide helpful information on all three pool types. This mission brings us right alongside you as you make your big pool decisions.
So what can you do to bump up the "pretty" factor on your vinyl liner pool? One word: upgrade.
You can improve these aspects to make it a little prettier:
Vinyl Liner Pool Shape
Overall shape options:
The standard
Most vinyl liner pools are rectangular.
This is a pretty classic pool shape.
It's also the easiest in terms of fitting a liner, which only matters to you if you're doing the pool yourself.
The upgrade
To take your vinyl liner pool to the next level, you can do a freeform shape.
If you have the right pool builder they should be able to craft an eye-popping pool to meet your design needs.
Sad news: if you plan to DIY your vinyl liner pool, you'll probably want to stick with a linear shape. It's much easier to correctly cut out and install.
Vinyl Liner Pool Coping
Overall coping options:
White aluminum C-channel coping

Cantilevered coping

Flat-mount coping
The standard
The go-to for vinyl liner pools is white aluminum C-channel coping.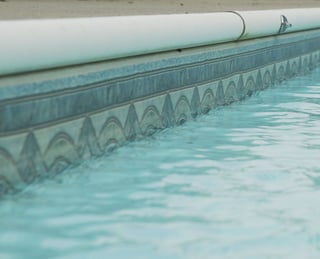 This bullnose (or half-round, like a C shape) coping is bolted at the top of the pool wall panel as a permanent border for the patio concrete.
The white stands out as an obvious outline of the pool. It's not pretty.
Side note: C-channel is also sometimes called U-channel. Same difference.
The upgrade
Cantilevered coping means that the patio concrete is poured up to a styrofoam form at the edge where the pool meets the patio.
When the form is removed, the concrete itself is the edge.
Cantilevered coping is often bullnose/half-round.
It's not necessarily just boring sidewalk-style concrete. The concrete can be colored, stamped… you name it.
Flat-mount coping isn't really coping at all. It's flat and secures your vinyl liner. You can add different coping, like fancy pavers, on top of it.
Vinyl Liner Pool Steps
White plastic steps

Metal pool ladder

Vinyl over steps
The standard
White plastic steps jut out from the main body of the pool.
We've all seen these. The memory is burned into our retinas. They remind me of a heavy-duty paint tray you get from a home improvement store when you want to paint a room. Useful, sure, but not exactly prime decorating material.
You can also opt for a pool ladder, which is less obvious but not much prettier.
The upgrade
The more aesthetically appealing option is vinyl over steps. The vinyl liner goes over the steps, hence the name.
You can pick whether you want the steps along the wall or in a corner. You can also choose the step design, such as triangle, cake, or rectangle. Live your dream.
This upgrade can cost $700–$3000 depending on the step design.
Caution: vinyl liners are super thin, so if you let your dog walk on the steps, Fluffy's claws could puncture it.
Vinyl Liner Pool Seats
Overall seating options:
White bench seats

Vinyl over benches

Vinyl over ledges
The standard
White bench seats are basically the equivalent of the white plastic steps. Inexpensive but gross to look at.
The upgrade
You have the option of vinyl over benches and ledges.
As with the vinyl over steps, it can cost $700–$3000 depending on the design.
The liner on a ledge or bench seat runs the risk of puncture if your dog sits here or if a stray branch hits it wrong.
Other Pool Options
Can you make a vinyl liner pool pretty? Yes.
But here's the thing: your costs jump so high that you reach the cost of a fiberglass pool without the maintenance benefits.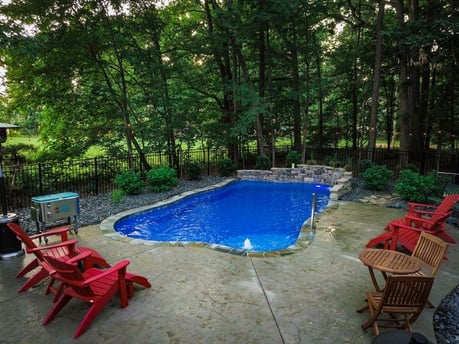 Fiberglass pools do cost $45,000–$85,000. However, so do upgraded vinyl liner pools.
And fiberglass pools have lower lifetime expenses, which saves you money in the long run.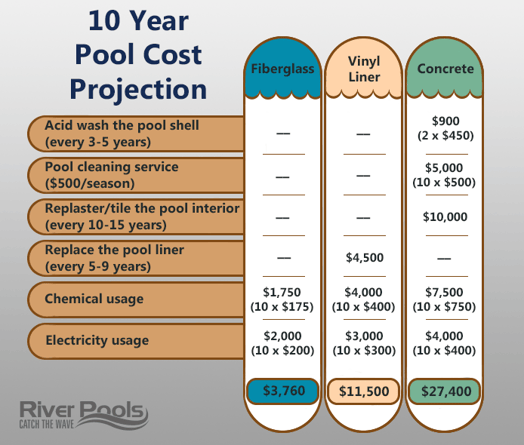 Hope this helps! Read through our ebook about the three pool types, and get in touch with us to see if fiberglass might be the right choice for you. We look forward to helping you!
---
Editor's note: This blog article was updated on October 17, 2018.
Editor's note: This article was updated on September 1, 2023.