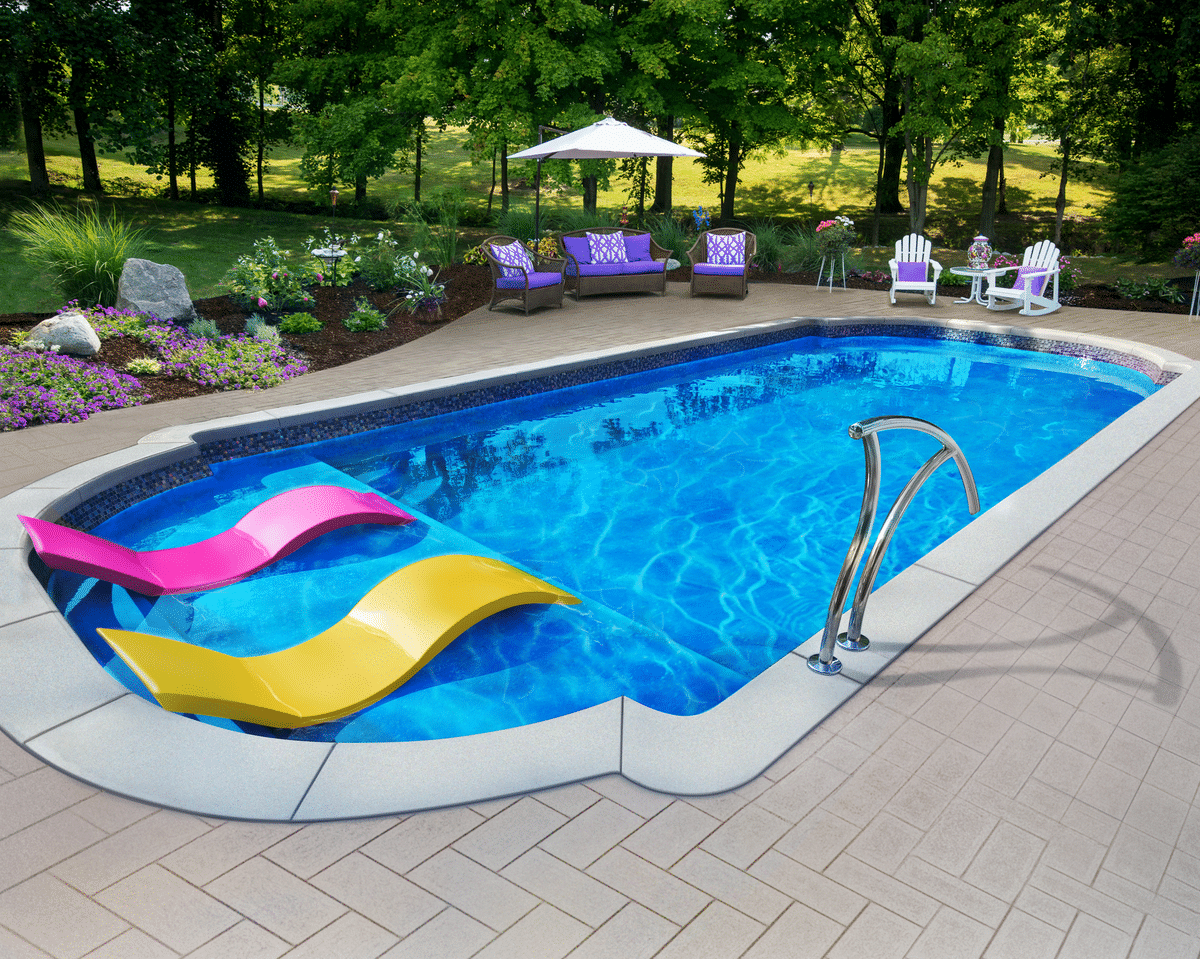 Subscribe
All Things Shape: Home Swimming Pool Design Guide
Fiberglass Pool Information | Options and Accessories | Pool Design Guides | Swimming Pool FAQs | Tanning Ledges
"Okay, okay, FINE. We'll get a pool!"
Does this statement feel familiar? We know it's not an uncommon one to say when you have loved ones who beg and plead for a lil' (or big) ol' inground swimming pool to call their own. Searching online to learn more about your options is a great place to start, and is how many of our customers discovered us. At River Pools, our expertise is in the installation and manufacturing of inground, one-piece fiberglass swimming pools. However, we also know a thing or two about other inground pool types and have a passion for informing the masses about all the inground pool industry has to offer.
If you're new to the world of swimming pools, two things: 1) Welcome! We're happy to have you here. And 2) You may be realizing that there's a lot to sort through and decide when it comes to getting your own: shape, size, color, type, placement, builder, etc. We encourage you to do all the research you can on each of those options so you can feel confident when you sit down with your builder for the first time. Today, we will be focusing primarily on that first point: shape.
We'll be covering what your shape options are with inground pools, what feel each of those can create and what makes for modern pool designs so you can work towards making a home swimming pool design decision.
Breakdown of Available Pool Shapes:
As you probably know, fiberglass pools come in predetermined shapes and designs. They're not available for customization like you can get in gunite or vinyl liner pools. That being said, there are a pretty wide variety of options to choose from: there's rectangle/square pool designs, freeform/curvy designs, and roman pool shapes. This isn't including other fun things you can get as add-ons or smaller non-pool options, like spas or wading pools. There are simple pool designs, more complex designs - with the multiple fiberglass pool manufacturers out there, we think it'll be tough to not find at least one pool that catches your eye.
Let's get into a breakdown of each available shape choice. We'll cover pool shape pros and cons and what type or person or need may be best suited for each. We'll start with the classic rectangle:
Rectangle
Pros:
Clean, modern look
Easier to do certain swimming activities (laps for example)
Easier to install automatic pool cover
Cons:
It's hard to go wrong with a classic. For many, when they think of an inground swimming pool, they picture one with 4 straight edges. These sharp, clean lines and angles give rectangular pools a very modern feel, as curves in design tend to be reminiscent of trends of the past (which is totally fine if that's the look you're striving for!).

If you want your home to feel state-of-the-art and on the up-and-up with modern trends, a rectangle pool will be your best bet. Do you have a lot of trees in your yard or a lot of potential debris that could make its way into the pool? This shape is also great if you're someone looking to have an autocover, as it's easiest to install them on a straight-edged pool.
Examples of Rectangle Pools We Offer: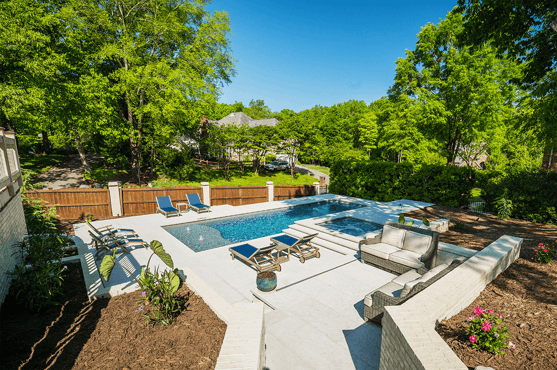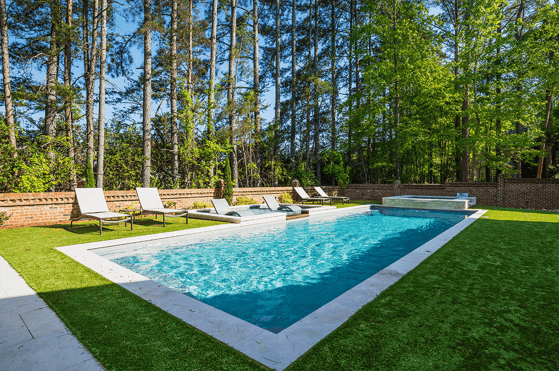 Freeform
Pros:
Has a natural, flowing feel
Brings a little extra personality to your yard
Cons:
Don't have as much of a modern feeling as rectangle or even Roman in some cases
May sacrifice some swim room for curved edges
Freeform shapes perform a bit of an opposite function from rectangles. Now we say "a bit" because they're still elegant and luxurious all the same! But what's different about them is their rounded edges give off a natural water feeling. It's very rare to find something in nature with perfect, straight edges all the way around, so this style of pool can mimic a body of water you might find in the wild (think a cute little pond).
Examples of Freeform Pools We Offer: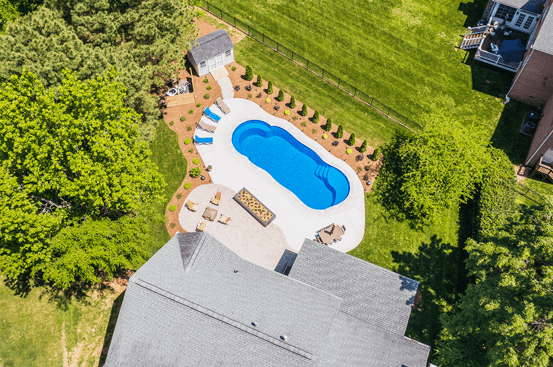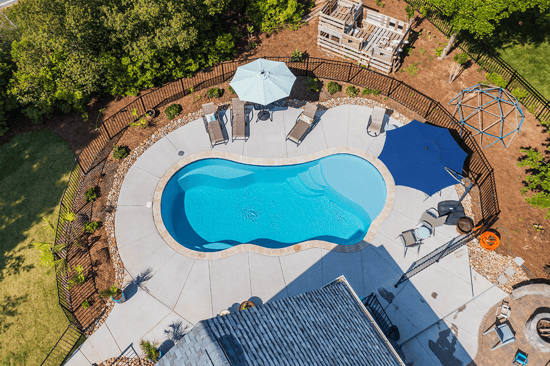 Roman
Pros:
A "best of both worlds" - straight edges and curved ends
Classic vibe
Cons:
May be slightly more difficult to include automatic cover (but likely easier than freeform)
May not find as many options out there as a rectangle or freeform
Roman pool designs offer an elegant but classical feel with their straight vertical edges and more rounded ends. Much like other architectural pieces with Roman or Greek influence, they often stand the test of time and remain to be viewed as a beautiful decor style.

Someone who appreciates a middle ground between clean/modern and curvy fun may find Roman designs appealing. If you enjoy more classic designs in homes and buildings, then this shape may be just what you need.
Keep in mind that your yard and exactly how much yard you have to work with may partially dictate what pool design you end up with. Access is extremely important with fiberglass pools since they arrive at your home in one piece and will need to be maneuvered into place.
Examples of Roman Pools We Offer: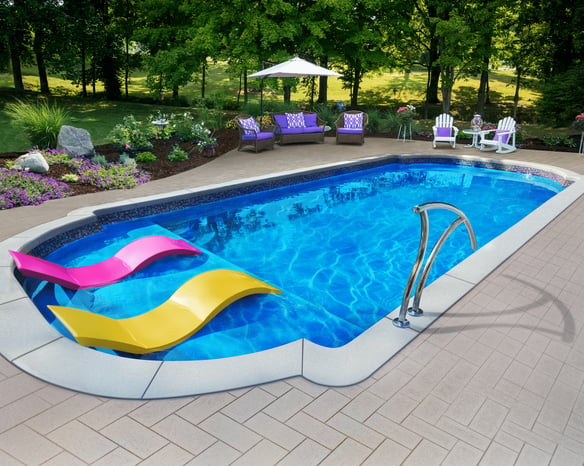 Custom
Pros:
The world, er, design, is your oyster (for the most part)
You can potentially have a pool no one else has
Cons:
Eliminates fiberglass as an option
May not be able to get an automatic cover
Will likely cost more depending on how complex the design is
Maybe it came to you in a dream. Or you saw it in a movie once. Regardless of where you got the idea from, sometimes you get an image in your head of the "perfect" inground pool and it's not any of the shapes above. There are certainly ways to make that dream come true, especially with gunite pools as they have practically endless customization possibilities. So if you're someone who wants a pool that no one else in the world has ever had, then a custom pool may be the path you need to take.
Unfortunately, as River Pools only deals in fiberglass, we do not provide any custom pool options.
Modern Features Available for Inground Pools:
We touched on how a rectangle pool can help you reach your modern, trendy home goals. But what other pool features can give you that modern zest? What makes a pool look modern?
Well, like we said, straight edges. This doesn't just apply to the walls of the pool, but you can also find designs with straight-edged steps, benches and tanning ledges. Check out our M35 design as an example.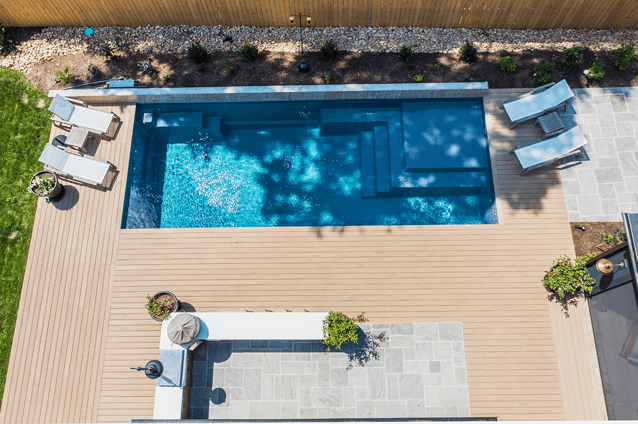 Other trending and modern features you can find in pools today are beach entries, sun shelves, and built-in spas (all of which can be found in fiberglass pools!).
Décor and landscaping around your pool can also aid in its modern feel, such as what concrete or decking you choose. Your pool builder should be able to guide you in the right direction based on your vision.
How to Get Started on Getting Your Own Pool:
In the end, most of what makes one shape "better" than another depends on your wants and preferences rather than objective reasons. Whatever shape makes you feel like you're most at home, comfortable and "you" is the best one.
To us, a swimming pool is a place to be together, whatever that means for you. Whether that means with the whole neighborhood, with your spouse and kids, or just with your fur child - we all have someone we wish we could spend more quality time with. Not only is an inground pool beautiful, but it's a place almost everyone can find a spot in to enjoy and connect with others (no matter shape, size or even type). Of course we feel strongly about fiberglass pools, but there's great things to be found in vinyl and gunite pools, as well. We know fiberglass isn't for everyone, but we strongly believe there is some kind of pool out there for everyone. If we can help lead you to it, we'll be reaching our goals as a company.
We appreciate you spending time with us today and we hope you learned a little something about home swimming pool design shapes and options. Still needing some help deciding between pool shapes? Our Pool Shape Selector tool goes over what we went through here, but in concise quiz form with a result presented at the end.

Have you decided on a shape but want to know what it might cost you? Try out our fiberglass swimming pool cost calculator for pricing estimates!
Ready to get an exact price tag for your fiberglass pool project? Contact a River Pools dealer in your area by clicking the button below: