Options and Accessories | Pool Design Guides | Swimming Pool Design | Swimming Pool FAQs
For my family, a diving board is a runway. It's all very dramatic. We waddle like penguins, strut like models, wave like royalty, and stroll like oblivious pedestrians...and then drop into the deep end of the pool, still "walking."
Installation & Construction | Options and Accessories | Vinyl Liner Pool Information
As tempting as it may be sometimes, you're not allowed to leave people stranded in your pool. There are laws against that. Swimmers need a way to get out of the water, so you need a ladder at least, if not actual steps, and you have to include them in your design from the beginning.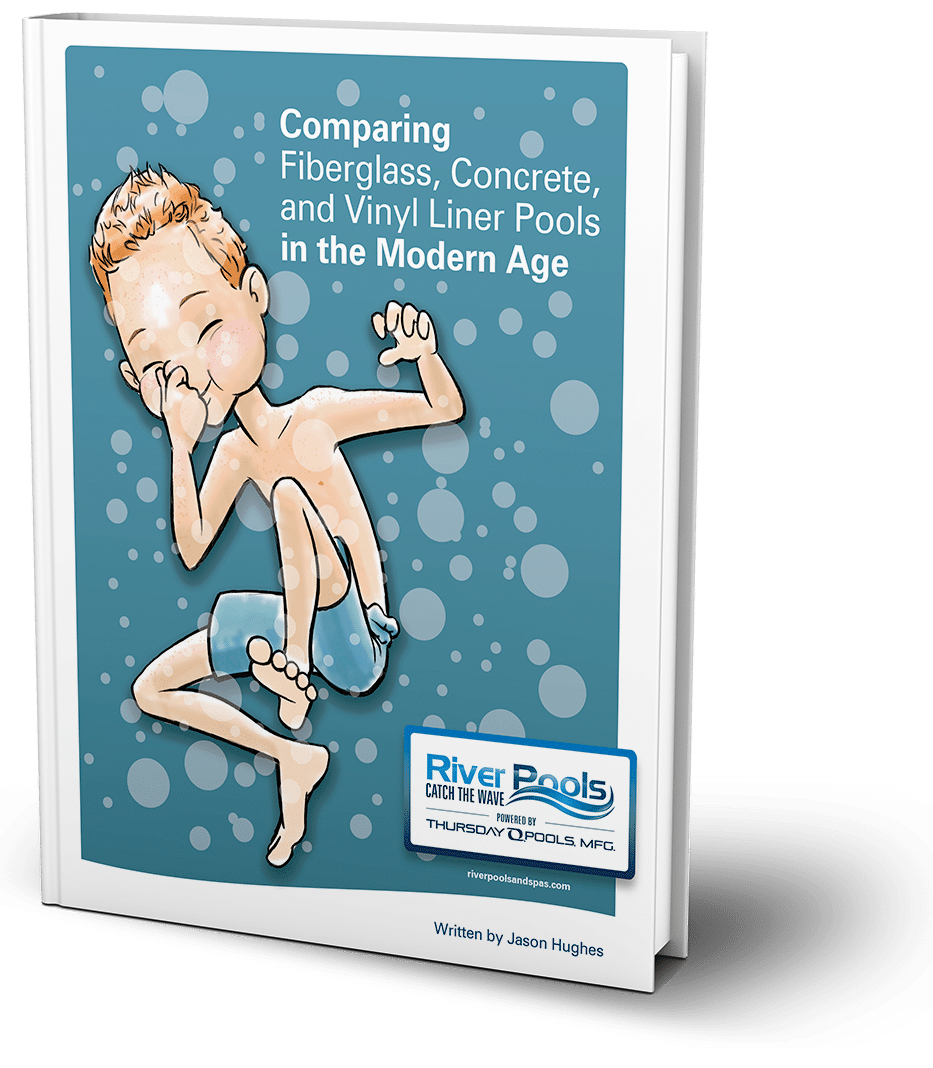 Comparing Fiberglass, Concrete, and Vinyl Liner Pools in the Modern Age
Don't blindly wonder if a fiberglass, concrete, or vinyl liner pool is right for you. Our educational ebook does a deep-dive comparison of the 3 types, all while noting the advantages and disadvantages of each.
Options and Accessories | Swimming Pool Accessories
Did you ever swim in the ocean, get a mouthful of seawater, and think, "Yum, I wish my pool at home tasted like this"? Yeah, probably not. Lucky for you and your taste buds, that's not what a saltwater pool is.
Cost and Pricing | Installation & Construction | Options and Accessories | Swimming Pool FAQs | Vinyl Liner Pool Information
How much will my vinyl liner pool cost? What do I need to budget for? You've already asked yourself these questions—you know that buying a pool is a big financial decision. You don't need us to tell you that. River Pools aims to provide you all the information so you can make the best decision in your pool search. We suggest ways to make your pool project more affordable and provide a pricing guide for all three of the major inground pool types. Now we'd like to help you budget by providing an overview of the areas you should take into account when planning your dream backyard pool: the factors for both initial and lifetime costs.
On hot days where the temperature has you sweating and thirsty for a cold drink, there aren't many things as refreshing as jumping into a cold pool. A pool is something you want to enjoy when it's hot outside. However, many people don't consider that their pool water can reach temperatures in the 90's during the summer. Pool Chillers, an optional feature on pool heat pumps, are specifically designed to lower your pool's water temperature so you can fully enjoy it, even on the hottest days of summer. In the following video, Jason shows just how big the difference can be when you have a Chiller/Cooler installed on your pool.
Options and Accessories | Pool Design Guides
What's Hot In The World Of Inground Pools Today? One advantage we have here at River Pools Powered by Thursday Pools Manufacturing is that helping hundreds of inground pool clients plan and design their dream pools allows us to keep a pulse on the options, accessories, and features that are trending in the inground pool marketplace. And today we want to share this with you!
If you're considering an inground pool, you are probably also considering installing an underwater pool light. As we work with hundreds of folks throughout Virginia, Maryland, and West Virginia each year we have the opportunity to answer tons of questions about pool lighting. In this article, we're going to tackle some of the most popular inground pool lighting questions we receive on a daily basis. Let's jump right in!
Are you looking for a way to use your swimming pool for as much of the year as possible? At River Pools we meet with hundreds of folks across Virginia, Maryland, and West Virginia each year regarding their inground pool projects and we receive many questions regarding pool heaters. Today we're going to discuss the benefits of heating your pool, different heating options, and how much each option costs initially and on a monthly basis.