Options and Accessories | Swimming Pool Accessories | Swimming Pool FAQs
People get swimming pools for many reasons… but just about everyone who gets a pool installed in their backyard hopes to swim fairly often.
Fiberglass vs Concrete vs Vinyl Liner | Options and Accessories | Pool Design Guides | Swimming Pool Design | Swimming Pool FAQs
A dark bottom pool is a swimming pool that has a dark surface, like deep blue, gray, or black. These pool designs have been around for decades, but they have only recently become a widespread trend. In fact, we've seen a considerable increase in dark bottom pool color requests from our customers over the last several years (we manufacture fiberglass pools and spas). If you're on the fence about your pool color or are strongly considering a dark bottom pool, keep reading.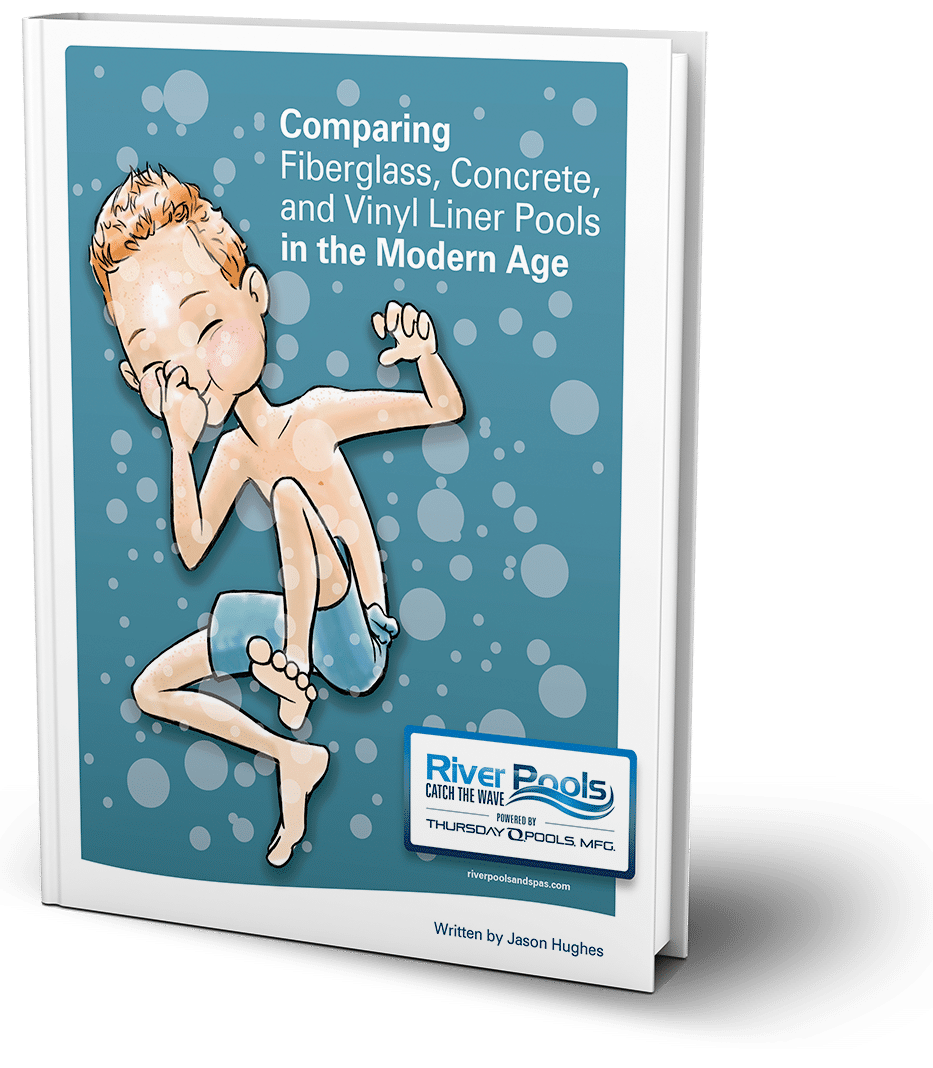 Comparing Fiberglass, Concrete, and Vinyl Liner Pools in the Modern Age
Don't blindly wonder if a fiberglass, concrete, or vinyl liner pool is right for you. Our educational ebook does a deep-dive comparison of the 3 types, all while noting the advantages and disadvantages of each.
Options and Accessories | Pool Closing/Winterization
Now that summer has ended and it's time to start thinking about shutting down your pool, you might be shopping for the perfect swimming pool cover to bring this swim season to a close. We say might because it's not mandatory in every state or region, but putting regulations aside, covering your pool during the off-season can make your pool maintenance a lot easier. If you have a ton of overhead trees, for example, or see a lot of leaves and debris around your home in the fall, keeping them out of the pool will save you hours of your time in maintenance chores.
Options and Accessories | Patio and Coping | Pool landscaping
Are you one of those people who kills your plants every time you try to start a garden? Do you put off home improvement projects until your house is literally falling apart? Or maybe you just like to make your life as simple as possible so that you have time for things that are really important to you. Whatever the case, if you're looking for an outdoor living space that's super low maintenance (and not just a slab of concrete with a picnic table), keep reading!
Options and Accessories | Pool Maintenance
Congratulations! We heard you're getting a new inground pool. Once your pool builder is done with the construction of your beautiful swimming pool, it will be your job to keep it in good shape so that you can enjoy it for years to come. If you're new to inground pool ownership, we'd personally like to welcome you to the club. You'll quickly find that owning a pool can be great for the health and happiness of you and your family. As fiberglass pool manufacturers and installers, we've helped hundreds of new pool owners get set up and ready to go with their new inground pools. So, to help you get a great start to your life as a member of the pool owner's club, we broke down which pool supplies you'll need by the time your swimming pool is in the ground and ready to use. In the following sections, you'll learn what you need to keep handy around your pool, why you need it, and how much it might cost. We also threw in a few extras for you to consider if you want to upgrade your experience. Let's dive in.
Options and Accessories | Swimming Pool FAQs
Fun fact: Saltwater crocodiles are the largest living reptiles in the world. They can grow up to 23 feet long and weigh over 2,000 pounds. But we're not here to talk about crocodiles. We're here to talk about saltwater pools. As fiberglass pool manufacturers who work with a network of installers across the country, we can confirm that saltwater pools are growing more and more popular every year. While public opinion clearly supports installing or switching to a salt system, people still have a ton of questions.
Options and Accessories | Swimming Pool Accessories | Swimming Pool Design
Inground pools aren't just for people with big yards and big budgets. Actually, some of the coolest projects we've worked on have been with small swimming pool models. While there are tons of reasons why you may want a small inground pool, we've discovered over the years as fiberglass pool manufacturers that people prefer small inground pools because they tend to cost less and fit in most spaces.
Options and Accessories | Swimming Pool Accessories
If we've learned anything during our many years in the swimming pool industry, it's this: Kids LOVE swimming pools, no matter the type, size, or cost. Throw in a couple of pool toys, and they won't get out for the rest of the summer. Add a pool slide, and the pool practically becomes Disneyland.
Installation & Construction | Options and Accessories
Starting to wonder if you should finally take your pool to the next level with a pool house? Have you ever considered it before? A pool house may seem like a luxury that's just out of reach - too expensive, too much work, and takes up too much space. But the reality is that pool houses come in all different shapes, sizes, and styles that can work with a range of budgets.