Options and Accessories | Patio and Coping
"A patio around the pool." Sure. No problem. Sounds simple, right? Until you start thinking size, and shape, and materials, and money… Yuck. Details. The devil's in 'em. But we at River Pools are here to help! We want to clear out the mess and the stress so that you can make the best pool decision for you and your family. We specialize in fiberglass pools, sure, but no matter what pool type you choose in the end, we provide all the information on all the aspects, good and bad.
Options and Accessories | Vinyl Liner Pool Information
Looking for the perfect vinyl liner pool? You'll eventually have to choose the vinyl liner part of that. Color and design, of course—but how thick are the different pool liner options? How do the manufacturers measure it? What does the measurement mean in normal people terms?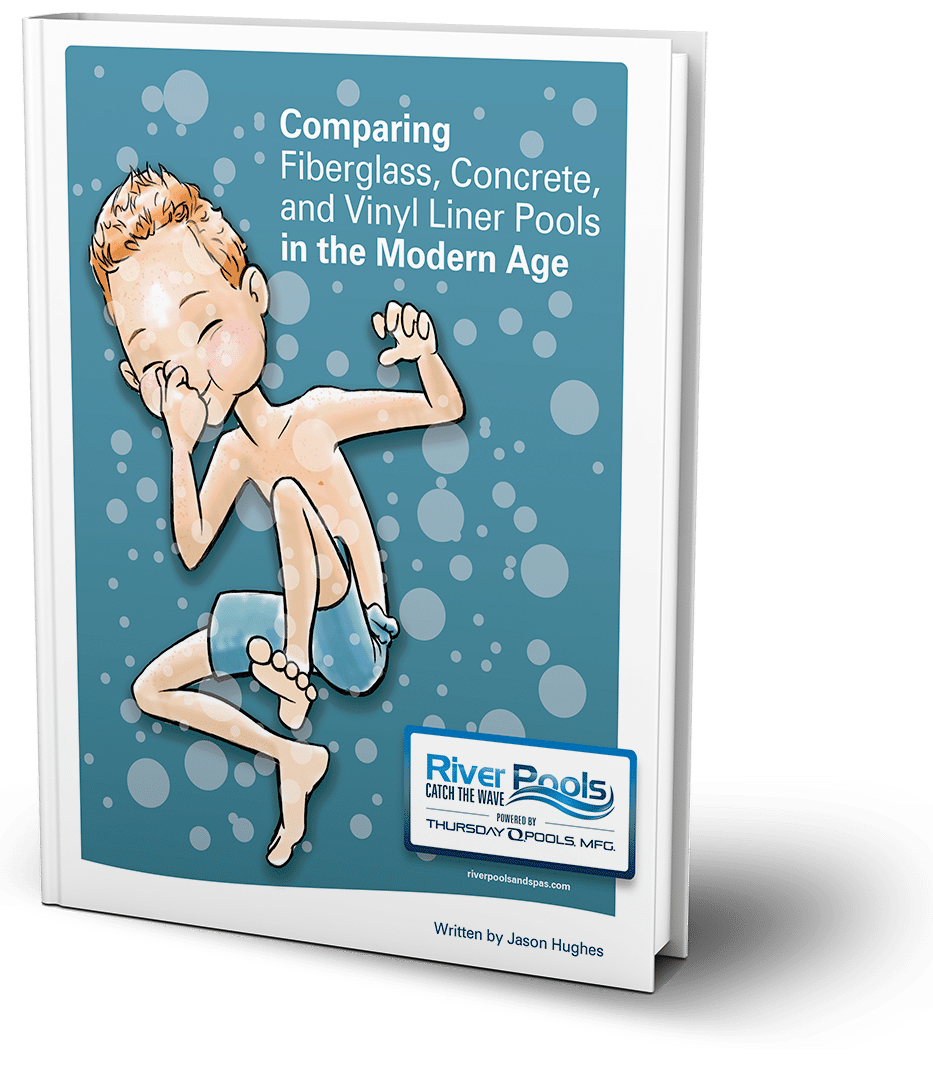 Comparing Fiberglass, Concrete, and Vinyl Liner Pools in the Modern Age
Don't blindly wonder if a fiberglass, concrete, or vinyl liner pool is right for you. Our educational ebook does a deep-dive comparison of the 3 types, all while noting the advantages and disadvantages of each.
Options and Accessories | Swimming Pool Design
Ever notice how some people insist on using a $5 word when a 10¢ word would suffice? (I know I just used the word "suffice," but hear me out.) The first time I heard the phrase "exposed aggregate" for a pool finish, I thought it was a pretentious way to say "Pebble Tec." But it's actually the correct term. Not all exposed aggregate pool finishes are products of the Pebble Tec company. Exposed aggregate finishes are sometimes called Pebble Tec in the same way that we often call tissues Kleenex—one brand has become representative of the product. So we're going to talk about exposed aggregate finishes as a whole.
Options and Accessories | Swimming Pool Design | Vinyl Liner Pool Information
Ever watched "What Not to Wear"? I wish Stacy London would hand me $5,000 for new clothes. The catch: those clothes didn't come off the hanger magically the right shape. All those outfits were tailored to the shopper. They looked amazing afterward, yes, but that tailoring also used up a big chunk of their shopping money. Now prepare yourself...that's basically what you have to do to a vinyl liner pool.
Options and Accessories | Swimming Pool Accessories | Swimming Pool Design
My mom is big on interior design, and her most recent project is redoing the tile on her kitchen wall. It wasn't old-fashioned or broken, but she likes everything to be up-to-date and looking its best. In the same way, for fiberglass pools, tile is a matter of taste, not necessity. Here at River Pools, it's important to us that you get the pool you want. Some customers love tile, and we're happy to put it on. Others choose to save the money toward other features and accessories. There's no wrong option!
Concrete Pool Information | Installation & Construction | Options and Accessories
Concrete pools are often referred to as "gunite" pools, but then what's shotcrete? Are gunite, shotcrete, and concrete all the same thing? Not to worry… all will be revealed. (Doesn't that sound ominous? I love it.) Quick refresher: concrete is a mix of water, cement, sand, and a coarse aggregate, which is usually stone or gravel. The cement, sand, and aggregate are the initial mixture. How the builder mixes in the water determines how we refer to it.
Options and Accessories | Pool Closing/Winterization | Swimming Pool Accessories
If you're new to the world of pool ownership, get ready to use your Surprised Face… You don't have to have a pool cover. I always got the impression that you did, but it's actually not required. The obligatory fence around the pool area is your first line of defense in the safety arena.
Options and Accessories | Pool Design Guides | Swimming Pool Design | Swimming Pool FAQs
For my family, a diving board is a runway. It's all very dramatic. We waddle like penguins, strut like models, wave like royalty, and stroll like oblivious pedestrians...and then drop into the deep end of the pool, still "walking."
Installation & Construction | Options and Accessories | Vinyl Liner Pool Information
As tempting as it may be sometimes, you're not allowed to leave people stranded in your pool. There are laws against that. Swimmers need a way to get out of the water, so you need a ladder at least, if not actual steps, and you have to include them in your design from the beginning.
Options and Accessories | Swimming Pool Accessories
Did you ever swim in the ocean, get a mouthful of seawater, and think, "Yum, I wish my pool at home tasted like this"? Yeah, probably not. Lucky for you and your taste buds, that's not what a saltwater pool is.