Cost and Pricing | Options and Accessories
We'll be upfront with you - a saltwater pool costs about as much as a traditional chlorine pool. If that's what you were looking for, feel free to exit this page. If, however, you'd like to learn more about saltwater pool costs, keep reading because we're going to cover all angles of this topic.
Cost and Pricing | Options and Accessories
You've finally decided that want to install an inground pool on your property. Now what? Like most home improvement projects, installing an inground swimming pool can add tremendous value to your home. However, it can also be a hefty investment if you don't know how to set a realistic budget. At River Pools, we install inground fiberglass pools for a wide range of customers every year. For some, the budget is an afterthought, and for others, it's a crucial factor. Before you make any big purchases, it's important that you understand your finances, carefully research your options, and create a plan to help you pick the best pool package for your home.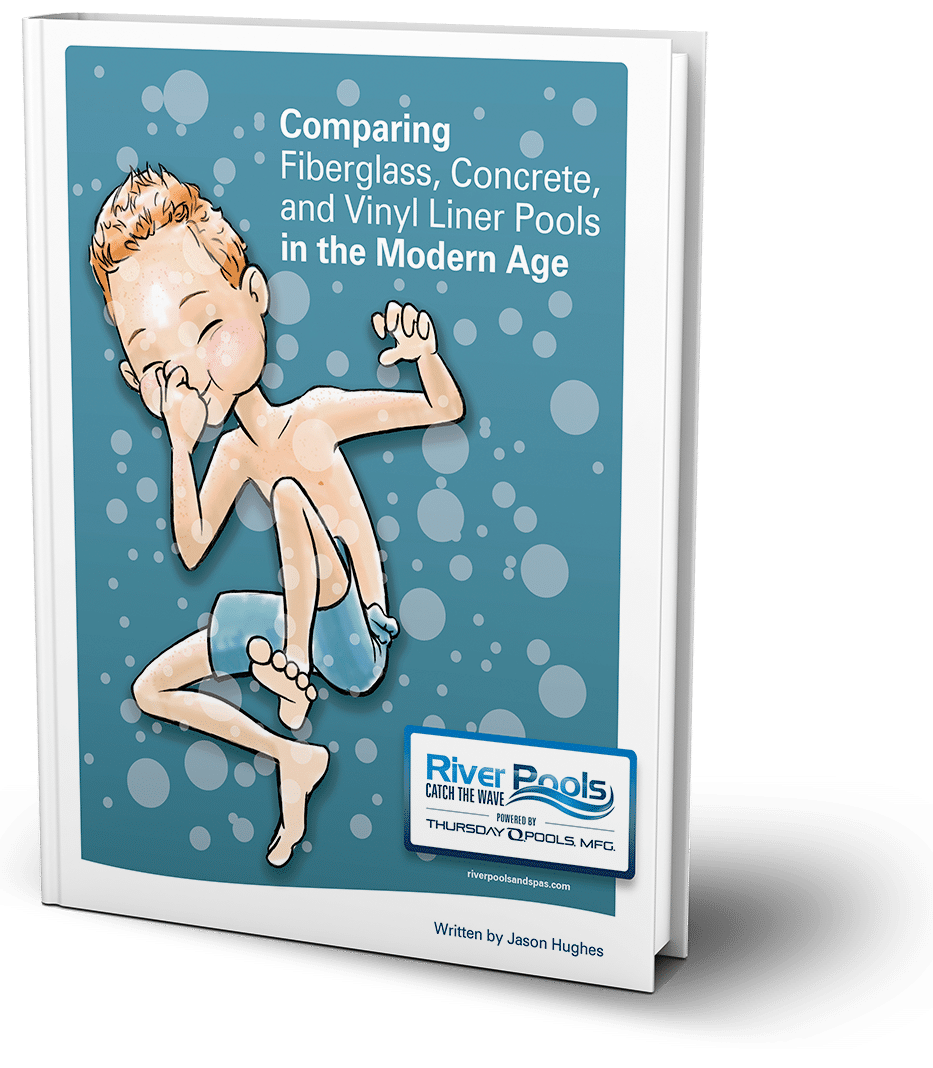 Comparing Fiberglass, Concrete, and Vinyl Liner Pools in the Modern Age
Don't blindly wonder if a fiberglass, concrete, or vinyl liner pool is right for you. Our educational ebook does a deep-dive comparison of the 3 types, all while noting the advantages and disadvantages of each.
Concrete Pool Information | Fiberglass Pool Information | Options and Accessories
Looking for a new finish for your swimming pool? If tile, plaster, or aggregate aren't your jam, you still have a few other options. One viable option that we sometimes recommend is ecoFINISH. You might have heard of it before, so we want to help you learn more about it and explain how it works.
Concrete Pool Information | Fiberglass Pool Information | Options and Accessories | Swimming Pool FAQs
One of the main things that you have to consider when choosing an inground pool is the interior finish. You've got a lot of options for this part, but which one is the best? You want it to transform your pool into an oasis, a relaxing space that makes you forget the responsibilities waiting outside the water. With that in mind, you don't want something that just looks nice. You probably want something that's easy to maintain and lasts for years. At River Pools, we've worked in the swimming pool business for many years and know all about swimming pool finishes and their pros and cons.
Fiberglass vs Concrete vs Vinyl Liner | Options and Accessories
One of the really cool parts of buying your own inground pool is that you get to pick the pool color. That's right. Not all swimming pools have to be white or blue. Swimming pools of all types are finished in a wide range of colors like green, grey, and even black.
Installation & Construction | Options and Accessories | Pool Maintenance
Everyone looks forward to swimming in their pool, but who looks forward to cleaning it? Okay, some of you like cleaning the pool (maybe even you), but most people find pool cleaning to be a chore and would rather have someone or something else do it for them.
Options and Accessories | Patio and Coping
Did you know that most pool owners spend 70-90% of their time around the pool rather than in it? When you consider that the swimming season only lasts a few months out of the year, designing an outdoor living space that is functional and nice to look at becomes much more important. But what are your options when it comes to pool patio furniture and decorating your outdoor living space?
Options and Accessories | Swimming Pool Accessories
Lying on your lounger by the pool requires a few important essentials: sunglasses, a drink, a book, and something to browse the internet with. Let's be honest, you'll quickly tire of squinting to read the book and inevitably move to your phone or tablet. Why? To post pictures, check e-mail, peruse the internet, watch a show, listen to a podcast, or shop. But what happens when you're lounging with your feet in the water taking a video on Snapchat and it doesn't go through? You load Facebook...nada. E-mail? You just see that little circle loading thing.
Options and Accessories | Patio and Coping
Have you ever caught yourself daydreaming about the perfect swimming pool? When it comes to your own inground pool, chances are you already know the exact dimensions that you want, the shape, the type, and even the features that you want your swimming pool to have.
Options and Accessories | Swimming Pool Accessories | Tanning Ledges
Have you ever wanted to take the recliner from your living room and set it up in your pool? Maybe you'd like to stretch out on the couch underneath the summer sun while basking in the water. Okay, that sounds like a bad idea, but the good news is, there's a lot of potential for pool furniture.