Cost and Pricing | Installation & Construction | Patio and Coping | Pool Design Guides
Let me just say...if you're reading this article, it's pretty safe to say you have good taste. How do I know? Because if you're researching pool coping, you already know you want something special. Am I right?
Cost and Pricing | Options and Accessories
What's the price of a fiberglass pool? This, of course, is always one of the first questions a pool shopper has when starting the research process for a fiberglass pool. Here at River Pools, I'd imagine we receive this question hundreds and hundreds of times a year, likely within the first couple of minutes of any conversation. But we get it. Price matters (along with many other factors). It can certainly dictate what pool and what options you're able to achieve in the long run. You need to be able to develop an initial budget and plan for the ownership costs, no matter the pool type. As you might imagine, though, the problem with answering this question is the fact that a swimming pool has so many options it can be tough to truly know the price to swim in a fully installed fiberglass pool. Still, I'll do my best here to give you some realistic price ranges as to what most people will spend. (And remember, these prices are average. They can can vary drastically depending on the product, the region, the company, etc.)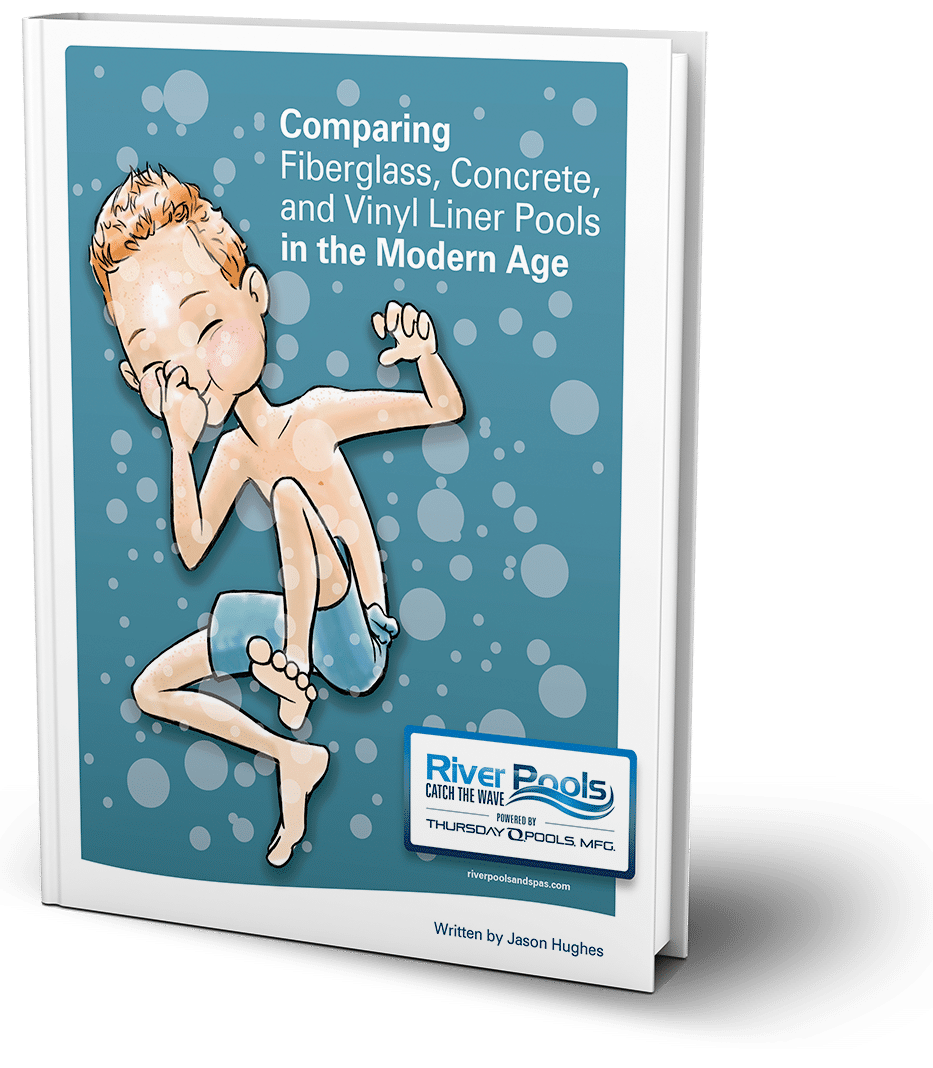 Comparing Fiberglass, Concrete, and Vinyl Liner Pools in the Modern Age
Don't blindly wonder if a fiberglass, concrete, or vinyl liner pool is right for you. Our educational ebook does a deep-dive comparison of the 3 types, all while noting the advantages and disadvantages of each.
Cost and Pricing | Fiberglass vs Concrete vs Vinyl Liner
One of the first questions a pool shopper asks themselves when they begin the process of buying a swimming pool is: How much does a pool cost, and what are the expected prices for the different types of swimming pools? Unfortunately, many people run into a roadblock when they research online as to how much an inground or above ground swimming pool really is going to cost. This article will attempt to answer this important question, but keep in mind that pool prices can vary drastically from region to region.
Cost and Pricing | Options and Accessories | Pool Design Guides | Swimming Pool Accessories | Swimming Pool Design
Take a deep breath with me, and think back on the last time you had extra money left over in your budget. Wasn't it great? For me, it was when I had euros left over at the end of my Scotland trip—can't use them here in the US, so I ran around the Glasgow airport with my girlfriend and spent them on overpriced souvenirs. The memory alone warms my heart. The spare money is especially great when your budget is for a big purchase, such as a house or, hey, a pool. Let's be real: when you're first nailing down the project, you pass on a few things that you secretly want, for the sake of Responsibility And Budgeting. But happy day! You can use this newfound wiggle room to pick up those super awesome things. Pools are a big investment, so we're discussing proportionally affordable add-ons—about $2,000 or less.
Concrete Pool Information | Cost and Pricing | Fiberglass Pool Information | Fiberglass vs Concrete vs Vinyl Liner | Swimming Pool FAQs | Vinyl Liner Pool Information
Here at River Pools, our mission as educators in the pool industry is to answer all your questions—the common, the technical, and even the bizarre. (Don't worry; it's a judgment-free zone.) The most common question? Cost. Whether vinyl liner or concrete or fiberglass pools, whether extravagant or minimalistic aesthetics, people want to know about how much they're going to spend. You ask; we answer.
Cost and Pricing | Finding A Pool Contractor | Patio and Coping | Pool Design Guides | Swimming Pool Accessories | Swimming Pool Design
Most people shopping for a pool think that they know just what they want. For example, 90% of the people who want a diving board think they need it. But after education on the pros and cons of a diving board, only 10% of those people will still get a diving board. You're spending a lot of money on this swimming pool investment. You expect that the person that you invite into your home will be an informed professional and have your best interest at heart. In reality the person who shows up will probably be a salesperson trying to earn a commission that will feed his family or lifestyle. That's what is in his/her best interest, not yours. All too often, the homeowner says, "I want a pool this size and a deck this big," and the salesperson quotes them on what they ask for. It's far easier to sell a pool when the homeowner knows what they want, so why rock the boat? That's the mentality of most salespeople today. The problem: in most cases, what the homeowner thinks they want, and what they really want, are two different things.
Cost and Pricing | Installation & Construction
Sometimes it's time for a switcheroo. I'll reorganize my nonfiction bookcase, or my mom will plant new flowers around her house, or my cat will suddenly start sleeping on a new corner of the sofa for no reason. You might have reasons behind it, or you might just feel like a change. Maybe for you—whether for money, maintenance, or just a plain ol' change of pace—your vinyl liner pool is the subject of that change. At River Pools we manufacture and install fiberglass pools, and several times each year, we replace vinyl liner pools with fiberglass units. Our clients are thrilled with the results, and with fiberglass pools gaining market share every year, we expect to take on more and more of these replacement projects.
Concrete Pool Information | Cost and Pricing | Pool Maintenance
When I'm not taking the pool industry by storm, I like to write novels. I plan ahead obsessively: think 10-page character sheets, hand-drawn world maps, and color-coded plot diagrams. "Congratulations on overthinking everything," you say, "but I'm not writing a book. I'm buying a pool." Don't give me that look! For pool purchases and maintenance, you, too, need to plan ahead. Maps and diagrams included, probably.
Cost and Pricing | Installation & Construction | Vinyl Liner Pool Information
Most of us have been around vinyl liner pools at one time or another. (For example, my grandparents have one. I now know that they needed to replace the liner years ago. Don't blame the grandkids for rusted wall panels, Nana.) But personal experience doesn't necessarily mean someone knows the details. Curious about the basics? Here at River Pools, we worked exclusively with them for years before we discovered and fell madly in love with fiberglass pools. We're all about making information available to you and easy to understand. That includes all types of pools.
Based on our experience, people usually assume that replacing a concrete pool with a fiberglass pool will be cheap—maybe as much as replacing the liner twice in a vinyl liner pool, or resurfacing a concrete pool. I like a clearance sale as much as the next person, so I'm sad to say this isn't the case. It can actually end up costing more than a new pool. I know; it hurts me too. Here's why it's expensive even though you already have the pool-shaped hole in the ground—and why it may still be worth the cost.