Concrete Pool Information | Cost and Pricing | Pool Maintenance
When I'm not taking the pool industry by storm, I like to write novels. I plan ahead obsessively: think 10-page character sheets, hand-drawn world maps, and color-coded plot diagrams. "Congratulations on overthinking everything," you say, "but I'm not writing a book. I'm buying a pool." Don't give me that look! For pool purchases and maintenance, you, too, need to plan ahead. Maps and diagrams included, probably.
Cost and Pricing | Installation & Construction | Vinyl Liner Pool Information
Most of us have been around vinyl liner pools at one time or another. (For example, my grandparents have one. I now know that they needed to replace the liner years ago. Don't blame the grandkids for rusted wall panels, Nana.) But personal experience doesn't necessarily mean someone knows the details. Curious about the basics? Here at River Pools, we worked exclusively with them for years before we discovered and fell madly in love with fiberglass pools. We're all about making information available to you and easy to understand. That includes all types of pools.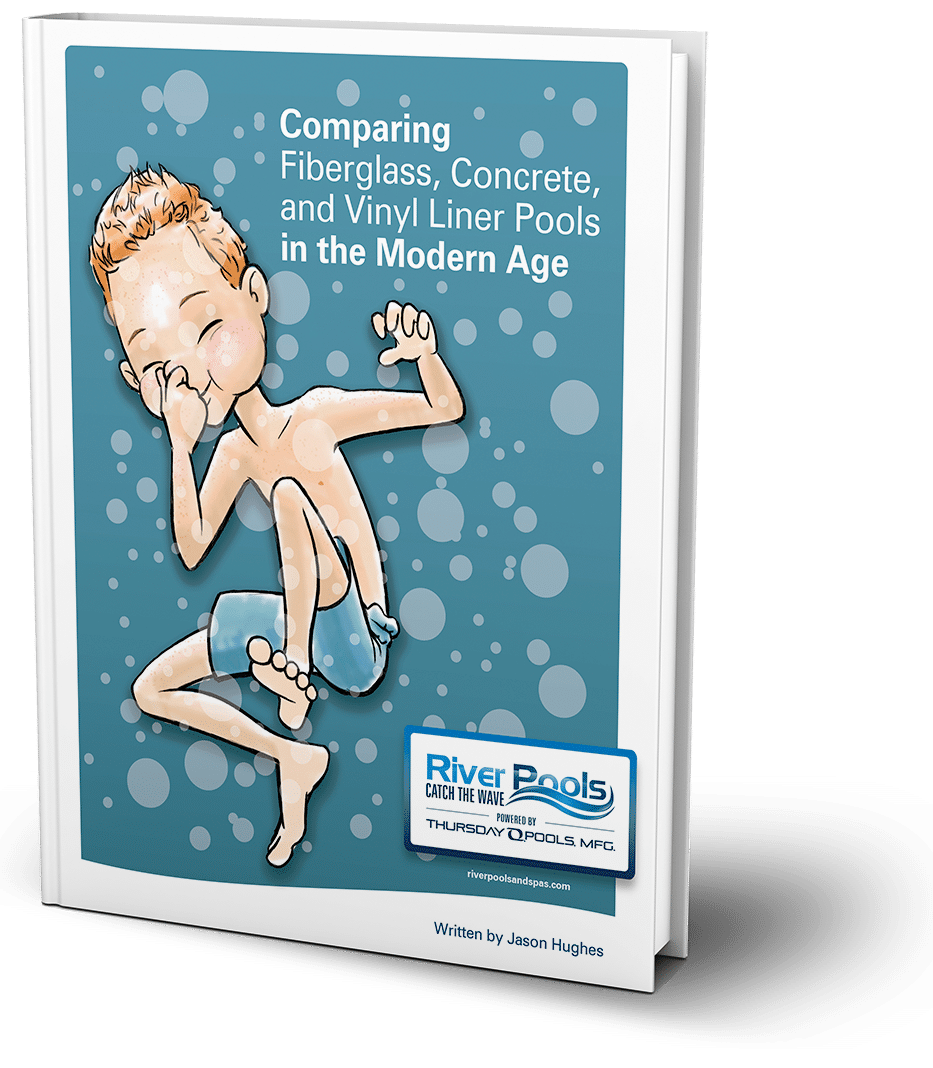 Comparing Fiberglass, Concrete, and Vinyl Liner Pools in the Modern Age
Don't blindly wonder if a fiberglass, concrete, or vinyl liner pool is right for you. Our educational ebook does a deep-dive comparison of the 3 types, all while noting the advantages and disadvantages of each.
Based on our experience, people usually assume that replacing a concrete pool with a fiberglass pool will be cheap—maybe as much as replacing the liner twice in a vinyl liner pool, or resurfacing a concrete pool. I like a clearance sale as much as the next person, so I'm sad to say this isn't the case. It can actually end up costing more than a new pool.
Cost and Pricing | Installation & Construction | Options and Accessories | Swimming Pool FAQs | Vinyl Liner Pool Information
How much will my vinyl liner pool cost? What do I need to budget for? You've already asked yourself these questions—you know that buying a pool is a big financial decision. You don't need us to tell you that. River Pools aims to provide you all the information so you can make the best decision in your pool search. We suggest ways to make your pool project more affordable and provide a pricing guide for all three of the major inground pool types. Now we'd like to help you budget by providing an overview of the areas you should take into account when planning your dream backyard pool: the factors for both initial and lifetime costs.
Concrete Pool Information | Cost and Pricing | Pool Maintenance | Pool Manufacturing Process | Swimming Pool FAQs
A pool is a pool is a pool, right? Actually, not so much. When you're planning such a big investment, you need to look into the three primary pool types—concrete, vinyl liner, and fiberglass—to understand the differences. River Pools manufactures and sells only fiberglass pools, but we know you need all the information on all the pool types in order to make an educated decision on what's best for your needs. For some people, concrete is the way to go.
Concrete Pool Information | Cost and Pricing | Swimming Pool FAQs
Interested in a concrete pool, but concerned about staying within budget?
If you are considering an inground swimming pool and have a realistic expectation of how much it will cost, the next step is to explore the various pool financing options available to you. Here at River Pools we have had the opportunity to help hundreds of clients make their backyard dreams a reality, by not only manufacturing and installing their pools, but also by helping answer their questions about pool loans and financing and directing them to financial institutions that can best serve their needs. If you find yourself in need of more pool financing info, you're in luck because today we're going to answer the most common questions we receive about pool loans. Let's jump right in!
Cost and Pricing | Fiberglass Pool Information | Fiberglass Pool Manufacturers | Fiberglass vs Concrete vs Vinyl Liner | Installation & Construction
We have written a blog on this subject a few years ago, and after visiting the Pool and Spa show in Atlantic City I felt that the topic needed to be revisited. I had heard that some fiberglass pool manufacturers who also have vested interest in vinyl liner pools manufacturing are requesting that their fiberglass pool dealers install vinyl liner pools also. I have no problem with that as long as the sales person keeps the customer's best interest in mind when working with them. I have installed vinyl liner pools myself and under the right conditions, I would do it now.