Fiberglass Pool Information | Pool Maintenance
Fiberglass pools are durable, low maintenance, and they have the fastest installation of all inground pools, but you might still be asking, "What is the life expectancy of a fiberglass pool? How long should a fiberglass pool last?"
Concrete Pool Information | Pool Maintenance
Close your eyes and picture the sidewalk on your street. I myself live on an ominous back road—no sidewalk or concrete, just loose gravel and abandoned houses. But it branches off the main street, which is paved and has a sidewalk. Fancy. This sidewalk features trip hazards and aesthetic issues: multiple cracks, salt stains, little holes and etching, and (bonus) a set of footprints from a small dog. Concrete has its own set of issues, but let's think about those salt stains and etches for a moment. That's just from the occasional weather maintenance, like the trucks that spray salt all over the road and the sidewalks (and your car if you're driving behind them). Water in a concrete pool wears at the plaster all day every day. Now add a salt chlorine generator to that mix. Salt + water + concrete. See how that might be an issue?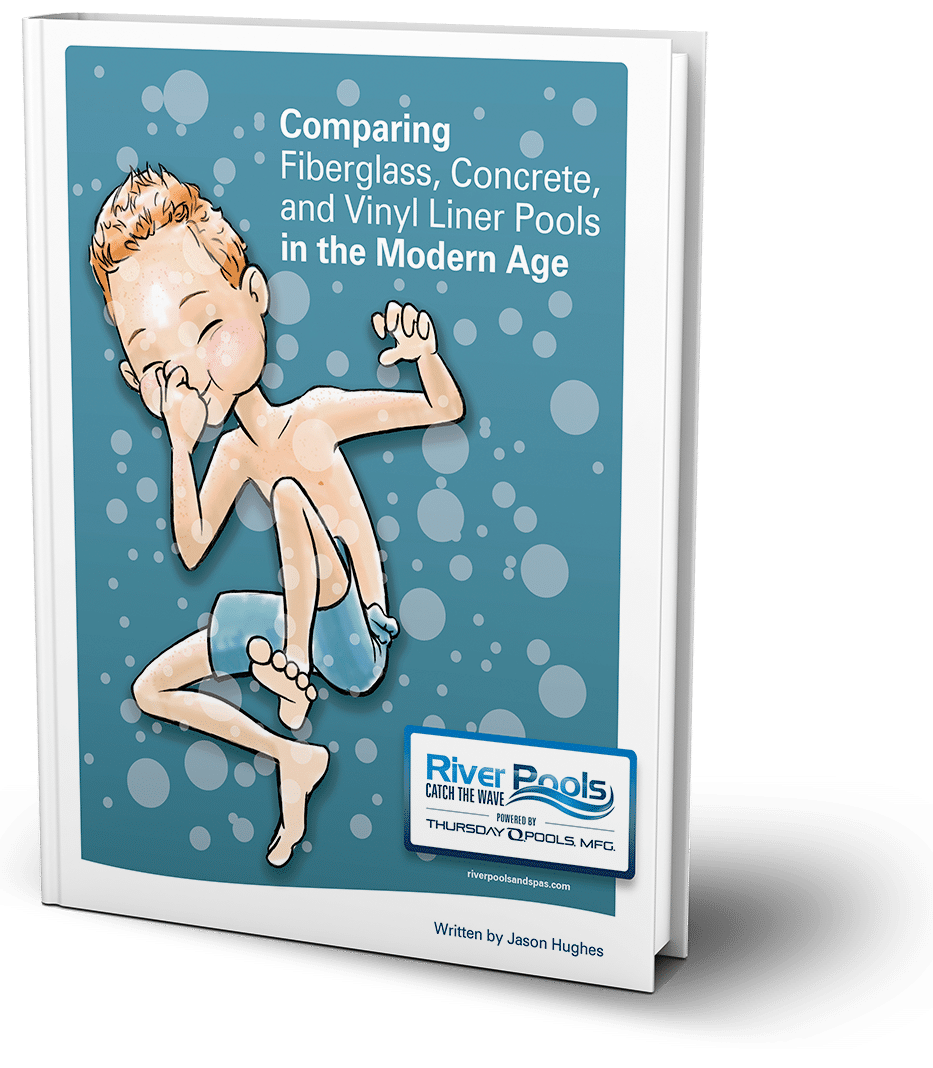 Comparing Fiberglass, Concrete, and Vinyl Liner Pools in the Modern Age
Don't blindly wonder if a fiberglass, concrete, or vinyl liner pool is right for you. Our educational ebook does a deep-dive comparison of the 3 types, all while noting the advantages and disadvantages of each.
Concrete Pool Information | Cost and Pricing | Fiberglass vs Concrete vs Vinyl Liner | Pool Maintenance
If you're looking into getting an inground swimming pool, you might be asking yourself, "Should I get a concrete pool?" Here At River Pools, although we may be exclusively in the fiberglass pool manufacturing and installation business, we readily admit that concrete pools are sometimes a better fit for some people. In fact, there are even times when we encourage shoppers to choose a concrete pool over other types. Why would we do that?
Fiberglass Pool Information | Pool Maintenance | Swimming Pool FAQs
Owning a pool is constantly a balancing act. You must balance the time you spend caring for your pool with the time you spend enjoying it. Spend too much time on maintenance, and there's no free time left to have fun in your pool! That is just one of the many advantages of fiberglass pools: the lowest-maintenance in-ground pool available on the market today.
Options and Accessories | Pool Maintenance | Swimming Pool Accessories
I've lost count of the times I've addressed my parents' Amazon Echo with "Hey Google." There are just so many virtual assistants, it's hard to keep them all straight. Alexa, Siri, Google Home/Assistant, and Cortana (wait, who?)... If I can barely remember which one I'm addressing, I certainly can't keep track of all the things they automate or simplify for us. A pool automation system creates this convenience for handling your pool and its features, without the multi-brand confusion. (But hey, some of them can also connect to Alexa and co.! Score!)
Options and Accessories | Pool Maintenance | Swimming Pool Accessories | Swimming Pool FAQs
Technology is hard. It's even worse when you can't pick the equipment out of a lineup. But we're here to make your life easier, in every way we can. So today... let's talk filter systems.
You designed your dream backyard. The pool, the landscaping, the patio. So much effort, and so worth it. It's a beautiful thing. Except you didn't design the aggressive bubbles shooting out of the returns on the pool walls. So what's up with that? Why are you getting air bubbles in your swimming pool? This is a common problem, especially when you're first opening your pool for the season. A few bubbles in the pool or the pump is normal, but noisy churning and lots of bubbles indicate that you have a problem.
When we consider the different aspects of keeping our pool water sparkling and crystal clear throughout the summer, one of the most often over-looked aspects to water clarity maintenance is filter cleaning. When a pool's filter is not working up to capacity, its water will obviously suffer, with cloudiness and algae being the end results. This article will discuss the two main types of filters used by our customers and the proper cleaning for each medium.
During the months of July and August, algae can be a very big problem for swimming pool owners. With the higher temperatures during these months, as well as inconsistency in a pool's sanitizer levels, algae can rear its ugly head. Algae is a single-celled plant form. It uses the process of photosynthesis to manufacture its own food. It comes in a very wide variety of colors and forms, making it adaptable to almost any condition.
Options and Accessories | Pool Maintenance | Swimming Pool Accessories
Why are there so many brands of pool equipment? And don't even get me started on all their products. It can feel overwhelming, especially if you're new to the pool scene. We're here for you. Here at River Pools, we don't stop at just manufacturing and installing fiberglass pools. We're enthusiastic about educating consumers just like you in order to make your pool life easier. Welcome to our comparison of Pentair vs. Jandy filters, Part 3!