Would you like smoother, silkier pool water? Want to use fewer pool chemicals? How about stopping algae in its tracks? Enter swimming pool ionizers.
Cost and Pricing | Pool Maintenance
Are you envious of your neighbors who have saltwater pools but not sure how to switch from chlorine to a salt system?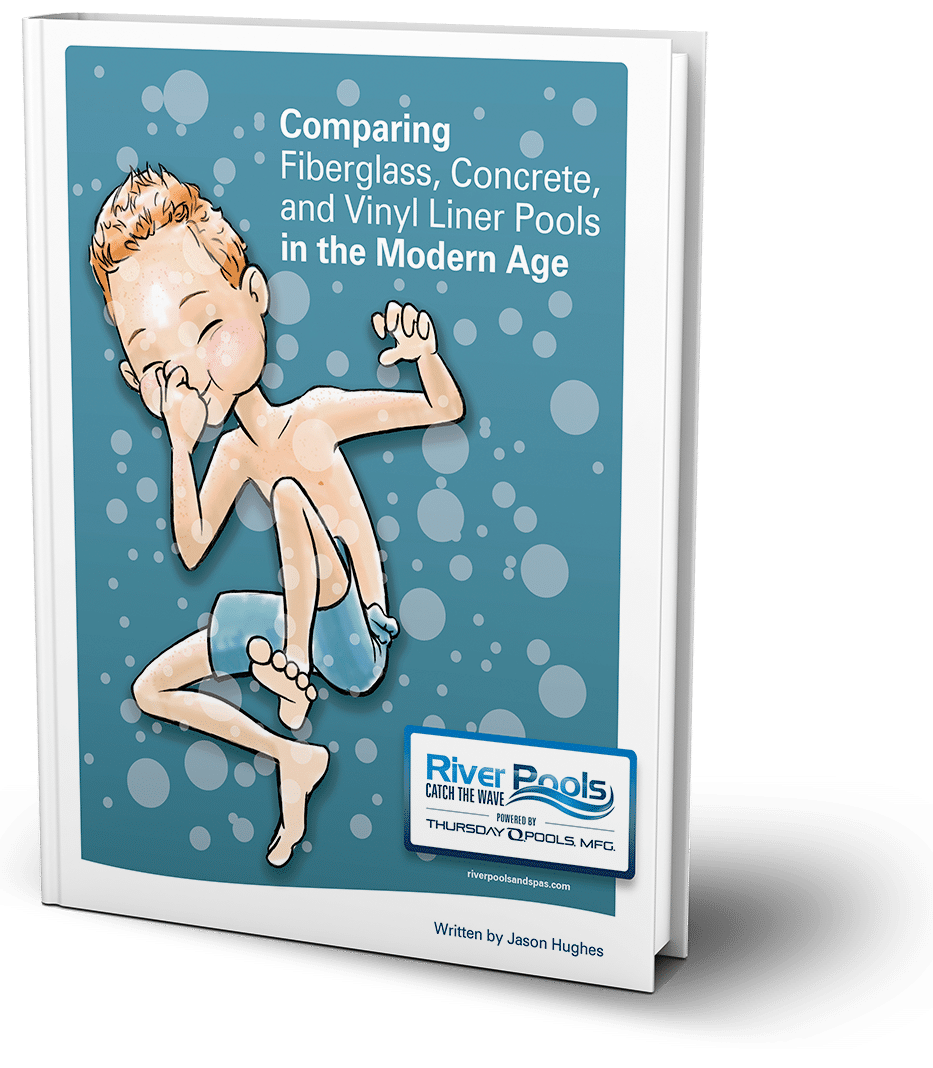 Comparing Fiberglass, Concrete, and Vinyl Liner Pools in the Modern Age
Don't blindly wonder if a fiberglass, concrete, or vinyl liner pool is right for you. Our educational ebook does a deep-dive comparison of the 3 types, all while noting the advantages and disadvantages of each.
Pool Maintenance | Swimming Pool FAQs
Thinking about buying a home with a swimming pool? Purchasing a home with an inground pool in the backyard is one of the fastest and easiest ways to get a pool this year. But what are some of the red flags that you need to look out for when buying a home with a pool? What are the drawbacks that you need to research before signing on the dotted line? As fiberglass pool manufacturers and seasoned pool maintenance and installation professionals, we'll walk you through the key points that you need to think about before purchasing a home that already has a pool installed. By the end of this article, you should have a better idea of whether buying a home with a pool is a good investment for you. Let's jump in.
Fiberglass vs Concrete vs Vinyl Liner | Pool Maintenance
Did you know that people in some northern states ice skate on their inground pools during the winter? Yep, it gets that cold. If you live in an area where people skate on their pools as much as they swim in them, you might have questions like: What is the best type of pool for cold climates? What problems can occur when a pool freezes? Are fiberglass pools ok in cold weather? What about concrete and vinyl pools?
Did you know that the ancient Greeks used sand filters to clean their bathhouse pools? That's how old the sand filter technology is, but don't let that be a drawback. Some of the greatest inventions thought up centuries ago continue to be used to this day. If you're a new pool owner or if you're looking to switch up your filtration system, you may have questions like: "What is a sand filter? How does a sand filter work? Is a sand filter better than a cartridge system? How much does a sand filter cost?" If you've got one or more of these questions on your mind, we've got your back.
When it comes to sanitizing your pool, most people choose between traditional chlorine and a salt system.
Options and Accessories | Pool Maintenance
Congratulations! We heard you're getting a new inground pool. Once your pool builder is done with the construction of your beautiful swimming pool, it will be your job to keep it in good shape so that you can enjoy it for years to come. If you're new to inground pool ownership, we'd personally like to welcome you to the club. You'll quickly find that owning a pool can be great for the health and happiness of you and your family. As fiberglass pool manufacturers and installers, we've helped hundreds of new pool owners get set up and ready to go with their new inground pools. So, to help you get a great start to your life as a member of the pool owner's club, we broke down which pool supplies you'll need by the time your swimming pool is in the ground and ready to use. In the following sections, you'll learn what you need to keep handy around your pool, why you need it, and how much it might cost. We also threw in a few extras for you to consider if you want to upgrade your experience. Let's dive in.
If you think that ozone is a mysterious substance that only exists miles and miles up in the stratosphere, think again! Ozone plays an important role in protecting us from the sun, but did you know that it can also protect you from harmful pathogens in your swimming pool? Don't worry, you won't have to siphon ozone from the ozone layer in the sky to get it. In fact, you can make ozone right in your own backyard.
Options and Accessories | Pool Maintenance
Have you been wanting to boost your pool's sanitation with a UV system? Now may be a great time to look into your options. Although swimming pools and spas are safe and do not spread COVID-19 when maintained properly, it's never a bad idea to give your pool an extra bit of care.
Options and Accessories | Pool Maintenance | Swimming Pool Accessories
Let us guess - you couldn't take it anymore. Just the idea of calling in friends to help you pull the giant, heavy tarp-like winter cover off the pool in the spring made you almost put off opening your pool another week. Even if you have a more durable version, such as a mesh or solid security pool cover, putting them on and taking them off is difficult. Too difficult to do it frequently enough to keep the pool clean and warm.