Concrete Pool Information | Cost and Pricing | Fiberglass Pool Information | Pool Maintenance | Vinyl Liner Pool Information
You knew it was coming. You tried to put it out of your mind. Maybe one more year, you hopefully thought. But as last year's summer came to a close, you knew that resurfacing your pool was inevitable. Resurfacing an inground pool is a regular and necessary maintenance task for most pool owners. The plus side is that it will improve your swimming experience, and it can also extend the pool's lifespan. The downside is that the cost can be...a lot.
Concrete Pool Information | Pool Maintenance
Dread washes over you like the water that used to be in your pool the moment you realize there might be a leak. Is there a leak? How did it happen? When did it happen? And the scariest question, how much will it cost to repair it? This is a common problem that plagues many concrete pool owners. Leak repairs can cost hundreds to thousands of dollars, so it's important to know the details associated with them.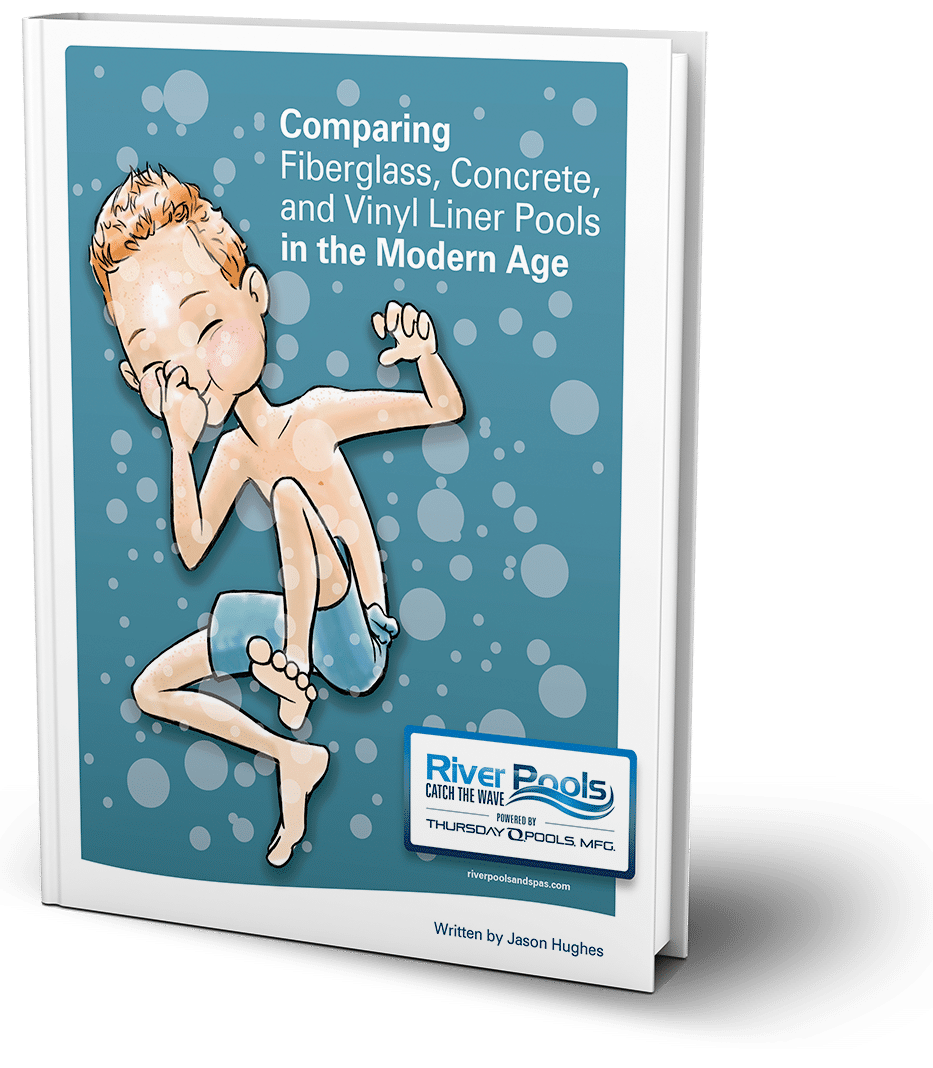 Comparing Fiberglass, Concrete, and Vinyl Liner Pools in the Modern Age
Don't blindly wonder if a fiberglass, concrete, or vinyl liner pool is right for you. Our educational ebook does a deep-dive comparison of the 3 types, all while noting the advantages and disadvantages of each.
Concrete Pool Information | Pool Maintenance
Surface damage to a concrete swimming pool can be annoying. Structural damage to a concrete pool can be a catastrophe. We think that both are serious enough to be considered before you buy your inground concrete pool (and we definitely recommend that you learn about these issues if you're already a concrete pool owner). Most major damage happens when the pool is designed, built, or maintained incorrectly, and many of the things we're going to talk about here can be avoided. Since we at River Pools love seeing people happy with their new inground swimming pools (we manufacture fiberglass pools), we want to help you avoid these issues.
Concrete Pool Information | Pool Maintenance
Are you getting an inground concrete pool, or do you already have one? If you're on a budget, chances are you're going to choose plaster for your pool surface, and it's not a bad choice. Pool plaster is the cheapest option, and it's the classic choice for concrete inground pools. On the flip side, it's also the least durable, rough to the touch, and comes with its share of problems.
Is this the year you finally get that inground concrete pool you've been wanting? If you've been putting it off for a while, chances are you're concerned about how much your swimming pool is going to cost. Maybe you're waiting to save some money, or maybe you just aren't sure if you can make the purchase right now. In any case, it helps to know how much you can realistically expect to pay for your swimming pool upfront before you can make any big buying decisions. Some builders might tell you that they can build you a gunite pool at a vinyl liner pool price, but we typically see that as a red flag. How do we know this?
Concrete Pool Information | Pool Design Guides
What do you think about when you hear the term "above ground pool"? Do you picture one of those blue inflatable pools or a round metal pool with a ladder? While that's what many above ground pools look like, there are actually tons of examples of inground pools (like concrete or fiberglass) installed above ground. In fact, at River Pools, we have installed our fiberglass pools above ground for clients in the past. Why would someone want to bring their inground pool above ground?
Concrete pools are classic. Even though we exclusively manufacture and install fiberglass swimming pools, we'll be the first to tell you that concrete offers some things that other pool types can't. These things include unlimited shapes, widths, and depths, and all tile or pebble surfaces. On the flip side, the surfaces can be rough. Concrete pools are also high maintenance, and they are typically the most expensive of the inground pools to build. They are certainly the most expensive to maintain.
Concrete Pool Information | Cost and Pricing | DIY Fiberglass Pools | Fiberglass Pool Information | Fiberglass vs Concrete vs Vinyl Liner | Installation & Construction | Vinyl Liner Pool Information
If you've ever built a toy model or assembled furniture from a box, you might think that a pool kit is similar to that. In some ways, you are correct. An inground pool kit comes with many of the parts that you need to put your pool together, but in the end, it's more than just assembling the pieces.
Concrete Pool Information | Installation & Construction
Stuck with an old concrete or gunite pool that's just not worth the work anymore? We get it. Concrete pools look great, but they're high-maintenance and expensive to operate and maintain (acid washing, resurfacing, constant cleaning, etc.). Fixing up an old, neglected concrete pool is an even more demanding job and can take a lot more time, energy, and money.
Concrete Pool Information | Fiberglass Pool Information | Options and Accessories
Looking for a new finish for your swimming pool? If tile, plaster, or aggregate aren't your jam, you still have a few other options. One viable option that we sometimes recommend is ecoFINISH. You might have heard of it before, so we want to help you learn more about it and explain how it works.