Is this the year you finally get that inground concrete pool you've been wanting? If you've been putting it off for a while, chances are you're concerned about how much your swimming pool is going to cost. Maybe you're waiting to save some money, or maybe you just aren't sure if you can make the purchase right now. In any case, it helps to know how much you can realistically expect to pay for your swimming pool upfront before you can make any big buying decisions. Some builders might tell you that they can build you a gunite pool at a vinyl liner pool price, but we typically see that as a red flag. How do we know this?
Concrete Pool Information | Pool Design Guides
What do you think about when you hear the term "above ground pool"? Do you picture one of those blue inflatable pools or a round metal pool with a ladder? While that's what many above ground pools look like, there are actually tons of examples of inground pools (like concrete or fiberglass) installed above ground. In fact, at River Pools, we have installed our fiberglass pools above ground for clients in the past. Why would someone want to bring their inground pool above ground?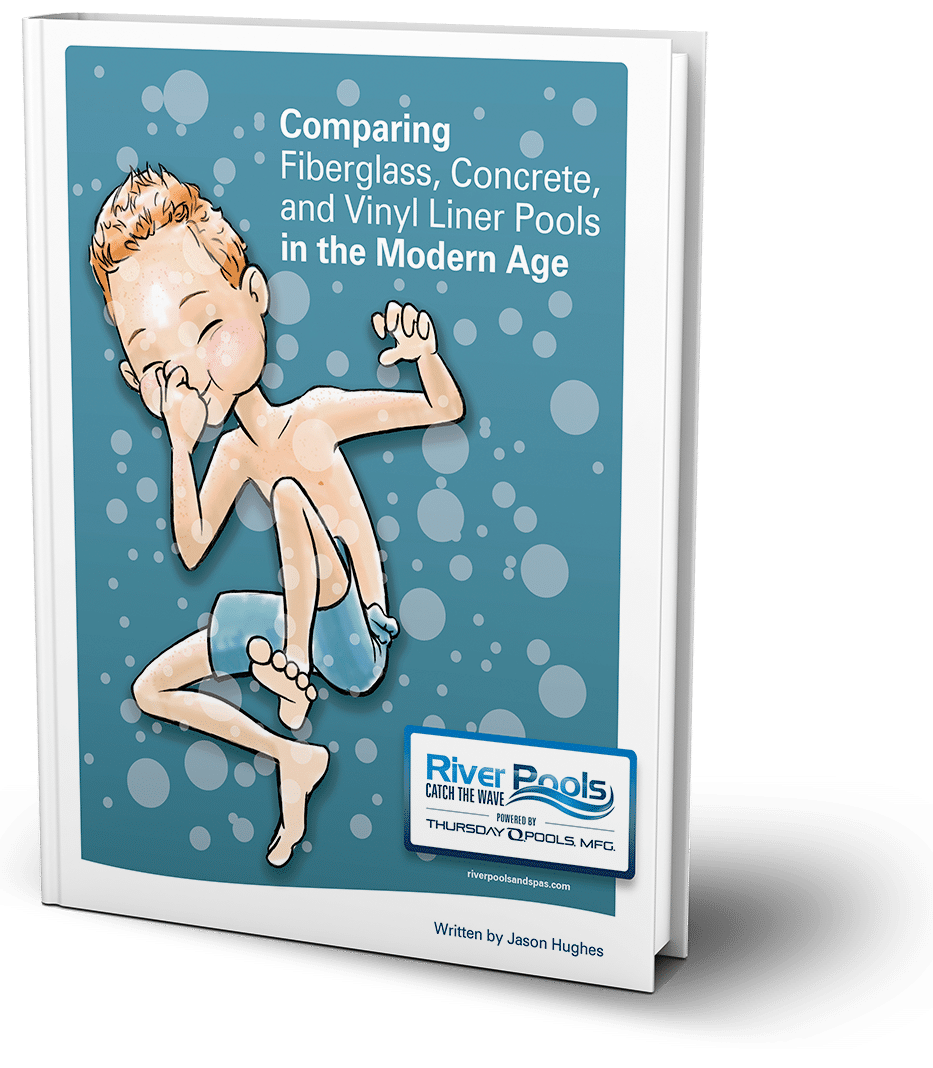 Comparing Fiberglass, Concrete, and Vinyl Liner Pools in the Modern Age
Don't blindly wonder if a fiberglass, concrete, or vinyl liner pool is right for you. Our educational ebook does a deep-dive comparison of the 3 types, all while noting the advantages and disadvantages of each.
Concrete pools are classic. Even though we exclusively manufacture and install fiberglass swimming pools, we'll be the first to tell you that concrete offers some things that other pool types can't. These things include unlimited shapes, widths, and depths, and all tile or pebble surfaces. On the flip side, the surfaces can be rough. Concrete pools are also high maintenance, and they are typically the most expensive of the inground pools to build. They are certainly the most expensive to maintain.
Concrete Pool Information | Cost and Pricing | DIY Fiberglass Pools | Fiberglass Pool Information | Fiberglass vs Concrete vs Vinyl Liner | Installation & Construction | Vinyl Liner Pool Information
If you've ever built a toy model or assembled furniture from a box, you might think that a pool kit is similar to that. In some ways, you are correct. An inground pool kit comes with many of the parts that you need to put your pool together, but in the end, it's more than just assembling the pieces.
Concrete Pool Information | Installation & Construction
Stuck with an old concrete or gunite pool that's just not worth the work anymore? We get it. Concrete pools look great, but they're high-maintenance and expensive to operate and maintain (acid washing, resurfacing, constant cleaning, etc.). Fixing up an old, neglected concrete pool is an even more demanding job and can take a lot more time, energy, and money.
Concrete Pool Information | Fiberglass Pool Information | Options and Accessories
Looking for a new finish for your swimming pool? If tile, plaster, or aggregate aren't your jam, you still have a few other options. One viable option that we sometimes recommend is ecoFINISH. You might have heard of it before, so we want to help you learn more about it and explain how it works.
Concrete Pool Information | Fiberglass Pool Information | Options and Accessories | Swimming Pool FAQs
One of the main things that you have to consider when choosing an inground pool is the interior finish. You've got a lot of options for this part, but which one is the best? You want it to transform your pool into an oasis, a relaxing space that makes you forget the responsibilities waiting outside the water. With that in mind, you don't want something that just looks nice. You probably want something that's easy to maintain and lasts for years. At River Pools, we've worked in the swimming pool business for many years and know all about swimming pool finishes and their pros and cons.
Concrete Pool Information | Fiberglass Pool Information | Installation & Construction | Vinyl Liner Pool Information
These days, you can buy just about anything online. Food, furniture, heavy machinery, and yep, even inground swimming pools. We're not talking inflatable kiddie pools either. These are massive, permanent structures, and they are sold online every day from various retailers. When you shop for an inground pool online, it can be as simple as picking the pool you want, paying for it, and having it delivered to your door. But how does buying a swimming pool online change your installation options? What choices do you have when you buy a pool online?
Concrete Pool Information | Cost and Pricing | DIY Fiberglass Pools | Fiberglass Pool Information | Installation & Construction | Swimming Pool FAQs | Vinyl Liner Pool Information
So you're up for a home improvement project, only this time you're taking on something big...you want to build your own swimming pool. And that's awesome. We know how rewarding it can be to complete a project and benefit from it for years. It might fill you with a sense of pride to do things on your own and to do a good job, or you might just want to save some money. Swimming pools can be tricky though, and mistakes can be costly. So, how will you know if a DIY inground pool is a good idea or if you've undertaken too much?
Concrete Pool Information | Pool Maintenance
Close your eyes and picture the sidewalk on your street. I myself live on an ominous back road—no sidewalk or concrete, just loose gravel and abandoned houses. But it branches off the main street, which is paved and has a sidewalk. Fancy. This sidewalk features trip hazards and aesthetic issues: multiple cracks, salt stains, little holes and etching, and (bonus) a set of footprints from a small dog. Concrete has its own set of issues, but let's think about those salt stains and etches for a moment. That's just from the occasional weather maintenance, like the trucks that spray salt all over the road and the sidewalks (and your car if you're driving behind them). Water in a concrete pool wears at the plaster all day every day. Now add a salt chlorine generator to that mix. Salt + water + concrete. See how that might be an issue?