Concrete Pool Information | Cost and Pricing
Are you thinking about taking on a pool remodeling project for your concrete swimming pool? Maybe you've just moved into a home that has a concrete pool in the backyard, or you might have an old concrete pool that's become more of an eyesore than a fun addition to your home. If this sounds like you, you may be asking yourself:
Concrete Pool Information | Cost and Pricing
A tile pool is the most luxurious type of concrete pool available, but it does come at a cost. We're talking tens of thousands of dollars on average for swimming pool tile alone. There are three main types of pool tile that you can use: ceramic, stone, and glass. Ceramic is the classic choice, and it tends to be the most affordable. Stone is good for a natural or lagoon pool aesthetic, while glass is typically the most high-end option.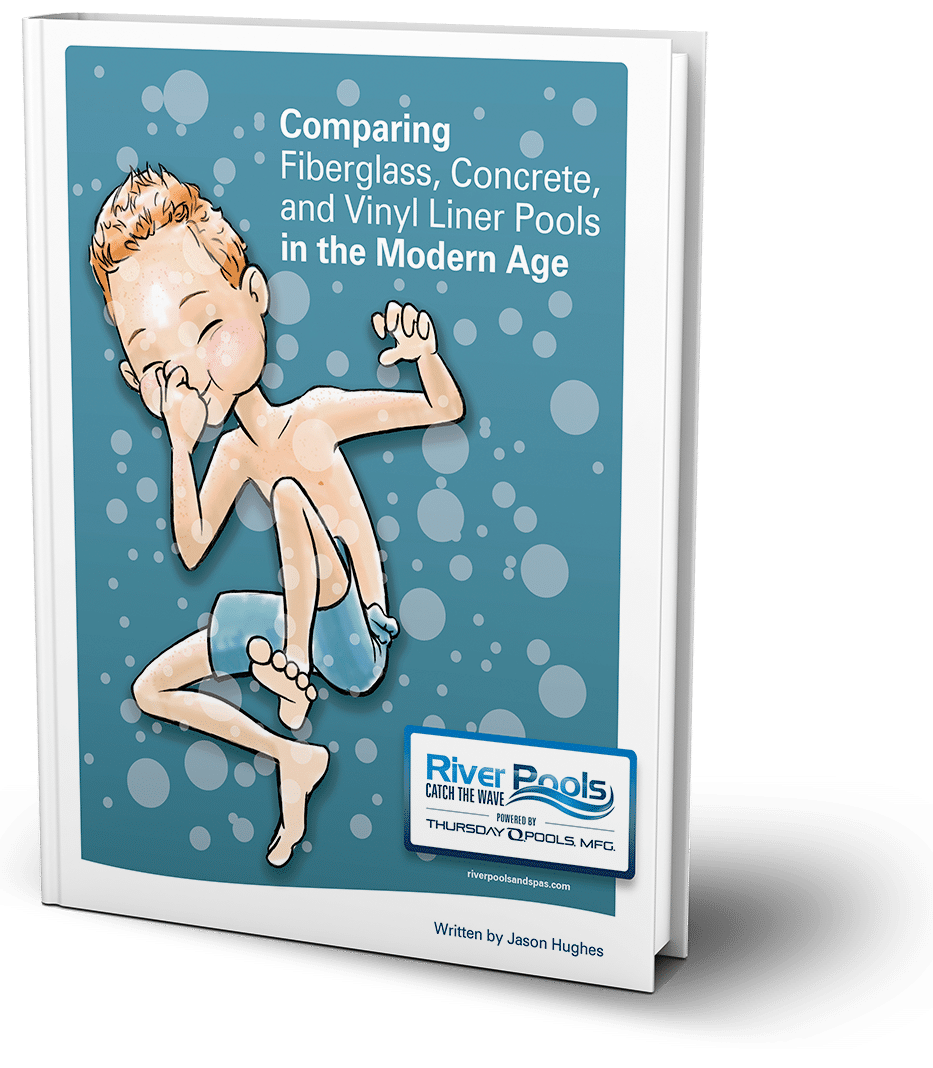 Comparing Fiberglass, Concrete, and Vinyl Liner Pools in the Modern Age
Don't blindly wonder if a fiberglass, concrete, or vinyl liner pool is right for you. Our educational ebook does a deep-dive comparison of the 3 types, all while noting the advantages and disadvantages of each.
Concrete Pool Information | Installation & Construction
Do you have plans to build a concrete pool? First of all, we want to congratulate you on taking your first steps towards getting a new swimming pool for your home! Nothing compares to the joy and fun that a pool can bring to the whole family, and that's why we continue our work of manufacturing fiberglass pools year after year. But before you build a concrete pool, we encourage you to do your research so that you can know exactly what you're getting.
Concrete Pool Information | Cost and Pricing
Pebble pools (also known as aggregate pools) are extremely popular among concrete pool owners thanks to their diverse range of colors and materials. If you are new to the different pool surfaces, a pebble pool is a concrete pool with a stone, quartz, or glass pebble finish. The pebbles can be exposed (a bit bumpy but looks nice) or ground down for a smoother surface, as shown below.
Concrete Pool Information | Cost and Pricing | Fiberglass Pool Information | Pool Maintenance | Vinyl Liner Pool Information
You knew it was coming. You tried to put it out of your mind. Maybe one more year, you hopefully thought. But as last year's summer came to a close, you knew that resurfacing your pool was inevitable. Resurfacing an inground pool is a regular and necessary maintenance task for most pool owners. The plus side is that it will improve your swimming experience, and it can also extend the pool's lifespan. The downside is that the cost can be...a lot.
Concrete Pool Information | Pool Maintenance
Dread washes over you like the water that used to be in your pool the moment you realize there might be a leak. Is there a leak? How did it happen? When did it happen? And the scariest question, how much will it cost to repair it? This is a common problem that plagues many concrete pool owners. Leak repairs can cost hundreds to thousands of dollars, so it's important to know the details associated with them.
Concrete Pool Information | Pool Maintenance
Surface damage to a concrete swimming pool can be annoying. Structural damage to a concrete pool can be a catastrophe. We think that both are serious enough to be considered before you buy your inground concrete pool (and we definitely recommend that you learn about these issues if you're already a concrete pool owner). Most major damage happens when the pool is designed, built, or maintained incorrectly, and many of the things we're going to talk about here can be avoided. Since we at River Pools love seeing people happy with their new inground swimming pools (we manufacture fiberglass pools), we want to help you avoid these issues.
Concrete Pool Information | Pool Maintenance
Are you getting an inground concrete pool, or do you already have one? If you're on a budget, chances are you're going to choose plaster for your pool surface, and it's not a bad choice. Pool plaster is the cheapest option, and it's the classic choice for concrete inground pools. On the flip side, it's also the least durable, rough to the touch, and comes with its share of problems.
Is this the year you finally get that inground concrete pool you've been wanting? If you've been putting it off for a while, chances are you're concerned about how much your swimming pool is going to cost. Maybe you're waiting to save some money, or maybe you just aren't sure if you can make the purchase right now. In any case, it helps to know how much you can realistically expect to pay for your swimming pool upfront before you can make any big buying decisions. Some builders might tell you that they can build you a gunite pool at a vinyl liner pool price, but we typically see that as a red flag. How do we know this?
Concrete Pool Information | Pool Design Guides
What do you think about when you hear the term "above ground pool"? Do you picture one of those blue inflatable pools or a round metal pool with a ladder? While that's what many above ground pools look like, there are actually tons of examples of inground pools (like concrete or fiberglass) installed above ground. In fact, at River Pools, we have installed our fiberglass pools above ground for clients in the past. Why would someone want to bring their inground pool above ground?