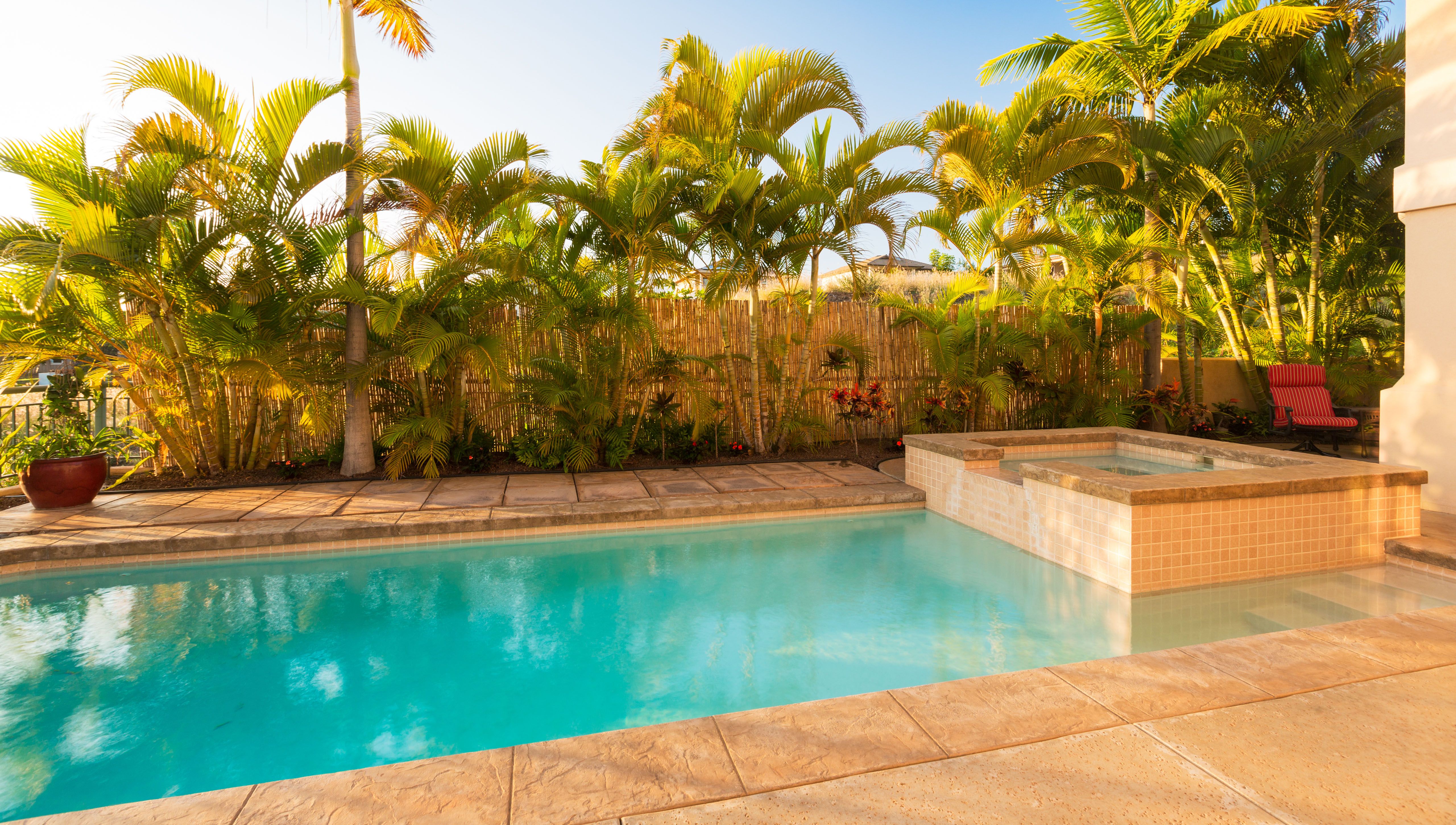 Subscribe
Inground Concrete Swimming Pool Cost and Price Guide 2021
Is this the year you finally get that inground concrete pool you've been wanting?
If you've been putting it off for a while, chances are you're concerned about how much your swimming pool is going to cost.
Maybe you're waiting to save some money, or maybe you just aren't sure if you can make the purchase right now.
In any case, it helps to know how much you can realistically expect to pay for your swimming pool upfront before you can make any big buying decisions.
Some builders might tell you that they can build you a gunite pool at a vinyl liner pool price, but we typically see that as a red flag. How do we know this?
At River Pools, we have been in the fiberglass pool business for years and the swimming pool industry for many more. We know what it costs in labor, materials, and time to get a fully constructed gunite pool in the ground, and there are only so many corners that you can cut before you compromise the quality of your structure.
With education as one of our main long-standing goals, we believe in empowering pool shoppers with knowledge so that they can make the best decisions for themselves and their homes. Without further delay, let's get into the actual cost of concrete swimming pools and break down a few key tips to consider.
How much does an inground concrete pool cost to install?
Maintenance and lifetime costs aside, the cost to build a concrete swimming pool begins at $50,000 and can go all the way up to $100,000 or more. Smaller swimming pools will fall on the lower end of this price range, and very large or specialty pools can fall well above the $100,000 mark.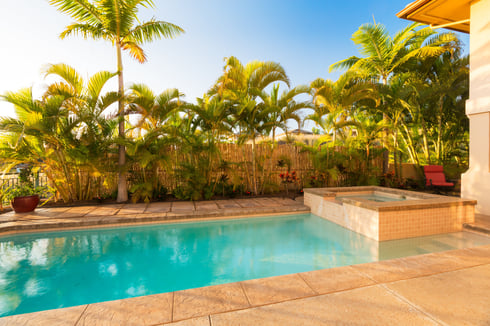 Paying for Your Concrete Pool: Swimming Pool Loans
If you have saved enough money to buy your concrete pool outright without any additional financing, that's wonderful and you should be proud of what you have done! We know that saving money isn't always easy.
If, however, the investment is too much to pay upfront, a pool loan is probably one of the most viable solutions for covering the cost. Most people will go this route because it's convenient, manageable, and you don't have to wait years to save up enough money for the pool.
You're probably wondering how much your monthly swimming pool payment will cost if you end up getting a pool loan, but this can depend on a few factors including:
The final price of your pool

The lender

The interest rate

The loan period

The amount of your down payment (if any)
With most pool loan interest rates at 5% and 10% and the average loan period being 7 years, you can expect to pay the following on your monthly pool payments:
$700-$830 for a $50,000 pool
$850-$995 for a $60,000 pool
$990-$1,160 for a $70,000 pool
$1,130-$1,330 for an $80,000 pool
$1,275-$1,495 for a $90,000 pool
$1,415-$1,660 for a $100,000 pool
$1,555-$1,880 for a $110,000 pool
Keep in mind that a down payment will lower the monthly payment, and every situation is unique. We just put this list together to help you get a rough idea of what your monthly payment could be.
How to Save Money on a Concrete Pool
If these numbers look a bit high to you or if you're afraid of your concrete swimming pool costs getting out of control, we have a few pointers that can help you out.
First, if you want to save money on a concrete pool, we recommend going with a plaster surface. It's the standard concrete pool surface for most homeowners, but you might be persuaded into going into something like tile or pebble, both of which are much more expensive than plaster.
Second, we recommend skipping many of the upgrades for now. Things like automatic pool covers, slides, waterfalls or cascades, heaters and chillers, and robotic pool vacuums can be purchased later on.
Important note: If you think you will want a pool slide, waterfall, cascade, or other types of water features later, you need to plumb for them during construction. You don't have to buy a slide when you build your pool, but the plumbing needs to exist for it when you're ready to install one.
There are a few things that need to be included during construction and cannot be added later on:
Plumbing for slides and water features (cascades, fountains, bubblers, jets)
Pro tip: carefully sift through these add-ons and factor the features that you want into your budget. If you think there's a chance you might want a water feature or slide later on, be sure to include the plumbing work for that in advance.
Our next suggestion for saving money on a pool is to consider the time of year for the installation. There is a chance that you'll benefit from an off-season discount if you choose to build your pool during the fall or winter months. As a bonus, your pool will be ready for swimming come summertime.
If you decide to install your pool in the spring or summer, you might have to wait a whole year to use it (concrete pool construction can take 3-6 months).
Our final key tip for cutting down on your inground concrete pool costs is to build a smaller pool. You might be dreaming of a big hotel-style pool, but trust us when we say that you will love your inground pool no matter what because it's all yours and you don't have to share it.
We're not saying that you have to scrap your plans altogether and build a cocktail pool, but even reducing the size by a few square feet all around will make a difference in the price.
What will increase the price of a concrete pool?
On the flip side, there are a host of features and upgrades that can up the price of your pool. Since concrete pools are built totally from scratch and often from a custom design of your choosing, you should have more control over how the budget is distributed across all parts of the project. Specifically, some of the things to look out for that can increase the price of a concrete pool include:
Tile or aggregate (pebble) surfaces

Higher volume designs (large pools, diving pools, etc.)

Add ons like spas, tanning ledges, and beach entries

Specialty pools (vanishing edge, above ground, natural pool, etc.)
Bigger patios and more expensive coping and patio materials
Remember, you can expand your patio later on or resurface your pool with tile when the plaster wears out. You can also enclose your pool to make it an indoor pool later on (just be sure to let your builder know about your plans).
Other things like tanning ledges, retaining walls, and a larger pool volume will all need to be factored into the initial building costs.
Read next:
Best Interior Finish for a Concrete Pool: Plaster vs. Pebble vs. Tile
Concrete Pool Basics: Pros, Cons, and How They're Made
Concrete Pool Maintenance Costs
We also want you to be aware of how maintenance costs will affect the price of your pool long-term. Specifically, your pool will need to be resurfaced about every 10 years or so ($10,000 and up). It will also need to be acid washed every 3-5 years (around $450). This doesn't even include the price of regular cleaning or unexpected repair costs.
The fact is that concrete pools are the most expensive inground pools to maintain, so make sure you'll be able to pay for the upkeep before you decide to build.
Need alternative options?
Vinyl liner pools cost much less to build ($25,000 and up), but replacing the liner will cost you $4,500 on average every 5-9 years. Fiberglass pools cost around the same as concrete pools ($40,000-$85,000 and up), but the maintenance costs are much lower as they do not need to be drained, resurfaced, or acid washed. You can get a more in-depth comparison of the three inground pool types here or download our ebook below.
Concrete Swimming Pool Cost Infographic
To wrap up this guide, here's a quick infographic that you can save, share, or Pin for future reference. If you have any questions for us, please leave them in the comments below!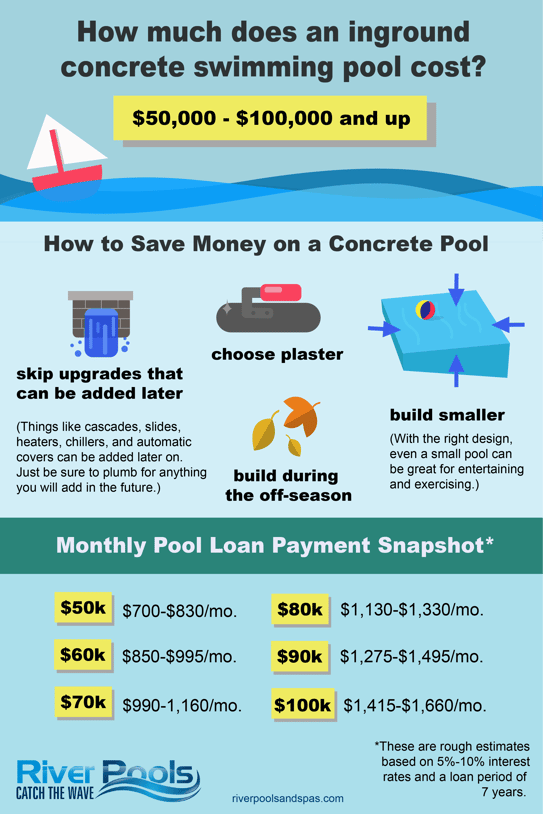 At River Pools, we manufacture world-class fiberglass swimming pools for customers across North America. If you think a fiberglass pool might be a better fit for you, feel free to browse our pool models, try out our fiberglass pool pricing calculator, or contact us directly for a quote using the button below.
Up Next:
4 Things You Should Know About Concrete Pool Construction
A Massive Review of Concrete Swimming Pools: Costs, Maintenance, Longevity, and More
10 Common Concrete Pool Problems and How to Avoid Them