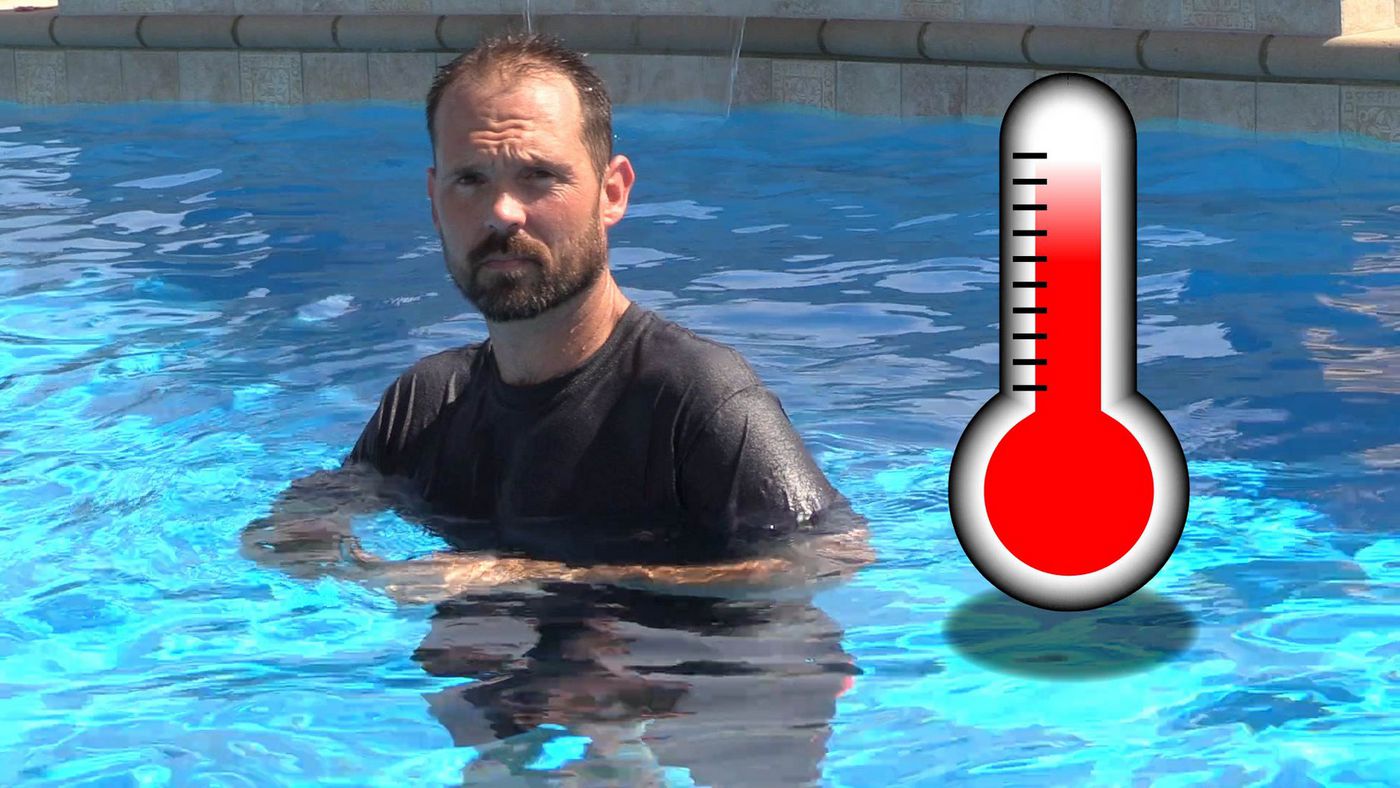 Subscribe
Should My Swimming Pool Have a Cooler/Chiller? Temperature Comparison Video
On hot days where the temperature has you sweating and thirsty for a cold drink, there aren't many things as refreshing as jumping into a cold pool.
A pool is something you want to enjoy when it's hot outside. However, many people don't consider that their pool water can reach temperatures in the 90s during the summer.
Pool chillers, an optional feature on pool heat pumps, are specifically designed to lower your pool's water temperature so that you can fully enjoy it, even on the hottest days of summer.
In the following video, I show just how big the difference can be when you have a chiller/cooler installed on your pool.
How Much Difference Does a Chiller/Cooler Make?
On a sweltering day of 99°, we measured the temperature of two of our fiberglass pool designs here at our Pool Park in Virginia, by comparing our Greco (G36) pool without a chiller, to our Oasis (O30) pool that has a chiller.
Results:
The Greco (G36) had a water temperature of a whopping 92°F! That's only 7° less than the air temperature outside of the pool.
The Oasis (O Series) with a chiller had a water temperature of 83°, staggeringly less than the Greco. That's a 9 degree difference! In terms of refreshment, that's certainly enough to consider adding a chiller as an upgrade if you have concerns about your pool water becoming too warm.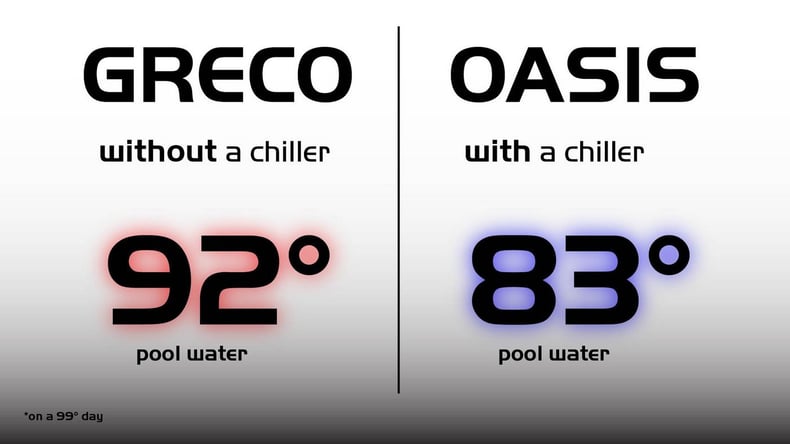 Why Do Most Pool Owners with Automatic Pool Covers Need Chillers?
If you're considering an automatic pool cover, one of the benefits is that it acts as a solar cover and will extend your swim season in spring and late summer.
However, this conservation of solar energy has the same effect during the hottest days of summer.
This often results in pool water temperature reaching the mid 90s.
For this reason, we suggest adding a heat pump with a chiller to any pool with an automatic pool cover that is exposed to at least a moderate amount of direct sunlight.
How Much Does a Pool Chiller Cost?
At River Pools, we have several customers each year ask if they can trade in their existing heat pump and upgrade to a heat pump with a chiller.
Unfortunately, it's hard to sell used heat pumps on our end, so we can't accept "trade-ins." But if you were already considering adding a heat pump to your pool, there's good news—adding a chiller option to a new heat pump isn't that much more expensive.
Heat pumps typically cost around $4,000–$6,500 installed, with pool chillers being an additional $600–$1,000. This puts your total cost at around $6,100–$6,500.
If you know that your pool is going to be in direct sunlight, or you live in an area where the temperature gets extremely hot, you might want to consider getting a heat pump with a cooling option.
If you have any questions or comments about pool chillers or anything related to cooling your pool, feel free to leave them in the comment section below.
At River Pools, we manufacture world-class fiberglass swimming pools for customers across North America. Take a look at our models today and view our gallery to see what we can do for your swimming pool project.
If you would like to receive a quote on any of our inground pools, try out our pool cost calculator or visit our Request A Quote page for a custom quote.
Still not sure which type of inground pool you want in your backyard? Download our free ebook below for a full comparison of the three main inground pool types.
Up Next:
How Late Can I Install a Pool Cover?
---
Editor's note: This blog article was updated on April 17, 2019.