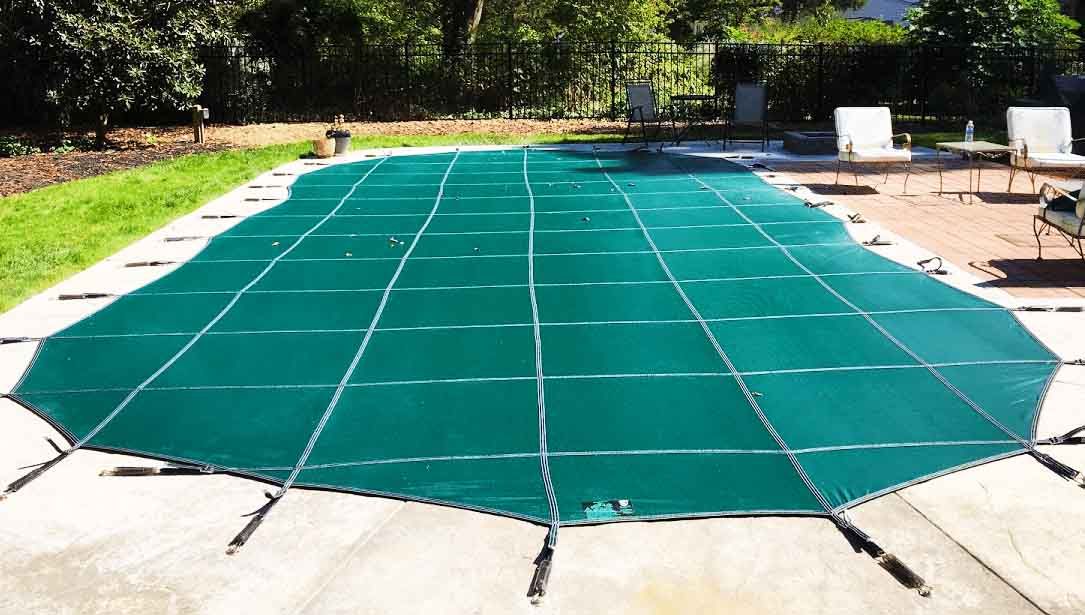 Subscribe
Inground Pool Winter Covers: Pros, Cons, Prices
Options and Accessories | Pool Closing/Winterization
Now that summer has ended and it's time to start thinking about shutting down your pool, you might be shopping for the perfect swimming pool cover to bring this swim season to a close.
We say might because it's not mandatory in every state or region, but putting regulations aside, covering your pool during the off-season can make your pool maintenance a lot easier.
If you have a ton of overhead trees, for example, or see a lot of leaves and debris around your home in the fall, keeping them out of the pool will save you hours of your time in maintenance chores.
We at River Pools manufacture fiberglass pools for customers across the country, and we install our models for people in our home base area in Virginia. We've also spent a significant number of years servicing pools, including pool closures and winter pool cover installation and maintenance.
In this article, we'll give you a brief overview of the pros and cons of the different winter pool cover types based on our 20 plus years in the industry. We'll also provide general pricing to help you choose the right pool cover type for your budget.
Let's jump in.
Types of Winter Pool Covers
You'll have several options when it comes to choosing a winter cover for your inground pool. In this article, we will cover three main options that most people use as a go-to for the offseason:
Tarp winter cover

Solid security cover (safety cover)

Mesh security cover (safety cover)
Let's go over these in more detail to help you decide which one is right for your pool.

Note: If you have an automatic pool cover or plan on getting one, you can use that to secure your pool over the winter months.
Security Winter Pool Covers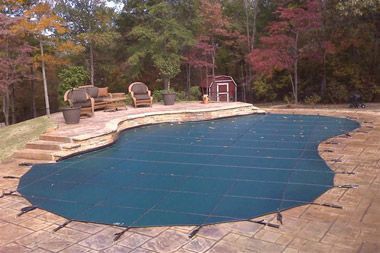 Not every area will require you to cover your pool (some parts of Texas, for example, allow you to leave your pool uncovered year-round as long as you have an adequate barrier around your backyard).

If you are required to have a pool cover for safety reasons, you'll most likely need to invest in a security cover, also known as a safety pool cover. Security or safety pool covers are highly recommended if you have small children, pets, or mischievous neighbors because they can support a tremendous amount of weight without tearing or failing.

Safety pool covers require you to install stakes in your patio, and they end up looking somewhat like a trampoline.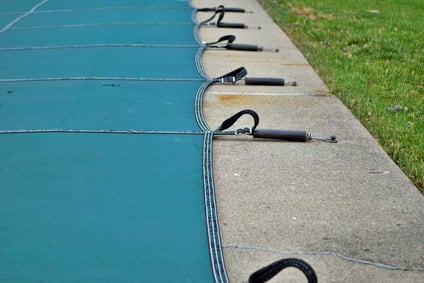 There are two main types of security winter covers: mesh and solid. Here are the pros and cons of each.
Mesh Safety Pool Cover
Mesh security covers have all of the safety features included to keep pets and family members safe when the pool is not in use. The mesh material will allow water to pass through the pool cover, which can make your pool water a little dirtier, but it won't accumulate debris or become weighed down by melted snow and ice during the winter.

A mesh cover might be a good option if you live someplace very cold that gets a ton of snow because you won't have to use a cover pump to get all of the water off. The water will simply fall through the mesh before it gets a chance to pool on top of the cover and weigh it down.

Mesh pool covers can also last around 10 to 15 years and are an excellent long-term investment.
The bottom line: Mesh security covers are safe, durable, and convenient, but they do let dirty water and algae pass through into the pool.
Solid Safety Pool Cover
Like mesh security covers, solid pool security and safety covers are safe for children and pets during the offseason or whenever the pool is closed. They can also handle a lot of weight in the event that someone does wander onto the cover. However, they should be kept clear of water to keep that weight down, which means you will have to use a cover pump for rain and melted snow and ice.
A solid security cover might last you 7 to 11 years and typically won't last as long as a mesh security cover.
The bottom line: Solid security covers are safe and they are effective at keeping water, debris, and sunlight out of your pool, but they might be more work if you live in a snowy or rainy area.
Safety Pool Cover Cost
Both mesh and solid security pool covers should cost around $1,200 to $3,000, with mesh covers being slightly cheaper depending on the size and manufacturer. They can also last many years, making them a better investment overall.
Read more: Solid Vinyl vs. Mesh Inground Winter Pool Covers: Which is Better?
Standard Winter Pool Covers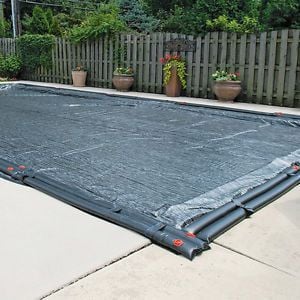 A standard winter cover uses tarp-like material and is better suited for convenience than safety. These covers are great for keeping dirt and debris out of the pool, but they're not very effective at keeping unwanted visitors out other than being an unsightly deterrent.
In other words, they likely won't meet your local pool cover safety regulation requirements, which is why you should always check with your city or county municipal department before buying a pool cover.
Standard winter pool covers are held in place using sandbags, blocks, or water bags, which can easily move if enough weight is exerted on the cover. For this reason, you'll need a cover pump to keep water drained off the top so that it doesn't accumulate too much weight and collapse into the pool.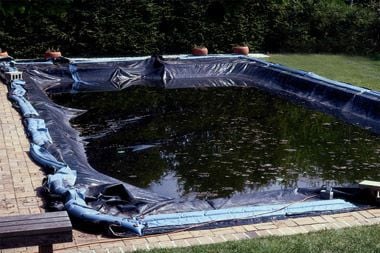 On the flip side, using sandbags or water bags to keep your winter pool cover in place might be better for you if you aren't too keen on installing stakes all the way around your pool patio. (The holes are small and not terribly obvious, but you will still have to drill at least a dozen holes into your pool patio or landscaping for a security cover.)
Standard winter pool covers might only last you one to three seasons before they need to be replaced.
The bottom line: The main function of a standard pool winter cover is to keep debris and sunlight out of your swimming pool during the offseason, but it doesn't do a very good job of keeping children or pets safe.
Standard Winter Pool Cover Cost
A typical winter pool cover that uses tarp-like material should cost around $75 to $225. Keep in mind that the price will vary by manufacturer and pool cover size, with larger pool covers being more expensive.
Your pool cover may or may not come with sandbags or water bags when you purchase it. If you need to buy them separately, you can expect to pay from $5 to $10 on average per sandbag, water bag, or block weight.
Read more: How to Buy a Pool Cover: Sizing, Types, Prices
Questions or comments? Please leave them for us below and we will get back to you as soon as possible.
If you are in the process of closing your inground pool for the winter, check out our guides below for more helpful tips:
When Should I Close My Pool for the Winter?
Trying to Close Your Inground Pool? Avoid the 5 Most Common Mistakes
How Late Can I Install a Pool Cover?
At River Pools, we manufacture high-quality fiberglass pools for customers across North America. If you are interested in getting a fiberglass pool for your home, you can download our free ebook above, browse our catalog of models, or request custom pricing using the button below. In the meantime, you can get a rough estimate using our free pool pricing calculator.
Up Next:
How Much Do Inground Pool Covers Cost?
Swimming Pool Covers: The Good, the Bad, and the Ugly