If you're on the fence about when to install your inground pool, why not consider doing a fall pool installation? The fall is the perfect time of year to install your inground pool for several reasons. First, weather and ground conditions are generally favorable (not too hot or too cold), and second, you'll have plenty of time to get your pool in the ground before the next swim season comes around. As a bonus, you won't have to wait until spring to do your landscaping, and you can get your yard back in order relatively quickly.
Having a pool in your backyard can be a luxurious experience on its own. Add a spa to that and you've got an outdoor resort. If you're thinking about a fiberglass pool with a spa for your home, you're in luck. We at River Pools have been manufacturing and installing fiberglass pools and spas for years, and our experts are happy to break down your FAQs here to help you decide if a fiberglass pool with a built-in spa is right for you.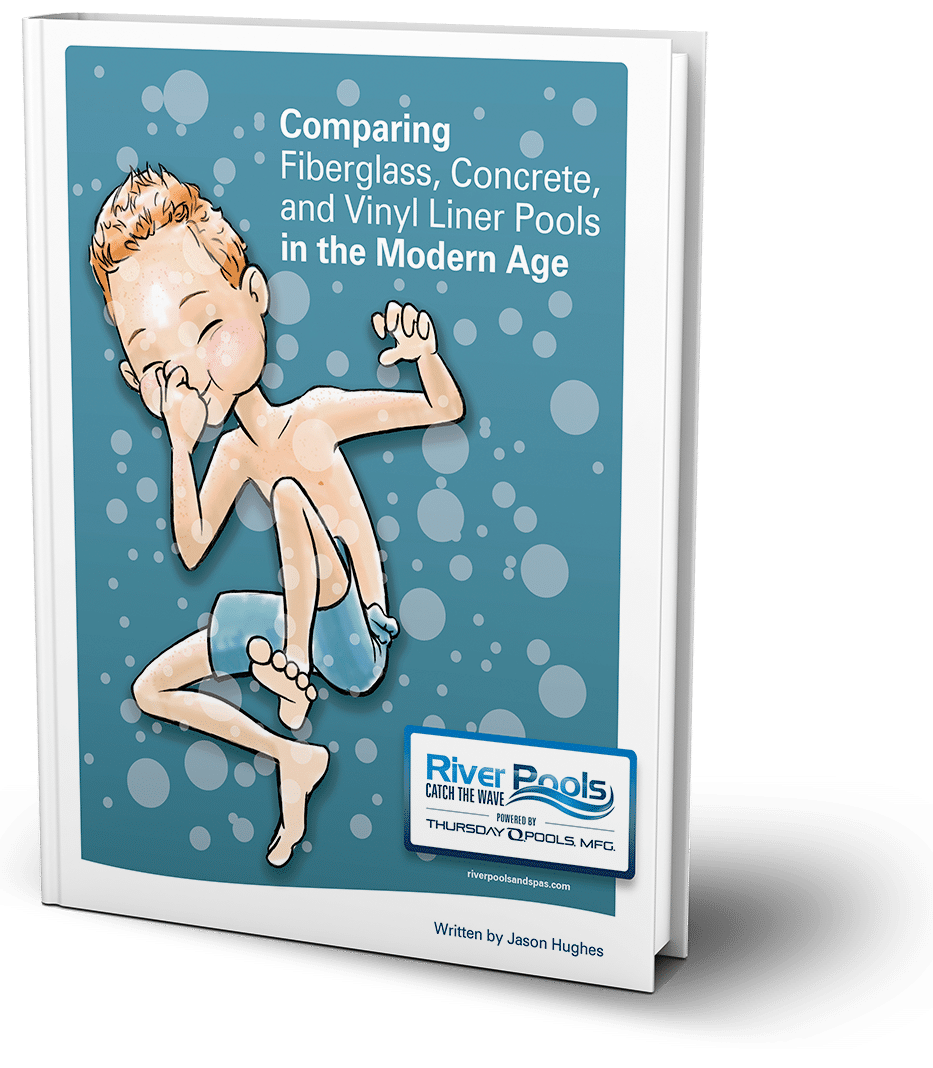 Comparing Fiberglass, Concrete, and Vinyl Liner Pools in the Modern Age
Don't blindly wonder if a fiberglass, concrete, or vinyl liner pool is right for you. Our educational ebook does a deep-dive comparison of the 3 types, all while noting the advantages and disadvantages of each.
Did you know that the ancient Greeks used sand filters to clean their bathhouse pools? That's how old the sand filter technology is, but don't let that be a drawback. Some of the greatest inventions thought up centuries ago continue to be used to this day. If you're a new pool owner or if you're looking to switch up your filtration system, you may have questions like: "What is a sand filter? How does a sand filter work? Is a sand filter better than a cartridge system? How much does a sand filter cost?" If you've got one or more of these questions on your mind, we've got your back.
Options and Accessories | Pool Closing/Winterization
Now that summer has ended and it's time to start thinking about shutting down your pool, you might be shopping for the perfect swimming pool cover to bring this swim season to a close. We say might because it's not mandatory in every state or region, but putting regulations aside, covering your pool during the off-season can make your pool maintenance a lot easier. If you have a ton of overhead trees, for example, or see a lot of leaves and debris around your home in the fall, keeping them out of the pool will save you hours of your time in maintenance chores.
Have you ever been blasted by a cold breeze just as you were climbing out of the swimming pool? Did you think about jumping back in just to get warm again? If you've been swimming on a cool and breezy day, we're guessing that you know what we're talking about. While shivering in a beach towel is a small price to pay for swimming in less than ideal weather, we want you to know that it doesn't have to be this way. In fact, getting out of the pool can be just as pleasant as getting in it. Enter the poolside fire pit.
As we take our last dips in the pool and start deflating our giant pizza slices and rainbow unicorn floats, we are reminded that all good things must come to an end. At least until next summer. Within a few weeks, it will be time to close up your sparkling oasis and say goodbye for the winter. And if you don't want your pool to become a swampy mess until then, you might want to consider adding a pool cover.
Options and Accessories | Patio and Coping | Pool landscaping
Are you one of those people who kills your plants every time you try to start a garden? Do you put off home improvement projects until your house is literally falling apart? Or maybe you just like to make your life as simple as possible so that you have time for things that are really important to you. Whatever the case, if you're looking for an outdoor living space that's super low maintenance (and not just a slab of concrete with a picnic table), keep reading!
When it comes to sanitizing your pool, most people choose between traditional chlorine and a salt system.
Do you ever wish that you had a natural pond or swimming hole in your backyard? What if you could escape to a tropical tiki paradise every day after work? If this sounds like your dream, a lagoon pool may be the swimming pool style that you're looking for. At River Pools, we install our fiberglass pools in a wide variety of styles from ultra-modern to Mediterranean to tropical lagoon, and we know what goes into each of the different inground pool designs. In this article, we'll explain what a lagoon pool is, how much it may cost to create this pool style, and the pros and cons of having one.
Fiberglass Pool Information | Installation & Construction
Do you like the idea of having a fiberglass pool but aren't sure if you can actually get one? With us at River Pools being the only fiberglass pool manufacturer with installation experience (more than 1,500 fiberglass installs to date), we're kind of experts in our field. And over the years we've heard every installation question under the sun, including: