Buying an inground pool is a major purchase. They cost tens of thousands of dollars and can affect both the aesthetic of your outdoor space and the value of your home. This is a purchase that you should never take lightly. There is a lot of research that you need to do before buying one and a lot of decisions that need to be made. If you leap in without doing your homework, you could overpay, purchase a pool that requires more maintenance than you prefer, or hire the wrong contractor for the job. Doing your research can help you make educated and informed decisions about the type of pool you buy and its features. All in all, this should help ensure the pool not only looks amazing outside your house, but has the features and functions that make sense for you and your family. Here are the six things that you should know before you purchase an inground pool.
If you are installing an inground pool, you are likely excited about the prospect of being able to swim and play in the pool when you want. However, when people purchase a pool, they have an idea in their head as to what their space will look like. It may be green and lush, or it may be exotic and tropical. Regardless, the pool alone will not make your vision a reality. It is the landscaping around the pool that helps everything come together to give you the outdoor space you have been dreaming of. Choosing a look or theme will help you decide what type of landscaping to place around the pool.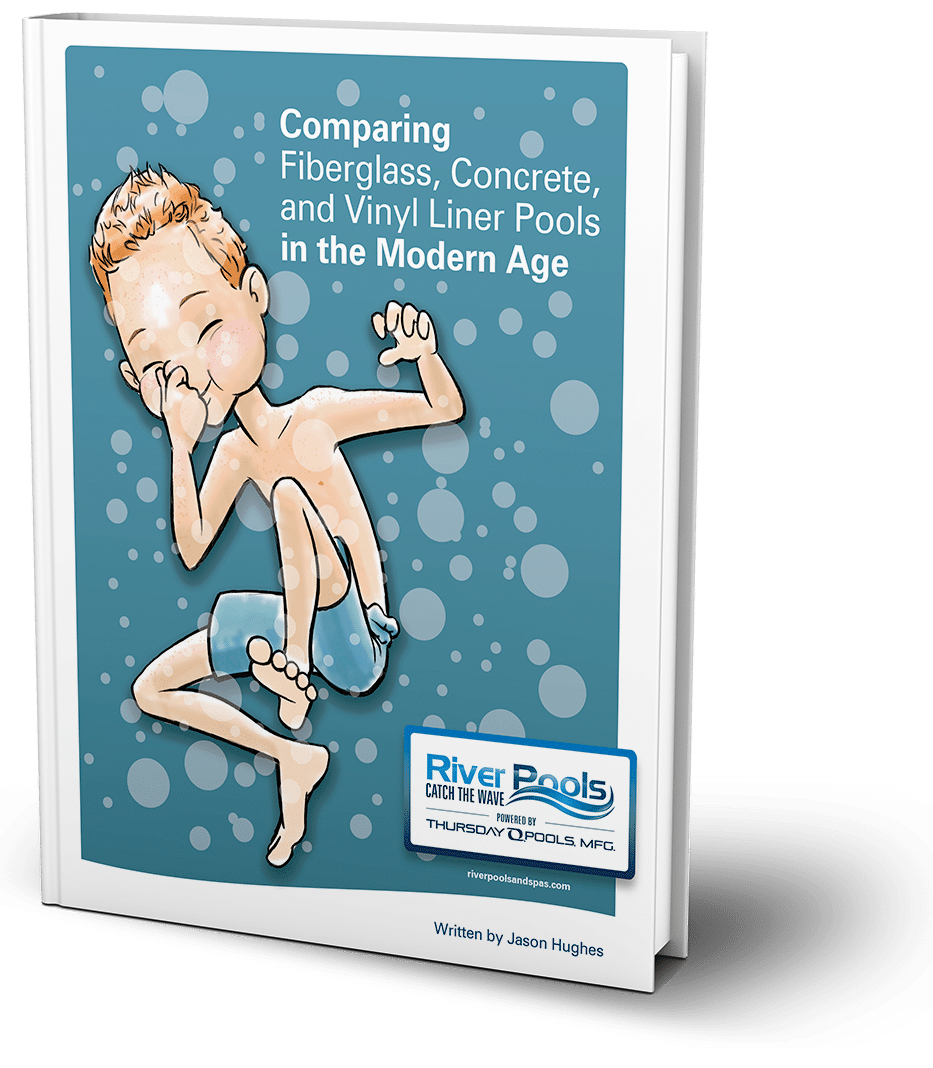 Comparing Fiberglass, Concrete, and Vinyl Liner Pools in the Modern Age
Don't blindly wonder if a fiberglass, concrete, or vinyl liner pool is right for you. Our educational ebook does a deep-dive comparison of the 3 types, all while noting the advantages and disadvantages of each.
If you are planning on buying a pool, you may be looking at the accessories as well. There are hundreds of pool accessories available on the market today. Some help improve the cleanliness of the pool, some increase safety, some add functionality to the pool, and others improve the aesthetics of the pool. Taking the time to do your research on the various types of accessories available will help you determine which are ideal for your pool. Keep in mind, that the accessories you need may change depending on the type of pool you are planning to buy. Here are some of the top swimming pool accessories and what information you should know if you are considering the accessory type.
If you're considering the purchase of an inground fiberglass pool and have done any research on the web, you've probably encountered some discussion of the problems associated with fiberglass pools.
Fiberglass Pool Manufacturers | Pool Manufacturing Process
If you're in the market for an inground fiberglass pool, you're probably looking for a single resource that lists the most prominent fiberglass pool manufacturers in America. As a manufacturer of inground fiberglass pools, we are often asked our opinion of other manufacturers. Because we believe strongly in answering the questions we are asked, we put together the following list of 10 of the most prominent fiberglass pool manufacturers in America in alphabetical order.
Fiberglass vs Concrete vs Vinyl Liner | Installation & Construction
Over the years we've helped answer millions of questions from potential pool buyers and found that when people understand the basic construction process, it empowers them to make a more confident decision regarding which type of inground pool is right for them. In this article we provide an overview of the basic construction phases of concrete, fiberglass, and vinyl liner pools. For a more in-depth look comparison of these pool types, be sure to check out our free eBook "Comparing Fiberglass, Concrete, and Vinyl Liner Pools in the Modern Age". Concrete Pool Construction Phase 1: Concrete Pool Excavation This phase is similar for all three types of inground pools. Earth is excavated and either hauled off-site or used on the property. This is not a decision to make the day excavation begins. Even if your builder does not address dirt removal, be sure to bring it up in advance as it often requires time to find a dump location plus there can be associated costs. Duration: Several hours to two days depending onthe pool size, equipment used, soil type, and the means of dirt removal. Project Time Frame: Day 1 Phase 2: Steel Placement Concrete has a very high compressive strength, meaning it is resistant to crushing forces. However, it has a relatively low tensile strength, meaning it doesn't naturally flex or bend very well. Adding steel to concrete structures, such as swimming pools, increases the structure's ability to flex and move with it's environment. A cage of steel bars, also called rebar, is tied together and eventually encased in the concrete shell creating a web of strength and help prevent structural failure.
One of the advantages of working with fiberglass pools is the flexibitlity it allows in design and installations. We are able to customize our pools to fit the needs of our customers.