Fiberglass pools have many benefits over concrete and vinyl liner pools. Fiberglass is low maintenance, quick to install, uses fewer chemicals, has a smooth finish, is extremely durable, and has an attractive and elegant look. Because of all of these benefits, you may want to have a fiberglass pool installed at your house. One of the questions that people often ask is when they should have their fiberglass pool installed. Another benefit to these pools is that they can be installed year-round, regardless of the climate or weather conditions where you live.
Fiberglass Pool Information | Pool Maintenance
We say "Don't drain your pool." Then we say, "At some point, every pool will need to be drained." So, fiberglass pools: to drain or not to drain? That is the question. Yes, I know this Hamlet-style pondering can be confusing. But are we contradicting ourselves? Not quite. To keep your pool living its best life, don't jump on the drain train. Problems can happen if the groundwater around an inground swimming pool is higher than the water in the pool, no matter what type of pool it is.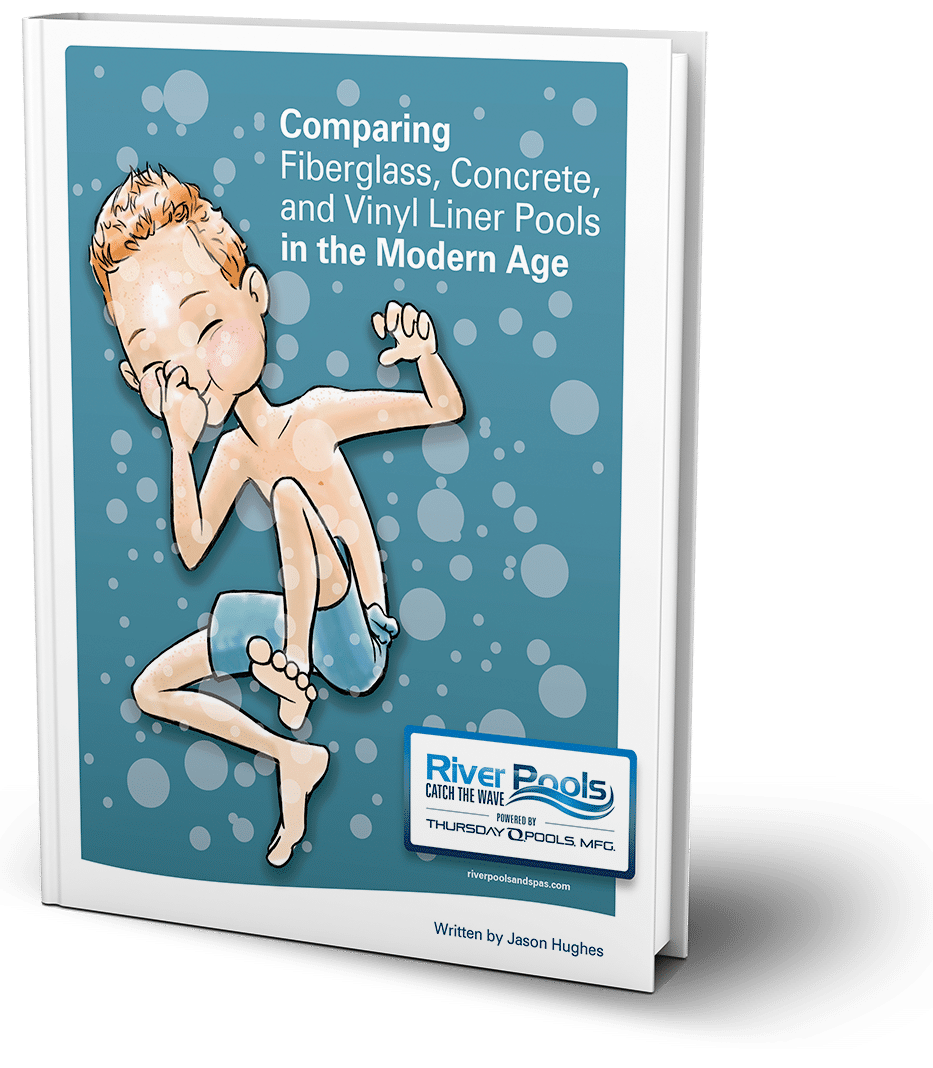 Comparing Fiberglass, Concrete, and Vinyl Liner Pools in the Modern Age
Don't blindly wonder if a fiberglass, concrete, or vinyl liner pool is right for you. Our educational ebook does a deep-dive comparison of the 3 types, all while noting the advantages and disadvantages of each.
Fiberglass vs Concrete vs Vinyl Liner | Pool Maintenance
If you're considering an inground pool, you're probably wondering what the pool will look like in 5, 10, or even 20 years. At River Pools, we've been around a while and understand how the different types of inground pools weather over time…specifically, when and how the surfaces of inground pools fade.
Fiberglass Pool Information | Installation & Construction | Swimming Pool Accessories
Are you considering an inground pool or, more specifically, a fiberglass pool with an integrated tanning ledge? Are you a fiberglass pool installer looking for best practices regarding tanning ledge pool installations? If so, you're in luck! Today we're going to share our system for installing tanning ledge pools—and reveal our unique manufacturing process to ensure your tanning ledge pool is super awesome. Let's dive right in!
If you are looking to build an inground pool, you may be excited about the prospect of adding this new feature to your outdoor space. A pool can provide you and your family with many benefits and hours of fun. However, while playing in a pool can be fun, building one is another story. There is a lot of research and work that needs to go into planning the pool. You need to ensure that you purchase the right pool and layout so you are happy with your decision for years to come. Many factors come into play when designing and selecting a pool. This includes items like size, color, type, and design. Here are a few of the things you need to consider when you are buying a pool. They will help you hone in on the pool size, shape, type, and design that best meet your needs.
Buying an inground pool is a major purchase. They cost tens of thousands of dollars and can affect both the aesthetic of your outdoor space and the value of your home. This is a purchase that you should never take lightly. There is a lot of research that you need to do before buying one and a lot of decisions that need to be made. If you leap in without doing your homework, you could overpay, purchase a pool that requires more maintenance than you prefer, or hire the wrong contractor for the job. Doing your research can help you make educated and informed decisions about the type of pool you buy and its features. All in all, this helps ensure the pool not only looks amazing outside your house, but has the features and functions that make sense for you and your family.
If you are installing an inground pool, you are likely excited about the prospect of being able to swim and play in the pool when you want. However, when people purchase a pool, they have an idea in their head as to what their space will look like. It may be green and lush, or it may be exotic and tropical. Regardless, the pool alone will not make your vision a reality. It is the landscaping around the pool that helps everything come together to give you the outdoor space you have been dreaming of. Choosing a look or theme will help you decide what type of landscaping to place around the pool.
If you are planning on buying a pool, you may be looking at the accessories as well.
If you're considering the purchase of an inground fiberglass pool and have done any research on the web, you've probably encountered some discussion of the problems associated with fiberglass pools.
Cost and Pricing | Fiberglass vs Concrete vs Vinyl Liner
If you're in the market for an inground pool one of the first questions you're likely to ask is, "How much should I budget for my pool?" In the following video, we discuss the installation prices of the three types of inground pools: concrete, fiberglass, and vinyl liner. We also discuss the long term cost and price to own each type of pool over a 10-year period.