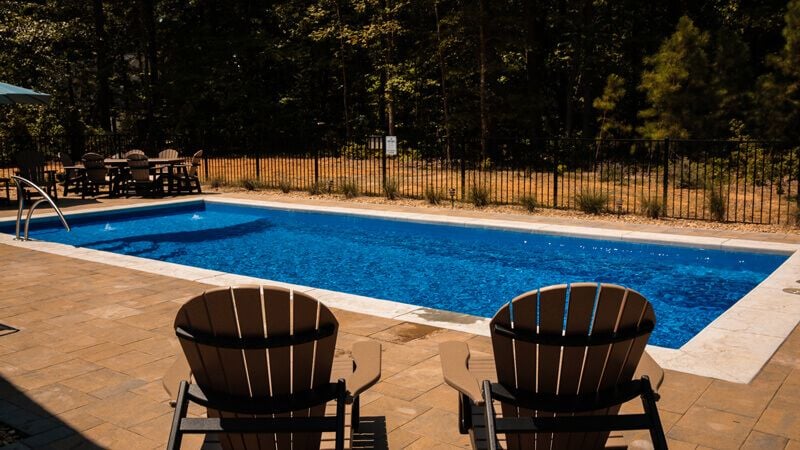 Subscribe
Inground Pool Comparison: Vinyl Liner vs. Concrete vs. Fiberglass Pools (Infographic)
Fiberglass vs Concrete vs Vinyl Liner
Are you shopping for an inground swimming pool but not sure which type is right for you?
As fiberglass pool manufacturers, we've made it our goal to educate consumers on the differences between fiberglass pools and other inground pool types to help them choose the best option for their homes.
(We also have experience installing fiberglass pools and vinyl liner pools, and we have serviced all inground pool types).
In this article, we're going to give you a visual overview of the key differences between the three main inground pool types including fiberglass, vinyl liner, and concrete pools. By the end, you should have a basic understanding of inground pool installation, shapes, sizes, DIY difficulty, cost, and maintenance expenses.
Let's dive in.
Vinyl Liner vs. Concrete vs. Fiberglass Inground Pool Construction
One of the biggest factors that separate the different inground pool types is how they are built.
Generally, concrete pools take the longest to build at 3 to 6 months on average, and fiberglass pools are the quickest to install at 2 to 4 weeks on average. Vinyl liner pool installation timelines fall somewhere between the two at around 4 to 6 weeks on average.
Read more: Pool Construction: Comparing Concrete, Vinyl Liner, and Fiberglass Installations
Our infographic below breaks down the various inground pool installation stages: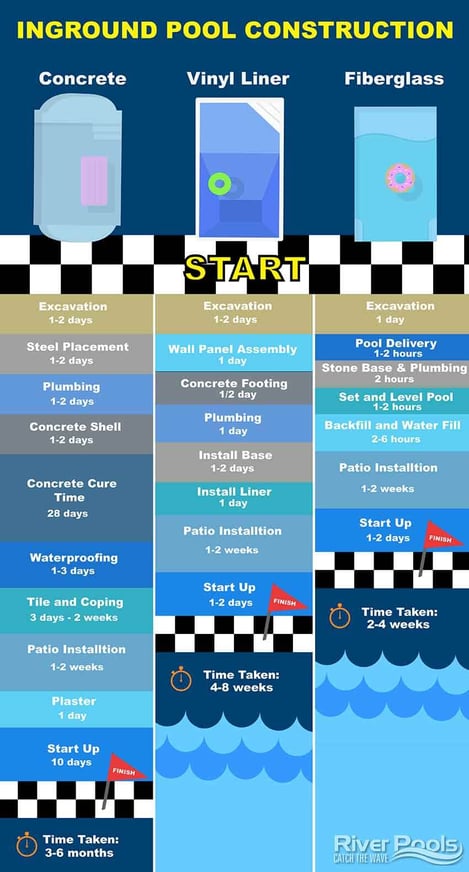 Inground Pool Shapes and Sizes
Concrete Pool Shapes and Sizes
Concrete pools can be any shape or size that you can imagine, and they are widely known as the most customizable inground pool type.
Vinyl Liner Pool Shapes and Sizes
Vinyl liner pool shapes and sizes can be customized as well (depending on the manufacturer), but it might cost more to order a custom liner pool kit.
Fiberglass Pool Shapes and Sizes
Fiberglass pools, on the other hand, come in specific shapes, sizes, and depths and cannot be modified. You will have many options across all fiberglass pool manufacturers and pool models, but you won't be able to make changes to your chosen pool's design.
Fiberglass pools also come with size limitations so that they can be shipped with ease to your home. Usually, they are not much wider than 16 feet and not much longer than 40 feet.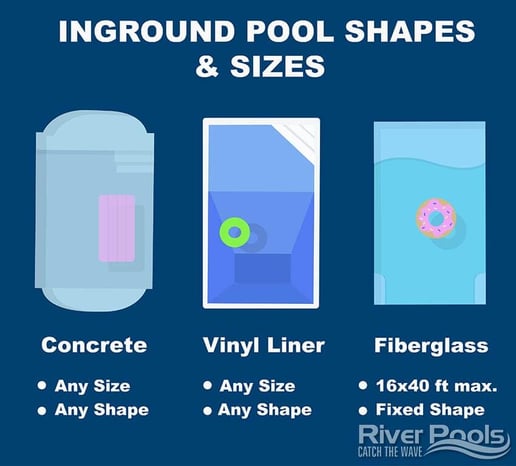 Inground Pool Materials
The structure and surface of vinyl liner, fiberglass, and concrete pools are all unique, and each comes with their set of pros and cons. Let's briefly go over what the different inground pools are made of.
Concrete Pool Materials
The shell of a concrete swimming pool is constructed mainly using steel rebar and concrete. A cage of rebar is welded into place and concrete (gunite or shotcrete) is layered over it to create a more flexible pool that can withstand ground movement.
Once the concrete has cured, the building crew typically covers the surface in plaster and adds waterline tile to prevent staining. Some people may choose to add a pebble or tile pool surface, but these are both more expensive upgrades than plaster.
Vinyl Liner Pool Materials
The structure of a vinyl liner swimming pool is made up of pool walls which are typically either polymer or steel. The floor of the pool is filled and shaped using vermiculite or grout, while the vinyl pool liner makes up the surface of the pool. The outer shell of the pool is also usually surrounded by concrete to lock the structure in place.
Read more: Vinyl Liner Pool Basics: Pros, Cons, and How They're Made
Fiberglass Pool Materials
The structure of a fiberglass swimming pool is created using various types of fiberglass, vinyl ester and polyester resin, and gelcoat for the pool surface.
Fiberglass pool shells are manufactured in a factory rather than in your backyard, which cuts down on the construction time. The installation of the pool shell requires backfill material (preferable clean, crushed stone) and some concrete beneath or around the pool to anchor it to the patio.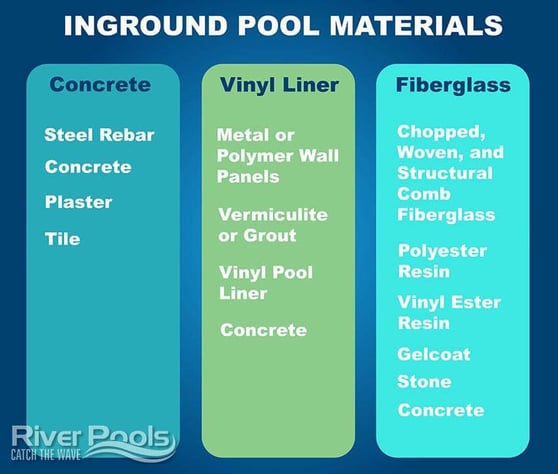 Inground Pool DIY Difficulty
Many customers ask us about the feasibility of a DIY swimming pool project. Usually, we tell them that any pool type can be done DIY, but some pool projects are more difficult than others.
DIY Vinyl Liner Pools
The vast majority of people who undertake a DIY inground pool project are using a vinyl liner pool kit. Generally, vinyl liner swimming pools are the easiest inground pools to build without the assistance of a professional pool builder, but they can also be challenging for anyone with minimal pool construction experience.

DIY Fiberglass Pools
Fiberglass pools can be installed DIY as well, but it can be much trickier than installing a vinyl liner pool, especially for construction novices. Setting and leveling the pool is usually the most challenging part, and there's also a high risk of damaging your pool and not having a warranty to fall back on (warranties may not apply in DIY situations).
DIY Concrete Pools
Finally, concrete pools are without question the most labor intensive and time consuming inground pools to install. Unlike a fiberglass or vinyl liner pool, you'll need to build the entire pool from scratch, which requires a ton of equipment and a lot of experience to pull off.

Read more: DIY Inground Pools: Costs, Types, and Problems to Consider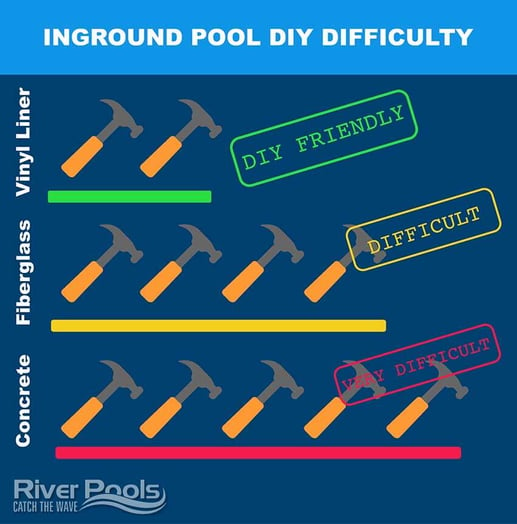 Inground Swimming Pool Cost
As important as the other factors are to choosing an inground pool, most people are primarily concerned about one thing:
How much will my inground pool cost?
Most inground pools will cost a minimum of $35,000, but they can also cost $100,000 or much more, depending on the size, type, and design.
National average prices for concrete pools are around $50,000 to $100,000 and up. A fiberglass pool might cost you $40,000 to $85,000 and up, while a vinyl liner pool might cost you $35,000 to $65,000 and up.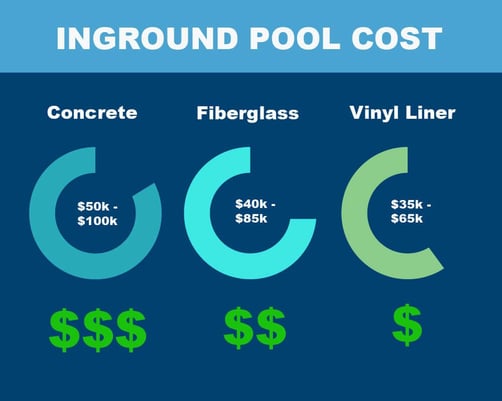 Typically, vinyl liner pools are cheaper than fiberglass pools and concrete pools, but they also may not last as long.
Read more: A Guide to Inground Swimming Pool Size, Costs, and Prices
Inground Swimming Pool Maintenance Costs
All inground pools are similar to some degree, but they have different maintenance needs due to their unique building materials and surfaces. Let's break down how much it might cost to maintain the three main inground pool types over time.
Vinyl Liner Pool Maintenance Costs
Vinyl liner pools are the cheapest inground pools to build, but they are not cheap to maintain. Over a ten year period, you might spend over $11,000 on liner replacements, chemicals, and electricity. After 30 years of owning your vinyl liner pool, you might spend more than $34,000 on routine maintenance alone.
Concrete Pool Maintenance Costs
Concrete pools are the most expensive inground pools to build and maintain. You might spend over $27,000 over a ten year period on chemicals, electricity, and resurfacing your pool. Over 30 years, that cost can easily rise to over $57,000.
Read more: Inground Pool Cost of Ownership: Fiberglass vs Concrete vs Vinyl
Fiberglass Pool Maintenance Costs
Fiberglass swimming pools are not the cheapest inground pools to build, but they do cost the least to maintain. Over a ten year period, you might spend around $4,000 on chemicals and electricity. Over 30 years, you might spend around $12,000 on chemicals, electricity, and routine maintenance.
Why is it so much cheaper to maintain a fiberglass pool?
The gelcoat surface of a fiberglass pool is smooth and durable, so it doesn't harbor algae or need to be resurfaced. This means spending less on chemicals and electricity, and you typically won't have to deal with the high cost of refinishing your pool.

Read more: Do Fiberglass Pools Need to be Resurfaced?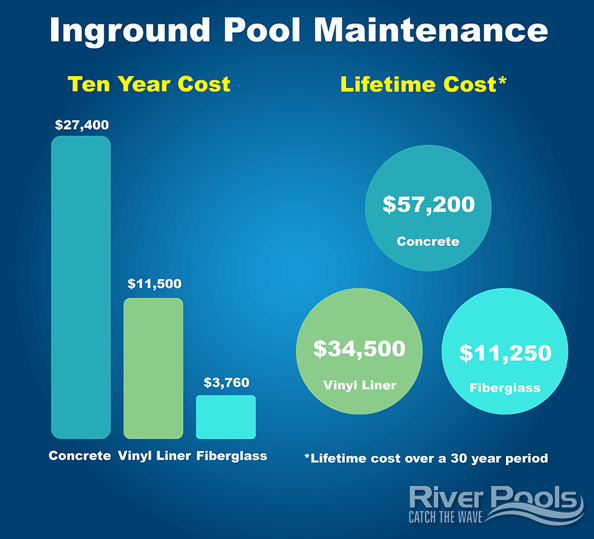 If you want to learn more about the three main inground pool types, you can read our following comparison guides next or download our free ebook below. As always, let us know if you have any questions and we will get back to you as soon as possible.
Fiberglass vs. Vinyl Liner vs. Concrete Pools: An Honest Comparison
Concrete Pools vs. Fiberglass Pools: An Honest Comparison
What Type of Pool Needs the Least Maintenance?
At River Pools, we manufacture world-class fiberglass pools for homeowners across North America. If you'd like to explore your fiberglass pool options or learn more about their benefits, you can browse our pool gallery, visit our video library, or request information and pricing using the button below. Happy swimming!