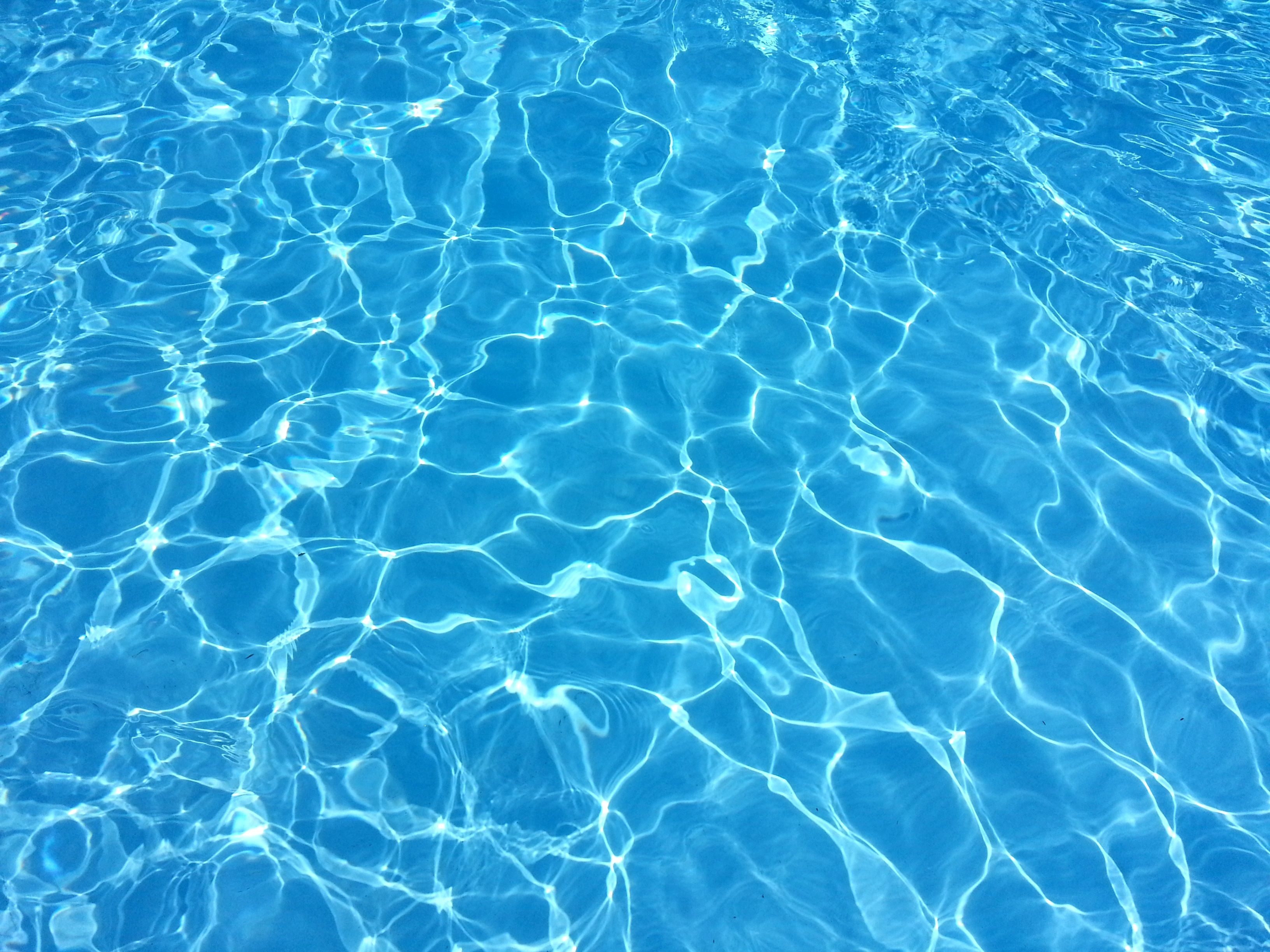 Subscribe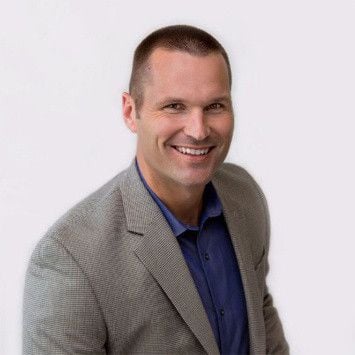 Are Fiberglass Pools Toxic? A Look at Their Environmental Impact
Fiberglass Pool Information | Fiberglass vs Concrete vs Vinyl Liner
There is an excitement that comes with getting a new pool that's hard to describe. You find yourself dreaming about lounge chairs, the smell of sunscreen, and how magical your pool will look at night.
Then reality hits, and you remember that these aren't the only things you have to worry about as a pool shopper. Cost, upkeep, environment, and safety are all factors to keep in mind when choosing which type of pool to purchase.
Concrete pools are highly customizable but expensive. Vinyl liner pools are cost-effective but not long lasting. Fiberglass pools? Extremely durable, low maintenance, and cheaper to own over time.
But even with fiberglass, some people have doubts about whether it's safe for the environment or if fiberglass toxicity is something to be concerned about.
At River Pools, we specialize in manufacturing fiberglass swimming pools, so we know everything about handling fiberglass and its potential effects on health.
Furthermore, it's our core belief as a company to answer ALL of our customers' questions, even if it's a sensitive subject. This belief has helped us become the most trafficked swimming pool website in the world, and we will continue with these efforts as new subjects and questions come forward.
Are Fiberglass Pools Toxic?
The short answer: No, they shouldn't be.
The long answer: Fiberglass can be harmful if you breathe it in, and the raw material can be irritating to bare skin. The good news is, you're not going to be swimming in an exposed fiberglass pool. No one is, as long as you purchase it from a quality manufacturer.
You won't be exposed to it during installation either. A big difference with fiberglass pools is that they are built offsite. Meaning, we're not going to be making the pool and pulling it off the mold in your backyard. We do this in our own manufacturing facility (watch our video to see how it's made!).
The pool you'll be floating in will have a sleek looking gelcoat layer that will both protect you and give you a comfortable surface for walking, swimming, sitting, and underwater handstands.
Is it possible that pieces could break off and float into the pool? Yes, it's possible. But you'd have to purchase a very cheap pool from a not so good company. Any high-quality fiberglass pool will provide sturdy, protective layers to its swimmers.
Who is Vulnerable to Toxic Effects of Fiberglass?
The short answer: As the pool owner, not you.
The long answer: People who work directly with fiberglass are trained professionals who wear respirators and special clothing to protect themselves. Luckily, this is the responsibility of the manufacturer who is completely offsite in a secure environment. This means you will never come into contact with raw fiberglass, at least not from your pool.
As the pool owner, all you have to worry about is maintaining the chemicals and keeping it clean. Unless you plan to break your pool apart and set it on fire, you won't have to worry about being affected by fiberglass toxicity.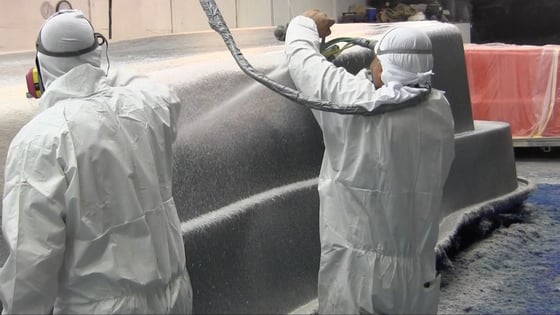 Are Fiberglass Pools Bad for the Environment?
The short answer: No
The long answer: Unlike a concrete pool, a fiberglass pool doesn't have large pores that attract algae. Instead, it has a smooth surface (thanks to the gelcoat) that also resists algae growth. This means adding fewer chemicals to your pool, which is also better for the environment.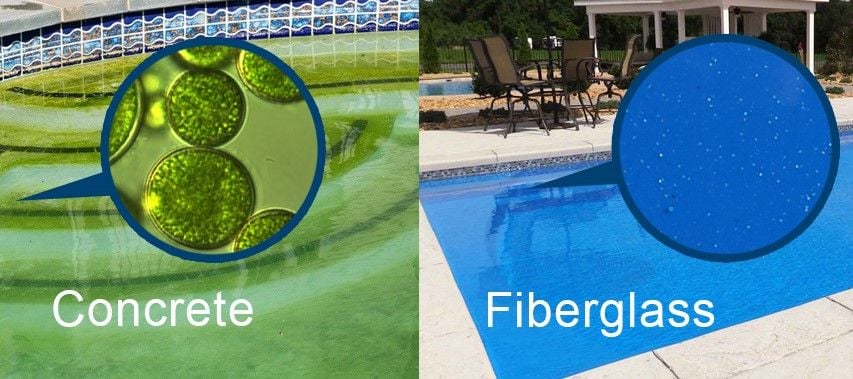 Thinking a vinyl liner pool might be more environmentally friendly and cost effective? These pools may be less expensive in the short term, but your wallet will feel it when the liner needs to be replaced (which is about every 5 to 9 years). Once again, not great for the environment.
Still not convinced? Scientific advancements have recently made it possible to recycle fiberglass.
Are Fiberglass Pools Safe?
The short answer: Yes
The long answer: It's a fact, fiberglass (by itself) can be harmful. But fiberglass pools, specifically from good manufacturers, are not. It's important to remember that the gelcoat layer keeps swimmers from any direct contact with the fiberglass material.
Raw fiberglass shouldn't be toyed with or inhaled, but it's not the most hazardous material on earth. Not even close.
Quick Summary
Fiberglass toxicity can be a concern to those who work with it, not pool owners

Professionals who work with fiberglass are adequately protected

Fiberglass pools require fewer chemicals, making them more environmentally friendly

Liner replacements and concrete pool maintenance make vinyl liner and concrete pools less environmentally friendly

Fiberglass can be recycled
Well, we hope this answers your question regarding fiberglass pool safety and environmental impact. Choosing to install a pool can be exciting and overwhelming. Fiberglass toxicity is not something you'll have to worry about when purchasing your swimming pool.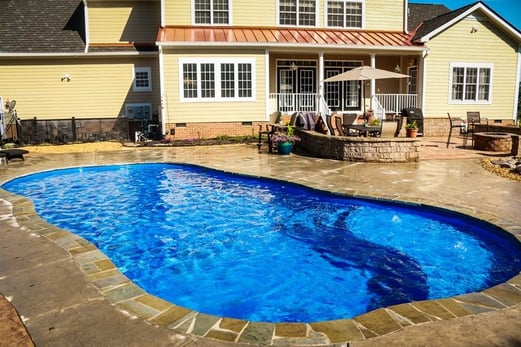 At River Pools, we manufacture world-class fiberglass swimming pools and offer a variety of models to choose from. If you're looking for a safe and durable fiberglass pool, check out our pricing guide today or request a quote.
Still not sure which type of pool is best for you? Download our free ebook below to learn the key advantages and disadvantages of owning each type of pool.
Up Next:
How Much Is My Fiberglass Pool Really Going to Cost?
How Much Do Above Ground and Inground Swimming Pools Cost?
Fiberglass vs. Vinyl Liner vs. Concrete Pools: An Honest Comparison