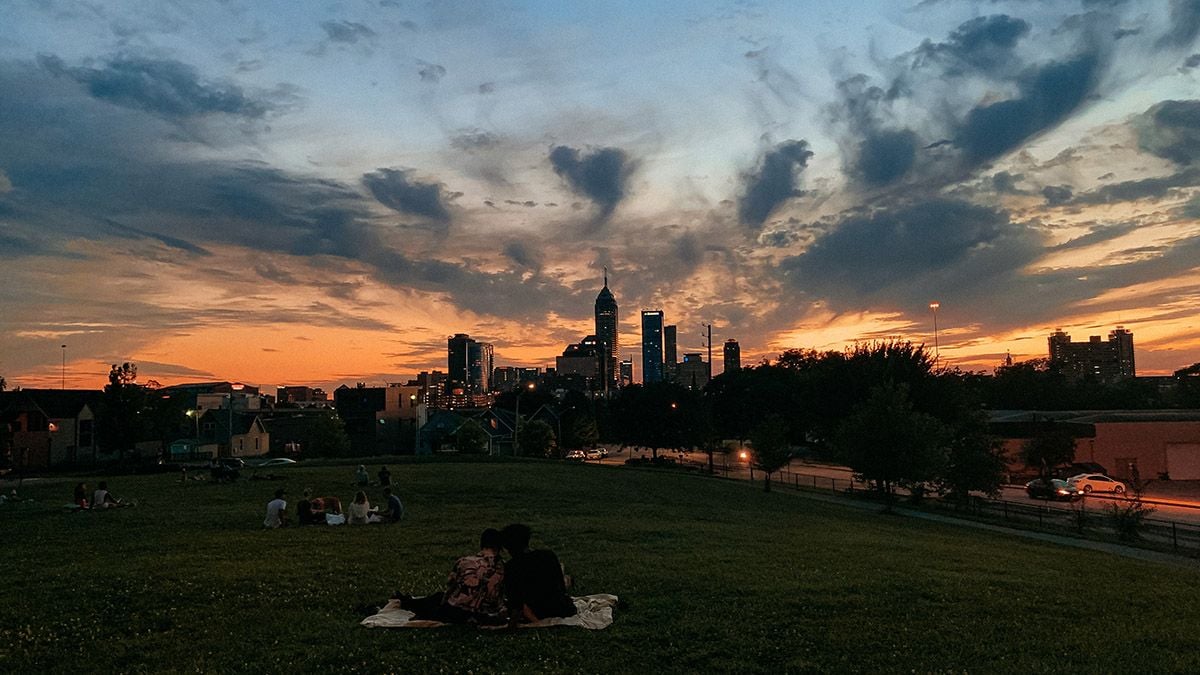 Subscribe
Are You a Hoosier Looking to Swim? Inground Pool Cost Indiana 2022
Fiberglass Pool Information | Fiberglass vs Concrete vs Vinyl Liner | Pool Maintenance | Cost and Pricing | Concrete Pool Information | Vinyl Liner Pool Information
If you ask someone who isn't from Indiana what they think of when you mention the state, you may hear things like "corn" or "open fields" or, more notably, maybe "the Indy 500". Contrary to the…slightly disappointing answers you might get (minus the 500 of course), Indiana is a place full of rich history, fun things to do and weather that can sometimes leave you guessing about what tomorrow will bring (surprises are fun, right?)
With pretty hot summers being commonplace though, Indiana can be the perfect place to get your own inground pool if you're not too keen on paddling through Lake Monroe.

Quick River Pools fun fact: our pools are actually produced in Indiana! Our years of pool industry knowledge and installation experience allow us to comfortably say if you want an inground pool in Indiana, then an inground pool is within reach. But, here comes the big question…how much does it cost to put in an inground pool in Indiana? And that's why we're here. Today, we're going to cover all things inground pool cost in Indiana: what inground pools options are available to Hoosiers, what you might expect to pay for installation and maintenance, and any other considerations you'll need to plan in your pool budget.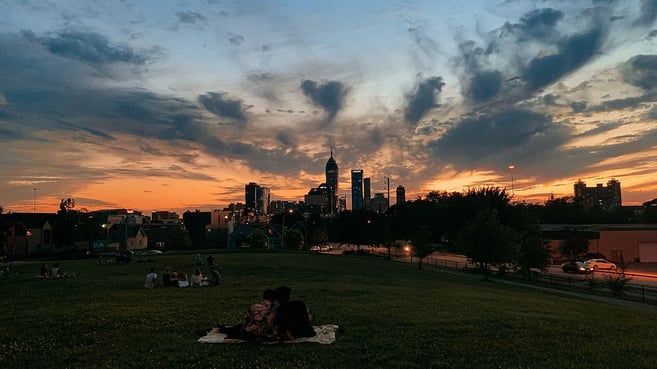 Pools Available in Indiana + Costs
You can find all three types of inground pools - gunite/concrete, vinyl liner, and fiberglass - in Indiana. But how do you choose one and which one is right for you? We'll go over a few characteristics of each and the cost to put in a pool of each type. It's important to note that the following prices are guidelines to use when creating your inground pool budget, but final prices may vary depending on external factors and the independent installer.
Gunite/Concrete
Characteristics:
Customizable (shape, size, you name it)
Tough surface
Generally cannot DIY
Gunite, aka concrete, pools are known for being both tough and customizable. Virtually any shape or size design is possible with gunite, but you oftentimes will be paying more if the design is more complex.
As a general rule, inground gunite pool installations (of the turn-key variety - meaning everything is handled by contractors and you as the customer do not have to oversee any aspect of the install) may cost between $50,000 and $160,000+. While DIY installation is possible in pools like fiberglass and could potentially save you money (but not always), concrete isn't usually able to be done by yourself.

Vinyl Liner
Characteristics:
Customizable
Very smooth surface (could be slippery)
Able to DIY
Vinyl liners are also known for being extremely customizable, and being the least expensive upfront. As with gunite, the more complex the design, the more you'll likely have to pay. A turn-key vinyl installation can range anywhere from $50,000 to $90,000 typically.
Fiberglass
Characteristics:
Lower maintenance
Smooth surface
Not customizable
Able to DIY (technically)
DISCLAIMER: While some fiberglass pool manufacturers do sell direct to homeowners, River Pools fiberglass pools are not available to purchase for DIY projects. For a turn-key installation, a fiberglass inground pool could cost you anywhere from $70,000 to $135,000 on average. And while you can DIY fiberglass inground pools, we strongly recommend going through an experienced installer to avoid potential mistakes or having to throw way more money at your pool later than you would have if you went through a builder. Installing one of these types of pools is more complex than simply excavating a hole and putting the fiberglass pool shell in, so it's best to make sure it's done right the first time around.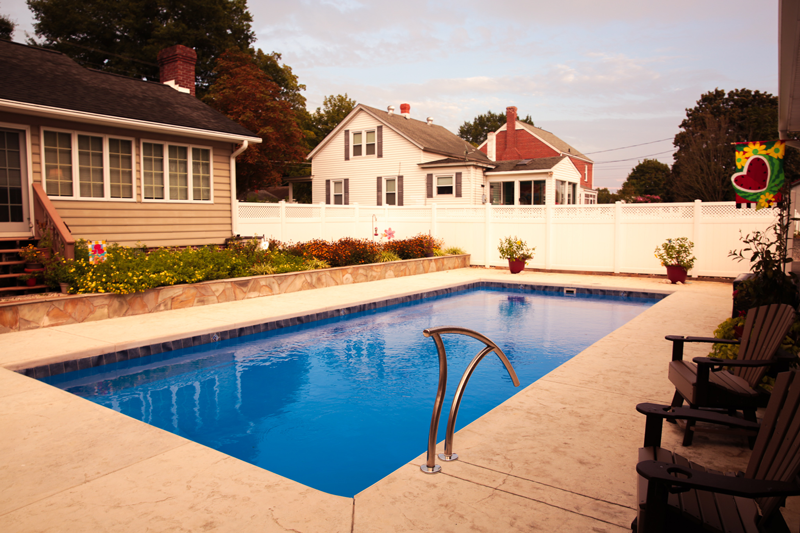 Pool Maintenance in Indiana + Costs

One thing many pool-owners-to-be will think about are things like replastering, liner replacements, resurfacing, etc. Basically, what will the lifetime maintenance of the pool be like? And how much should you plan to spend? We'll break it down by pool type:
Gunite:
This is one of the pool types where replastering might happen, and this may cost you around $10,000. Thankfully, this only happens about every 10 to 15 years or so. Besides replastering, gunite pools also will need to be acid washed about every 3 to 5 years, and that may run you about $900 over the course of 10 years. Regular cleaning, including brushing the surface to remove/prevent algae growth and using pool chemicals, are also necessary for taking care of these pools. These may cost around $5,000 and $7,500 respectively.

Once you include electricity usage with all of that, your total estimated maintenance expenses for 10 years ends up around $27,400.
Vinyl Liner:
If you didn't know (or hadn't inferred already), liner replacements are a form of maintenance that can take place on vinyl liner pools. These replacements happen about every 5-9 years on average, and can cost around $4,500. They may take place due to general wear-and-tear or if something causes the liner to rip. No replastering is required for these pools, though. You will have to factor in costs of chemicals (around $4,000) and electricity use (around $3,000).
This means your 10-year cost projection of maintaining a vinyl liner pool could be around $11,500 in Indiana.
Fiberglass:
We think it's fair to say that fiberglass pools are the lowest maintenance inground pool type around. However, there is definitely still maintenance you'll need to do on a regular basis to keep the pool nice and pretty. Gelcoats used by fiberglass pool manufacturers tend to prevent algae buildup on the pool's surface, so less brushing is needed. There is also no need to replaster, acid wash or change any liners on a fiberglass pool. Pool chemicals and electricity are a must, though, and that may run around $1,750 and $2,000 respectively. Maintenance costs can increase on these pools if proper water chemistry isn't adhered to.
Over the course of 10 years, you could anticipate spending around $3,760 maintaining a fiberglass pool.
We have a neat graphic here that summarizes it all nicely:
Other Considerations When Getting a Pool In Indiana
Usage
Unfortunately, Indiana isn't known for its year-round sunshine. Like many other Midwestern states, rain and snow are commonplace so your pool will only get serious use for about 5 or 6 months of the year. Certain features such as a heater could prolong that window of use, but generally swimming is limited to late spring and summer.
Do You Need a Permit for a Pool In Indiana?
According to Leaglebeagle.com "Any homeowner who wants to build their own pool must have a permit from the state." This goes for Indiana pools that are inground. The size and depth of the pool could have an impact on what permits are or aren't required, however. According to indy.gov, Indianapolis and Marion County's dedicated website, "Erection or installation of an above-ground swimming pool (or hot tub) 30 inches or less deep and 15 feet or less at its widest points will not require a structural permit. Additionally, an above-ground swimming pool (or hot tub) 18 inches deep or less and 15 feet or less in diameter will not require an improvement location permit."
When in doubt, check with your local governing authority or your pool builder for what permits your project will require.
Do You Have to Have a Fence if You Have a Pool In Indiana?
Leaglebeagle.com also mentions that fencing is required around an inground pool, but local legislation dictates how high that fencing needs to be.
As mentioned previously, there are some other elements of regulation that are left up to local governments rather than the state, so we recommend checking with your pool builder to see what is required in your area to get that final checkmark on your inspection.
Accessories and Features
Many homes in Indiana are surrounded by trees, and since the leaves fall every autumn, it could be worth investing in an automatic pool cover if possible. Your pool builder will most likely have recommendations for these if you are interested.

Conclusion
That concludes this race, folks.
We hope this quick overview was helpful in your inground pool search. At River Pools, our passion lies within the production and installation of inground fiberglass pools across the United States. Want to get a quick estimate on what that pool you're envisioning might cost? Give our fiberglass pool cost estimator a try!