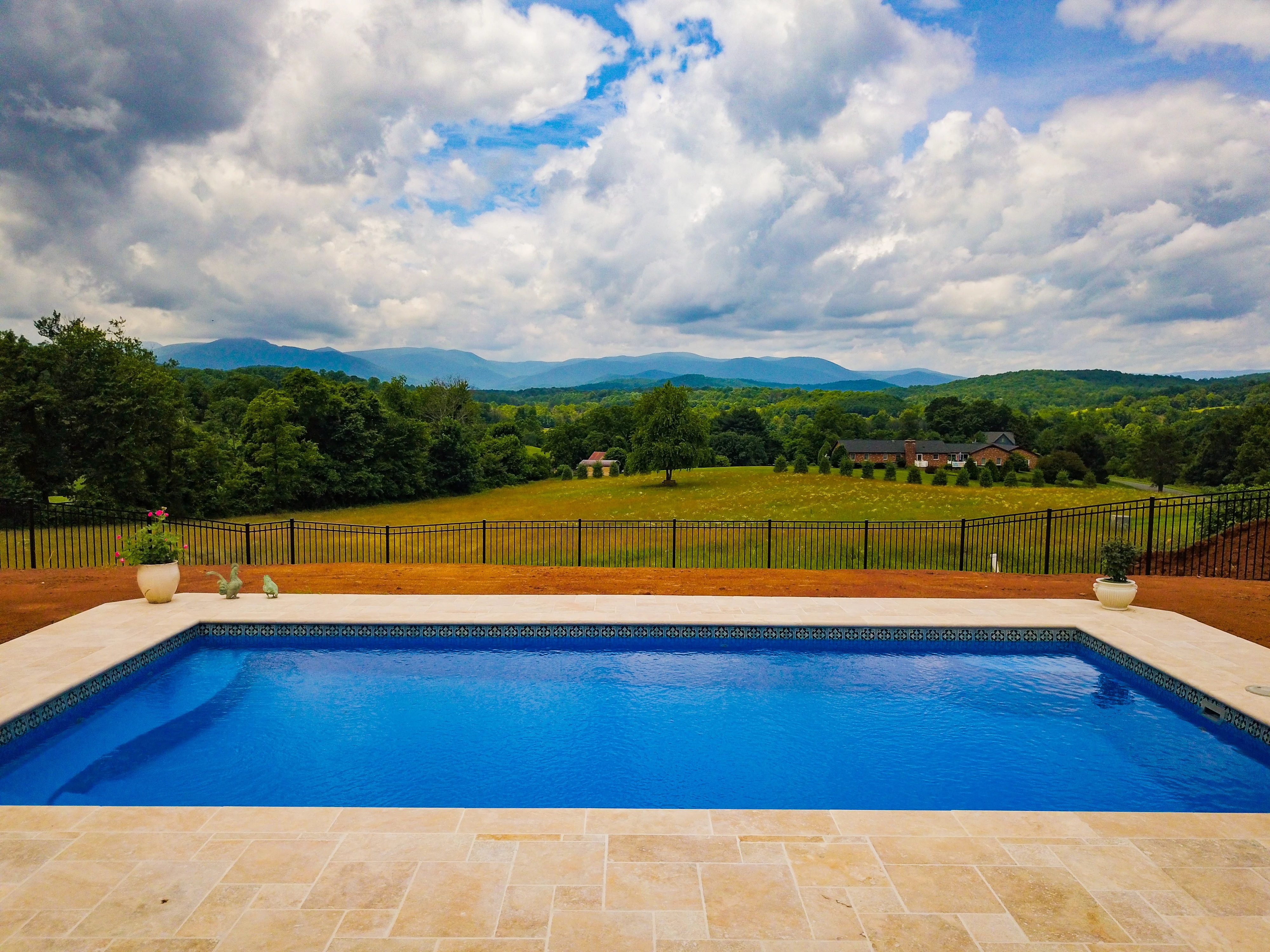 Subscribe
What Rectangle Inground Pool Sizes Are Out There? Your Pool Shape/Size/Type Options
Fiberglass Pool Information | Swimming Pool FAQs | Swimming Pool Design | Concrete Pool Information | Vinyl Liner Pool Information
You look out into your yard to see that open, green space and it just feels like something's…missing. You've been dreaming about having more quality time with your family at home - a private space for you and the ones you love to unwind. After thinking and thinking and some more thinking, you realize having your own pool just might be exactly what you're looking for. We've been there too, friends - the appeal of your own private swimming spot is hard to match with anything else. Bringing families together is one of the things that makes us most passionate about the world of inground pools.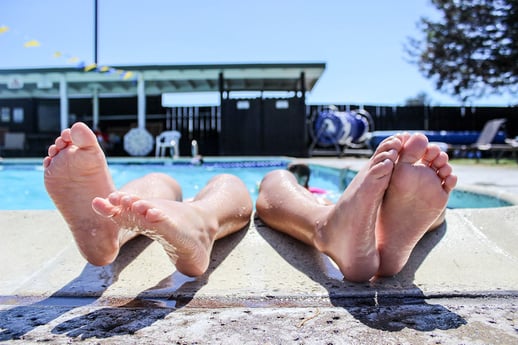 You know you want it, so now the question is what size/shape/style/color do you want? Deciding on a size is often the first step since your backyard may only be able to accommodate a pool so large. What is a good size swimming pool, anyway? This is a pretty broad question with a lot of good answers, so we'd like to take a shot at helping you reach the answer that's right for you. We'll primarily focus on rectangle inground pool sizes since the rectangle shape is most popular. Today, we're going to discuss what are the different sizes of pools available, what you might see most often, how a pool's size may (or may not) affect the cost of your pool, and even what other shapes are out there in case a rectangle isn't suiting your fancy. We also want to let you know up front - inground fiberglass pools are our wheelhouse, but they may not be a best fit for everyone. We're going to give you some information to hopefully help you make an informed decision on not only pool size and shape, but the pool type, as well.
If there are no objections, then let's march on!
What Is the Most Common Pool Size?
This question will have different answers depending on what type of pool we're talking about. Here at River Pools, we are most familiar with the ins-and-outs of inground pools, so we'll keep the focus there. In case you weren't familiar already, here's a quick overview of the three types of inground pools available on the market:
Gunite/Concrete:
Extremely customizable
Durable
4-5 hours of maintenance/week on average
Gunite, aka concrete, pools can be built to practically any shape or size you can picture. If your kids insist on having a candy-cane shaped pool, concrete will likely be your best friend. Since these pools are built directly on-site, a lot more custom shapes and sizes are possible. Gunite pools can even be something like 50 feet long if you so choose!
Vinyl Liner:
Also extremely customizable
Lower upfront cost
2-3 hours of maintenance/week on average
Vinyl liner pools are another great option for homeowners with a unique design in mind. These pools are also built in your yard, so the sky's the limit (or your yard, rather) for how big these pools can be. More custom work may mean a higher overall price for your pool project, though, so keep this in mind.
Fiberglass:
Not customizable
Generally quicker to install
1 hour or less of maintenance/week on average
A standard swimming pool size for this type of pool - rectangle or otherwise - can range anywhere from 12' x 24' (some even smaller) to 16' x 41'. Many customers with smaller yards will lean more towards that 12' x 24' size. Fiberglass pools are designed by the pool manufacturer and built from a mold. Since each design comes off of the same mold, there's no room for customization. There are also shipping limitations that come with fiberglass pools, so if you were wondering why you've never seen a 50-foot fiberglass pool, that would be why.
Remember: there's no bad type of inground pool. There's only a best fit type for your needs and lifestyle.
Will the Size of Your Pool Impact Its Cost
Generally speaking, yes: inground pool sizes can impact your costs. You may see more of a range in pricing for vinyl liner and gunite inground pools since you can virtually have as little or as much custom work done as you'd like. The price would more so reflect your unique project. With fiberglass pools, since they are predetermined designs and sizes, a bigger pool (like a 16' x 40' for example) will cost more than a smaller pool (say a 12' x 24'). More materials to build the pool = higher end price for purchasing said pool.
This isn't necessarily including things going around the pool, like landscaping or decking.
What Pool Shapes are Available
While we said the focus was going to be primarily on rectangle pools, they're certainly not the only option. If you're wondering "what is the best shape for an inground pool?", this will also depend on your personal preferences and what you envision for your backyard space.

Rectangle pool designs give a very modern, luxurious feel while freeform/curvy shapes give a natural "flowing water" feel. There are also Roman shapes out there that give a classic feel with curves for a nice natural subtly. What pool shape you choose can impact the entire feeling your yard conveys, and oftentimes the feel of the yard will match the feel of the home. If you want this sense of consistency, keep in mind the style of your home as you choose the shape of your pool.
What Pool Size or Shape is Best for You (Conclusion)
So, what pool size or shape is best for you? Is 12x24 a good pool size? Or should you go way bigger?
Besides basing it off of how much room you have available for a pool, we always recommend asking yourself a few questions before making any final decisions:
How do you anticipate using your pool?
Do you plan on lounging on a tanning ledge most of the time? Do you see you/your family wanting to swim laps or play volleyball? Maybe even install a diving board?


How many people will be using your pool at any given time?
Is this pool for you or for the whole neighborhood?
We've seen many people say "I want the biggest pool you have!" and they are a family of 2 who plan on spending 90% of their time floating or sunbathing. This isn't to say that you can't have a big pool if that's how you want to spend pool time, but if you want to get the most value for your investment, we recommend getting a pool that will be well-used and well-loved from one end to the other.
How many people will be in the pool can also help you decide how big or small of a pool to get. If you are that family of 2, a smaller pool design may be all you need. If you plan on hosting summer shindigs for the whole neighborhood, something closer to one of those 16' x 40' giants or even larger may be your best bet.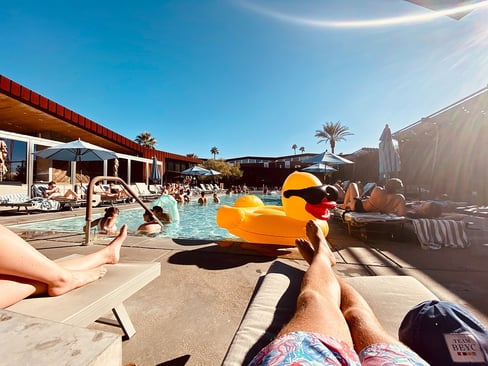 Regardless of what size, shape or type of pool you end up choosing, as long as it meets your swimming wants and needs, it's the right choice. While it might be tempting to try and find the cheapest inground pool option, the cheapest option might not meet those needs.

At River Pools, we manufacture and install inground one-piece fiberglass swimming pools across the country. If you're leaning towards an inground fiberglass pool for your backyard, consider using our inground pool cost estimator to get an idea of what one of our pools may cost you.