Fiberglass vs Concrete vs Vinyl Liner | Pool Maintenance
If you're considering an inground pool, you're probably wondering what the pool will look like in 5, 10, or even 20 years. At River Pools, we've been around a while and understand how the different types of inground pools weather over time…specifically, when and how the surfaces of inground pools fade.
When you're considering a pool for your backyard, you have big decisions to make. Here at River Pools, we aim to provide informative, all-inclusive content to answer your questions about inground pools. Even if you don't choose our fiberglass pools, we want you to know you've made the best decision for your family! In our blog and our videos, we've created content to help you walk through the three main choices: Is an inground pool right for your backyard? Is a fiberglass pool the best option? Who is the best manufacturer?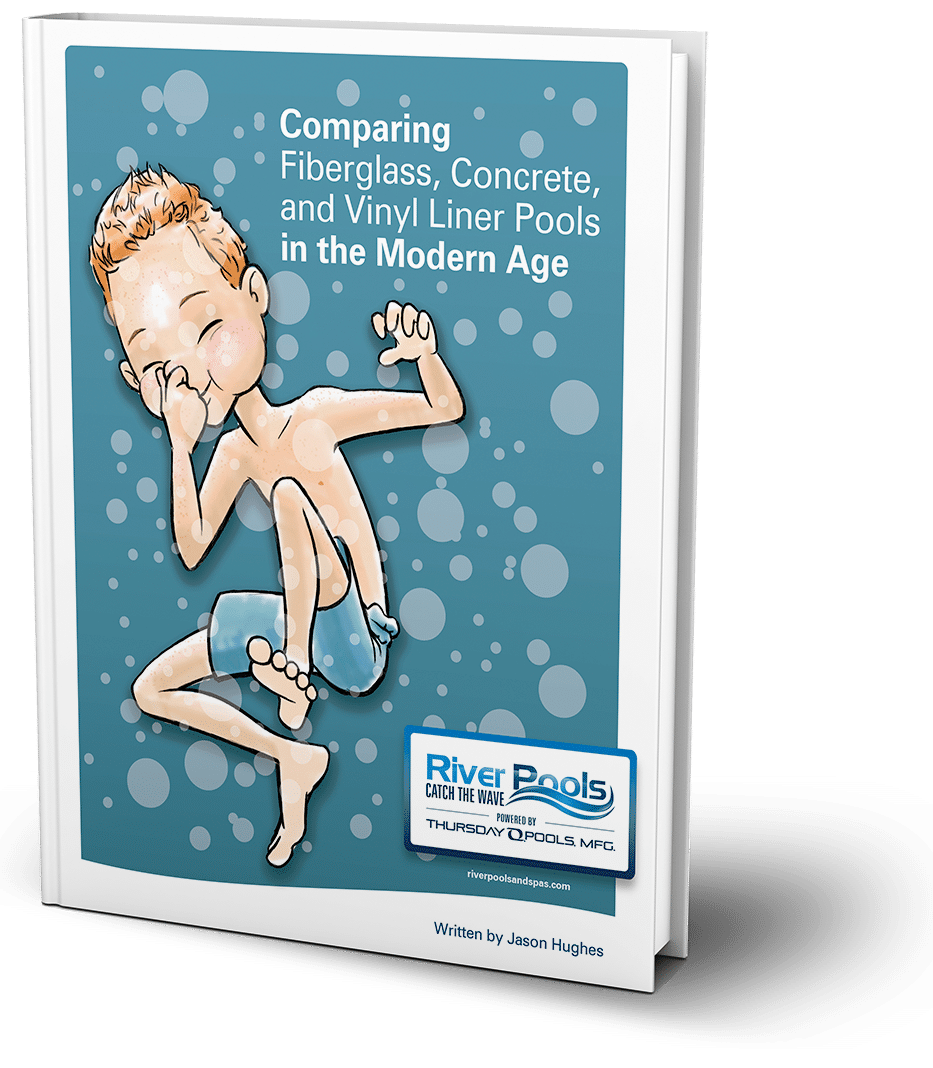 Comparing Fiberglass, Concrete, and Vinyl Liner Pools in the Modern Age
Don't blindly wonder if a fiberglass, concrete, or vinyl liner pool is right for you. Our educational ebook does a deep-dive comparison of the 3 types, all while noting the advantages and disadvantages of each.
Fiberglass Pool Information | Installation & Construction | Swimming Pool Accessories
Are you considering an inground pool or, more specifically, a fiberglass pool with an integrated tanning ledge? Are you a fiberglass pool installer looking for best practices regarding tanning ledge pool installations? If so, you're in luck! Today we're going to share our system for installing tanning ledge pools—and reveal our unique manufacturing process to ensure your tanning ledge pool is super awesome. Let's dive right in!
Options and Accessories | Patio and Coping
"A patio around the pool." Sure. No problem. Sounds simple, right? Until you start thinking size, and shape, and materials, and money… Yuck. Details. The devil's in 'em. But we at River Pools are here to help! We want to clear out the mess and the stress so that you can make the best pool decision for you and your family. We specialize in fiberglass pools, sure, but no matter what pool type you choose in the end, we provide all the information on all the aspects, good and bad.
Fiberglass Pool Information | Pool Maintenance
Double double, toil and trouble / fire burn and gelcoat bubble… Wait. Why are there bubbles in my pretty, pretty fiberglass pool gelcoat? How did they get there? Who can I yell at about it? First of all, don't yell. It's not nice for anyone. Second, let's take a chill pill and discuss these bubbles—osmotic blisters.
Pool Maintenance | Swimming Pool Accessories
Time for a shout-out to the unsung heroes: pump and filter systems! Your pool pump circulates the water to distribute the chemicals and filter out particulate matter from the water to keep the water clean, pretty, and safe. It's doing you a solid, but it can also be a giant energy hog thanks to all that work. (Plus, extended hard work could wear the pump out sooner than expected. We don't want that. After all, extended hard work is the worst.) So how can you get all the benefits without spending extra money on electrical costs you don't need?
Options and Accessories | Vinyl Liner Pool Information
Looking for the perfect vinyl liner pool? You'll eventually have to choose the vinyl liner part of that. Color and design, of course—but how thick are the different pool liner options? How do the manufacturers measure it? What does the measurement mean in normal people terms?
Pool Maintenance | Pool Videos
We recommend cartridge filters for fiberglass pools with salt water systems. They work the best and are easy to clean.
Options and Accessories | Swimming Pool Design
Ever notice how some people insist on using a $5 word when a 10¢ word would suffice? (I know I just used the word "suffice," but hear me out.) The first time I heard the phrase "exposed aggregate" for a pool finish, I thought it was a pretentious way to say "Pebble Tec." But it's actually the correct term.
You know that feeling when you have so much to do that you end up just binge-watching Netflix instead of doing anything at all? Pool research can feel that way. What should I search first? What should I search for? If it's your first time looking into all this stuff, it can be overwhelming. There's a lot of information, and somehow you're supposed to figure out how to navigate it all. How are you supposed to know what you don't know? Well, fear not. I'm going to give you a super quick rundown of the most common questions—and links to learn the answers. Boom. It doesn't get much easier than that.