Fiberglass Pool Information | Swimming Pool FAQs
Fiberglass pools are becoming more and more popular...but they're still a relatively new addition to the pool scene, compared to vinyl liner and concrete pools. What do you actually know about them? If the answer is "not much," fret not. This is a judgment-free zone, and we've got you covered. We've collected the fiberglass pool FAQs, and succinct answers for all of them. Plus links if you're interested in more in-depth info. Let's dive in! (Get the pun?)
Pool Closing/Winterization | Pool Maintenance
As summer draws to an end, we have to bid goodbye to our loyal friend, the pool. You can opt to close your pool yourself or hire a professional. They're both valid options. If you choose to DIY, though, be careful! Many pools across the country get damaged because they were improperly closed and winterized. River Pools specializes in manufacturing and installing fiberglass pools, and we educate on all three pool types through our blog articles and videos. We know pools. And we're here to help you take the best possible care of the backyard oasis you've worked so hard on.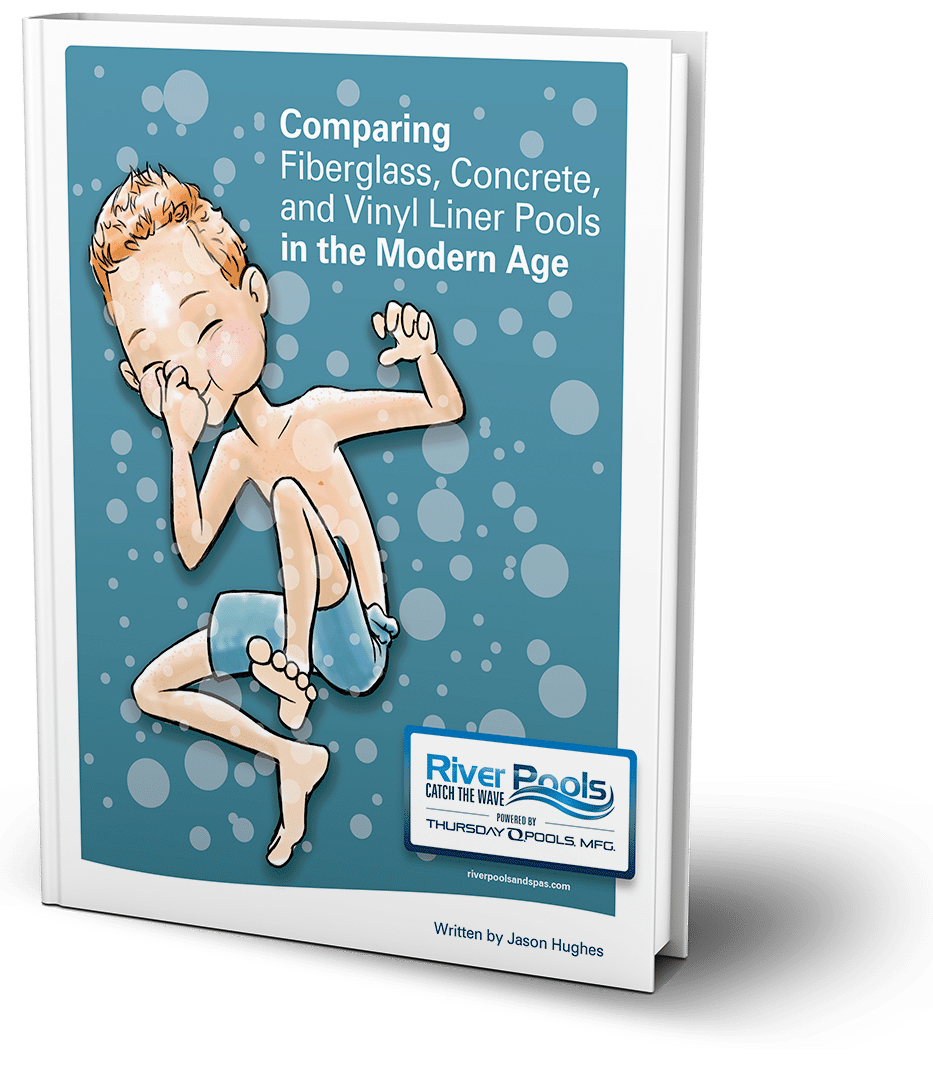 Comparing Fiberglass, Concrete, and Vinyl Liner Pools in the Modern Age
Don't blindly wonder if a fiberglass, concrete, or vinyl liner pool is right for you. Our educational ebook does a deep-dive comparison of the 3 types, all while noting the advantages and disadvantages of each.
Fiberglass Pool Information | Pool Manufacturing Process
"Gelcoat" is a funky word to describe the surface of a fiberglass pool. Personally, it makes me think of the expensive nail polish option in a salon. Plus, "gel" sounds like it'll be soft and squishy—not the ideal texture for a pool. So what gives? What is a gelcoat, really? Here at River Pools, we specialize in fiberglass pools. Between manufacturing and installing them, we know them inside and out (literally). We want to share our knowledge so that you can be fully informed when you make that big pool decision for you and your family. Let's start at the beginning: the gelcoat surface. What you should know about fiberglass pool gelcoats: What they are How they're applied How they're tested How they compare to a plaster finish How they compare to a vinyl liner What makes River Pools different
When I'm doing the dishes, I love the dishwasher-safe ones. I just pop 'em in the dishwasher, run the wash cycle, and move along until they're clean. So easy! Hand-wash-only dishes feel ridiculously high-maintenance in comparison. As I scrub them, I hate them. Sorry, Abraham Lincoln mug. Cleaning dishes is nothing compared to cleaning a pool. How can you make sure your pool is "dishwasher safe"—as low maintenance as it can possibly be? The TYPE of pool you have can make or break your maintenance satisfaction. The interior finish, durability, and more can significantly increase or decrease your to-do list (and your costs).
Fiberglass Pool Information | Pool Maintenance
In my house, we take turns doing chores, but I'm exclusively in charge of laundry. My favorite (?) part is collecting all the stained clothes so I can apply stain remover and then scrub them like an old-timey washerwoman. It feels as if I should later buy hardened brown sugar in paper bags tied with twine like I live in a Laura Ingalls Wilder book. But that's just washing clothes. How do you feel about being an old-timey washer for your inground fiberglass pool stains?
Retaining Walls, Fence, and Landscaping | Swimming Pool Design
Few yards are perfectly flat. (Well, maybe in Ohio, which is so flat I can see Cincinnati from Toledo. But in normal places, no.) Some yards have only a teeny-tiny grade (2 ft. or less), so pool builders can grade the dirt off the patio to compensate for the difference. However, not every situation is so simple. When you have a big slope, you need a big solution. How will you keep the water from running onto the pool deck? How will you keep the pool in place? Enter retaining walls, stage left.
Fiberglass pools have many benefits over concrete and vinyl liner pools. Fiberglass is low maintenance, quick to install, uses fewer chemicals, has a smooth finish, is extremely durable, and has an attractive and elegant look. Because of all of these benefits, you may want to have a fiberglass pool installed at your house. One of the questions that people often ask is when they should have their fiberglass pool installed. Another benefit to these pools is that they can be installed year-round, regardless of the climate or weather conditions where you live.
Installation & Construction | Pool Manufacturing Process
You know something I think is cute about humans in general? Our love for small things. Think about it! Even if we like the thing itself, we love the tiny version. A pig? Kinda gross. A tiny pig? Awww! A teacup? Classy. A tiny teacup? I need it right now! A house? Fine. A tiny house? Perfect! A cat or dog? Beautiful. A kitten or puppy? I want to die of happiness!
Concrete Pool Information | Pool Maintenance
The following is a guest post from Diane Pierce at Authentic Plaster & Tile. Owning a pool can be a relaxing way to take a break after a long day, or enjoy the majority of your summer vacation. They're the ideal location for any backyard barbecue where friends and family can gather together, connect with each other, eat good food, and splash around. They can also be a lot of work if not properly maintained in a timely manner.
Fiberglass Pool Information | Installation & Construction | Pool Manufacturing Process | Swimming Pool FAQs
When I first visited River Pools in person, the first things I noticed were the...red-orange lumps outside. What kinda yard decorations are those? The answer: Not decorations at all. (Whew!) Turns out, these are pool molds—we make them ourselves and then use them to manufacture our fiberglass pools. Fancy, right? But what does all that really mean? Let's talk about these weird-looking lumps: What a pool mold is, and what it is not How we make a mold for a fiberglass pool How we use a mold for a fiberglass pool How we maintain a mold for a fiberglass pool