Options and Accessories | Swimming Pool Accessories | Swimming Pool Design
My mom is big on interior design, and her most recent project is redoing the tile on her kitchen wall. It wasn't old-fashioned or broken, but she likes everything to be up-to-date and looking its best. In the same way, for fiberglass pools, tile is a matter of taste, not necessity. Here at River Pools, it's important to us that you get the pool you want. Some customers love tile, and we're happy to put it on. Others choose to save the money toward other features and accessories. There's no wrong option!
Fiberglass Pool Information | Fiberglass Pool Manufacturers | Swimming Pool Design
Are you in the market for a freeform fiberglass pool and looking for the perfect model for your family? We're here for you!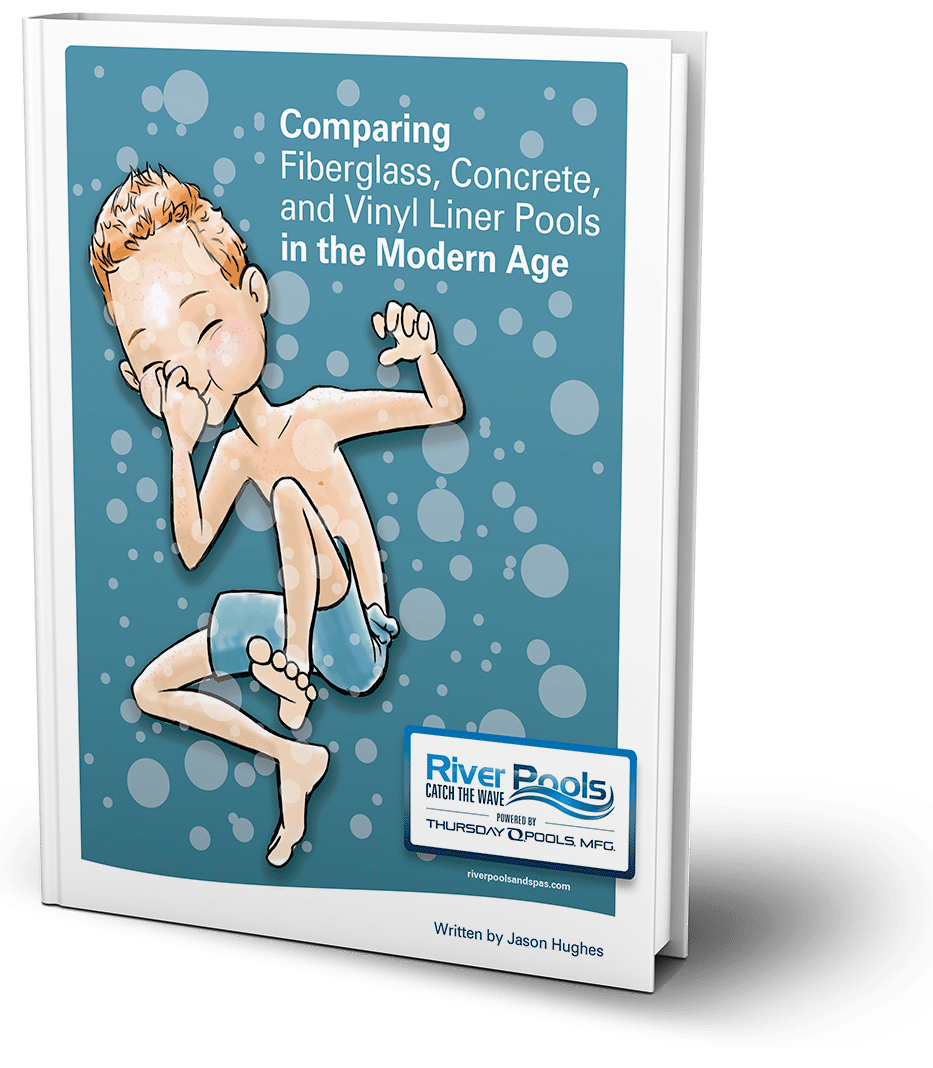 Comparing Fiberglass, Concrete, and Vinyl Liner Pools in the Modern Age
Don't blindly wonder if a fiberglass, concrete, or vinyl liner pool is right for you. Our educational ebook does a deep-dive comparison of the 3 types, all while noting the advantages and disadvantages of each.
Concrete Pool Information | Fiberglass Pool Information | Finding A Pool Contractor | Vinyl Liner Pool Information
Fine print: we all hate it. How many of us really read the Terms and Conditions? Buckle down...you really do need to read your pool warranty. Actually read it. Then ask about anything you don't understand or agree with.
Concrete Pool Information | Cost and Pricing | Pool Maintenance
When I'm not taking the pool industry by storm, I like to write novels. I plan ahead obsessively: think 10-page character sheets, hand-drawn world maps, and color-coded plot diagrams. "Congratulations on overthinking everything," you say, "but I'm not writing a book. I'm buying a pool." Don't give me that look! For pool purchases and maintenance, you, too, need to plan ahead. Maps and diagrams included, probably.
Fiberglass vs Concrete vs Vinyl Liner | Pool Maintenance
Don't you hate when you're trying to smooth frosting on a cupcake and it keeps showing the dents from the spoon or knife? If you know how to do it right, tell me your secrets. Bakers must have sold their soul to figure out the magic trick for that. Sure, the cupcakes taste the same either way, but it just looks so much better when they're smoothly swirled. Welcome to the world of trowel marks on a pool.
Concrete Pool Information | Installation & Construction | Options and Accessories
Concrete pools are often referred to as "gunite" pools, but then what's shotcrete? Are gunite, shotcrete, and concrete all the same thing? Not to worry… all will be revealed. (Doesn't that sound ominous? I love it.) Quick refresher: concrete is a mix of water, cement, sand, and a coarse aggregate, which is usually stone or gravel. The cement, sand, and aggregate are the initial mixture. How the builder mixes in the water determines how we refer to it.
Pool Maintenance | Swimming Pool FAQs
Odds are, you've heard pool people tell you, frantically and with tears in their eyes, "Don't drain your inground pool!" They mention hydrostatic pressure as the reasoning before running off to warn the next pool owner they can find. It's nice of them to alert you…but what are they talking about? Why shouldn't you drain your pool, really? What does "hydrostatic" even mean? Not to worry, friend. I have your back. Let's talk pool physics.
Pool Design Guides | Swimming Pool Design | Swimming Pool FAQs
A lot of people with medium-sized pets like to let them play in the pool. Have a dog? Sheep? Llama? Small horse? They might be interested!
Options and Accessories | Pool Closing/Winterization | Swimming Pool Accessories
If you're new to the world of pool ownership, get ready to use your Surprised Face… You don't have to have a pool cover. I always got the impression that you did, but it's actually not required. The obligatory fence around the pool area is your first line of defense in the safety arena.
Let's be honest: we all like to seem super skilled and smart. My personal tricks include: