Fiberglass vs Concrete vs Vinyl Liner | Options and Accessories | Tanning Ledges
The weather is getting warmer and the days are getting longer. With summer right around the corner, you might be tempted to ditch work, grab a lounge chair, and go sit in the pool. You read that right. In the pool, not beside it. That's just one of the many cool things you can do with a tanning ledge.
Fiberglass Pool Information | Fiberglass Pool Manufacturers | Swimming Pool Design | Swimming Pool FAQs
Once upon a time, fiberglass technology was in its infancy. Fiberglass pools often looked plain or cheap, simply because technology hadn't advanced very far yet. However, with time, science, and a passion for splashin', modern fiberglass pool manufacturers have blown those outdated appearances out of the water. Today's fiberglass pools are elegant and stylish, fitting beautifully into any backyard landscape.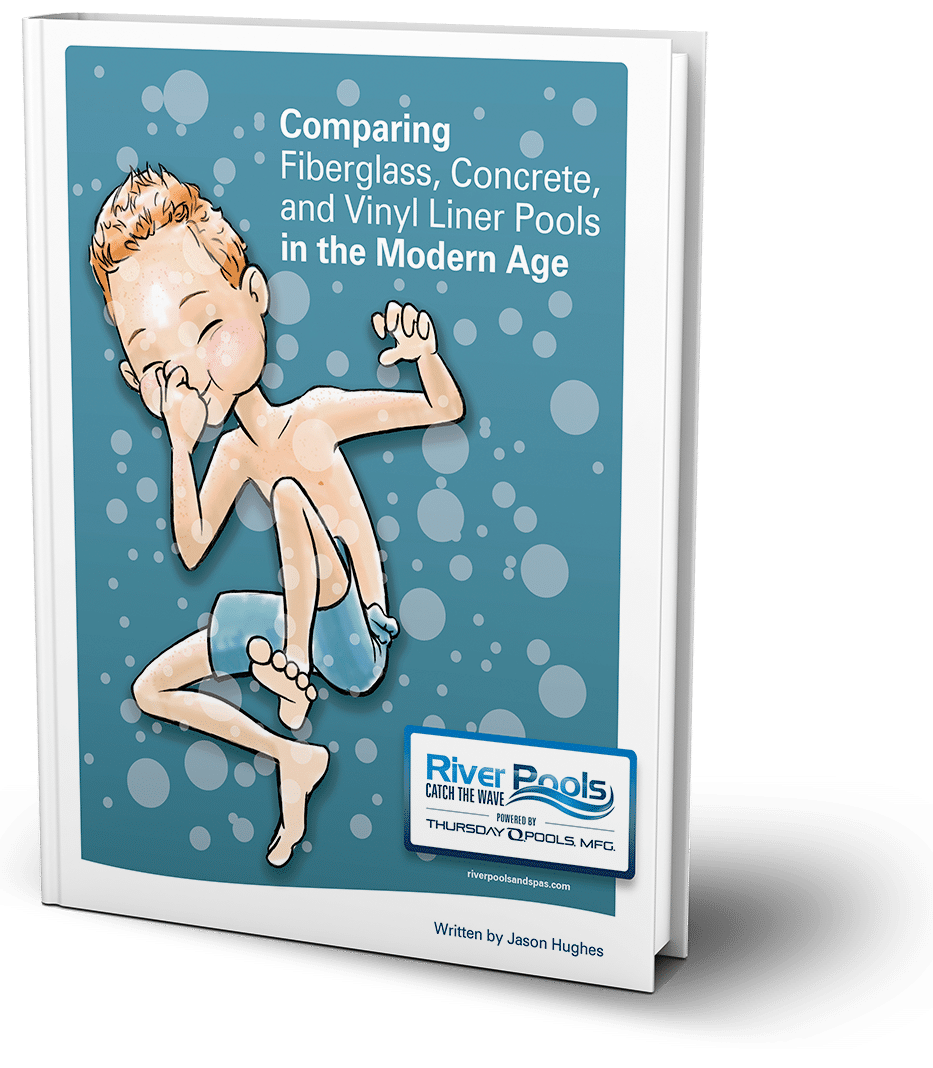 Comparing Fiberglass, Concrete, and Vinyl Liner Pools in the Modern Age
Don't blindly wonder if a fiberglass, concrete, or vinyl liner pool is right for you. Our educational ebook does a deep-dive comparison of the 3 types, all while noting the advantages and disadvantages of each.
Fiberglass Pool Information | Fiberglass Pool Manufacturers | Pool Design Guides
Fiberglass pools come in many different sizes and shapes. Back in the 1970s and '80s, you were limited in the selection of sizes and shapes of fiberglass pools. Fiberglass pools came in two colors, white and powder blue. But today there are a wide variety of fiberglass pools to choose from, including a wide variety of colors to pick from. This is due to more people getting into the manufacturing of fiberglass pools and the advancements that have been made in the gel coat industry.
Options and Accessories | Pool Design Guides
What's hot in the world of inground pools today? Here at River Pools, we help hundreds of inground pool clients plan and design their dream pools each year. This allows us to keep a pulse on the options, accessories, and features that are trending in the inground pool marketplace. And today we want to share this with you!
Fiberglass Pool Information | Pool Maintenance | Swimming Pool FAQs
Owning a pool is constantly a balancing act. You must balance the time you spend caring for your pool with the time you spend enjoying it. Spend too much time on maintenance, and there's no free time left to have fun in your pool! That is just one of the many advantages of fiberglass pools: the lowest-maintenance in-ground pool available on the market today.
Installation & Construction | Pool Manufacturing Process | Swimming Pool FAQs
A fiberglass pool installation is, relatively speaking, less messy than vinyl liner or concrete. However, note that I said less messy, rather than not messy. We're using giant machinery to rip out a ton of earth and put in your glittery new pool. It's not a clean, tidy process. There tends to be a rose-colored-glasses assumption that there won't be that many machines, and they won't make that much of a mess. In the past we've heard people say, "I didn't know my yard was gonna be such a mess. No one told me." Well, it's time someone told you—and that someone is River Pools.
Options and Accessories | Pool Maintenance | Swimming Pool Accessories
I've lost count of the times I've addressed my parents' Amazon Echo with "Hey Google." There are just so many virtual assistants, it's hard to keep them all straight. Alexa, Siri, Google Home/Assistant, and Cortana (wait, who?)... If I can barely remember which one I'm addressing, I certainly can't keep track of all the things they automate or simplify for us. A pool automation system creates this convenience for handling your pool and its features, without the multi-brand confusion. (But hey, some of them can also connect to Alexa and co.! Score!)
"No runs, no drips, no errors."
Options and Accessories | Pool Maintenance | Swimming Pool Accessories | Swimming Pool FAQs
Technology is hard. It's even worse when you can't pick the equipment out of a lineup. But we're here to make your life easier, in every way we can. So today... let's talk filter systems.
You designed your dream backyard. The pool, the landscaping, the patio. So much effort, and so worth it. It's a beautiful thing. Except you didn't design the aggressive bubbles shooting out of the returns on the pool walls. So what's up with that? Why are you getting air bubbles in your swimming pool? This is a common problem, especially when you're first opening your pool for the season. A few bubbles in the pool or the pump is normal, but noisy churning and lots of bubbles indicate that you have a problem.