Fiberglass vs Concrete vs Vinyl Liner | Options and Accessories | Pool Design Guides | Swimming Pool Design | Swimming Pool FAQs
A dark bottom pool is a swimming pool that has a dark surface, like deep blue, gray, or black. These pool designs have been around for decades, but they have only recently become a widespread trend. In fact, we've seen a considerable increase in dark bottom pool color requests from our customers over the last several years (we manufacture fiberglass pools and spas). If you're on the fence about your pool color or are strongly considering a dark bottom pool, keep reading.
Cost and Pricing | Pool Design Guides | Swimming Pool Design | Swimming Pool FAQs
Are you finally ready to install an inground pool? If you are, you might find yourself having the discussion of indoor vs. outdoor pools. As fiberglass pool manufacturers, we know that most pool shoppers go down that road, even if it's just for a brief moment. If you're currently in the middle of this debate, we want to help you decide which is right for you so that you can know without a doubt that you are building the pool of your dreams.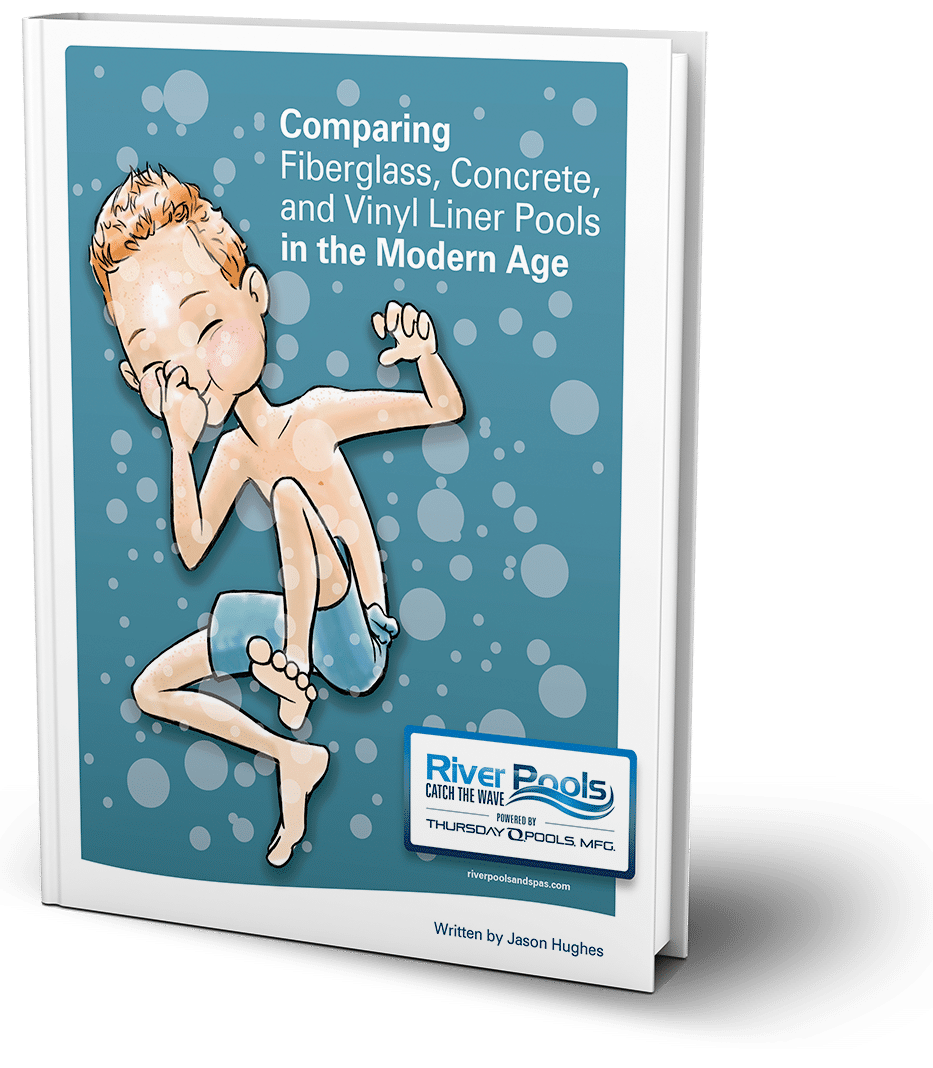 Comparing Fiberglass, Concrete, and Vinyl Liner Pools in the Modern Age
Don't blindly wonder if a fiberglass, concrete, or vinyl liner pool is right for you. Our educational ebook does a deep-dive comparison of the 3 types, all while noting the advantages and disadvantages of each.
Fiberglass Pool Information | Options and Accessories | Pool Design Guides | Swimming Pool Design
So, you want to get a fiberglass pool but are confronted with the dilemma of which design you like best. We get that. As fiberglass pool manufacturers, we see many people get stuck on which pool model they want to install, and it's not hard to see why. Each fiberglass pool model has a unique shape and set of features that you won't find anywhere else. Fiberglass pools can also last 50 or more years and become a permanent part of your home.
Cost and Pricing | Fiberglass Pool Information | Pool Design Guides
If you're shopping for an inground pool and if "go big or go home" is your motto, you probably want the largest swimming pool that you can afford. At River Pools, we exclusively manufacture and install fiberglass swimming pools, so we know all about your pool size options and how they affect the price, installation, and long-term maintenance of your inground pool. In this article, we'll share what we know about large fiberglass swimming pools, including sizes, designs, cost, installation, and more to help you decide if a large fiberglass pool is the right choice for your home.
Concrete Pool Information | Pool Design Guides
What do you think about when you hear the term "above ground pool"? Do you picture one of those blue inflatable pools or a round metal pool with a ladder? While that's what many above ground pools look like, there are actually tons of examples of inground pools (like concrete or fiberglass) installed above ground. In fact, at River Pools, we have installed our fiberglass pools above ground for clients in the past. Why would someone want to bring their inground pool above ground?
Pool Design Guides | Swimming Pool Design | Swimming Pool FAQs
If you're looking for a cozy spot that brings life to your home, a cocktail pool can do the job. They're a lot smaller than your standard pool, but that's what some people love about them. Cocktail pools have tons of benefits: they're ideal for entertaining in small spaces, they can be affordable, and they are more environmentally friendly than large pools. But are they really worth the money?
Pool Design Guides | Tanning Ledges
Gone are the days of either lying next to the pool or standing in it. Enter the tanning ledge: a place where you can actually lie down in the pool, with or without furniture (and without having to hold your breath!). If you don't know what a tanning ledge is (some call it a baja shelf, sun shelf, or tanning shelf), think of it as a very shallow zone in or next to the main pool where you can relax and keep cool.
Pool Design Guides | Swimming Pool Design
They're cheap, they're stylish, they look cool...so what's the catch? We agree that shipping container pools are awesome, but like anything else in life, they don't offer a one-size-fits-all type of experience. Some people are attracted to all that the shipping container design has to offer, while others would not be able to meet their needs with this type of pool.
Fiberglass Pool Information | Fiberglass Pool Manufacturers | Pool Design Guides
Fiberglass pools come in many different sizes and shapes. Back in the 1970s and '80s, you were limited in the selection of sizes and shapes of fiberglass pools. Fiberglass pools came in two colors, white and powder blue. But today there are a wide variety of fiberglass pools to choose from, including a wide variety of colors to pick from. This is due to more people getting into the manufacturing of fiberglass pools and the advancements that have been made in the gel coat industry.
Options and Accessories | Pool Design Guides
What's hot in the world of inground pools today? Here at River Pools, we help hundreds of inground pool clients plan and design their dream pools each year. This allows us to keep a pulse on the options, accessories, and features that are trending in the inground pool marketplace. And today we want to share this with you!