Pool Design Guides | Swimming Pool Design
One of the big concerns about fiberglass pools is that they aren't "customizable" the way vinyl liner and concrete pools are—the pool shell itself is pre-made in a factory, and you're limited to existing designs. But in reality? Everything else is customizable, even down to the pool color and features. What you do with color, tile, elevation, water features, and more will dramatically change the look of your pool. River Pools manufactures and installs fiberglass pools every day, so we know quite a bit about this. Our designers work with each client to create a unique aesthetic that's perfect for that family.
Cost and Pricing | Options and Accessories | Pool Design Guides | Swimming Pool Accessories | Swimming Pool Design
Take a deep breath with me, and think back on the last time you had extra money left over in your budget. Wasn't it great? For me, it was when I had euros left over at the end of my Scotland trip—can't use them here in the US, so I ran around the Glasgow airport with my girlfriend and spent them on overpriced souvenirs. The memory alone warms my heart. The spare money is especially great when your budget is for a big purchase, such as a house or, hey, a pool. Let's be real: when you're first nailing down the project, you pass on a few things that you secretly want, for the sake of Responsibility And Budgeting. But happy day! You can use this newfound wiggle room to pick up those super awesome things. Pools are a big investment, so we're discussing proportionally affordable add-ons—about $2,000 or less.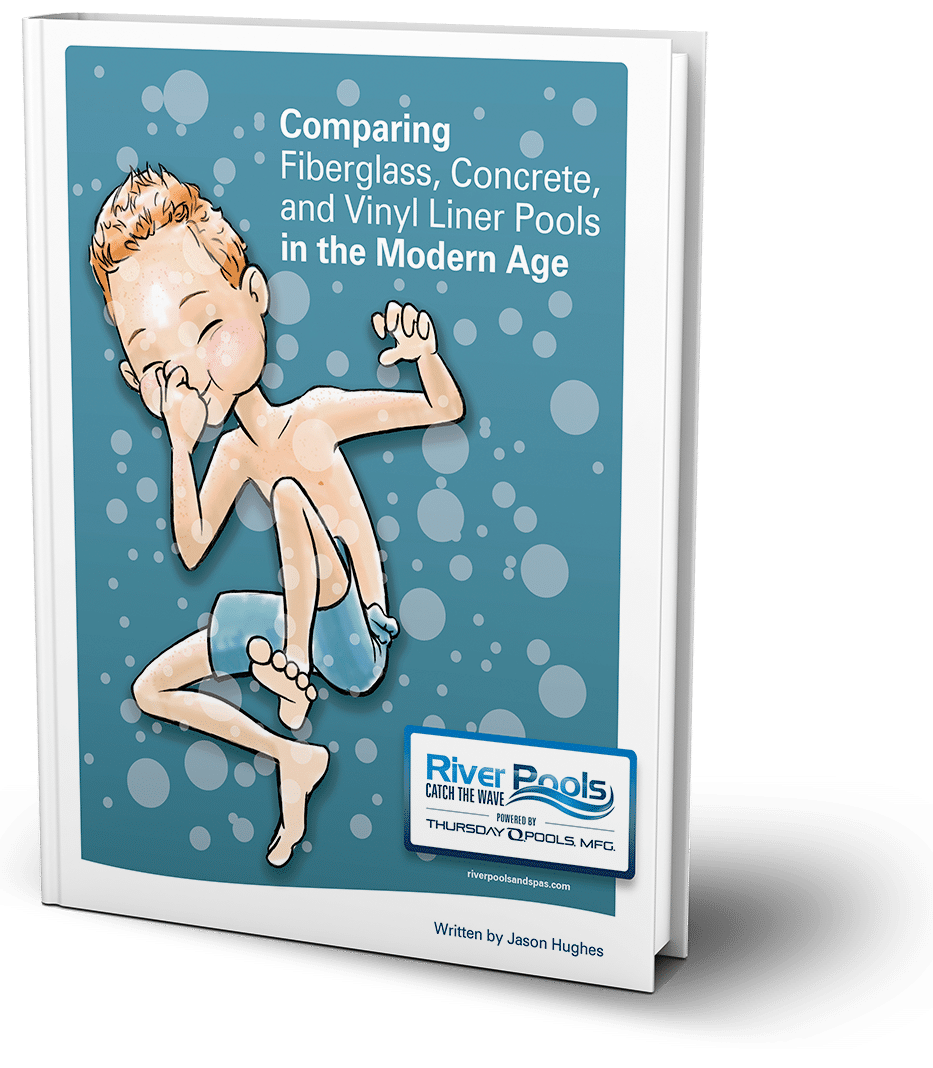 Comparing Fiberglass, Concrete, and Vinyl Liner Pools in the Modern Age
Don't blindly wonder if a fiberglass, concrete, or vinyl liner pool is right for you. Our educational ebook does a deep-dive comparison of the 3 types, all while noting the advantages and disadvantages of each.
Cost and Pricing | Finding A Pool Contractor | Patio and Coping | Pool Design Guides | Swimming Pool Accessories | Swimming Pool Design
Most people shopping for a pool think that they know just what they want. For example, 90% of the people who want a diving board think they need it. But after education on the pros and cons of a diving board, only 10% of those people will still get a diving board. You're spending a lot of money on this swimming pool investment. You expect that the person that you invite into your home will be an informed professional and have your best interest at heart. In reality the person who shows up will probably be a salesperson trying to earn a commission that will feed his family or lifestyle. That's what is in his/her best interest, not yours. All too often, the homeowner says, "I want a pool this size and a deck this big," and the salesperson quotes them on what they ask for. It's far easier to sell a pool when the homeowner knows what they want, so why rock the boat? That's the mentality of most salespeople today. The problem: in most cases, what the homeowner thinks they want, and what they really want, are two different things.
Installation & Construction | Pool Design Guides | Pool Manufacturing Process | Swimming Pool Design
You know something I think is cute about humans in general? Our love for small things. Think about it! Even if we like the thing itself, we love the tiny version. A pig? Kinda gross. A tiny pig? Awww! A teacup? Classy. A tiny teacup? I need it right now! A house? Fine. A tiny house? Perfect! A cat or dog? Beautiful. A kitten or puppy? I want to die of happiness!
Pool Design Guides | Swimming Pool Design | Swimming Pool FAQs
A lot of people with medium-sized pets like to let them play in the pool. Have a dog? Sheep? Llama? Small horse? They might be interested!
Options and Accessories | Pool Design Guides | Swimming Pool Design | Swimming Pool FAQs
For my family, a diving board is a runway. It's all very dramatic. We waddle like penguins, strut like models, wave like royalty, and stroll like oblivious pedestrians...and then drop into the deep end of the pool, still "walking."
Fiberglass Pool Information | Fiberglass Pool Manufacturers | Pool Design Guides | Swimming Pool Design
Are you in the market for a freeform fiberglass pool and looking for the perfect model for your family? You aren't alone. As manufacturers and installers of inground fiberglass swimming pools, we at River Pools have a unique determination to help homeowners (like you!) to find your perfect pool—whether that means choosing us or not.
Concrete Pool Information | Pool Design Guides | Swimming Pool Design
Every pool owner has different goals. This affects the design—pools don't have to be (and shouldn't be) one-size-fits-all. You can customize concrete pools to fit almost any look you like, which is a huge advantage for this pool type. However, most don't vary that much.
One of the things that keeps business fresh and exciting for us here at River Pools is our desire to constantly improve. We have found this requires getting into the mind of our clients—to see our brand, our products, and ultimately the overall experience that we provide from the perspective of our customers. We recently conducted a survey of our clients who purchased our Greco (G36) pool, and the results were so compelling I thought it would make good food for thought for those trying to decide which pool model is right for them.
Are you looking for inspiration for your new backyard pool? Awesome! After helping hundreds of folks in Virginia and Maryland design and build their dream pool over the years, we would like to help you get your project off on the right foot. But if you're like most people, the prospect of finding the perfect pool can seem daunting. Well, you're in luck, because today we're going to walk you through a simple step-by-step process to finding the right pool shape, size, and features for your backyard space. Let's jump right in!