Options and Accessories | Pool Design Guides | Swimming Pool Design | Swimming Pool FAQs
For my family, a diving board is a runway. It's all very dramatic. We waddle like penguins, strut like models, wave like royalty, and stroll like oblivious pedestrians...and then drop into the deep end of the pool, still "walking."
Fiberglass Pool Information | Fiberglass Pool Manufacturers | Pool Design Guides | Swimming Pool Design
Are you in the market for a freeform fiberglass pool and looking for the perfect model for your family? You aren't alone. As manufacturers and installers of inground fiberglass swimming pools, we at River Pools have a unique determination to help homeowners (like you!) to find your perfect pool—whether that means choosing us or not.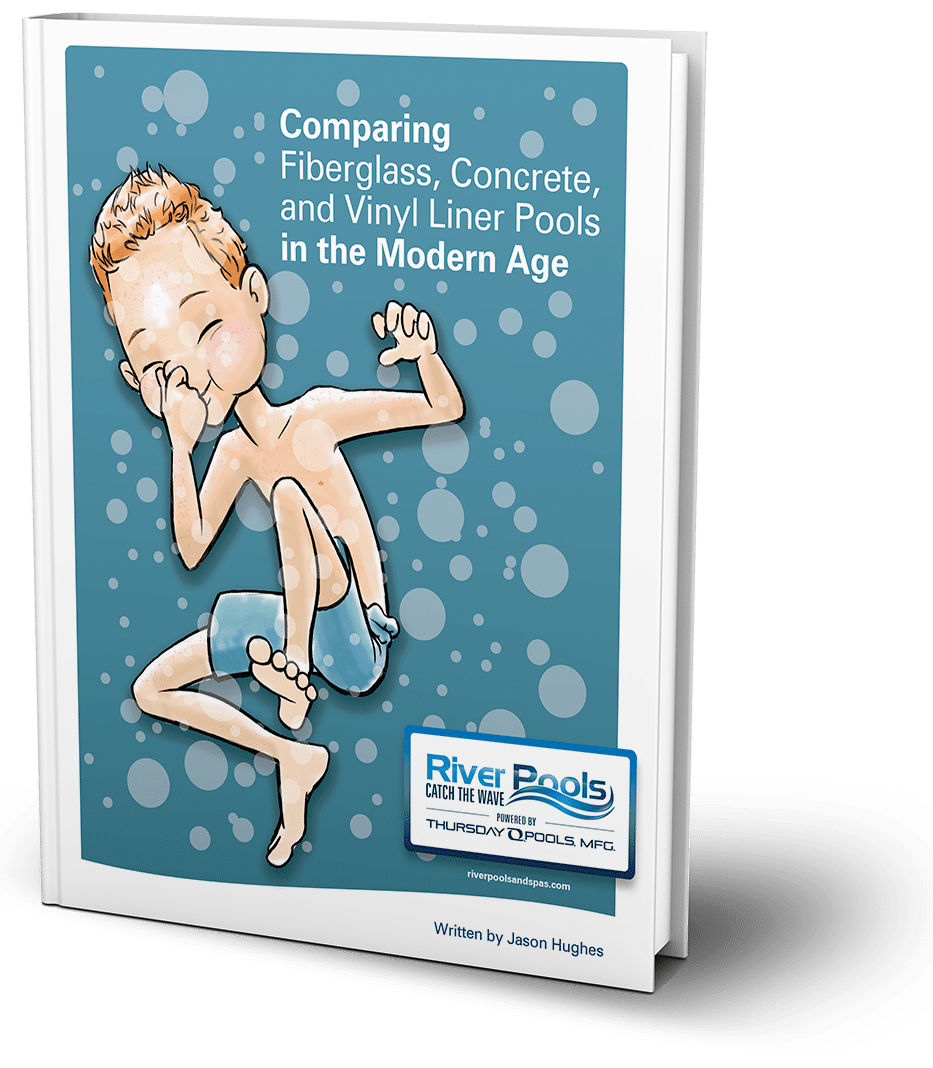 Comparing Fiberglass, Concrete, and Vinyl Liner Pools in the Modern Age
Don't blindly wonder if a fiberglass, concrete, or vinyl liner pool is right for you. Our educational ebook does a deep-dive comparison of the 3 types, all while noting the advantages and disadvantages of each.
Concrete Pool Information | Pool Design Guides | Swimming Pool Design
Every pool owner has different goals. This affects the design—pools don't have to be (and shouldn't be) one-size-fits-all. You can customize concrete pools to fit almost any look you like, which is a huge advantage for this pool type. However, most don't vary that much.
Are you looking for inspiration for your new backyard pool? Awesome! After helping hundreds of folks in Virginia and Maryland design and build their dream pool over the years, we would like to help you get your project off on the right foot. But if you're like most people, the prospect of finding the perfect pool can seem daunting. Well, your in luck, because today we're going to walk you through a simple step-by-step process to finding the right pool shape, size, and features for your backyard space. Let's jump right in!
So you're considering an indoor swimming pool? Great! Having worked on many indoor swimming pool projects ourselves over the years, we have found that people often have a variety of questions when they initially begin their research. Today, we are going to cover some of the most common questions we receive from our clients, as well as from folks around the world who find us via the internet. Let's jump right in!
If you are considering an inground pool and have limited space to work with you're likely thinking that a small pool could be the way to go. Today we're going to discuss some of the major questions we receive on a daily basis here at River Pools Powered by Thursday Pools Manufacturing from folks who think that a small pool might be the best option for their backyard. Let's jump right in! What Are The Dimensions or Sizes Of Small Pools? We consider small pools to be up to 26' long and up to 12' or 13' wide. If this is too small for you, perhaps a medium pool, which ranges up to
Options and Accessories | Pool Design Guides
What's Hot In The World Of Inground Pools Today? One advantage we have here at River Pools Powered by Thursday Pools Manufacturing is that helping hundreds of inground pool clients plan and design their dream pools allows us to keep a pulse on the options, accessories, and features that are trending in the inground pool marketplace. And today we want to share this with you!