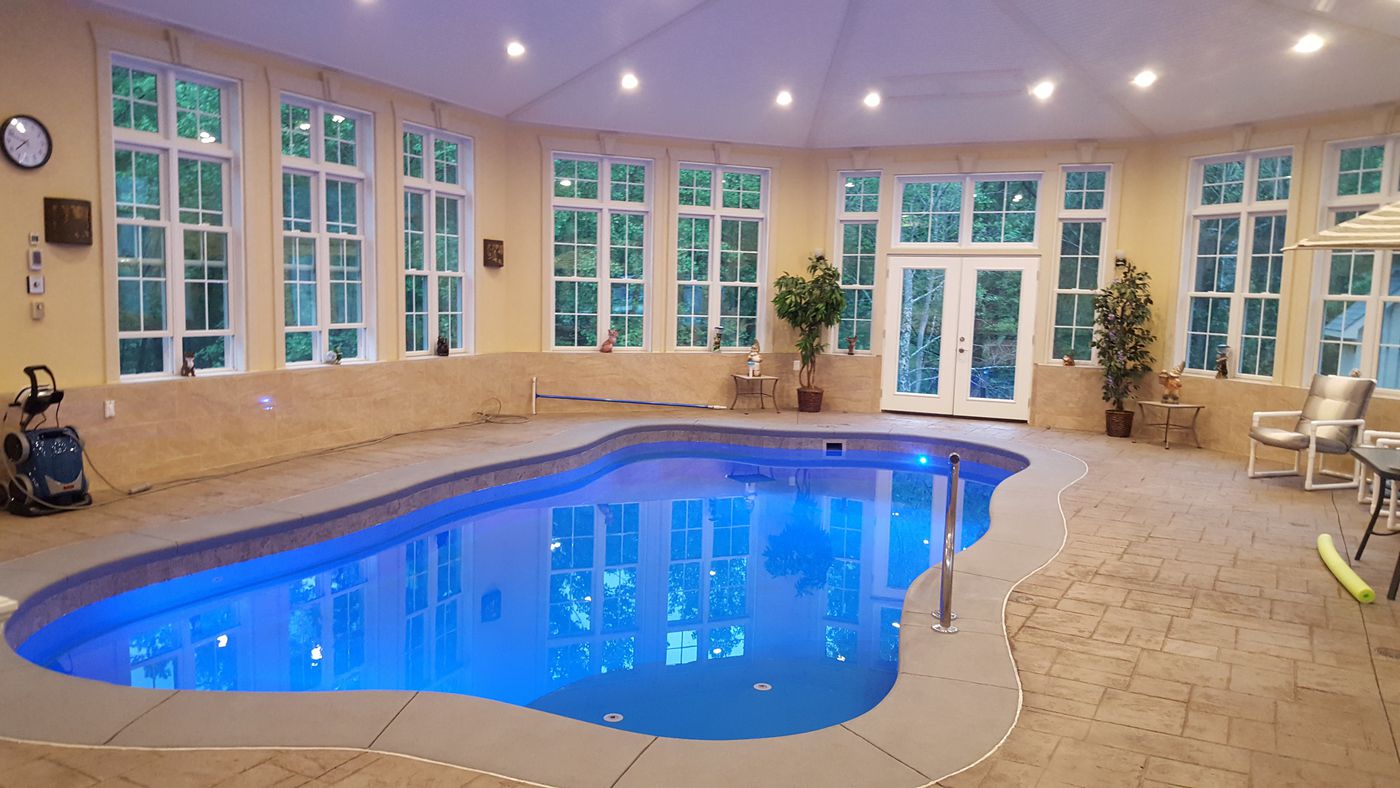 Subscribe
Indoor vs. Outdoor Pools: Costs, Considerations, FAQs
Cost and Pricing | Pool Design Guides | Swimming Pool FAQs | Swimming Pool Design
Are you finally ready to install an inground pool?

If you are, you might find yourself having the discussion of indoor vs. outdoor pools. As fiberglass pool manufacturers, we know that most pool shoppers go down that road, even if it's just for a brief moment.

If you're currently in the middle of this debate, we want to help you decide which is right for you so that you can know without a doubt that you are building the pool of your dreams.

In this article, we'll list the pros and cons of indoor and outdoor pools and break down the key points that you need to consider. By the end, you should have a solid idea of whether an indoor or outdoor pool is right for your needs.

Let's start with the subject that 99% of pool shoppers ask about first: cost.
Indoor Swimming Pools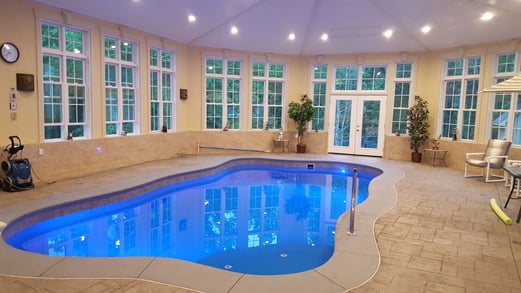 How much does an indoor pool cost?
An indoor pool is going to cost as much as an outdoor pool plus the enclosure costs. Most of the time, this will turn out to be around $200,000.

Why so much?

Rather than constructing a simple room with four walls and a door, you're going to need an enclosure with an excellent ventilation and dehumidification system, good heating and cooling for optimal temperature and humidity control, and adequate insulation. And those aren't the only components.

All indoor pools also require pool heaters and pool covers. A pool heater will ensure the comfort of the water temperature while a pool cover can help to keep the humidity under control. Your pool cover will likely be automatic (both effective and convenient), which costs anywhere from $12,000 to $22,000 on average.
Keep in mind that the cost to build an indoor pool will still be higher if the enclosure already exists.
Let's say you're adding your pool to an existing structure, like a room in your house. You will still need to spend a good deal of money modifying the building's ventilation, lighting, insulation, and heating and cooling systems. Investing in moisture and mold resistant materials can also increase the cost (moisture-resistant drywall can cost several dollars more per foot than regular drywall, for example.)
In summary, your main indoor pool building expenses will include:
Dehumidification system

Insulation and moisture-resistant materials

The structure itself
Indoor Pool Expenses (Average Prices)
| | |
| --- | --- |
| Ventilation | $600 - $1,100 |
| Dehumidification System | $20,000 - $30,000 |
| Insulation | $500 - $3,500 |
| Air Conditioning | $3,000 |
| Heating | $1,000 - $6,000 |
| Pool Heater | $1,500 - $9,000 |
| Pool Cover (Automatic) | $12,000 - $22,000 |
| Pool Enclosure | $100/sq ft |
| Inground Pool | $40,000 - $60,000 |
Note: Prices will vary by region, materials, contractor, and indoor pool design
Controlling Indoor Pool Humidity
To properly control the humidity of your indoor pool room and keep it at the recommended 40% to 60% level, you'll need to regulate the temperature of the air and the water carefully. As a general rule, the air temperature in the pool room should be kept 2 degrees to 5 degrees Fahrenheit above the temperature of the pool water (1 to 2.5 degrees Celsius).
Allowing the humidity levels to get outside the recommended range can result in mold, mildew, bacteria, viruses, and fungi, and it can lead to the destruction of building materials.
What is an indoor to outdoor pool?
Some people build what is known as an indoor to outdoor pool to get the best of both worlds. This usually includes large windows, removable or sliding panels that open up to the outside, or even a pool that is installed half indoors and half outdoors.
Adding these design elements can increase the cost of your project, and it may make heating the pool in the winter more expensive or challenging.
Indoor Pool Pros and Cons
Pros
Swim all year - Year-round swimming is perfect for people who use swimming or water aerobics as a primary mode of exercise.
Less to clean - You won't have to deal with debris like leaves and mud. Dust storm coming through town? Not your problem.
Can be safer - If you keep your pool building locked and secure, you're less likely to have unwanted visitors in your pool (i.e., wildlife, pets, neighborhood kids.).
Cons
Much higher cost to build and more expensive to run - Think heating, ventilation, and year-round maintenance expenses.
May be more accessible to small children and pets - This is only true if the pool is installed in a central part of your house, like the living room or basement.
Humidity control - You'll have to pay careful attention to the pool room's temperature and humidity and keep a constant lookout for mold.
Can be harder to work around - If you build an indoor gunite pool, for example, you'll need to acid wash and replaster the pool regularly. If you get a vinyl liner pool, you'll need to replace the liner every 5-9 years or so. These maintenance tasks might be harder if the space between the pool and the wall is minimal. (Local building regulations should dictate how many feet of walkway you need around your indoor pool.)
No pool parties outside in the summer sun - To get year-round indoor swimming, you might have to sacrifice the chance to have outdoor pool parties under the sun. If this is a serious drawback for you, a good solution may be to build an indoor to outdoor pool, or you can install your pool outdoors and prepare to close it in later.
Who should get an indoor pool?
Are you buying your pool because you want to swim all year long or because you want to make swimming a daily activity? Do you like the security and privacy that an enclosed pool can offer? It might be worth it for you to consider building an indoor pool.
Are you buying your pool for summer fun, pool parties, and similar activities? If so, you might not want to spend the extra cash putting your pool indoors. Most people only use their pool during the warm months, and while it's nice to be able to swim year-round, having a seasonal pool saves money on electricity, chemicals, and general maintenance.
Outdoor Swimming Pools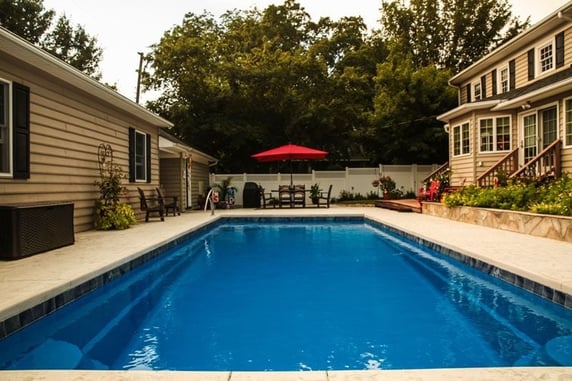 How much does an outdoor pool cost?
Because you don't have to worry about ventilation, insulation, heating, cooling, or the actual structure that encloses the pool, an outdoor pool project is cheaper than an indoor pool project, at $40,000 to $60,000 on average.
Inground pool prices vary by pool type, with the three main inground pools being vinyl liner, concrete (gunite), and fiberglass. Concrete pools typically cost $50,000 to $100,000, vinyl liner pools range from $35,000 to $65,000, and fiberglass pools typically cost between $40,000 and $85,000.
These prices can vary depending on the installation package and whether you want to DIY parts of the project. Your inground pool's final cost will also depend on your materials, pool size, design, and accessories.
Read More: A Guide to Inground Swimming Pool Size, Costs, and Prices

Outdoor Pool Pros and Cons
Pros
Heats under the sun - Pool heaters aren't always necessary in an outdoor pool.
Lower cost to build and run - Not having to build an enclosure, control the air temperature, or run the pool all year can save thousands.
Summer fun in the sun - Enjoy sunbathing, barbecuing by the pool, and poolside fire pits.
Integrate classic pool accessories - Pool accessories like umbrellas, slides, deck jets, and waterfalls are perfectly suited for outdoor swimming pools. (You can put these in an indoor pool, but you will have to account for space, costs, and necessity).
Cons
Shorter swimming season - Some areas are temperate enough to swim throughout the year with the help of a pool heater, but most outdoor pools can only be used 4 to 5 months on average.
More work to clean - You'll have your fair share of leaves and debris to fish out of the pool along with the occasional intense cleanup after a storm.
Can get too hot - In some areas like Phoenix, where temperatures can reach well over 100 degrees, an outdoor pool can get too warm at certain times of the day. Installing a shaded lounge area and using a pool chiller can help.
You may not want to swim at night - You'll probably need good lighting and possibly a pool heater for comfortable night swimming.
May attract critters and unauthorized swimmers - Think wildlife, feral cats, and mischievous neighborhood kids.
Weather can get in the way - Be prepared for thunderstorms, wind, and other weather conditions to occasionally put a damper on your poolside plans.
Indoor vs. Outdoor Pool
Which swimming pool is right for you?
We hope that by this point, you have all of the information you need to determine whether an indoor or outdoor pool is better for your lifestyle and budget.
If you're still having trouble deciding which one is right for your needs, here are some questions to ponder:
Is swimming your primary mode of fitness? Do you want to swim every day or every week, even in the winter and fall?

Is it important for you to host pool parties and gatherings? If so, how will you accommodate your guests?

Do you want more privacy?

Do you want to use the natural heat of the sun to warm your pool?

Are you trying to save as much money as possible on your inground pool project?

Does your property have space for a new building (if you're not adding the pool to your existing home)?

Indoor vs. Outdoor Pools FAQ
To wrap up this article, we're answering some critical questions that we often hear about indoor and outdoor swimming pools. If you have any other questions, please leave them for us in the comments, and we will answer them as soon as possible!
Will an indoor pool increase the value of my home?
Both indoor and outdoor pools can increase the value of your home, but not all pools are made equal. Concrete and fiberglass pools hold much more long-term value than vinyl liner inground pools, for example.
Are outdoor pools safe?
Outdoor pools may not always be as hidden or closed off as indoor pools can be, but safety features like fencing, alarms, pool covers, and other barriers can help to make the pool safe for wandering children and pets.
Do indoor pools require a heater?
Yes. Your indoor pool will need a heater to make the water temperature comfortable enough for swimming and exercise. Pool heaters are typically optional for outdoor pools, depending on the climate.
Are indoor pools more expensive?
We can say with almost absolute certainty that an indoor pool will be more expensive to build than an outdoor pool. Aside from upfront construction costs, indoor pools are typically run all year long, which will increase your overall expenses. Compare this to having a pool that is only operated around 4 to 5 months out of the year.
Will I need an engineer to help me design my indoor pool?
Very likely, yes. Building an indoor pool room that adequately ventilates, dehumidifies, and regulates temperature is no small feat. Cutting corners is not advisable as a poorly designed indoor pool can quickly lead to damage to the building. This can even go as far as your roof collapsing due to corrosion.
Can a fiberglass pool be installed indoors?
Yes! Although it may seem like a challenge to get a pre-built pool inside an enclosure, it is 100% doable. If you're interested in installing a fiberglass unit indoors, you can contact us using the button below for pricing and other information.
At River Pools, we manufacture world-class fiberglass pools for customers across North America. We also provide extensive educational content on all inground swimming pool types. If you're still shopping around for the right inground pool for your home, feel free to visit our video library, browse our pool gallery for ideas, or download our free ebook below!
Up Next:
How to Prepare for a Pool: Inground, Above Ground, Indoor, and Rooftop
Inground Pool Slides: Costs, Types, Safety