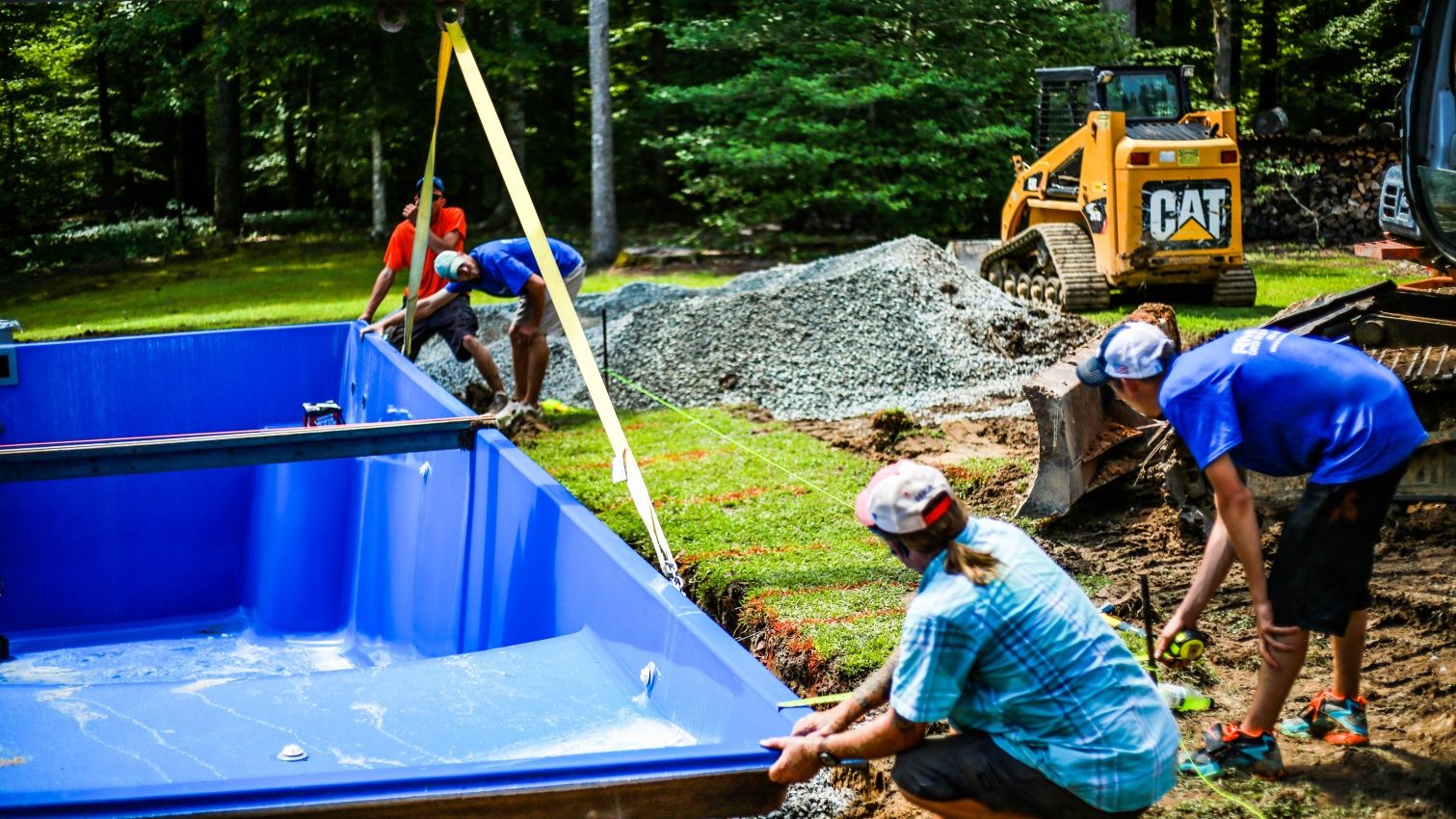 Subscribe
How Much Does an Inground Pool Cost in St. George, Utah?
Southern Utah can be a great place to get away from it all… but St. George, the largest city in Southern Utah, can also be a great place to build a life.
You can enjoy the comforts of an up-and-coming city while also staying close to nature, and Las Vegas is just a couple of hours away by car if you're in the mood to gamble, or to simply enjoy a bit of excess.
St. George and its surroundings in Southern Utah can also get pretty hot throughout the year, which makes it an ideal place to take a dip in a backyard pool.
If you're looking to install an inground pool in your Southern Utah backyard, you're probably asking a few questions we can answer in this article:
How much will it really cost to install an inground pool?

Which type of pool is best for my backyard?

How much will it cost to maintain my pool every year?
We've manufactured and installed nearly 2,000 fiberglass pools over the years, including quite a few in the Salt Lake City area, so we've answered these questions many times. Let's dive right in…
How much will an inground pool really cost in St. George, Utah?
There are three types of inground pools:
Vinyl liner
Concrete
Fiberglass
The material you choose will have a major impact on both your installation costs, and on your lifetime cost of ownership, which includes yearly maintenance expenses, refurbishing or refinishing surfaces, replacing equipment, and other costs.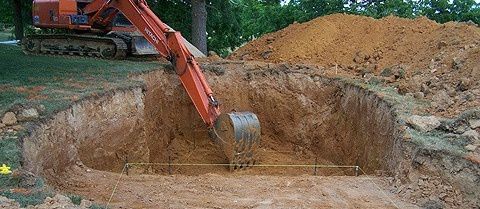 In general, you can expect to spend anywhere from $45,000 to over $200,000 to install a pool in Southern Utah. On the low end, you'll have a fairly standard shape and size without any bells and whistles. The high end of this range tends to involve a lot of customization, both in terms of your pool's dimensions and in terms of optional features, such as retaining walls, pool waterfalls, a pool house, and other things.
Here's a quick breakdown of common price ranges to install each type of pool…
How much will a vinyl liner pool cost in St. George, Utah?
Vinyl liner pools are typically the least expensive type of inground pool to install, whether you're talking about Southern Utah or anywhere else in the U.S.
A vinyl liner pool installation tends to cost between $45,000 to $65,000, and you can easily go above the high end of this range for a larger pool with a more customized design and more add-ons.
This lower upfront cost tends to be offset by long-term maintenance and liner replacement expenses, as you'll soon see.
How much will a concrete pool cost in St. George, Utah?
Concrete offers the widest range of customization options, but it's also the most expensive material you can use when installing an inground pool.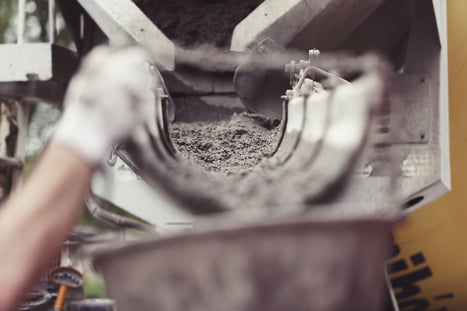 You'll typically pay at least $65,000 to install an inground concrete pool. High-end customizations can easily push your installation costs above $100,000, and all-in costs can occasionally surpass $200,000 when considering optional constructions (such as retaining walls or waterfalls), accessories, and landscaping.
You can design any type of concrete pool you like in Southern Utah, but it won't be cheap -- and neither will your maintenance costs.
How much will a fiberglass pool cost in St. George, Utah?
In our experience, fiberglass pool buyers tend to spend between $45,000 to $80,000 for turnkey installation.
Fiberglass pool buyers in Utah have recently been spending an average of roughly $60,000, which includes everything involved in a pool installation project, such as retaining walls, fences, accessories, and the like.
We've created a custom pricing tool for fiberglass pool buyers. You can get a more precise quote, and start talking to a River Pools representative in Southern Utah, with just a few clicks. Get started with the button below:
How much will it cost to maintain my pool in St. George, Utah?
An inground pool is not something you can set and forget. Keeping your water clean and enjoyable, and maintaining the quality and durability of your pool's surfaces, is an ongoing effort, no matter what type of pool you choose.
However, different types of pools tend to have different maintenance requirements. We've ballparked these maintenance costs so often that we gathered them all together in one easy-to-understand infographic: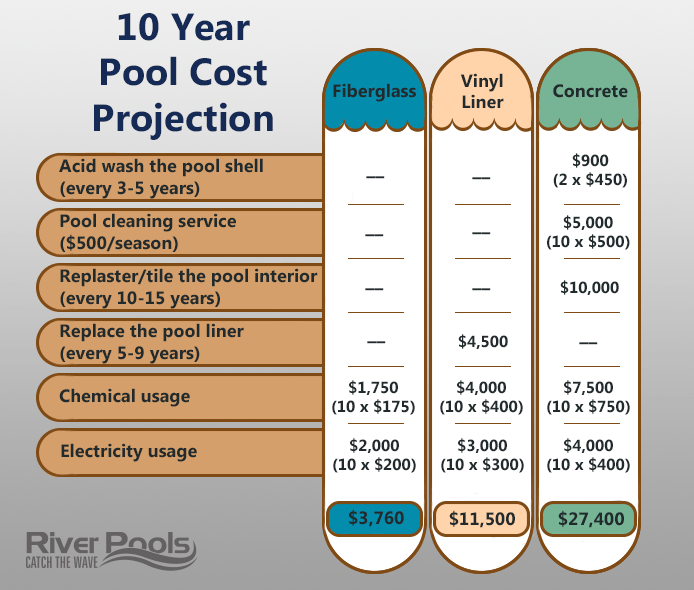 Let's talk a bit about what these expenses really mean, and how we've arrived at these projections for a 10-year period of ownership.
Vinyl liner pool maintenance costs
The largest "maintenance" cost for any vinyl liner pool owner tends to be the cost to replace the vinyl liner, which is necessary every five to nine years and will set you back an average of $4,500 -- though large vinyl liners with more customized shapes may very well be more expensive to replace. Many vinyl liner pool owners looking to sell their homes are asked to replace the liner as well, because savvy realtors and home buyers know these liners have a limited lifespan.
You'll also need to spend a bit more on chemicals to keep your water clean, and your electricity expense can add up when running filters and pumps and other systems. On average, vinyl liner pool owners spend $400 a year on chemicals and $300 per year on electricity.
All together, a vinyl liner pool in Southern Utah will probably cost an average of $11,500 to maintain over a 10-year period, not including any costs to retain a pool cleaning service, or any expenses you'll incur to clean and maintain all the stuff you've got around your pool, like automatic covers, patio materials, electronics, and so on.
Concrete pool maintenance costs
Concrete is durable, but it's far from indestructible. In fact, concrete is often considered the most finicky material used in pool construction.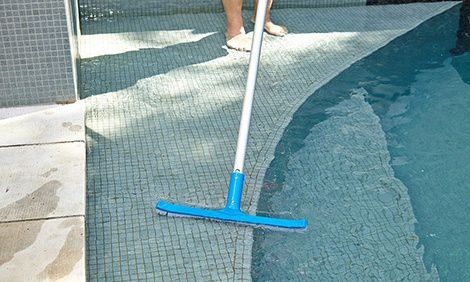 You won't have to replace your concrete, but you will have to resurface a concrete pool every 10 to 15 years. Resurfacing a concrete pool isn't cheap -- you can expect to spend between $10,000 to $20,000 each time. Our infographic uses the lower end of this range, but don't be surprised if you wind up paying more.
In between resurfacings, you'll also need to acid wash your concrete pool every few years, which typically costs about $450 each time, or $900 over a 10-year period.
Concrete surfaces tend to be more chemically reactive than fiberglass or vinyl liners, which means you'll have to counteract the effects of the concrete on the water with additional treatment chemicals. Concrete is also far more porous than other types of pool surfaces, which makes it a great breeding ground for algae. Battling algae and controlling the pH-raising effects of the concrete surface on your pool water can cost about $750 worth of chemicals per year, and about $400 per year in electricity usage.
Because concrete can be so high-maintenance, many concrete pool owners hire pool cleaning services, which we've ballparked at about $500 a year. You'll still need to pay for chemicals and electricity, regardless of whether or not you hire a cleaning service.
All together, these expenses can add up to an average of about $27,400 in maintenance costs over a 10-year period of ownership for concrete pool owners.
Fiberglass pool maintenance costs
We've focused on building and installing fiberglass pools for a reason -- we believe they're simply the best type of pool for the long run. Fiberglass is extremely durable, and it's also (comparatively) quite low-maintenance. Take care of your fiberglass pool, and you'll never need to resurface or refinish it, you won't need to replace any costly critical components, and you won't spend hours every week keeping your pool water clean.
Fiberglass pools aren't no-maintenance, though.
You will need to use chemical treatments to keep your water sparkling clean, and you'll have to run pumps and filters and other powered components as well. Our customers spend about $175 a year on chemicals for their fiberglass pools, and about $200 a year on electricity.
This translates to an average of $3,750 in maintenance costs for a 10-year period of ownership for fiberglass pool owners.
You can save money on pool chemicals by using a salt water system, which is better-suited for fiberglass than for other types of pools. You may spend more money to install the system up front, but it can save you money over the long term.
Which type of pool is best for my backyard?
You might expect us to recommend a fiberglass pool for your home in Southern Utah. In many cases, we will, because the balance of factors involved simply makes fiberglass pools a great option for many prospective pool buyers.
However, your needs may not be best-served by a fiberglass pool. We make fiberglass pool shells in a wide range of styles, sizes, colors, and shapes, but we might not have the perfect style, size, color, and/or shape of pool for the backyard of your dreams.
Some pool buyers trade lower lifetime ownership costs for greater customization options -- there aren't any Olympic-sized fiberglass pools, but you might be able to get one installed if you use concrete, or even vinyl liners.
We want you to make an informed decision when you buy your pool. That's why we've put together a wealth of informative resources, including a comprehensive ebook guide to the three different types of pools, and a brand-new interactive Pool Type Selector tool, which you can try out by clicking the banner below:
At River Pools, we manufacture world-class fiberglass pools for customers across North America. If you're shopping around for a fiberglass pool, feel free to take a look at our catalog of models, visit our extensive video library, try out our pool cost calculator, or request custom pricing using the button below.