When you buy an inground fiberglass pool, you receive three distinct types of warranties:
The Fiberglass Pool Manufacturer Warranty

The Pool Equipment Warranty (for pumps, filters, etc.)

The Workmanship Warranty From Pool Contractor
First, you have a warranty on the pool itself from the pool manufacturer. Next, a warranty from the manufacturer of the pool equipment (pump, light, salt system, heater, etc.). And finally, you have a warranty from the pool builder covering their workmanship.
What Does the Warranty from the Pool Manufacturer Cover?
Fiberglass Pool Warranties:
There are actually two types of warranties on fiberglass pool shells. First, there is the structural warranty, and second, the warranty on fiberglass pool gelcoat finish. But there is one aspect of the structural warranty that has always been a bit of a challenge within the fiberglass pool industry, until now.
Are All Warranties Created Equal?
It's not that warranty repairs are common on fiberglass pools, but it's good to be aware that there are some distinct differences between the warranties of fiberglass pool manufacturers. These might not seem significant at first glance, but they can become quite a burden on the homeowner if warranty work is ever required. For example, most other fiberglass pool manufacturers make the homeowner responsible for draining and bracing the pool, as well as refilling the pool, and replacing the start-up chemicals if a repair is needed.
This is not the case at River Pools. It helps that warranty claims are rare with us, but if and when repairs are needed we don't feel that burden should be placed on the client and this is stated in the warranties linked to above.
What Does The Warranty From The Equipment Manufacturer Cover?
All of your pool equipment, options, and accessories all come with a warranty from the manufacturer. This would include pool pumps, filters, pool lights, heaters, salt water chlorinators, etc.
Pay attention, because the same equipment can have two different warranties depending on the dealer that sells it. That's right, some dealers may have a three year warranty on vital equipment and some may have a one year warranty.
What Does The Workmanship Warranty From The Dealer Cover?
A workmanship warranty is the guarantee a pool builder puts behind their own work and covers such major issues as plumbing leaks or structural settlement or movement of the pool or patio. We have developed our own fiberglass pool methodology called Rhino-Roc Construction that virtually eliminates the risk of these major problems taking place.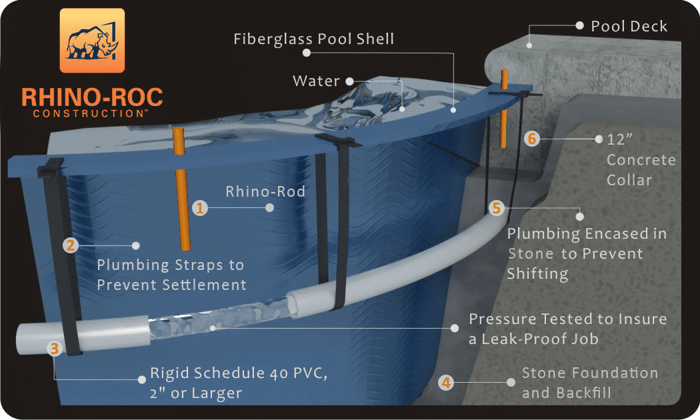 At River Pools, we have been fortunate enough to help over 1,000 inground pool clients throughout Virginia and Maryland with the installation of their pools and the vast majority of those folks are on our reference list. Our installations come with a 5 Year Limited Workmanship Warranty.
But as much as we'd like to, we don't have the ability to work directly with every client across the country with the installation of their pool. Consequently, for those customers who live outside of Virginia and Maryland who we cannot serve directly, we've provided a means for you to find dealers, hopefully in your area, that hold to the same rigid standards of excellence we strive to maintain. These are River Certified Dealers, and you can click the image below to find one in your area.
Ready to Request a Quote?