The 3 Types of Fiberglass Pool Warranties
Warranties, boring? Not today, my friend. They're super relevant to you, so why make them a snooze-fest?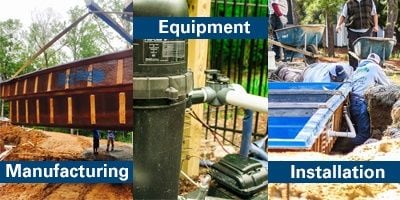 As you research fiberglass pools, you'll find that we refer to multiple types of warranties:
Manufacturing warranty—from the fiberglass pool's manufacturer
Equipment warranty—from the pool equipment's manufacturer(s)
Installation warranty—from the pool builder who installs the pool
Read through each of these warranties before you buy anything. Furthermore, ask the manufacturer/installer about anything you don't understand or agree with. If they won't explain the legalese, walk away.
Fiberglass pool warranties will always have some disclaimers—just like any other warranty for any product. But with this info, you'll be able to tell what's covered and (potentially more important) what's not covered, and if it's worth your investment.
What Does the Pool's Manufacturing Warranty Cover?
Fiberglass pool manufacturers should cover two main things in their warranty:
The

structure

of the pool shell

The

surface

(gelcoat)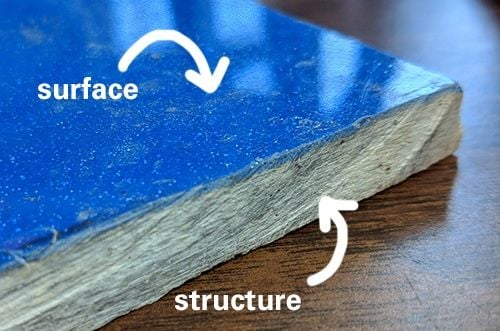 Sometimes the manufacturer provides a separate warranty for each, sometimes just one warranty that covers both. But make sure your manufacturer covers both aspects of the pool shell, one way or the other.
A fiberglass pool's structural warranty
The structural warranty says how long they guarantee the pool will hold water. If the pool shell cracks and leaks, the manufacturer will repair it.
Usually this warranty will last "for the life of the pool," meaning as long as the pool is owned and in normal use.
But there's a funky side that you need to look for: homeowner responsibility in the event of a repair.
What is the homeowner responsible for?
The "will be responsible for" fine-print might not seem significant at first glance, but if you ever need warranty work, you'll be glad you triple-checked.
For example, let's say you need a gelcoat repair. Most fiberglass pool manufacturers make you responsible for draining the pool, bracing it, refilling it, and replacing the water chemicals. That's expensive to say the least, and if you're not a pool professional, it might even cause further damage to your pool.

This is not the case at River Pools. Warranty claims are rare with us anyway, but beyond that, we don't feel that the burden should be placed on the customer if/when they need a repair. We cover the cost to drain, brace, refill, and replace.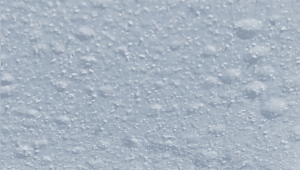 A fiberglass pool's surface warranty
The surface warranty can be a little trickier.
Pay attention: the warranty must specifically cover osmotic blisters on the surface of the fiberglass pool.
Osmotic blisters are a cosmetic issue, not structural. A warranty that covers osmosis in the pool structure just means that the pool will continue to hold water. That's great, but it leaves you empty-handed if you see any bubbles or blisters in the gelcoat.
How to inspect a fiberglass pool's manufacturing warranty
As you vet your potential manufacturers, ask these 4 questions regarding the manufacturing warranty for your fiberglass pool:
Is the warranty transferrable?
What's the duration of the warranty?
What is excluded?
What does the warranty actually cover?
You can read the River Pools manufacturing warranty anytime.
What Does the Pool's Equipment Warranty Cover?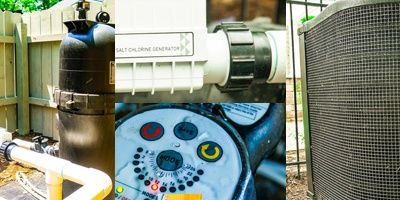 The pool equipment warranty covers, well, all the pool equipment:
Lights
Heaters
Salt water chlorinators
Automatic vacuums
Pump and filter system
Water feature accessories
Whatever else struck your fancy
Careful: never assume anything. The same piece of equipment may have different warranties depending on the dealer.
The equipment dealer Super Amazing Pool Equipment Store might sell LED lights with a 1-year warranty. Across the street, the dealer Splishy Splashy Funsies might sell the same lights with a 3-year warranty.
That's a significant difference for you—and it's even more important with vital equipment like your pool pump or filter.
What Does the Pool's Installation (or Workmanship) Warranty Cover?
The fiberglass pool installer's warranty applies to everything besides making the pool itself and its equipment:
Transportation

Handling

Storage

Patio and coping

Landscaping

Plumbing

The actual installation
You might choose to have one contractor take care of all of these bits, or you might hire multiple contractors based on their specialties.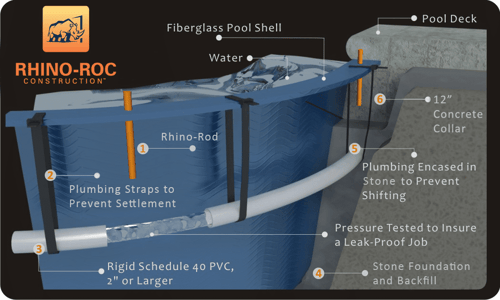 A fiberglass pool's workmanship warranty
A workmanship warranty is the guarantee a pool builder puts behind their own work. It covers major issues like plumbing leaks or structural settlement or movement of the pool or patio.
River Pools has been installing fiberglass pools since the early 2000's and developed a series of cutting-edge installation techniques we call the River Pools Way of Advanced Fiberglass Pool Installation. This methodology virtually eliminates the major challenges associated with fiberglass pool installations.
Our independent authorized dealers provide their workmanship warranties on an individual basis, but all of our franchise locations offer a 5-year limited workmanship warranty (3 full/2 partial), which covers:
Pool shifting or settlement

Plumbing leaks

Fitting leaks

Separation of pool from patio

Structural patio issues
If you'd like to receive a quote from an independent authorized River Pools representative near you, please fill out the form below.
Ready to Request a Quote?