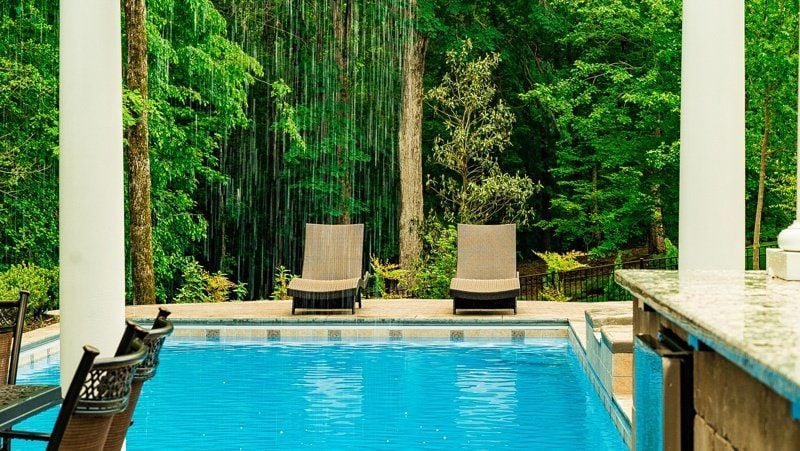 Subscribe
How Much Do Inground Pools Cost in Florida? 2022 Pricing Guide
Fiberglass Pool Information | Cost and Pricing | Concrete Pool Information | Vinyl Liner Pool Information
When you live in Florida, you have it all - sea, sunshine and something fun around every corner. Not only is it the warmest US state, but it's also the only one with a tropical climate (excluding Hawaii). No wonder it's a hotspot for tourists worldwide.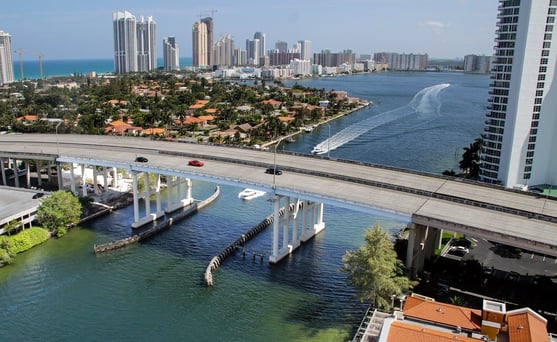 But the beauty of this state can also be its downfall: with all the tourists, Floridians may have trouble enjoying the view on their own terms. This is why a swimming pool can be exactly what a Florida resident needs to soak up all the Sunshine State has to offer. You may be asking, "Well, how much does a pool cost in Florida?" And that's where we wade in.
Our team here at River Pools manufactures and installs one-piece inground fiberglass pools around the United States. We infuse our industry know-hows into every choice we make, from pool shape creation to installation techniques. However, while we feel a special kind of way about fiberglass, we are not afraid to say that fiberglass pools aren't for everyone. We'll be covering all types of inground swimming pools on the market so you can decide what's best for your Florida home.
Some questions we'll tackle today around the topic of inground pool cost in Florida:
How much does it cost to install an inground pool in Florida?
How much does it cost to maintain a pool in Florida?
Does a pool add value to a home in Florida?
Now, let's get the (beach) ball rolling…
Pros and Cons of Having a Pool in Florida
Like we said, Florida has some awesome weather. Tourism is nothing new to the state and neither are inground pools. Having the 4th largest economy in the country means more income to be used for home improvement. Let's look at some pros and cons that can help someone decide is it worth having a pool in Florida:
Pros:
Year-round warm weather means year-round swim time.
Flat land makes for easier installation.
Capability to spend private time with loved ones soaking up sun and H20 (a natural pastime in Florida).
Pools are often standard in Florida homes, meaning it likely won't hurt your resale value.
Cons:
Year-round swimming means year-round maintenance and maintenance costs.
Maintenance costs may not make the pool add as much property value as you'd like (but not always).


What Types of Pools Are Available in Florida
When it comes to inground pools, you have three options to choose from:
Concrete/gunite
Vinyl Liner
Fiberglass
Since this article is talking about cost, your next question is probably "What is the least expensive inground pool type?" And this will depend on a few things: installation particulars, maintenance costs, required permits, etc.
Florida is and has been primarily a concrete pool market. However, concrete pools tend to be similar to fiberglass pools in price. The walls in Florida gunite pools don't have to be as thick as they do elsewhere, and labor for them is more readily available - sometimes making it equal to or even less expensive than fiberglass. There is a large interest in fiberglass in Florida but fewer builders are around. Vinyl liner pools tend to be the least expensive of the three when it comes to upfront installation costs.
Here's a rough overview of each pool type and associated costs:
Concrete: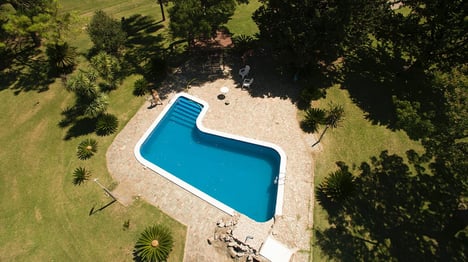 On average, a concrete pool can range anywhere from $50,000 to $200,000. Again, on average. These pools can end up costing even more depending on customization and other factors. With concrete, the world is your oyster - you can have about any shape or feature you wish including tanning ledges, beach entries, hot tubs and more. States that don't have the fortune of year-round warm weather tend to lean towards other pool types because of concrete's tendency to crack with cold weather. But in Florida, that's no sweat. Since Florida is largely a concrete market and there is a lot of skilled workforce in this area, you may find these pools to be more affordable than other options.
Vinyl Liner:
This is often considered to be the cheapest inground pool type when it comes to upfront costs. These pools are produced in your yard from start to finish, which reduces your shipping costs. On average, installation of a vinyl pool can cost anywhere from $30,000 to $120,000. An important note: the liners in vinyl liner pools need to be replaced regularly as part of routine maintenance. They tend to be replaced about every 5 to 9 years. These replacements will add onto your pool maintenance budget and make the pool cost more over its lifetime.
Fiberglass: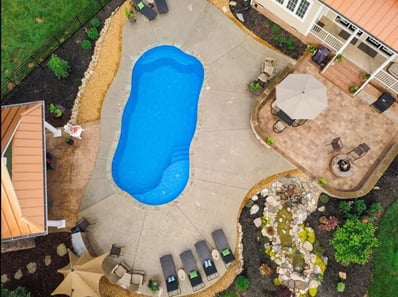 Inground fiberglass pool prices can range anywhere from $50,000 to $200,000 to install in Florida. This pool type has become increasingly more popular in this area. Similar to concrete, fiberglass pool prices can increase depending on which features and add-ons you're looking for. The fiberglass pool industry has had many innovations and developments over the years. You may recall options for fiberglass pool designs used to be on the more limited side, but now you can find shapes with popular features like tanning ledges, benches and more. These features are typically costly add-ons for concrete and vinyl pools. Fiberglass pools are built in a manufacturing facility and then shipped to your home for installation. Good news - that means fiberglass pool manufacturers are better able to control the quality of the pool and make sure it gets to you in proper condition.
Pool Maintenance in Florida
When we explain what all goes into pool maintenance costs, we go by the motto "a picture is worth a thousand words". The handy graphic below outlines the various factors that go into inground pool maintenance costs to give you a cost estimate over a 10-year period. We'll break it down more as we go, too. Keep in mind that your pool may likely be open year-round in Florida, so your maintenance costs could end up higher than our estimates here.
Concrete:
The surface of concrete pools is porous, and porous surfaces make the perfect place for algae growth. Regular brushing of the pool's surface (about 1/week) as well as an acid wash of the pool (about every 3 to 5 years) is a must for maintaining this type of inground pool. Due to the naturally high pH levels of concrete, more chemicals are required to reach a balance point. Pool chemicals slowly eat away at the porous surface, so replastering of the surface may also be needed about every 10 to 15 years. All together, including other general pool maintenance items, your 10-year pool maintenance cost may be about $27,400.
Vinyl:
As we mentioned before, these pools are the only type out of the three that will need liner replacements. Over a 10-year period, this may cost you about $4,500. However, they don't require as many chemicals to maintain as a concrete pool, so you'll save some cash on that front. There's also no need to do acid washes. With other typical pool maintenance costs, like electricity, a vinyl liner can end up running you about $11,500, give or take.
Fiberglass:
One reason fiberglass pools are gaining popularity is that they tend to require the least amount of maintenance of the three types. If you don't mind, let us climb onto the rooftop so we can make this point clearly: this DOES NOT mean NO maintenance! Water chemistry is important for maintaining the look of a fiberglass pool. We've found that chemical use and electric costs are also a bit lower compared to the other pool types, and all of these factors may cost you around $3,760 over a 10-year span.
Other Factors To Consider About Cost
Now that we've taken care of the big, obvious stuff, let's reel it in and take a closer look at some of the smaller details that can rack up your final price tag.
One thing to consider is that Florida has laws dictating what type of fencing and alarm systems are required for private swimming pools. According to Florida Building Code & Florida Residential Building Code, any pool (including above ground, inground, hot tubs and non-portable spas) that holds water over 24" deep must have barrier fencing installed in order to pass inspection. (Take a look at the documentation for more deets.) Your pool installer will also be able to help make sure your bases are covered when it comes to local regulations.
Another thing: have you ever found yourself thinking, "Why does every house in Florida have a pool?" Besides the obvious things (you know, Sunshine State and all), it may seem that way because having this home feature shouldn't hurt your home's resale value. As we mentioned, depending on the pool type, you may have more maintenance costs to manage (and therefore more money put into it) but because of the easier access to pool maintenance teams and resources in the area, it may not end up being an issue.
Conclusion:
So, is a pool a good investment in Florida? Obviously, we certainly think it is. That being said, we stress the importance of doing your own research (even beyond this article) to ensure you're making the right choice for you and your lifestyle.

As we mentioned earlier, we here at River Pools manufacture inground fiberglass pools and have dealers around the country. If we've piqued your interest in the fiberglass option, our Pool Shape Selector can help narrow down the style you're looking for. And the Pricing Calculator, our fiberglass inground pool cost estimator, can give you a rough idea of what that style may cost you.