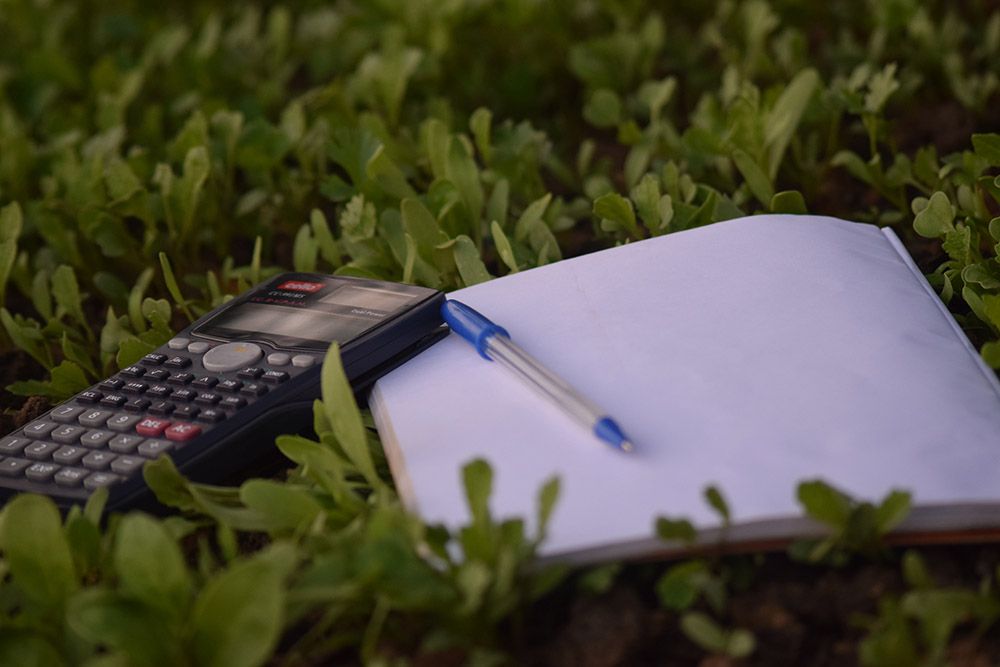 Subscribe
What Should I Budget for a Fiberglass Pool in Charlotte, NC? A 2022 Guide
Fiberglass Pool Information | Options and Accessories | Cost and Pricing
We think it's fair to say that Charlotte is a happening place. With plenty of tourist attractions, the home of many corporate headquarters, and the largest population in North Carolina, there's a lot that Charlotte has to offer. Summers here get hot and sticky, so what better way to deal than to take a dip in Lake Wylie? We'll do you one better: you could take a dip into your own backyard inground pool!
Here at River Pools, we manufacture one-piece fiberglass pools and install them across the United States, including in Charlotte. We often have folks asking "What should I budget for a fiberglass pool in Charlotte NC?" and "why should I get a fiberglass pool?" And we certainly love to give them answers. If you're looking into a fiberglass pool for your Charlotte home, we'd like to give you some pointers and personal experience with budgeting for a pool project in this area.
We won't keep you wading (see what we did there?)...let's get into it.
Budgeting for a Pool in Charlotte
One of the main questions we get asked is "What should I budget for an inground pool?" And if you got here with this question, let us just say: we applaud you for doing your research. Most everyone is concerned how much they'll be spending for that shiny new pool, but it can be easy to overlook important pieces of the budget puzzle. Questions like "what size pool can I fit in my yard?", "is a fiberglass pool a good investment?" and "what accessories do I want for my pool/yard?" are very common to ask when deciding how much should go into a pool budget. We will be speaking from River Pools' 20+ years of experience and our two years of serving the Charlotte area as to what you may want to consider for your fiberglass pool budget.
Compare Your Budget To Your Home Value

This one is key: we often recommend homeowners to consider their budget in relation to the value of their home. Doing this helps put the pool budget into a tangible perspective and gives a baseline for comparison. We can say "this is about how much other people are spending", but how will that relate to your project and finances? You know the value of your home, and knowing that can help make a budget number relatable to your situation.
Based on our experience in Charlotte, homeowners tend to spend an average of about $76,000 on their pool project. A base package, which doesn't include a heater, accessories, coping or decking, ends up costing closer to $55,000. (Important note: neither of these figures include landscaping). With the average home value on our projects being around $565,000, this means we've seen people put in about 14-15% of their home value into their pool. Here's another big thing we'd like to emphasize: we have customers who have financed their project and others who paid cash - there is no "right" or "best" way in the grand scheme; the only way that's right is what is best for you.
Like we said, these are numbers from our experience and may not be a best fit for you (and that is a-okay!). Your pool installer will take your budget into consideration and can walk you through what your options are. They're there to help you find the perfect pool for your lifestyle.
Things Worth Considering for Your Charlotte Pool Budget
When considering budget, we suggest looking at items or accessories that hold the most value (not just monetary) and if you see yourself getting a return on that investment. For example, if you spend money on deck jets but turn them on once every other year, you may not be getting an equal return on what you spent. These are a few other items we see people investing in:
Heaters
As we mentioned earlier, Charlotte's summers are hot, humid and hefty. However, this is a temperate climate, so you'll typically only get about 5 months worth of swim time here. A heater is something we have seen many people in the area include in their budget, and we've seen it almost double resident's swim time to around 10 months! This means that whatever amount you invest into your pool, you would be extending that amount through a 10-month period versus 5 months (think of it like a cost-per-usage concept). Essentially, incorporating an additional $5-$6,000 into your budget for a heater could double how much time you get to swim during the year.
You might be thinking "Okay, so heaters are good. But what kind of heater?" We're glad you asked! We suggest gas heaters to our Charlotte customers for a few simple reasons. One is that gas tends to be fairly inexpensive. Also during those "shoulder months", aka colder months when average temperatures are around 55-65 degrees, gas heaters will continue to run efficiently.
The Accessories
Of course, your pool can really be dolled up with some add-ons like bubblers and lights, but those need to be included in your budget.
Some other items that we think could be worth adding into your fiberglass pool budget in Charlotte are automatic pool robots and leaf nets. Automatic pool robots tend to perform well when cleaning fiberglass pool surfaces. Plus, since fiberglass pools tend to be lower maintenance than other inground pool types, this can make that maintenance even easier.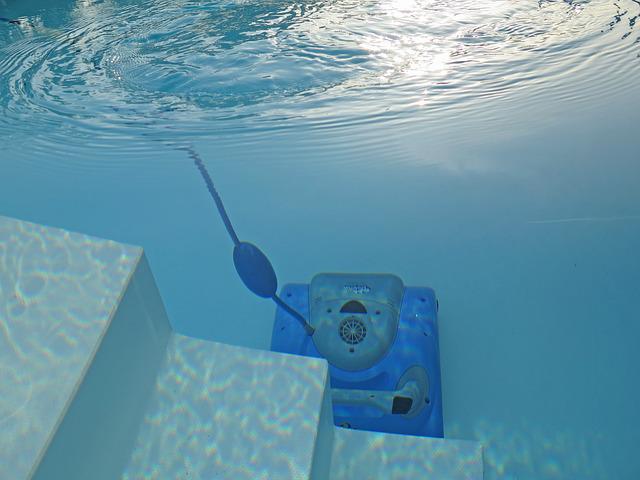 Regarding leaf nets, these are great if you have that gorgeous tree in your yard you just can't bring yourself to trim or cut down. If your pool sits underneath it, you'll have to spend more time scooping out leaves from the water. This accessory can be laid out over top of your pool during the fall and pulled off to get rid of fallen leaves. Rather than spending much, much more money on an automatic pool cover (which definitely do provide value and safety in some circumstances), these nets can be easily purchased online and may only cost you about $150.
Landscaping and Other Things Outside the Pool
If you ask us if we'd rather be inside the pool or out, we're always going to be part of Team In. However, we will never underestimate the power of the rest of the backyard and what it brings to the pool experience. We bring this up because if you want to enhance your backyard surroundings beyond just the pool, your budget will need to account for it. Oftentimes, we've seen adults choose to spend more time lounging poolside than going for a dip. Depending on how much time you anticipate spending outside of the pool, a decent chunk of your budget may need to go towards those landscaping elements. Check with your pool installer to see if they provide these services and if not, see if they have recommendations for who to go to.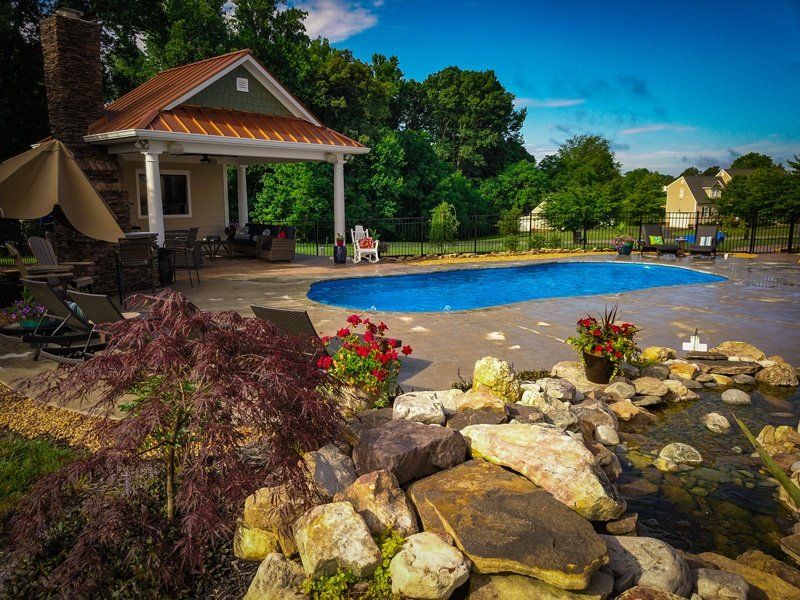 Deciding on Fiberglass in Charlotte
If you've made it to this blog, you may have already decided fiberglass is the right type of pool for you. If so, awesome! If you're still shopping around, no worries. After covering so many various elements of a fiberglass pool budget, it makes total sense to wonder "is a fiberglass pool worth the money?" You probably know what our answer would be, but this is for you to decide. Here's a few things fiberglass pools have to offer for both short and long-term investment:
Lower maintenance

Lower lifetime cost of ownership

Quicker installation

Manufactured in a controlled environment

Smooth surface
If these are things that are important to you, then a fiberglass pool may be worth your budget!
However, it wouldn't be fair to talk about the pros without mentioning the potential cons of a fiberglass pool. Here are a few to consider:
More limited on shape/size options

May have additional shipping costs due to being manufactured in a facility

Inclusion and placement of features is determined by the manufacturer
Which type of inground pool is best will depend on what you're looking for in your pool. If you're after a pool with lower maintenance, a smooth surface and shorter overall installation time, fiberglass may be what you need. Or, if you're searching for a pool that gives you the ability to decide exactly where you want that tanning ledge and those steps to be, and to be built in your backyard, a gunite/concrete or vinyl liner pool may be the best choice. Fiberglass pools are certainly on the rise in popularity in Charlotte, but we strongly recommend looking into the other inground pool types so you can feel 100% confident about your choice.
Conclusion
Aaaaaand…cut! That's a wrap on today's post.
In all seriousness, we won't act like a fiberglass pool is perfect for everyone, nor is there a solid number we can give you for a budget. There isn't necessarily a one-size-fits-all answer for what your budget should look like. A range can always be given, but what matters is what you envision for your yard and what makes sense for you to put into it. Checking out what various fiberglass pool manufacturers have to offer can be helpful in deciding what possibilities are out there and what's in your price range.
If you'd like to learn more about what River Pools has to offer, you can find our inground fiberglass pool designs here. We also have a pool cost calculator to give you an idea of what an inground fiberglass pool may cost you.