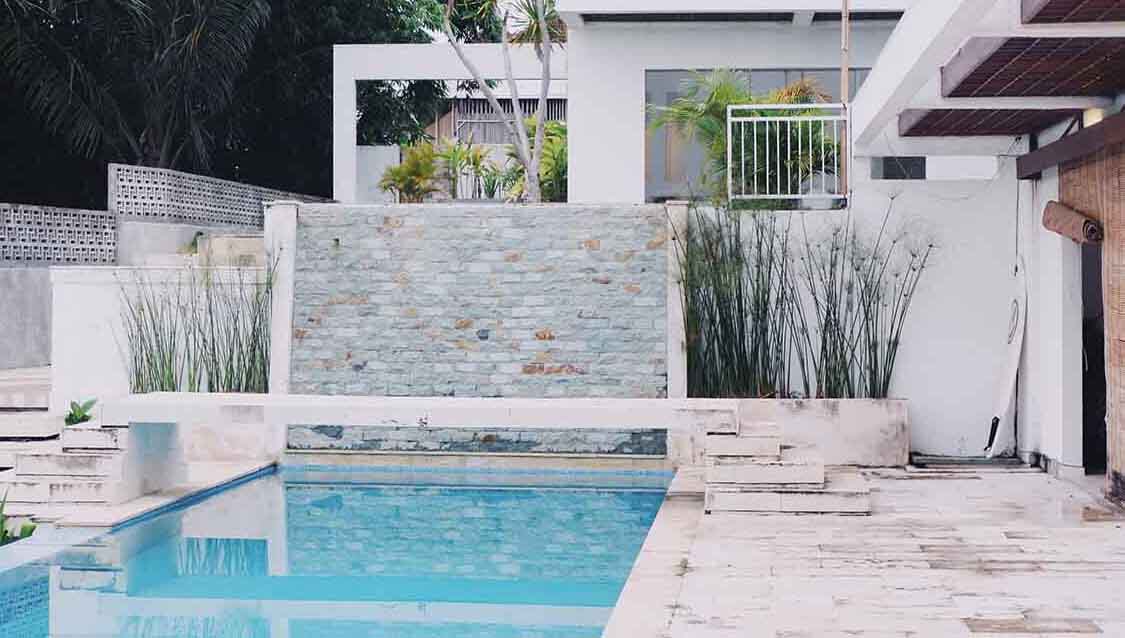 Subscribe
Concrete Pool Remodeling vs. Removal: Cost, Ideas, Options
Cost and Pricing | Concrete Pool Information
Are you thinking about taking on a pool remodeling project for your concrete swimming pool?

Maybe you've just moved into a home that has a concrete pool in the backyard, or you might have an old concrete pool that's become more of an eyesore than a fun addition to your home. If this sounds like you, you may be asking yourself:
Is it better to remove or remodel my swimming pool?
How much does pool remodeling cost?
How much does it cost to remove a pool?

Using our experience as fiberglass pool manufacturers and seasoned pool builders, we'll walk you through the costs of remodeling and removing your pool to help you decide your next step in your swimming pool journey. By the end of this article, you should have a better idea about whether you want to replace your pool, renovate it, or get rid of it altogether.
Concrete Pool Remodeling
Most people attempt to renovate or refurbish their pool as a first option before they consider removing it. If you are following the same train of thought, here's a quick breakdown of how much pool remodeling costs as well as some pool remodeling ideas to help you get started.
How much does pool remodeling cost?
You might spend an average of $10,000 to $60,000 and up to remodel your concrete pool, depending on the project and the amount of work it needs.

Remodeling your pool can be as simple as refinishing the plaster surface and adding new waterline tile or as complicated as changing the shape, adding built-in features, and installing accessories.

Let's go over the top pool remodeling ideas and their average prices so that you can calculate a more customized estimate for your project.
Pool Remodeling Ideas
Functional Remodeling
If your pool is in bad shape, or if it's a little too outdated for your liking, you'll probably end up focusing your pool remodel on functional aspects. These may include:
Resurfacing the plaster

Upgrading your pool surface from plaster to tile or aggregate (pebble)

Replacing your waterline tile

Updating old plumbing

Adding new pool lights

Adding a swimming pool heater

Switching to a salt system

Adding an automatic pool cover
Aesthetic Remodeling
If your pool no longer matches your aesthetics or is in serious need of an update, there are many things you can do to bring new life to the space, including:
Changing the shape and design

Changing the size

Renewing your pool deck or patio

Adding water features

Adding a tanning ledge or beach entry

Planting new landscaping

Installing a slide

Building a spa
Concrete Pool Remodeling Cost Breakdown
The following table lists the average price ranges for various pool remodeling options:
| | |
| --- | --- |
| Pool Remodeling Project | Average Price Range |
| Resurfacing (plaster, tile, aggregate) | $10,000 and up |
| New waterline tile | $3,000 - $4,000 |
| Plumbing repair | $800 - $1,000 and up |
| New pool light | $650 - $900 |
| New pool heater | $1,500 - $9,000 |
| Switching to salt system | $1,700 - $2,500 |
| New automatic pool cover | $12,000 - $22,000 |
| Change size and shape | $60,000 |
| Redo deck or patio | $3,000 - $5,000 |
| Add waterfall | $900 - $2,000 |
| Add bubblers | $450 - $700 ea. |
| New pool landscaping | $1,000 - $10,000 |
| New pool slide | $1,000 - $5,000 and up |
Concrete Pool Removal
If you are tired of the high costs to maintain your concrete pool and aren't interested in being a pool owner anymore, you'll probably end up filling in or removing your pool completely as we have seen several homeowners do.
How much does it cost to remove a concrete pool?
Removing your concrete swimming pool can cost from $3,500 to $15,000, on average, depending on the complexity of the project and whether you want to fill it in or remove it completely.
Generally, filling in a pool might cost $3,500 to $5,000, and removing a pool might cost between $5,000 and $15,000 on average. Filling in a concrete pool is typically cheaper than removing it, but keep in mind that only a full-scale removal will make it possible to build new structures where the pool used to be.
Read more: How Much Does it Cost to Remove a Concrete Pool?
Replacing Your Concrete Pool
Frequently, homeowners realize that they enjoy the perks of having a pool in their backyard, but they don't like the high costs of maintaining a concrete pool. These homeowners will often swap out their concrete pools for durable and much more low maintenance fiberglass pools. Some may choose to change out their concrete pools for vinyl liner inground pools as well.
How much does it cost to replace your concrete pool with a fiberglass pool?
You might expect replacing your concrete pool with a fiberglass unit to cost $55,000 on the low end to $95,000 and up.

The cost to replace your concrete pool with a fiberglass pool includes the removal of your existing pool and the installation of your new fiberglass pool shell, plus some extra work to make sure the pool fits in the ground.

When we replace inground pools with our fiberglass units, we often have to partially fill in the hole with more backfill to make sure it is the right size for the fiberglass pool.

Contrary to what many believe, having a hole in the ground from a previous pool isn't necessarily an advantage when installing a new fiberglass pool. It's likely that the hole will be too big for the new pool, so in these cases, we need to add much more backfill at an additional cost.

Want a more accurate quote for your fiberglass swimming pool? Feel free to request a custom price from us using the button below:
How much does it cost to replace your concrete pool with a vinyl liner pool?
On occasion, homeowners will swap out an expensive and high-maintenance concrete pool for a much cheaper vinyl liner swimming pool. The cost to replace your concrete pool with a vinyl liner pool will likely be between $50,000 and $80,000 or more.

That price includes the cost to remove your old concrete pool and the cost to build your new vinyl liner pool, plus any extra expenses to modify the space for the replacement.

Note: It's rare that customers are willing to spend this much on a vinyl liner pool due to the fragile liner and temporary nature of the pool structure. For this reason, most people who replace their concrete pools with another pool type opt for a fiberglass model.
Pool Remodeling vs. Removal vs. Replacement Costs
| | |
| --- | --- |
| Concrete Pool Project | Average Cost Range |
| Remodel Concrete Pool | $10,000 - $60,000 and up |
| Remove Concrete Pool | $5,000 - $15,000 |
| Fill in Concrete Pool | $3,500 - $5,000 |
| Replace Concrete Pool with Fiberglass Pool | $55,000 - $95,000 and up |
| Replace Concrete Pool with Vinyl Liner Pool | $50,000 - $80,000 and up |
If you have any questions about pool renovation or remodeling, please leave them for us in the comments, and we'll get back to you as soon as possible.
At River Pools, we manufacture high-quality fiberglass pools for homeowners across North America. If you're interested in exploring your fiberglass pool options, feel free to browse our pool models, visit our image gallery, or check out our video library for more educational content.
Up Next:
Swimming Pool Heaters: Types, Costs, Pros & Cons
10 Common Concrete Pool Problems and How to Avoid Them
Inground Pool Comparison: Vinyl Liner vs. Concrete vs. Fiberglass Pools (Infographic)