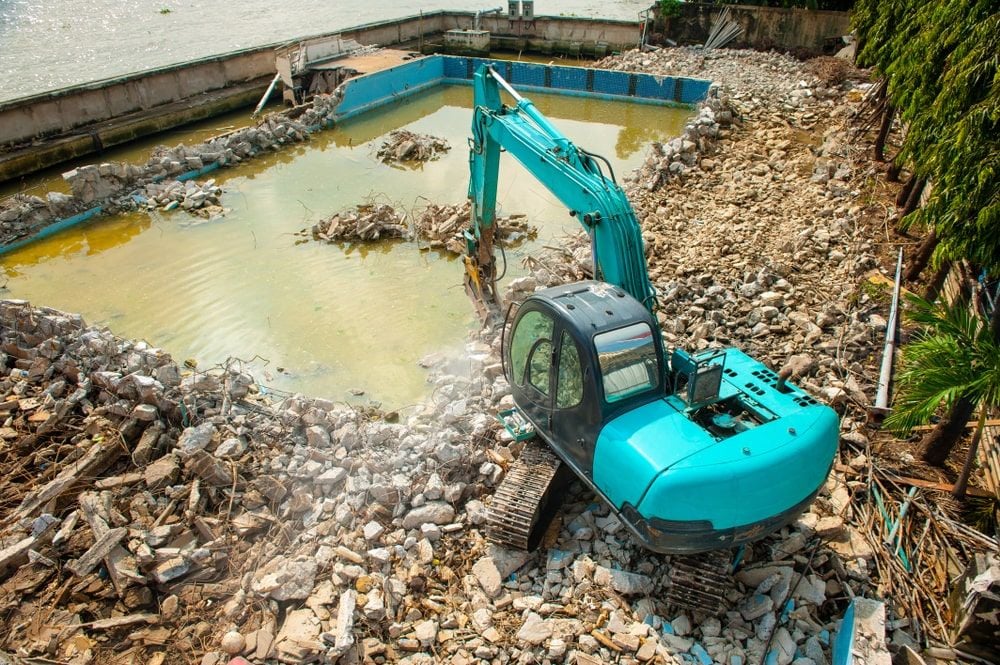 Subscribe
How Much Does it Cost to Remove a Concrete Pool?
Installation & Construction | Concrete Pool Information
Stuck with an old concrete or gunite pool that's just not worth the work anymore?
We get it. Concrete pools look great, but they're high-maintenance and expensive to operate and maintain (acid washing, resurfacing, constant cleaning, etc.). Fixing up an old, neglected concrete pool is an even more demanding job and can take a lot more time, energy, and money.
Since we at River Pools have been in the inground swimming pool business for many years (now specializing in fiberglass pools), we know just how much work it can be and how much it can cost to demolish a swimming pool.
In fact, we frequently replace concrete pools with our fiberglass units, so we can shed some light on how much it would cost to remove or even replace your concrete pool, if that's something you have been considering as well.
Let's start by answering the question you really came here for…
How Much Does it Cost to Remove a Concrete Pool?
If you want to get rid of your concrete pool, you have two options:
Fill in the pool

Demolish and completely remove the pool
In general, the cost can range from $5,000 to $15,000 and up if you want to completely remove your concrete pool from the ground. If you just want to fill in your concrete swimming pool, it can cost between $3,500 and $5,000 on average.
It can be much more expensive to remove or demolish a swimming pool than to simply fill it in, and we'll explain why in the next few sections.
Removing a Concrete Pool
If you are just OVER your swimming pool and leaning towards complete removal, then there are a few key things that you need to know:
This can be a DIY job, but it requires a lot of equipment and preferably some demo experience.

It's going to be loud and messy.

It's going to cost between $5,000 to $15,000 or more to take out.
Equipment and Tools
Demolishing a concrete pool is an extensive process. Whether you're going to do it yourself or hire a contractor, you will need a handful of tools to complete the work.
Removing a concrete pool requires:
Excavator

Jackhammer

Skidsteer

Rebar cutter

Sledgehammers

Other common hand tools

Soil compactor

Dumpster
In general, the demolition process includes breaking apart concrete, cutting the rebar as necessary, and placing all of the pieces into a dumpster on-site. This can also create quite a bit of dust.
Note: If you're going to be helping out or doing this on your own, wear protective earplugs and eyewear.
To give you a general overview, here are the steps to the concrete pool removal process:
Drain the pool.

Remove the pump and disconnect the gas and electrical lines.

Tear apart and demolish the pool using a regular jackhammer or ideally a jackhammer excavator attachment. Cut the rebar as necessary as you go.

Sort and pile the material into a dumpster to be hauled away and disposed of.

Fill the pool with dirt, and finish the top layer with top soil.

Compact the soil with a soil compactor to prevent settling.

Rough grade the area and prepare it for the next stages of finishing your backyard.
Check out this video to see these steps in action:
How long does a concrete pool demolition take?
This can vary by contractor, but in general, it can take between 3 and 5 days to completely remove a concrete pool and fill in the space with dirt. This can also depend on your yard and the size of your pool.
Pro tip: If you're doing the demolition yourself, you'll want to get this done as fast as you can to avoid running up the cost of equipment rental.
Planning a Concrete Pool Removal
Before you set out to remove your pool, there are a few key things that you need to consider:
First, if you want to remove your concrete pool, you'll want to clear the area of anything that's going to get in the way like lawn furniture, old pool toys, and potted plants.

You'll also want to arrange to have this done at a good time (for example, avoid holiday weekends when everyone's trying to enjoy their time at home, because jackhammers). Pro tip:

You might also want to warn your neighbors in advance and let them know what time in the day you plan to start.

Make sure that the contractor will be able to fully access your yard and bring in the necessary equipment. This may require disassembling some perimeter fencing to get the equipment through.

Check with your city or county to see if you need any permits before you can demolish or fill in a concrete pool (most will require it). If you plan on working with a contractor, it's likely that they'll arrange to acquire any necessary permits for you.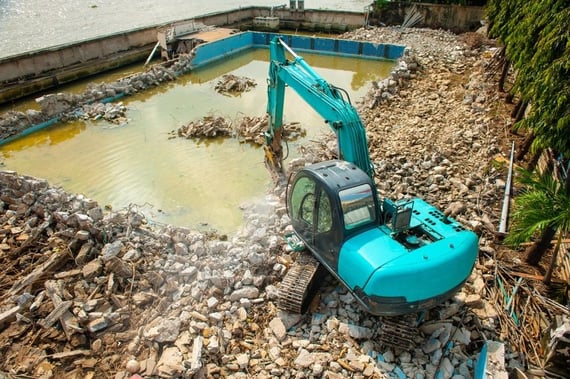 Filling in a Concrete Pool
Your second option, as we mentioned at the beginning of this article, is to fill in your concrete pool. Filling in your pool is about as fast as removing the pool if not faster, and it costs less.
How much does it cost to fill in a concrete pool?
On average, it will cost you between $3,500 and $5,000 to fill in your concrete swimming pool. The price will also depend on the contractor, the size of your pool, and the materials that you use to complete the work.
What's the difference between filling in a pool and removing it?
You might be tempted to just fill in your pool to save some money, but there are a few drawbacks to filling in your pool over demolishing it:
It's possible that the soil and dirt can settle.

You won't be able to build any structures on top of it (like a guest house) without the evaluation of an engineer to supervise the work.

This could possibly lower the value of your property.
Pro tip: It's always a good idea to get an engineer to supervise or evaluate the work whether you are filling in or removing the swimming pool, especially if you plan to build a new structure on top of it.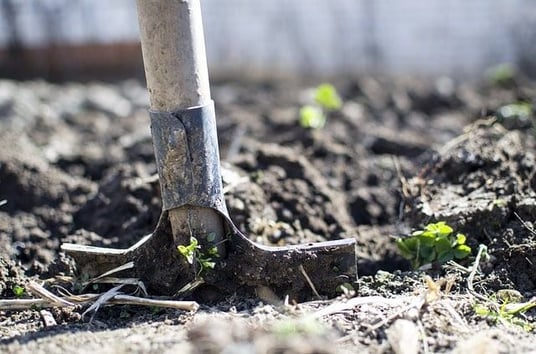 If you want to fill in your concrete pool, you'll follow most of the pool removal steps listed above, but there are a few key differences:
You'll need to put holes in the bottom of the pool for drainage

You or the contractor will only demolish the top foot and a half to three feet of the pool and use the rubble to fill in the bottom layer of the pool
Then, as with a pool removal, you or your contractor will fill the pool with dirt and top soil and compact the soil when the pool is filled.
Alternatives to Removing Your Pool
If you can remember a time when you loved the idea of having an inground swimming pool, but you just don't want to deal with your concrete pool's upkeep anymore, you have a third option: replace it with a different type of inground pool.
In general, you'll get to choose between a vinyl liner and a fiberglass swimming pool. You'll save more money upfront on a vinyl liner pool, but it's not as durable and it requires more maintenance and upkeep (which is probably something you'd like to avoid). Vinyl liner pools are also typically incompatible with salt water generators.
If you want to replace your inground pool with a swimming pool that's both durable and low-maintenance, a fiberglass pool might be a good option for you. This will likely cost between $50,000 and $70,000, depending on the size of your old pool and the size of the new pool that you plan to put in. You can read about the process of replacing your concrete pool with a fiberglass pool to learn more.
Here's a brief list of what you can expect from a fiberglass swimming pool:
Lowest maintenance inground pool

Low lifetime cost of ownership

Saves energy

Compatible with salt systems

Smooth and comfortable surface

Resists algae growth

Built-in features like benches and tanning ledges
Variety of designs, sizes, and colors to choose from

Faster to install than vinyl liner or concrete pools
Interested in replacing your concrete pool with a fiberglass pool? Click the button below to ask us questions and request pricing today.
You can also try out our fiberglass pool pricing calculator, visit our learning center, or download our free ebook below to learn more. If you have any more questions about swimming pool demolition or the cost to fill in a pool, please leave them in the comments below.
Up Next:
The Pros and Cons of Fiberglass Pools
Should You Buy a Fiberglass Pool? (Infographic)

4 Things to Consider Before Establishing Your Pool Budget