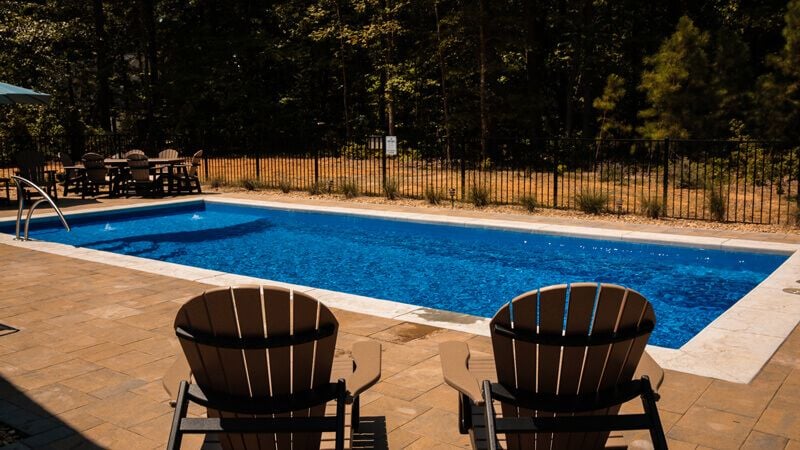 Subscribe
Can You Put an Inground Pool in a Small Backyard?
Installation & Construction | Swimming Pool FAQs
Is your backyard super tiny?

Is it more of a courtyard than a backyard?

If you are dreaming of getting an inground pool but think your backyard is too small, you've come to the right place.
We manufacture fiberglass swimming pools for families across the country and personally install those pools for customers in our area. People tell us every day that they don't think an inground pool will fit in their backyard, but they're often surprised to learn that they too can have a decent sized pool.

In this article, we're answering all of your questions about building a swimming pool in a small backyard to give you a better idea of whether an inground pool is a realistic option for you.

Let's dive in.
Swimming Pools in Small Backyards
Go to:
Can you build an inground pool in a small backyard?
Fiberglass pools in small backyards
Vinyl liner pools in small backyards
Concrete pools in small backyards
Is my backyard big enough for a pool?
How small can an inground pool be?
Small Backyards with small pools
Alternatives to backyard inground pools
Can you put an inground swimming pool in a small backyard?
The short answer: Most of the time, yes.
The long answer: It depends on your property and local regulations. The most critical issues to look at first are your setback rules and easements.
Setbacks determine how far away from the property line and the house the pool needs to be, and knowing this can help you decide whether getting a pool is feasible. It can also help you choose the right inground pool size for your home.
For example, in some areas, the pool needs to be at least 8 feet away from the property lines and 10 feet away from your home. Keep in mind that these rules will vary by region, and you can find out about your setback rules by contacting your city or county development services.
If you have any easements on your property, this can also limit the usable space in your backyard. An easement is an invisible line that you can't build on, most commonly due to underground or overhead utilities. You can find out if you have easements by contacting your city or county records offices or checking with the utility companies.
Read more: Ultimate Pool Planning Guide: 11 Things to Consider Before Installing an Inground Pool
Aside from the rules and regulations, there are a few more things that you'll need to think about:

Space
Space is clearly the number one consideration when deciding if your yard is big enough for a pool. For example, the average small inground pool is about 12 feet wide and 24 feet long. If you already know that your yard is too small for that, an inground pool will likely still be an option (inground pools are often much smaller than 12x24), but your pool builder might need to get creative.
Pool Size
Take a moment to consider whether you're willing to compromise on the size of your pool. If your yard cannot accommodate the pool size or depth that you want, is it still worth it for you to get a swimming pool? Think about whether the result will be worth your time and money if you have to downsize (Here are a few other ideas to consider for your outdoor living space if a pool is out of the question).
Pool Type
The type of pool that you can build (i.e., fiberglass, vinyl liner, or concrete) may also be limited if you're working with a tiny area. Let's explain that in more detail.
Fiberglass pools in small backyards: As fiberglass pool manufacturers, we know that not all spaces can accommodate a fiberglass pool. This is simply because the pool shapes and sizes are prebuilt in a factory and are not customizable.
For example, let's say that our 10x20 foot pool shell (our smallest model) is a few feet too large for your backyard. Unfortunately, there's no way for us to shave off those few feet without completely redesigning our pool molds.
Having said that, most customers who think they can't get a fiberglass pool turn out to have plenty of space for one, so we recommend getting a consultation before eliminating fiberglass as an option (especially if it's your top choice).
Note: A lot of people think that the issue would be with getting the pool into the backyard, but that's the easy part. We'll even haul the pool over the roof of your house using a crane if we have to.
Vinyl liner pools in small backyards: On average, the smallest vinyl liner pool kits available are around 12 feet by 24 feet or 12 feet by 20 feet. You might be able to customize the size and shape of a vinyl liner pool, but that often comes at an added cost. You'll need to contact your vinyl liner pool manufacturer directly to find out how small they can make your pool and whether they can customize the size.
Concrete pools in small backyards: In our expert opinion, concrete wins for customizability. You can build a concrete pool in any shape or size that you like, and that includes very small inground pools (sometimes referred to as cocktail pools or plunge pools -- click here to read about the differences between cocktail pools and plunge pools. You can also use concrete to create a custom infinity pool, which is often just a smaller swimming pool with a "vanishing edge" allowing water to spill over.
Concrete pools do come with their share of drawbacks, however. We always say that a concrete pool is the most expensive inground pool to build and maintain, and while that is often the case, if you absolutely need a custom size and shape for your pool, concrete is the way to go.
Of course, we encourage you to explore your options and get several opinions before choosing so that you can get the best inground pool for your needs.
Read more: Fiberglass vs. Vinyl Liner vs. Concrete Pools: An Honest Comparison
Is my backyard big enough for a pool?
This will depend on the size of your yard and the size of the pool that you want. For example, you should probably have a minimum of 1,200 square feet of space to install a small inground pool that's around 12 feet by 24 feet (this includes around ten feet on all sides to account for setbacks and patio). Keep in mind that this does not include space for water features, a spa, slides, or extra patio work around the pool.

If your backyard space is smaller than 1,200 square feet, you may still be able to get an inground pool, but it likely will not be bigger than 12 feet by 24 feet. However, it's difficult to say how much space you need without seeing your yard, knowing how large you want your pool to be, or knowing your setback requirements.
You can contact us to find out if the pool you want will fit in your backyard and to request pricing using the button below.
How small can an inground pool be?
Most of the smallest inground pools across all pool types, on average, are around 12 feet by 24 feet,10 feet by 20 feet, or 12 feet by 14 feet.

Inground pools can be even smaller than 12 feet by 14 feet, but you might not be able to swim laps very effectively or host as many people at pool parties. But no matter how small your pool is, you'll still be able to relax and cool off in the summertime, which is how people spend most of their time in the pool anyway.
Small Backyards with Small Pools
Curious about what your backyard might look like with a small swimming pool? Here are a few pictures of our fiberglass pool models in small backyards.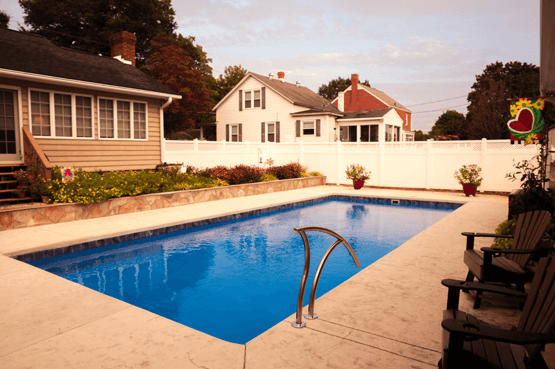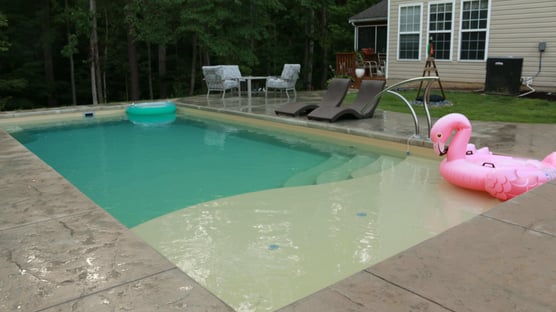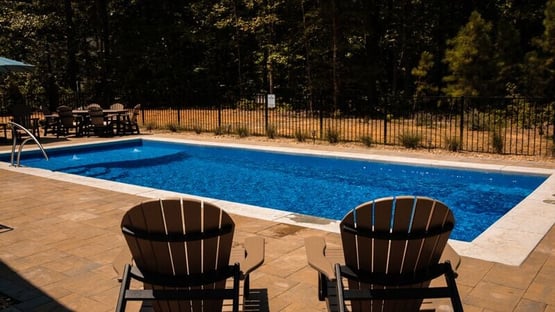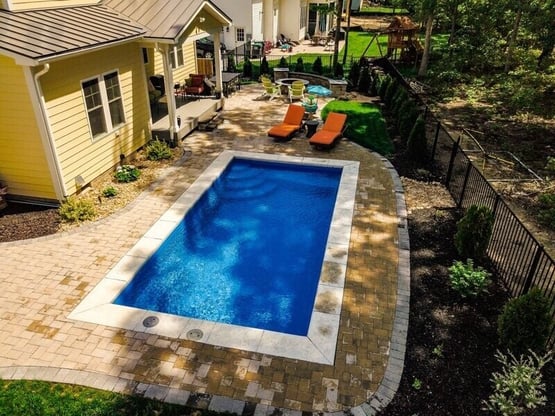 Read more: 25 Small Inground Pool Ideas for All Budgets

Alternatives to Backyard Inground Pools
If space is extremely limited in your backyard and not even a custom inground cocktail pool will fit, don't give up on your swimming pool dreams just yet! Here are a few more options to consider:
Rooftop pool

Indoor pool

Swim spa
Rooftop Pools
A rooftop pool can be a massive undertaking. While it might be a great option for people with small backyards, it's not the most budget-friendly route. Before you can build a rooftop pool, you'll likely need to significantly modify and fortify your home, which can cost thousands of dollars.
Read more: Who Can Get a Rooftop Pool?
Indoor Pools
Like a rooftop pool, an indoor pool is neither easy nor cheap to pull off, but it might be a great solution if you don't have any space for an outdoor pool. Most indoor pools can cost well over $100,000 to build inside an existing structure by the time you add adequate ventilation, heating, cooling, and dehumidification.
Read more: Indoor Swimming Pools 101: Cost, Construction, Advantages, & More!
Swim Spas
If all else fails and you can't have a backyard inground pool, rooftop pool, or indoor pool, you might want to look into getting a swim spa. Swim spas are often affordable and compact, and they can go indoors or outdoors (depending on where you put it).
The cool thing about swim spas is that they double as a hot tub, and you may actually be able to swim if your spa can simulate a current. They may also be beneficial for aquatic therapy purposes.
Overall, a small backyard shouldn't keep you from getting an inground swimming pool if you're willing to be flexible and make compromises. A super small yard might present a problem, but you may have still some good alternative options. If you have any questions, feel free to leave them below and we will answer them as soon as possible.

At River Pools, we manufacture world-class fiberglass pools for customers across North America. If you want to explore your fiberglass pool shape options, you can browse our catalog or explore our pool gallery. If you'd like more information on fiberglass pool pricing, you can request custom pricing here or try out our free pool cost calculator below.
---

Want to see about how much that cost will be with all your favorite pool accessories?
Use our Design and Price Tool to walk through your options and approximate price!
---
Up Next:
Small Inground Pools: Sizes, Shapes, Cost, Pros, & Cons