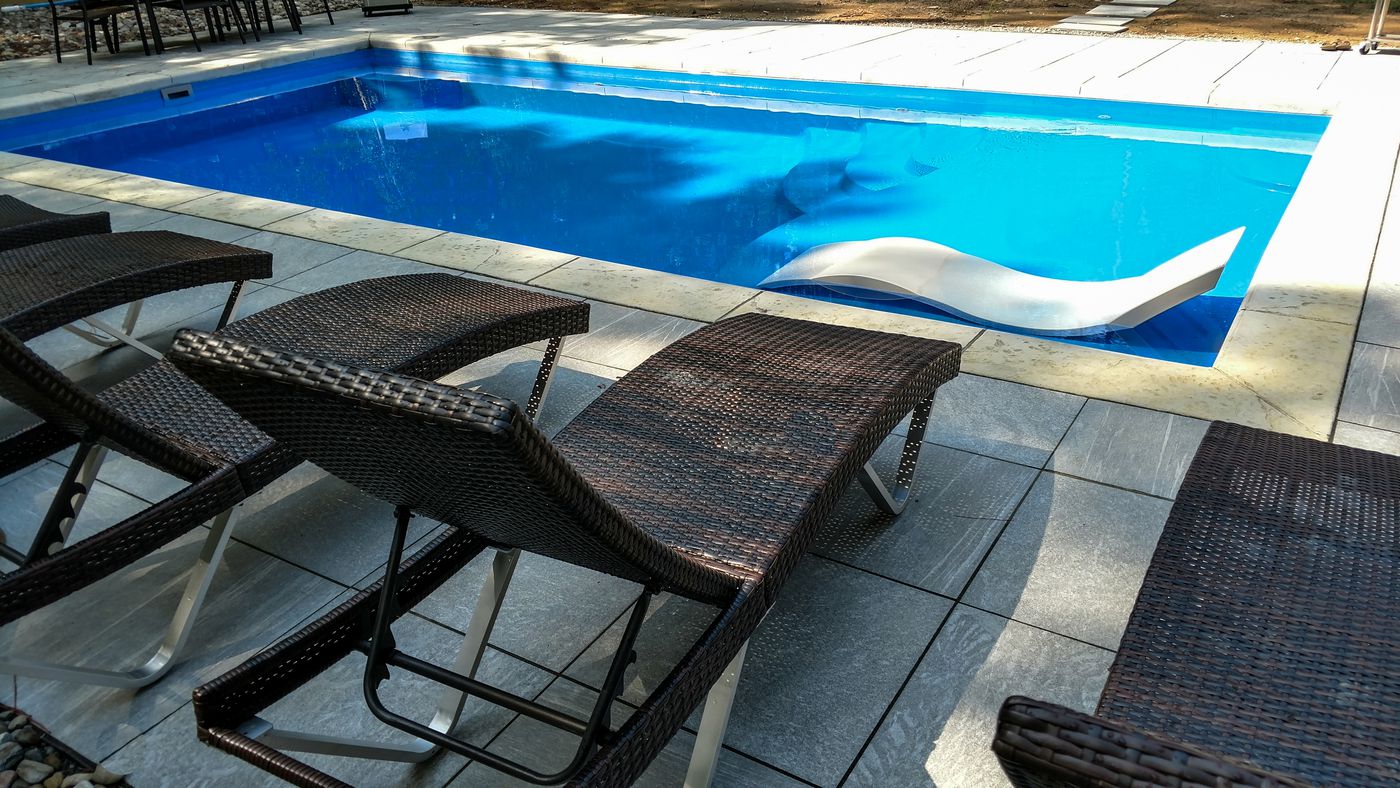 Subscribe
What Is a Prefab Pool? Types, Pros, Cons
Installation & Construction | Pool Design Guides
Are you thinking about buying an inground swimming pool but don't like how long they take to install? We're fiberglass pool manufacturers and inground pool experts, and we know that swimming pools can take months to build. Concrete pools can even take up to half a year to complete.

But what if you could get an inground pool quicker without much of the noise or mess?

If that sounds like an ideal scenario, a prefab pool may be what you're looking for.

This article will break down what a prefab pool is and compare two of the main prefab pool types: precast concrete pools and fiberglass pools. By the end, you should have a solid understanding of how these pools differ and whether a precast concrete pool or fiberglass pool is the right choice for you.
What is a prefab pool?
A prefab pool is an inground or above ground swimming pool that is fully manufactured in a facility and then shipped to your home for installation. These pools are usually installed much quicker than pools that need to be built on-site, like shotcrete pools and vinyl liner pools. The top two types of permanent prefab pools are fiberglass pools and precast concrete pools, so let's explore those in more detail.

What is a precast concrete pool?
A precast concrete swimming pool is a concrete pool that is constructed or "cast" using a mold in a manufacturing plant. To put it simply, it's a lot like making a DIY concrete bowl or planter at home except on a much larger scale. Once the concrete is poured and has completely cured, it is hauled to the site for installation.
This pool construction method isn't exactly a novelty, but it is a lot more convenient for the homeowner. In fact, this style of concrete swimming pool has been around since at least the 1940s.
Precast concrete pools are sometimes called plunge pools because they are usually much smaller than traditional shotcrete or gunite pools.
Why are precast concrete pools smaller?
Because these concrete pools need to be shipped and craned into place, just like a fiberglass pool, they can't be much longer than 40 feet or wider than 16 feet. Most precast concrete pools are smaller at around 15 feet wide and 35 feet long. You may find that many are extremely compact at about 12 feet long and 8 feet wide. These pools typically range in depth from 4 to 6 feet, making them true plunge pools.
Sometimes, precast concrete pools are built using precast concrete wall panels, which are assembled on-site rather than the shell arriving as a monolithic pool structure. This method might also require pouring additional concrete to complete the pool, which means that it's not 100% precast or prefab.
Are precast concrete pools good swimming pools?
Precast concrete pools are often higher quality than traditional shotcrete or gunite pools because they are built in better controlled environments where they are allowed to cure properly. Concrete pools that are built and cured outdoors may develop flaws because it's much more difficult to control how the outdoor environment affects the building process.
Precast Concrete Pool Installation
Precast concrete pools can be installed inground, above ground, or semi-inground, which means that they can also be infinity pools with vanishing edges. They may be installed on the dirt inground or above ground, or they might be placed on a pre-poured concrete slab for additional stability.

Typically, the installation time is much quicker since most of the building process takes place in the manufacturing facility. Like a fiberglass pool, precast concrete pools can be installed within weeks or even in as little as a few days.
Precast Concrete Pool Cost
Starting prices for precast concrete pools might range between $20,000 for very small plunge pools to $50,000 and up. A precast concrete pool's cost will likely be lower than a traditional concrete pool because of the smaller size and lower labor costs. Precast pool prices can also increase with more customized features and different installation methods.
Precast Concrete Pool Shapes
Precast concrete swimming pools are most commonly found in simple shapes like rectangles, squares, and circles. You may find a few organic or freeform options, but precast concrete pools are primarily made in rectangular designs.
Precast Concrete Pool vs. Cast-in-Place Concrete Pool
A precast pool is not to be confused with a cast-in-place concrete pool. A cast-in-place concrete pool is constructed with forms that are installed on-site. Concrete is then poured between or within the forms to create the desired pool shape. Cast-in-place pools are often more expensive than traditional shotcrete and gunite pools, but they offer much more uniform concrete like a precast pool and have aesthetic value.
What are the pros and cons of a precast concrete pool?
Precast concrete pools do come with some clear advantages compared to traditional concrete pools. Here are the main precast concrete pool pros and cons that you should know about:
Pros
Faster installation: Precast concrete pools can be installed within weeks, whereas traditional concrete pools take 3 to 6 months to build.
Less Noise: Shotcrete machines are loud, and the entire process of building a concrete pool is long, noisy, and messy. Installing a prefab concrete pool takes away many of those unpleasant drawbacks.
May be cheaper: Precast concrete pools tend to be smaller due to shipping size limitations, but the shorter installation time combined with a smaller pool size usually means lower costs.
Multiple installation options: Precast concrete pools can easily be installed inground, above ground, or semi-inground, depending on your preferences.
Cons
Smaller size: Like fiberglass pools, prefab concrete pools can't be much larger than 16 feet wide and 40 feet long. Many precast concrete pools might not be larger than 8 feet by 15 feet.
High maintenance: Concrete pools are the most high maintenance swimming pools thanks to the porous plaster surface. Tile pool surfaces are a little bit easier to maintain, but they are also very expensive.
Prone to cracks: Concrete is prone to cracking, so you can probably count on your pool developing structural cracks over time.
High lifetime costs: Concrete swimming pools tend to cost more over time due to additional chemical usage, more extensive cleaning demands, and resurfacing costs.
Fewer options: Precast concrete pools are usually plain rectangle, square, or circle pools. There may be a few freeform designs, but your options will be much more limited compared to the infinite shapes that you can create for a custom shotcrete or gunite pool.
What is a fiberglass pool?
Fiberglass pools are prefab, one-piece swimming pools that are made using different types of fiberglass and resins. These materials produce a more durable and flexible pool shell with a smooth and long-lasting surface. Fiberglass pools usually cost around $40,000 to $85,000 and up on average but can cost more with expensive upgrades and accessories.
Typically, a fiberglass pool can be installed within 2 to 4 weeks, but the pool is usually in the ground and full of water by day 2. Like precast concrete pools, fiberglass pools can be installed inground, semi-inground, or fully above ground.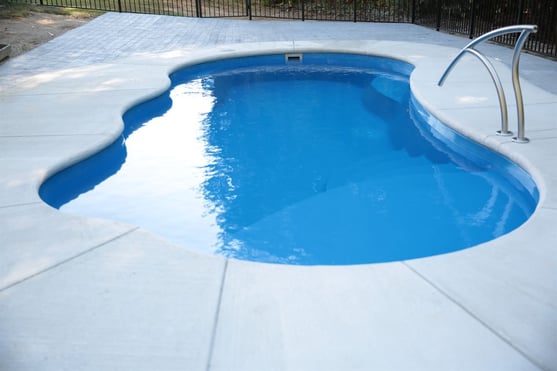 Since we manufacture fiberglass swimming pools, we offer tons of resources about fiberglass pools in written and video format. We encourage you to explore these resources if you'd like to take a deeper dive into how fiberglass pools are made and the benefits of owning one.
Read more: Fiberglass Pools: Manufacturing, Installation, Pros, Cons
Precast Concrete Pools vs. Fiberglass Pools
Both fiberglass and precast concrete pools are in the prefab pool category and are relatively quick to install. But there are key differences between fiberglass and concrete pools that will affect your experience as a pool owner:
Fiberglass pools are more flexible
Fiberglass swimming pools are made from fiberglass, which makes them very flexible. Unlike a concrete pool, fiberglass pools don't crack easily and are much more structurally durable.
Fiberglass pools are easier to maintain
Gelcoat is the standard surface for fiberglass pools, while concrete pools typically use plaster, tile, or pebble. Gelcoat is smooth and mostly nonporous, making maintenance easier and cheaper by keeping algae away.
Fiberglass pools offer more shape variety
Precast concrete pools aren't as popular as shotcrete or gunite pools, and they are also not as prevalent as fiberglass pools. Across all fiberglass pool manufacturers, you'll have hundreds of fiberglass pool models to choose from, whereas you may have a narrower range of options while shopping for a precast concrete pool.
Concrete pools offer more surface options
Fiberglass pools generally only come with a gelcoat surface, but if you're interested in having a pebble, plaster, or all-tile pool, a precast concrete pool may be the way to go.
Have questions about precast pools or inground pools in general? Feel free to ask away in the comments below.
At River Pools, we manufacture high-quality fiberglass swimming pools for homeowners across North America. If you'd like to speak to someone about your fiberglass pool options, you can fill out our contact request form using the button below for pricing and more information. If you'd like a fast estimate for your fiberglass pool project, you can try out our pool pricing calculator today. Happy swimming!
Up Next:
Concrete Pools vs. Fiberglass Pools: An Honest Comparison

What Is a Cocktail Pool? Designs, Dimensions, Cost, and More