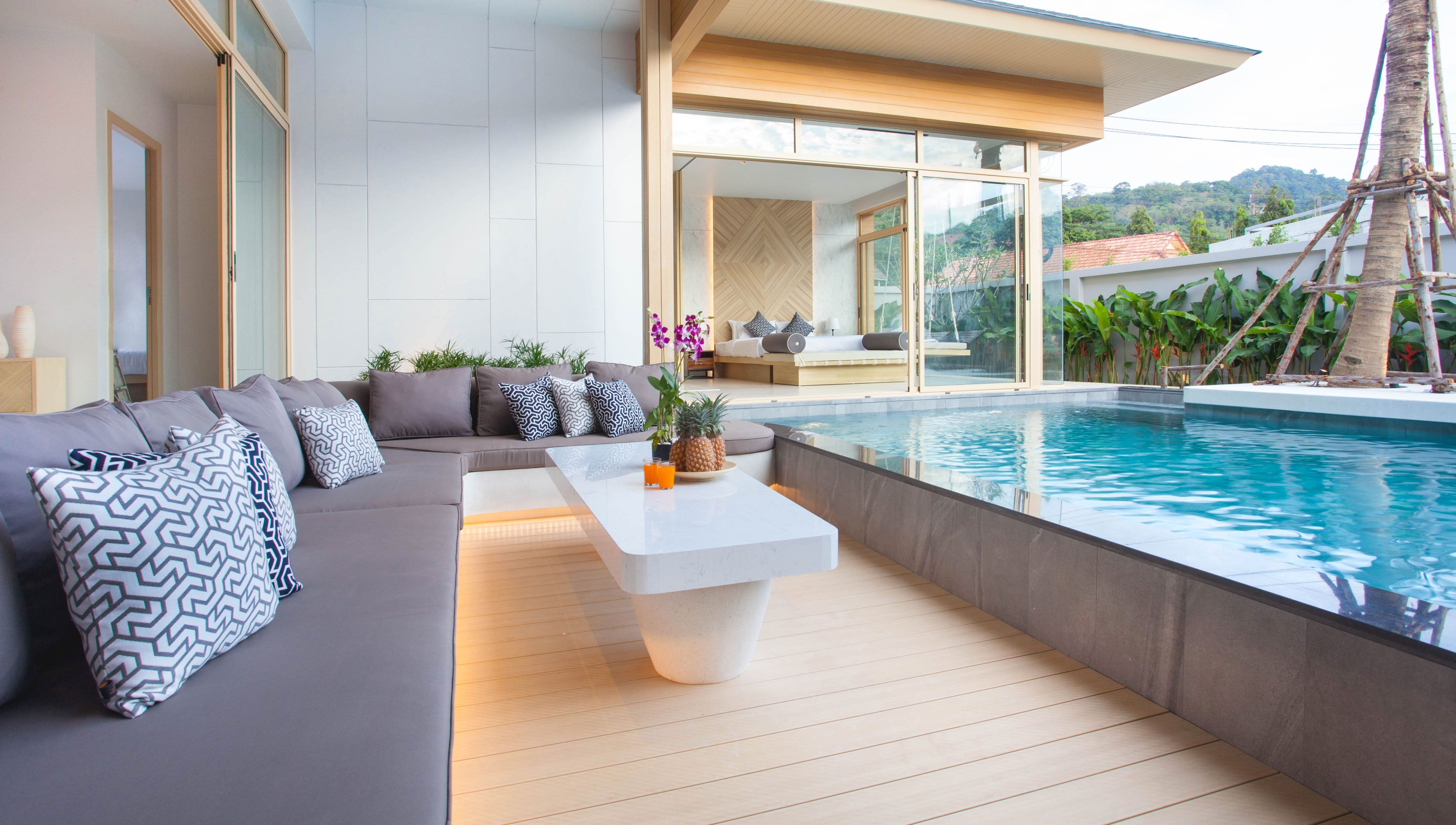 Subscribe
What Is a Semi Inground Pool? A Review of Cost, Problems, and More
Installation & Construction | Swimming Pool Design
Interested in getting your own swimming pool?
You have two options: inground and above ground. But what if you want a little bit of both?
That's what they call a semi inground pool, and technically, it's a third option.
At River Pools, we've been manufacturing and installing fiberglass pools for years. Most of them are installed inground, but we've also installed our pools above ground and even on rooftops.
Semi inground pools are a little bit different in terms of aesthetics and the installation process, so in this article, we're breaking down the key factors that set semi inground pools apart to help you decide if it's a good fit for you.

What is a Semi Inground Pool?
A semi inground pool is exactly what it sounds like: a swimming pool that is partially installed in the ground and partially installed above ground. Usually, most of the pool is still inground, but part of the pool will be raised a few feet or more.
Whether you install a fiberglass, concrete, or vinyl liner pool, the installation and cost will differ depending on the pool type and the materials that you use to build around it.
Some people like to use the raised sides of a semi inground pool for bar space, water features (like waterfalls or vanishing edges), and multiple pool entry points.
Keep in mind that you can install an above ground pool semi inground, but it's not the same as building an inground pool semi inground.
What's the difference?
The vast majority of above ground pools that you can buy in a kit and assemble in your yard are temporary. While you can partially or entirely lower them into the ground, they're not what we know of as inground pools, which are more permanent structures.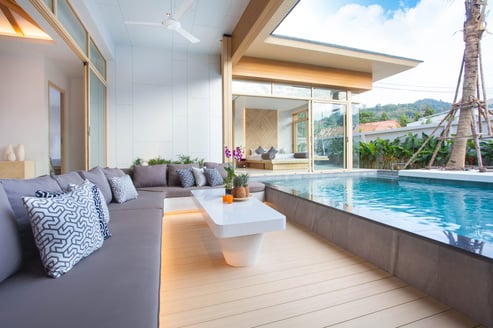 Semi inground concrete pool
How Much Does a Semi Inground Pool Cost?
A semi inground pool might cost about the same as an inground pool plus additional labor and materials for forming the walls around it. The key factor is the building materials and how you choose to upgrade the surrounding walls of the pool.
The walls of a semi inground pool are for more than just aesthetics. Since they need to support the pool and withstand the pressure of thousands of gallons of water, semi inground pool walls will need to be very sturdy, and that means that they will not come cheap.
You can expect your pool walls to cost as much as a retaining wall, which is roughly $7,000-$20,000 depending on the materials and/or the size and shape of the blocks used. Here's a rule to remember as you research semi inground pool designs: the bigger the pool and the higher the walls, the more you can expect to pay.
Keep in mind that we're referring to inground pools that are installed semi inground and not above ground pool kits that are partially lowered into the ground.
To give you a base estimate for how much swimming pools cost before adding the price of the walls, a vinyl liner pool will cost you between 25k and 65k, a fiberglass pool will cost you between around 40k and 85k, and a concrete pool will cost you between about 50k and 100k. You can read more about inground pool packages and their prices here.
What Are the Semi Inground Pool Sizes?
Semi inground pools come in all of the same sizes as traditional inground pools. Your pool size options will typically range from 12x24 feet on the smaller end to 20x40 feet for larger swimming pools.
Want to know how much pools cost by size and type? Read our full guide to learn more about your size and price options.
Semi Inground Pool Installation
Semi Inground Pool vs Inground Pool vs Above ground pool: What's the Difference?
The only difference between a semi inground pool and an inground pool is the degree to which the pool is actually in the ground (again, we're talking concrete, vinyl liner, and fiberglass pools).
A semi inground pool may be only slightly or almost completely above ground while an inground pool is pretty much always installed entirely submerged in the ground. An above ground pool, on the other hand, is constructed or installed 100% above ground. These pools usually require a deck or some other way to access the pool.
What Are Some Semi Inground Pool Problems to Watch Out For?
While semi inground pools aren't more problematic than regular inground pools by default, they do have more elements that need to be maintained. The walls and any water features or structures built around them will need to be maintained and periodically repaired if necessary to keep the pool in good condition. Remember, the walls are supporting the pool, and they need to be kept in the best shape possible.
While it's not a major problem, one inconvenience that you may experience with a semi inground pool is higher water temperature. Inground pools tend to be cooler because they are completely surrounded by earth. A raised semi inground pool will not benefit you as much, so if you live in an area that has scorching summers, you might want to invest in a pool chiller.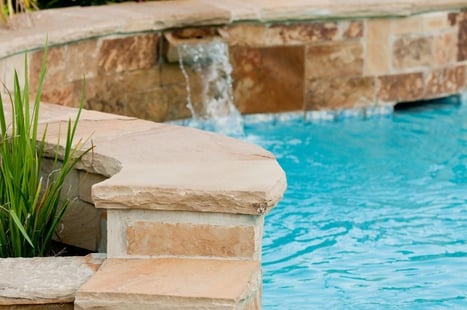 Semi inground pool with stone wall
What Materials Can I Use to Build My Semi Inground Pool?
Aside from the materials that you would use to build your actual swimming pool, your semi inground pool walls can be built using concrete, stone, brick, and even glass (very, very strong glass!). The materials that you choose will affect your final semi inground pool price, so keep this in mind as you sift through your options.
Who Is a Semi Inground Pool a Good Fit For?
People often choose a semi inground pool installation for its aesthetics alone. They are really nice to look at, and the walls provide a lot of flexibility in terms of customization, function, and style. For example, semi inground pools are often ideal starting points for an infinity pool design due to the way its raised edges can be built to spill over into a disguised or hidden catchment area surrounding the pool.
Just look at what you can do with only one wall around your pool: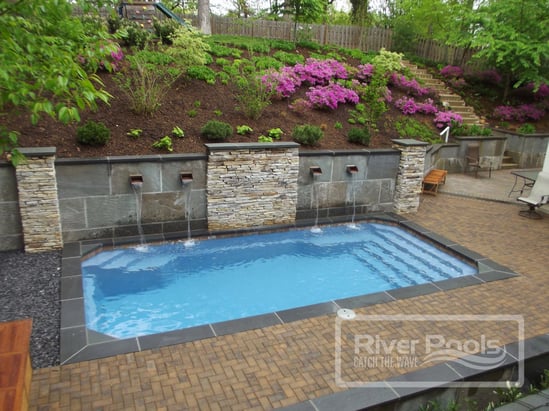 Pool with retaining wall
Sometimes, however, a semi inground pool is also a good alternative option for certain types of yards, like sloped yards. Such yards would usually require at least one retaining wall, and having a semi inground pool with walls on all sides could serve a similar function and help to build a level pool without doing too much digging.
Rock and groundwater may also provide another reason to opt for a semi inground pool. While it's not always a guarantee that it will be more affordable, it can save a lot of trouble in certain areas.
Can a Fiberglass Pool be Semi Inground?
Yes! As we said before, fiberglass pools can be inground, above ground, and even on the roof. A semi inground fiberglass pool installation will require a few new steps in the installation process, but it will definitely be an option for you if you like the look or if you live on uneven terrain.
If you'd like to learn more about your fiberglass semi inground pool options, check out our full catalog of fiberglass pool models. We have pools of all shapes and sizes and with popular built-in features like tanning ledges, benches, and spas.
Want to know exactly how much your fiberglass pool will cost? Contact us today to request pricing and in the meantime, try out our pool pricing calculator below for a fast estimate:
---

Want to see about how much that cost will be with all your favorite pool accessories?
Use our Design and Price Tool to walk through your options and approximate price!
---
If you're still shopping around for the right inground swimming pool, be sure to download our free ebook to get a full in-depth comparison of the three main inground pool types.
As always, if you have any questions for us, please leave them in the comments.
Up Next:
An Honest Look at Fiberglass Inground Pool Prices and Monthly Pool Payments in 2020
Do Fiberglass Pools Need to be Resurfaced?
Wooden Decks for Inground Swimming Pools: Cost, Types, and More