Today's article won't be focusing on fiberglass pools, but on an optional feature to aid with pool maintenance and safety. Kristina Gale, owner of River Pools® of Salt Lake, will be sharing pros and cons of having an automatic cover for your pool, to hopefully help if you're on the fence about getting one yourself. When I was shopping for a pool for my family, a reliable automatic pool cover was an absolute must. Now that I sell them here in Utah, I hear feedback from many customers. Based on that feedback and my experience, I want to give you a comprehensive list of the pros and cons of owning an automatic pool cover so that you can decide for yourself whether it is the right choice for you. What Is An Automatic Pool Cover?
Options and Accessories | Swimming Pool Accessories
The following is a guest post by Conner Flynn from Gadget Review.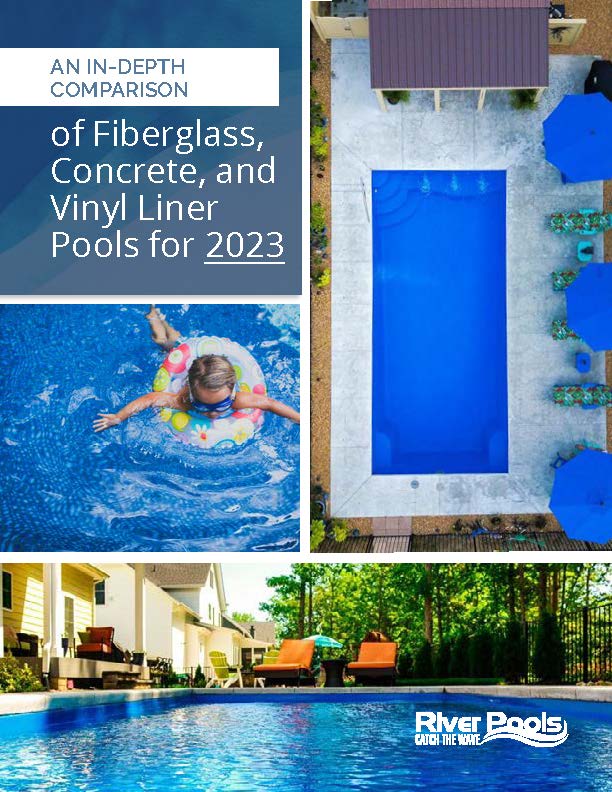 Comparing Fiberglass, Concrete, and Vinyl Liner Pools in the Modern Age
Don't blindly wonder if a fiberglass, concrete, or vinyl liner pool is right for you. Our educational ebook does a deep-dive comparison of the 3 types, all while noting the advantages and disadvantages of each.
Options and Accessories | Swimming Pool Accessories
The following is a guest post from Diane Pierce at Authentic Plaster & Tile. Both saltwater pools and traditional chlorine types have awesome features. If you're on the fence, you certainly aren't alone. Which features suit you best? Read on!
Concrete Pool Information | Pool Maintenance
The following is a guest post from Diane Pierce at Authentic Plaster & Tile. Owning a pool can be a relaxing way to take a break after a long day, or enjoy the majority of your summer vacation. They're the ideal location for any backyard barbecue where friends and family can gather together, connect with each other, eat good food, and splash around. They can also be a lot of work if not properly maintained in a timely manner.
Hey guys, my name is Mike Harper, aka The Pool Care Guy, and in today's post I'm going to be talking about the pool water saturation index. It's a bit of a complex topic that involves lots of numbers, but I'll try to break it down into plain English as best I can. The water saturation index, officially known as the LSI (Langelier Saturation Index), is a scientific formula created to calculate the perfect water balance, or essentially whether it is corrosive or scaling. Specifically, it's defined as "an approximate indicator of the degree of saturation of calcium carbonate in water."
Patio and Coping | Pool Maintenance
The following is a guest article from Bill Michaels at Patterned Concrete. Nothing beats that "fresh, new look." Unfortunately, too many things in life lose their luster if not properly cared for. That can be the case even for something as stable as stamped concrete, but it doesn't have to be. Your new installation is beautiful, whether it's your patio, walkway or even indoor surface. With proper care it can keep up its appearance and luster for many years.
The following is a guest post from Mike Harper, aka The Pool Care Guy. Flocculant may sound like the white fluffy stuff you spray on your fake tree at Christmas, but it's actually a really useful chemical you can use to clean up a cloudy pool. In fact, it's probably the fastest way to clear up a pool that you can't seem to get clean with your filtration system. But in case that's not enough information for you, let's talk about it a little more.
Finding A Pool Contractor | Options and Accessories
Note: This is a guest post from Bob Ault, the man I consider 'The Father of Fiberglass Pool Tiling'. For quite some time now, I've been pestering Bob about contributing a guest post here to our blog because I know he's informed, opinionated, and GREAT at what he does. Over the past few years Bob and I have developed a friendship stemming from our desire to help elevate the education and information levels in the fiberglass pool industry. Despite the fact that we may disagree on a few points here or there, I truly believe Bob is one of the great ones in this industry and feel honored to have his thoughts on our platform here at River Pools.
Fiberglass Pool Information | Options and Accessories
This is a guest post from from Kate Brown of Hydroworx. If someone does not get the proper amount of exercise due to unfortunate medical circumstances such as age, weakening muscles and bone mass, and athletic injuries, aquatic therapy may be the solution. Aquatic therapy is a form of physical therapy or exercise that takes place in the water. Movement in the water reduces the weight placed on bones and joints making exercise easier for those who suffer from arthritis, strains, or sprains. Water also provides resistance for those looking to strength or endurance train but also provides assistance for those who need help completing certain movements. The assistance provided by the water allows people to gradually evolve through various levels of exercise without the pain that can come from stress to the knees, hips, or ankles.