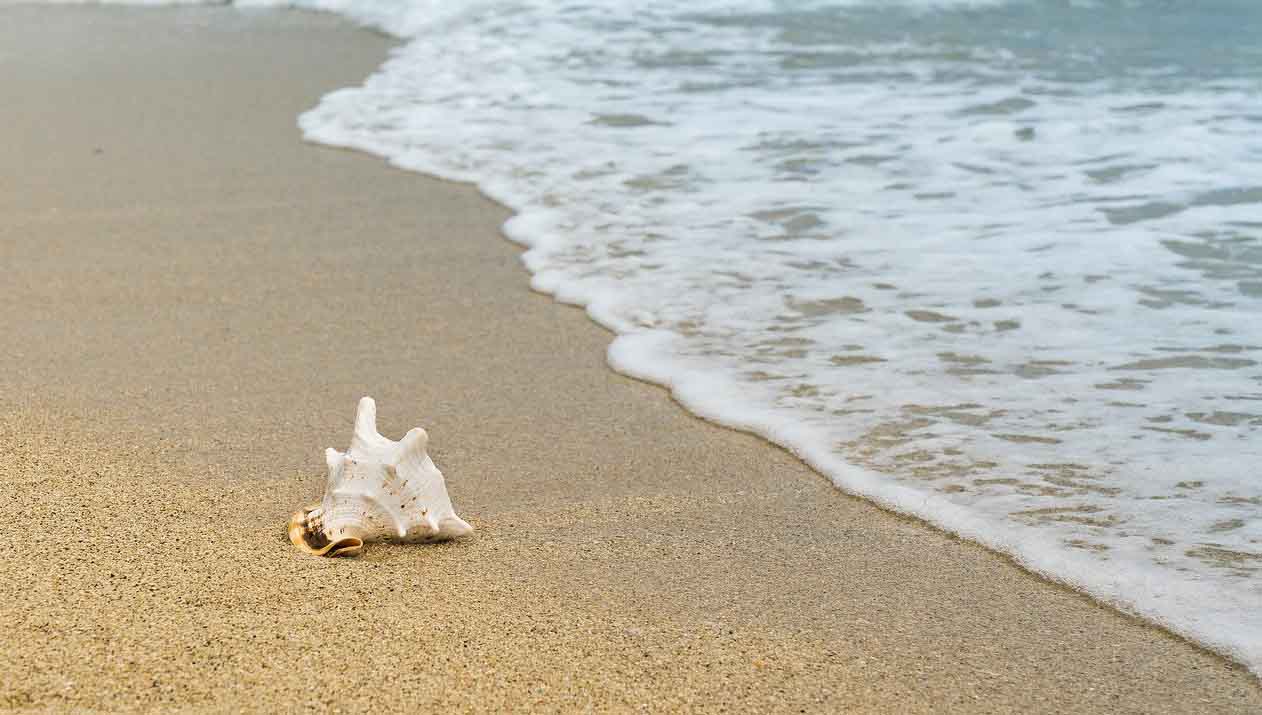 Subscribe
What is a Beach Entry Pool?
Pool Design Guides | Swimming Pool Design
Do you ever wish that you had a private beach in your backyard without all the critters living in it or the forces of nature to contend with? We know that's only a fantasy, but you can get close.
Enter the beach entry swimming pool. It doesn't really compare to a real beach, but it might be as close as it gets.
Beach entry pools have been around for several decades in the swimming pool world, but what exactly is a beach entry pool and how does it change your options?
Beach entries are considered by many to be an appealing feature, but like everything else they do have limitations. In this article, we'll explore the beach entry pool basics and let you decide if it might be a good option for you.
At River Pools, we specialize in manufacturing and installing fiberglass swimming pools, and since we have been in the pool industry for many years, we decided to offer our professional review on beach entry pool designs, prices, pros, and cons to help you determine if it's right for you.
Let's dive in.
What is a Beach Entry Pool?
A beach entry pool, often called a zero entry pool, gets its name from the fact that it, well, looks like a beach. As you walk into the shallow end, the water gets deeper with every step, giving you an experience similar to wading into a lake or ocean. Take a look at the image below to see what a beach entry pool can look like.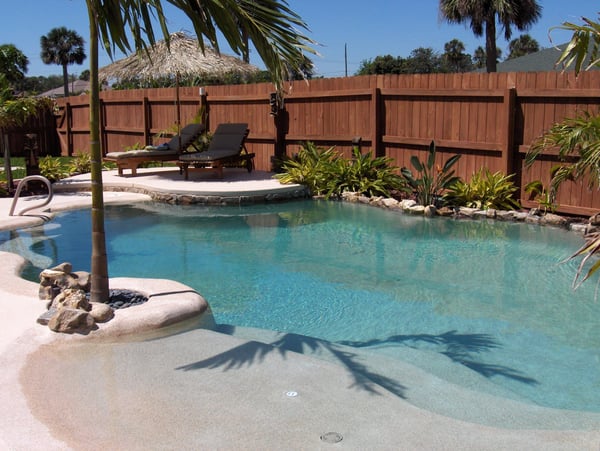 The main advantages of beach entry/zero entry pools are that they look stunning and they make the pool highly accessible (think young children, elderly people, and people with disabilities). These pools can also have steps or stairs, like the example above, depending on what you prefer.
The upper end of the ramp also serves as a tanning ledge, allowing you to lounge in the shallow water while sunning yourself or sipping a drink. Now that really looks like a day at the beach!
Some people love the beach so much that they decorate their beach entry pool with sand and a few sun loungers. This kind of decor makes it look even more realistic and adds a lot of personality to the space. Most people, however, will just choose sand-colored materials to make it look like a beach without the hassle of dealing with actual sand.
How Much Does a Beach Entry Pool Cost?
As awesome as beach entry pools are, you're going to have to pay premium rates for one (around an additional $7,000 for the beach entry itself). Why is that?
There are a few key reasons why beach entry pools tend to cost more.
First and foremost, the pool itself needs to be larger to include the gradual slope. Specifically, the pool needs to be longer so that the slope from the entry point to the shallow end won't be too steep. A longer ramp equals a bigger pool, which means more materials and higher costs.
Second, there aren't too many contractors who specialize in building beach entry pools, so you'll have to hire an expert who will probably charge premium prices.
Keep in mind that prices vary, as with every swimming pool, but you should be prepared to pay several thousand more for your beach entry.
How Big Are Beach Entry Pools?
There really is no standard size for a beach entry pool as most of them are custom built for the pool owner. It can be as large or as small as you want it to be.
Bear in mind that beach entry pools will almost always be larger than traditional pools of similar dimensions in order to include the beach entry. This is why beach entry pools aren't always the best choice for small yards.
Types of Beach Entry Pools
Because of the way that a beach entry is designed, vinyl liners are not an option when it comes to this style of pool. That leaves you with two main options: concrete or fiberglass.
Concrete is far and away the most popular choice for a number of reasons. First, it offers much more flexibility in terms of color and style (you can make it look like an actual beach with sand or sand colored plaster and stone).
A fiberglass beach entry pool is extremely durable, like all good fiberglass pools, and much lower maintenance than concrete. They also come in a range of colors including white, ocean blue, and sandstone. The main issue that you might run into is a size limitation, but that applies to all fiberglass pools.
Fiberglass pools are manufactured offsite, and they need to be a size that can fit onto a truck and hauled to your home. For this reason they are typically not much larger than 40 feet by 16 feet.
An alternative to the fiberglass beach entry pool would be a fiberglass model with a tanning ledge built-in, or you can install a separate fiberglass tanning ledge beside your main pool. This will give you a shallow area for relaxing (with or without furniture), and trust us when we say that it will be way more comfortable to sit on than rough plaster or stone.

Fiberglass pool with tanning ledge
Beach Entry Pools Pros and Cons
As we discussed, beach entry pools offer some great benefits, but they also come with a few drawbacks. Let's start with the positive:
Pros
Easy entry for everyone

Visually stunning

Create your own personal beach

Use the beach entry like a tanning ledge to relax and cool off
Cons
Concrete pool surfaces can be rough for sitting and lying down
The design will take up a lot of additional space
It can increase the cost of the project by several thousand dollars minimum
You can't create this using a vinyl liner
Our Beach Entry Pool Review
Beach entry pools are awesome. After all, what's cooler than having your own beach in your backyard? They also boost accessibility to your pool and make it easy for everyone to get in and have fun.
On the flip side, they can be much more expensive and require more space than traditional pools. They also severely limit your options (concrete or fiberglass, and there are only a few true beach entry fiberglass pool models available on the market). Hopefully you now have a few points to ponder, to help you decide if a beach entry pool is right for you and your family.
If you decide that a beach entry is not for you, a traditional pool can be more affordable and offer more space for swimming while still providing areas for relaxing and cooling off. Non-beach entry pools are also suitable for backyards of all sizes and can be customized with water features, tanning ledges, and more.
At River Pools, we manufacture world-class fiberglass swimming pools for customers across North America. Why not take a look at our models while you're here, or check out our pricing guide? You can also request a custom quote or try our pool cost calculator see how a durable fiberglass pool will fit with your budget.
Still not sure which type of pool is right for you? Download our free ebook below comparing the three main types of swimming pools.
Up Next:
How Much Do Above Ground and Inground Swimming Pools Cost?
How Much Is My Fiberglass Pool Really Going to Cost?