Subscribe
How Deep Are Fiberglass Pools?
Fiberglass Pool Information | Fiberglass Pool Manufacturers | Pool Design Guides
Fiberglass pools come in many different sizes and shapes.
Back in the 1970s and '80s, you were limited in the selection of sizes and shapes of fiberglass pools. Fiberglass pools came in two colors, white and powder blue.
But today there are a wide variety of fiberglass pools to choose from, including a wide variety of colors to pick from. This is due to more people getting into the manufacturing of fiberglass pools and the advancements that have been made in the gel coat industry.
How deep can a fiberglass pool be?
Usually the depth of a fiberglass pool is dictated by the size. Most manufacturers make the smaller pools shallower than the larger pools.
Naturally if when a pool has an 8' deep end then it will probably be 40' long so it can be used for diving.
Usually when the pool is 8' deep the deep end is done as a hopper. This means that instead of a gradual slope from the shallow end to the deep end you have a flat surface that is 3 ½' deep for about 12' and then the ramp which takes up about 13', and then the 8' deep end which is usually about 14' in length.
Keep in mind that not all fiberglass pools that have an 8' deep end are suitable for diving. You will want to make sure the pool is within the code guidelines for diving before purchasing the pool.
Most fiberglass pools tend to be 3 ½' to 5 ½' deep on pools that are 27' long and smaller. On pools that are 27' to 35' long the depths range from 3 ½' to 6 ½'. On pools that are 35' to 44' long the depths can go anywhere from 3 ½' to 8 ½' deep.
There are a few companies that make fiberglass sport pools where the pool has a V bottom and is 3 ½' deep on both end of the pool and 5 ½' deep in the middle of the pool. These pools are generally used for volleyball. Usually these pools do not do well for jumping off the side of the pool because you need to focus on jumping into the middle of the pool vs. jumping off the end of the pool.
Some fiberglass pool manufacturers are now realizing that people want pools that they can play in, so they are making their pools more play friendly with the depths. Those will be pools that are 3 ½' to 5 ½' deep pools.
For more information you may want to look at these following articles also.
The perfect deep end fiberglass pool
River Pools' newest fiberglass pool, the T40 model, runs from 3'8" in the shallow end to 8'6" in the deep end.
It's 40 feet long and qualifies as a Type III diving pool!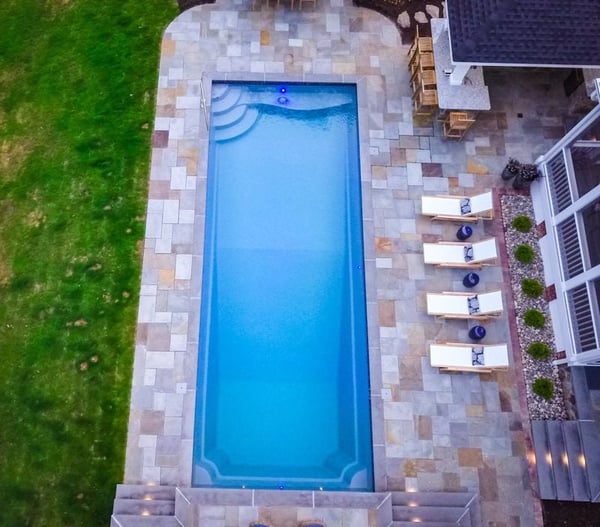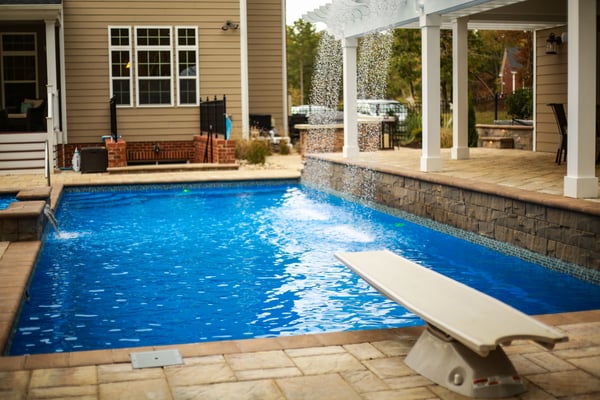 We believe it's the best deep-end fiberglass pool on the market for 2 reasons:
Virtually all deep-end pools have a tiny shallow end, which is where most folks congregate. Because of the slope of the floor, the shallow end of T40 is 40% larger than typical deep end pools.
Most of the deep-end fiberglass pools on the market are only 8'0" deep. The T40 is 8'6" deep and qualifies as a Type III diving pool.
Want even more awesome information about fiberglass pools?
If so, read through our comprehensive ebook about them, and get in touch with us to see if this might be the right choice for you.
Up Next:
What Is the Best Rectangular Fiberglass Pool Design?
Large Fiberglass Pools FAQ: Cost, Designs, Pros and Cons
The Pros and Cons of Fiberglass Pools
---
Editor's note: This blog article was originally published in October 2014 and has been updated and revamped for accuracy and appearance.