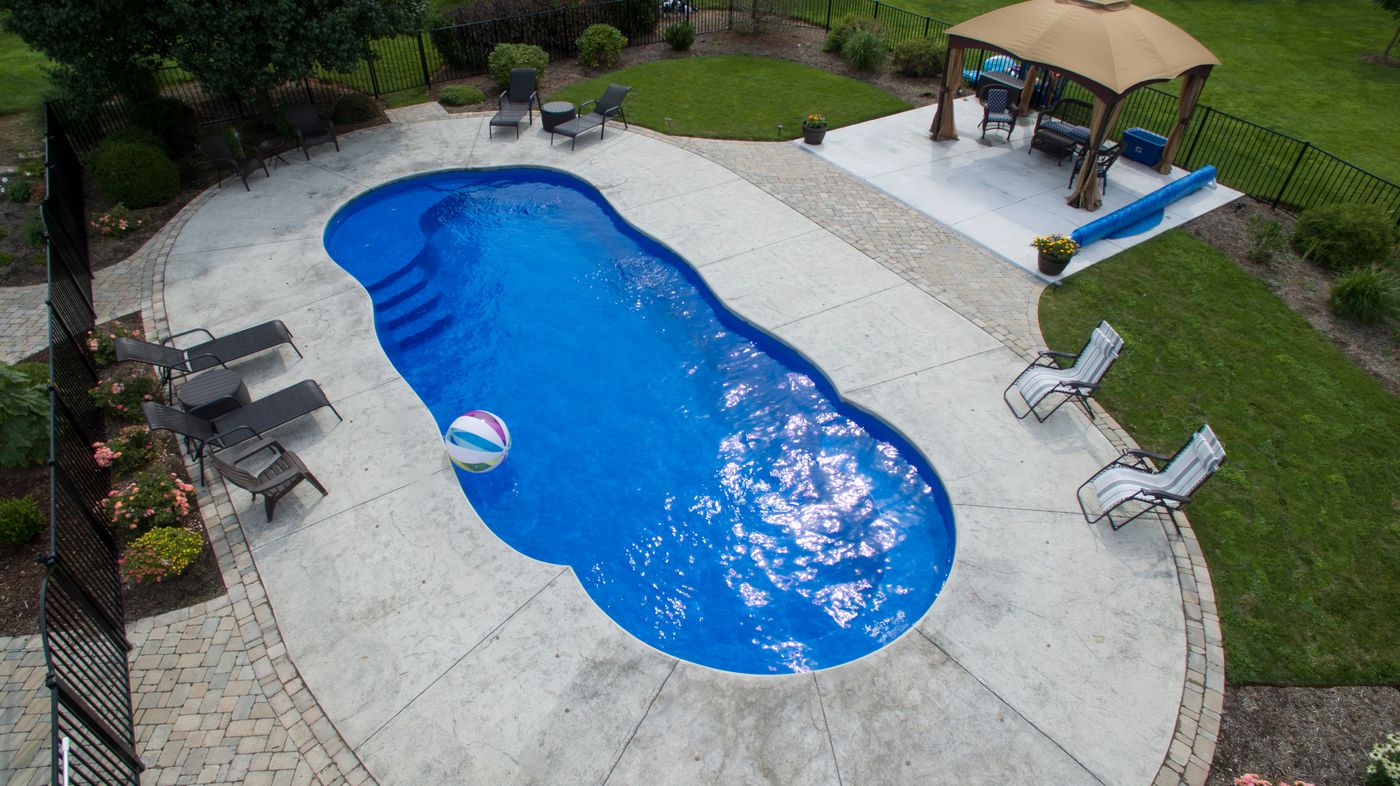 Subscribe
Fiberglass Swimming Pools 101: Manufacturing, Cost, and More
Fiberglass Pool Information | Pool Maintenance | DIY Fiberglass Pools
So, you're finally ready to get your own inground swimming pool. Chances are, this is something that you have been dreaming about for years, and we couldn't be more excited for you.
At River Pools, we have installed 1,400 fiberglass swimming pools for our customers over the years, and we know just how exciting buying a pool can be. In fact, we feel that's exactly as it should be.
We never want our customers to experience any type of stress or frustration during the whole process of choosing, buying, and installing a swimming pool. But before any of that can begin, the research phase usually comes first.
This phase typically includes learning about each pool type, how your pool is made, the maintenance that your pool will require, and some of your pool builder options.
To help you get the most information that you can upfront while learning about inground fiberglass swimming pools, we decided to write this beginner's guide. Let us know in the comments if you have any additional questions, or feel free to contact us any time to ask questions and request pricing.
Let's start by defining what exactly a fiberglass pool is.
What Is a Fiberglass Pool?
To answer the question What is a fiberglass pool?, we should start by answering What is fiberglass?

Simply put, fiberglass is glass fiber mixed with plastic. When tiny glass fibers are layered with polyester resin, they make a durable, lightweight, and flexible material that's perfect for building inground pool shells (and boats, airplanes, cars, etc.).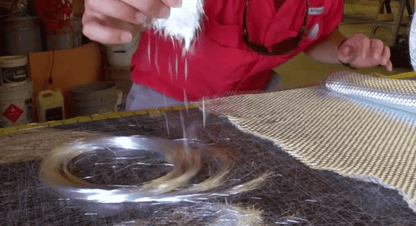 Fiberglass pools are made up of this material in a few different forms. We'll explain this in more detail in the next section covering how your fiberglass pool is made. And to put you at ease, no, fiberglass pools are not toxic.
How Are Fiberglass Pools Made?
We have already covered how fiberglass pools are made, including how we manufacture them in our own plant in Virginia, so we'll keep this part simple and stick to the basics. Here are the key fiberglass pool manufacturing steps that you need to know:
1. It all starts with a mold. We build the pattern (or plug) of the pool from scratch out of wood. Once the wooden frame is built and the pool shape is set, we start building the mold inside of the pattern. We can use the mold to make hundreds of fiberglass swimming pools, each with the exact same shape and features. Note: It's extremely important that the mold is built level and true so that each swimming pool can be made level as well.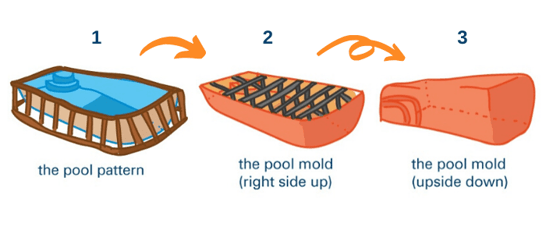 2. To make a fiberglass swimming pool shell

from a mold, we start by spraying the outside of the mold with the gelcoat layer. The gelcoat is the smooth surface of the pool that you see and touch.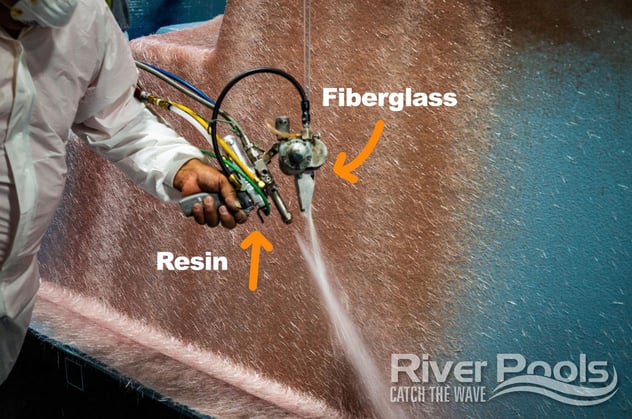 4. The next layer uses chopped fiberglass and polyester resin. We only need one layer of vinyl ester resin to make the pool watertight, so we finish the rest of the pool shell with traditional polyester resin. We also layer on woven roving (woven glass fibers) onto stress points of the pool and apply structural honeycomb fiberglass in strategic areas to add even more strength.

5. Finally we spray on one last layer of fiberglass with polyester resin before we let the pool cure, remove it from the mold, trim the excess fiberglass from the edges, and perform our quality inspection.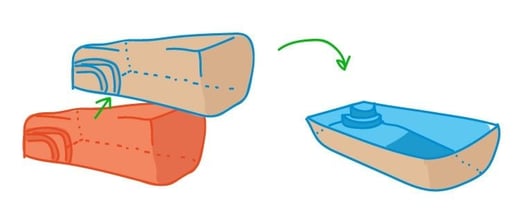 Because manufacturing is such an important stage in the construction of your swimming pool, we made an eight-part video series to explain it all step by step. If you are seriously considering choosing a fiberglass pool for your home, we encourage you to watch this series so that you can at least acquaint yourself with what high-quality manufacturing should look like, no matter which manufacturer you end up buying from.
How Are Fiberglass Pools Installed?
The installation is one of the best parts about choosing a fiberglass pool for your home. The main reason: It's fast. In general, you can expect your fiberglass pool installation to be done within 2-4 weeks (compare that to vinyl liner pools which take 4-8 weeks and concrete pools which can take up to 6 months or more).
Most of the time, a fiberglass pool can be in the ground and full of water by day 2. This is because fiberglass pools are made in a manufacturing plant, so they're fully built, including features like tanning ledges, spas, and benches, by the time they arrive at your house.
With a vinyl liner pool, the pool walls have to be installed one section at a time, and any additional features that you want will take extra time to install.
We already have several extensive guides on how fiberglass pools are installed, so we'll just give you a quick breakdown here:
Step #1 You guessed it...we start with the excavation. The excavation of the hole usually takes a few hours to a day, depending on the size of the pool. Note: A lot of dirt will come out of the excavation, even for a small pool.
Step #2 When the pool arrives at your home, our team unloads the pool and begins installing the fittings and plumbing around it.
Step #3 Next, we place a 2-inch thick layer of clean crushed stone (not sand!) in the hole. The stone prevents the pool from shifting and settling over time, which are common problems that can occur when using sand.
Step #4 Finally, we can place the pool in the ground while carefully setting and leveling it. The industry standard calls for the pool to be level within one inch, but we typically shoot for being level within one-half inch.
Step #5 Once we place the pool in the ground, we can set up the plumbing and work on installing the filter system.
Step #6 Next, we need to start backfilling around the pool with stone (we use clean crushed blue stone because it holds its place and drains well). It's important that we simultaneously fill the pool with water while backfilling the outside to equalize the pressure from both sides. We also install a dewatering pipe during this phase, and the electrician can start wiring the pool equipment.
Step #7 Once that's finished, we inspect the pool and install the waterline tile (if requested).
Step #8 The coping and patio are some of the final steps in completing a fiberglass pool installation. These can take between 2-5 days to install, depending on the size of the patio and the materials used. We use The River Pools Way installation methodology while installing our patios to help lock the swimming pool into place. As a part of this installation methodology, River Rods are placed to fuse the pool and patio together (this prevents any problems associated with movement).
Step #9 Last, we can install the pool fence around your fiberglass swimming pool to secure the area and make it safe for everyone.
The total installation process takes on average from 2-4 weeks (possibly up to 6) to complete, depending on the weather and scheduling, but you'll likely have your pool in the ground and full of water by day two.
One thing to note is that all swimming pool installations are messy, and fiberglass pools are no exception. However, the installation process is a lot quicker, so you can get your yard back in order within a few weeks (as opposed to several months).
When Can I Install a Fiberglass Pool?
If you're asking when is the best time to install a fiberglass pool, we can tell you from experience that fiberglass pools can be installed any time of the year, no matter where you live.
Not all seasons are the same, though, and every season comes with its benefits. In the fall, the weather is ideal, there is no rush to complete the pool, you still have time to plant your landscaping, and you might even get some off-season discounts.
Winter offers many of these benefits, but you'll have to wait until spring to do your planting and you might experience a few more delays due to weather.
Overall, spring and summer are great times to install a fiberglass swimming pool thanks to milder weather, but you'll be competing with everyone else (these are the busiest seasons for pool builders!). You might also have less time to actually use your pool before the summer ends, depending on when construction starts.
Can You Build an Above Ground Fiberglass Pool?
For a range of reasons (rock, ground water, etc.), some people may be unable to install a pool in the ground. Others prefer the look of an above ground pool with a wrap around deck. In any case, if you want your fiberglass pool to be installed above ground, we can make it happen! There are just a few key things that we need to do first:
We increase the thickness of the pool so that the pool shell can withstand pressure on its own

We build custom support ribs all around the sides of the pool for additional strength and stability

We modify your existing deck to fit around the pool, or we build a new deck in lieu of coping and patio
Watch this video to see a full explanation of how we build above ground fiberglass pools:
DIY Fiberglass Pool...Can It Be Done?
The short answer: Of course!
The long answer: If you have never installed a fiberglass swimming pool and don't have someone who installs fiberglass pools to help you, don't try this at home.
Sure, the pool is already made, and yes, all you have to do is put it in the ground, but there is a lot more that goes into it than that. To start, it is extremely important that your fiberglass pool is level when it's placed in the ground. This can take a couple of tries even for experienced installers and can be very challenging for DIYers.
If you're a novice pool installer, you could also risk damaging your pool during the installation, and these damages will likely not be covered by the warranty. Unless you install the pool according to the manufacturer's instructions, as professional pool builders do, you will risk voiding your warranty.
If you still want to go ahead and plan on installing your fiberglass pool at home on your own, be sure to watch the video below to learn how it's done the right way.
To help you out, here are a few key DIY fiberglass pool mistakes to avoid:
Underestimating the cost: Be careful not to overlook any costs of installing your pool if you want to stay within budget.
Not carefully reviewing the warranty: Before going the DIY route, you need to learn how a DIY installation can affect the warranty on your pool shell.
Doing the concrete decking and cantilevered coping incorrectly: Coping, in particular, can be very tricky! Be sure to check the references of whoever is doing the coping on your fiberglass pool to make sure they have experience in this area.
Not scheduling your installation at the right time: You need to make sure that you're going to have a 24-hour window to install the pool shell, pour the backfill, fill the pool, and install the plumbing. Be wary of bad weather, and avoid starting this process if rain or freezing temperatures are predicted.
Not thinking about water runoff and drainage: It's critical that you consider how and where the water runoff can go and how it will be drained from your property. If you don't have much experience with building pools, be sure to consult with a professional about this point.
How Much Does a Fiberglass Pool Cost?
The question of fiberglass pool cost is a pretty important subject for most inground pool shoppers. The truth is there are a lot of factors that will determine your final fiberglass pool price, including the terrain of your yard, the size of your swimming pool, and the add-ons that you want.
While we can't say what kind of issues or needs your yard will have without speaking to you or visiting your property (e.g. retaining walls, ground water, etc.), we can help you figure out how much you can expect to pay for your fiberglass pool plus all of your favorite features.
To give you a basic cost estimate, you can expect most fiberglass inground pool prices to start at $30,000 on the low end and go all the way up to $85,000 or more on the upper end. We've even had clients pay over $100,000 for their fully finished yards, which include our biggest fiberglass pools plus water features, spas, and more.
Keep in mind that the cost will also be affected by the installation package that you choose and any add-ons that you add to your project, like landscaping, fountains, and fencing.
If you're interested in learning about how much swimming pools cost based on their dimensions, check out our article on inground pool cost by size. It explores all three inground pool types and can help you decide which pool size will work best with your budget.
You can also read our extensive guide on fiberglass pool cost and try out our free fiberglass pool cost calculator below.
---

Want to see about how much that cost will be with all your favorite pool accessories?
Use our Design and Price Tool to walk through your options and approximate price!
---
Planning on getting a pool loan? Wondering what your monthly payment will be? We know that you might have a monthly budget in mind while shopping for your inground pool, so we put together a monthly pool payment infographic and article to help you get a better sense of what your pool payments will look like.
What Does Fiberglass Pool Maintenance Include?
If you're looking to buy an inground pool, there's a very high chance that you're concerned about the type of maintenance that your pool is going to need. After all, you probably don't want to invest thousands of dollars in something that's going to have you spending more time scrubbing the pool than swimming in it.
Luckily, with a fiberglass pool, you won't have that problem.
Fiberglass pools are the easiest to maintain, thanks to the smooth gelcoat surface. Algae won't be an issue for you either, and you won't have to worry about acid washing the pool or changing the vinyl pool liner every few years.
To give you a better idea of what to expect as a fiberglass pool owner, here's a quick list of maintenance activities:
Clean the pool regularly (this may include fishing out leaves with a net, vacuuming, or cleaning it with a damp rag). Caution: don't use any harsh cleaning chemicals not made for fiberglass pools. What you need for a concrete pool is not necessary for a fiberglass pool.
Regularly check your pool water chemistry and add chemicals to maintain the proper levels.

Run your swimming pool filter (at least one circulation per day).

Maintain your water level and keep it at least ½ to ¾ of the way up the skimmer at all times. Warning:

Never drain your pool without first consulting with a pro!
Want to learn more? Check out these articles all about fiberglass pool maintenance:
What Maintenance Does a Fiberglass Pool Need?
Inground Swimming Pool Maintenance Costs: Chemicals, Electricity, and More
How Much Time Does It Really Take to Maintain a Fiberglass Pool?
Do Fiberglass Pools Ever Need to be Resurfaced?
Here's one of the big questions that we get from customers and pool shoppers. The answer is maybe eventually, but not necessarily.
You see, the gelcoat on a fiberglass pool is the most durable pool surface that you can find, lasting several decades or longer. It's not uncommon for the gelcoat to last the entire lifespan of the pool, but this can depend on both where your pool came from and how you treat it.
If you get your pool from a reputable manufacturer who uses high-quality materials, your gelcoat will last many, many years (we're talking at least 20 to 30 years before it needs to be resurfaced).
If, however, you buy your pool from a manufacturer that uses low-grade or diluted materials, you can expect to need to resurface your fiberglass pool sooner.
Even if you get the best fiberglass swimming pool available, you can still wear down the gelcoat by not maintaining it properly. This can usually either happen by not using the appropriate pool cleaners or not consistently maintaining your pool chemistry as you should.

How to Resurface a Fiberglass Swimming Pool
In the event that your fiberglass pool needs to be refinished, we typically recommend a resurfacing option like ecoFINISH. This is a polyethylene powder coating that cures instantly and provides a protective surface that's unlike other refinishing solutions out there.
You might be wondering why we wouldn't just spray on another layer of gelcoat so that your pool surface can last another 30 years. The problem with this is that it takes a long time for the gelcoat to cure, and it would be nearly impossible to do this right with your pool in the ground and exposed to the elements.
You can read our guide on resurfacing fiberglass pools to learn more about how this works.
Fiberglass Pool Designs
There are a few things that you need to know about fiberglass pool designs:
#1 They are pre-molded, meaning you can't design your own pool from scratch
#2 They have size and depth limits so that they can be transported to your home
#3 Most designs will come in a range of sizes and depths
The first decision that you have to make when it comes to your fiberglass pool design is whether you want it to be freeform or rectangular. A freeform pool is basically a pool that has organic curves as opposed to having a straight, geometric shape. Here is an example of our C Series freeform fiberglass pool: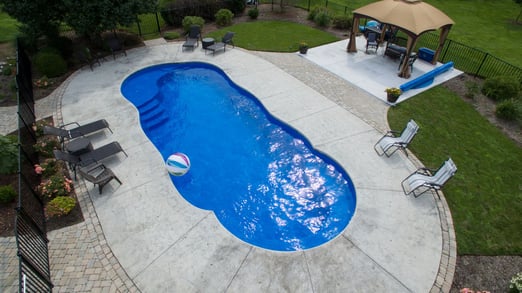 For comparison, here's one of our rectangular pools from our R Series: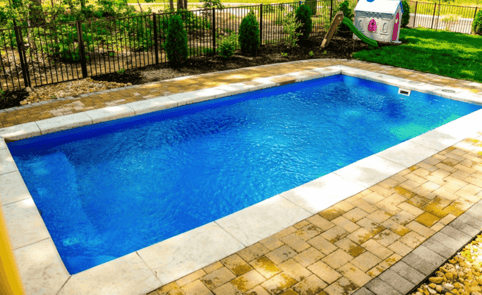 Can You Customize a Fiberglass Pool?
Some people say that you can't customize a fiberglass pool, but actually...you can! While you can't design a whole new shape or change the depth of your fiberglass pool, there are many ways to customize it and make it your own.
To start, you get to choose the color that you want your fiberglass pool to be. Every manufacturer is different, but most will provide shades of blue, white, black, and sandstone. At River Pools we offer light blues, dark blue, grey, black, white, and sandstone, as shown below.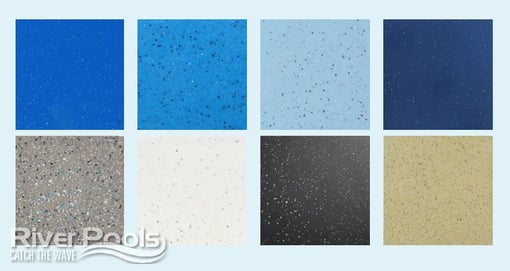 You can also add on a separate tanning ledge (also known as a baja shelf or tanning shelf) to the side of your chosen pool design, if it doesn't already have one built in. A tanning ledge can also be customized with bubblers, lights, and even a waterfall (the tanning ledge needs to be installed separately to get the waterfall effect).
If you don't want a tanning ledge, but you still want some type of water feature on the side of your pool, you can still install a wet deck, a waterfall, or fountains to make your pool space much more relaxing.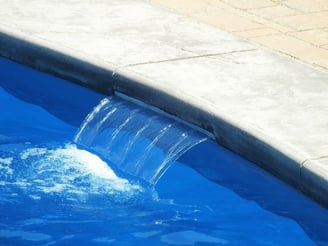 The vast majority of pools are installed with lights, but you can customize your lights if you want an upgrade or even lights that can change colors. People also often install jets around benches and other seating areas inside the swimming pool.
Some other fiberglass pool customization options include:
Finally, here are some related articles to explore if you want to learn more about fiberglass pool designs:
What Are the Best Fiberglass Pool Shapes?
What Are the Biggest and Smallest Sizes for Fiberglass Pools?
What is the Best Rectangular Fiberglass Pool Design?
Fiberglass Swimming Pool Dos and Don'ts
To wrap up this guide on fiberglass swimming pools, we put together a list of fiberglass pool dos and don'ts that every fiberglass pool owner should know.
These things are essential to the health of your pool, and no matter which fiberglass pool manufacturer you buy from, we want to make sure that you leave here aware of these key rules so that you can have the best ownership experience possible:
Do maintain your pool's water chemistry. This requires that you develop a consistent routine of checking and balancing the chemicals (about once per week) and log your test readings.
Do clean your swimming pool and keep it free of dirt and debris. This will help to prevent stains and support balanced water chemistry. Robotic pool cleaners are perfect for this.
Do maintain the water levels in your pool (it should always be at least half way up the skimmer).
Don't let the water level drop down too much. You need the water to support the weight of the pool and to balance any hydrostatic pressure.
Don't scrape the sides of your pool with sharp objects. While you don't have to worry about your dog's claws, it's a good idea to try not to compromise your pool's surface with any sharp metal objects.
Don't ever drain your fiberglass pool. As we said, the water supports the weight of the pool and it's not a good idea to remove that support. If you think you need to drain your pool, you need to understand what could happen and why it should only be done by a professional.
We hope that this guide has helped you learn the basics of fiberglass swimming pool manufacturing, installation, and ownership. You might be finishing this article with even more questions than when you started, so feel free to leave a comment below or reach out to us with your questions.
You can also check out our learning center for more videos and articles, and browse our fiberglass pool gallery to see what a fiberglass pool might look like in your yard. Happy swimming!
Up Next:
Fiberglass Pool Basics: Pros, Cons, and How They're Made
Fiberglass FAQ: 14 Most Common Questions about Fiberglass Pools
What Is the Life Expectancy of a Fiberglass Pool?