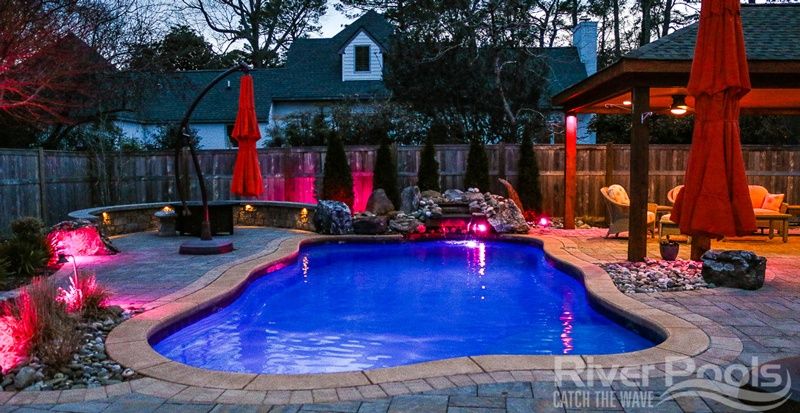 Subscribe
What Are the Best Fiberglass Pool Shapes?
Fiberglass Pool Information | Swimming Pool Design
We can all admit that, back in the day, fiberglass pools used to be a bit of an eyesore. But science is an amazing thing: the technology has developed so that not only are these pools now gorgeous, but you can find the exact design and accessories to create your dream backyard.
We at River Pools take nigh-parental joy in creating fiberglass pool shapes and designs to fit all kinds of needs.
Disclaimer: The shape and size of fiberglass pools can't be customized the way concrete or vinyl liner pools can. A, they're built from existing molds, rather than from scratch. B, they have to be 16 ft by 40 ft or smaller, since they travel via highway to get to your house. It's sad, I know.
However, that's not to say you have no choices!
There are plenty of options available, and every fiberglass pool manufacturer produces different designs. Most people are able to find a fiberglass pool design that they love and that fits their needs.
What are the best fiberglass pool shapes?
Most fiberglass pool shapes fall into one of these categories:
Freeform

Kidney

Rectangular

Roman
Freeform fiberglass pool designs
The most basic explanation of a freeform pool shape is that it's not linear. Hence the name "free form."
This pool shape isn't modeled to look like something, per se. Most are lagoon-ish, if anything. It has a fun, modern feel—easy and relaxed.
You know the universal splashy-looking shape that people draw? That's what many freeform fiberglass pools look like.
Some designs have more dramatic curves, which can be fun to look at. (Keep in mind, though, that dramatic curves require bigger empty spaces between the curves, which cuts into your usable swim space.)
River Pools' freeform fiberglass pool designs
C Series
The C Series design is available as 35 or 40 ft. long.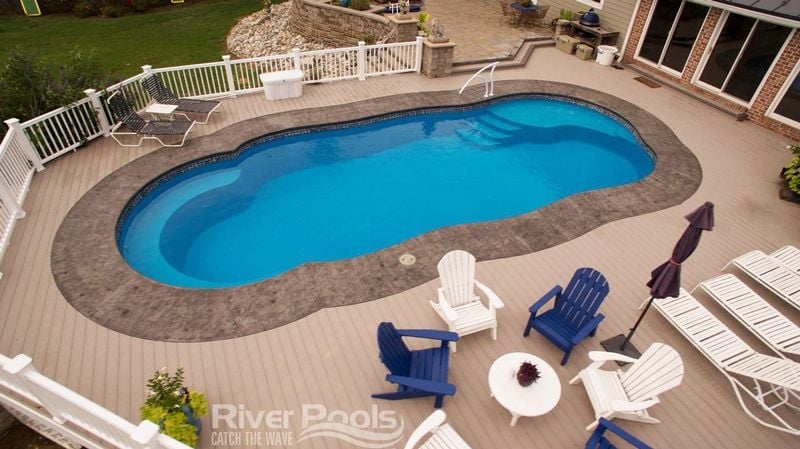 Its crescent-moon tanning ledge and long bench seat offer great viewpoints to socialize and think about how cool your freeform pool looks.
I Series
The I Series design comes in two sizes: 12x25 ft. and 14x30 ft.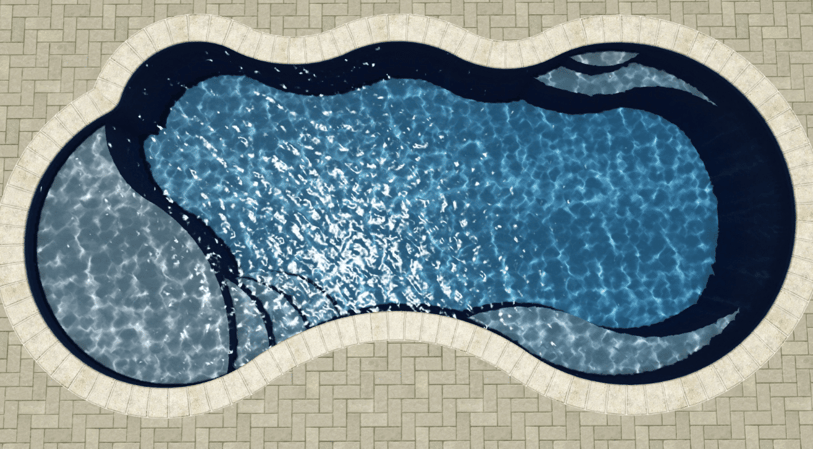 Both sizes feature a tanning ledge, deep-end bench seating, multiple entry points, and a spacious open interior. The I25s also features a spa built into the design and is perfect for people who want both a pool and spa but don't have the space.
Kidney fiberglass pool designs
The kidney shape is a variant of freeform pools in that it's not linear.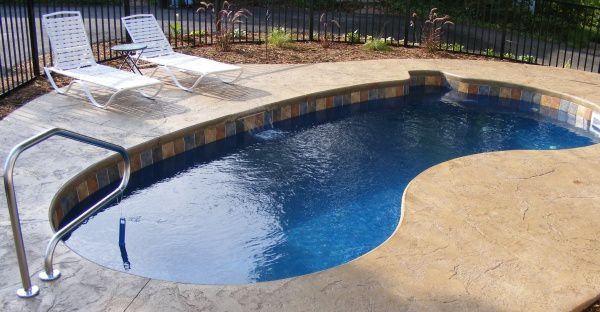 However, it doesn't look splashy so much as...like a kidney. Wild.
The asymmetry and lack of sharp lines gives this shape a chill, modern vibe, without looking as "active" as the typical freeform.
Some manufacturers use this shape to clearly distinguish between the shallow and deep ends.
Sad note: it can be difficult to fit a pool cover to a kidney shape.
Linear fiberglass pool designs
Instead of freeform curves, linear fiberglass pools are shaped with, well, lines. Usually a rectangle.
The linear pool shape is classic: it's likely the default shape you picture when thinking about a pool. It's also your best bet if you plan to use the pool primarily for exercise.
Bonus: it's super easy to fit a pool cover to this shape.
At River Pools, we offer several rectangular pool options, each with different features, so that you can find the one that best suits your needs.
River Pools' linear fiberglass pool designs
R Series
The R Series has one set of cake-style steps in a corner of the shallow end. The long, curvy bench seat extends from there across the entire width of the shallow end.
Down in the deep end, it offers a place to chill out.
The 40-, 36-, 32- and 28-ft. sizes have a bench seat on both corners.
The smaller 24- and 20-ft sizes each have a single, longer bench seat in one corner.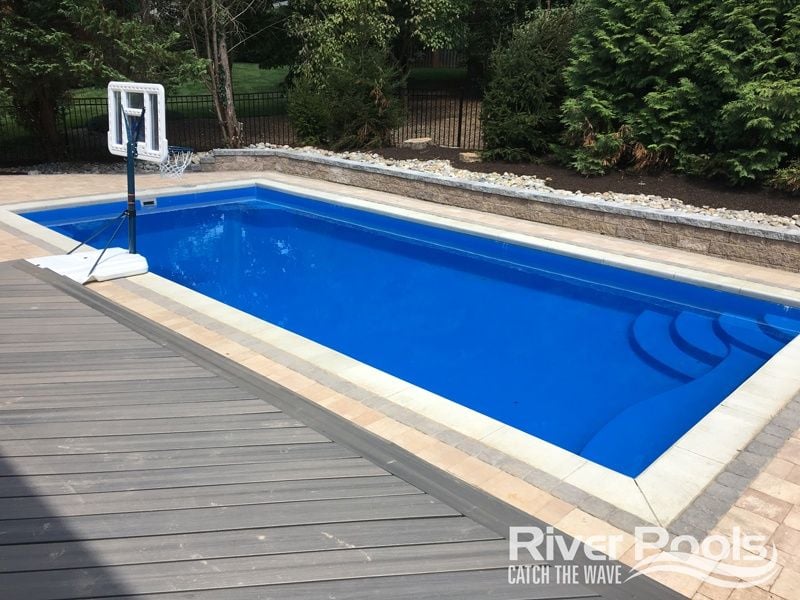 D Series
The D Series features a tanning ledge in the shallow end, and the steps swirl down from there.
Like the R Series, the D Series has seating in the deep end:
The 40-, 36-, 32- and 28-ft. sizes have a bench seat on both corners.
The 24-ft size has a single, longer bench seat in one corner.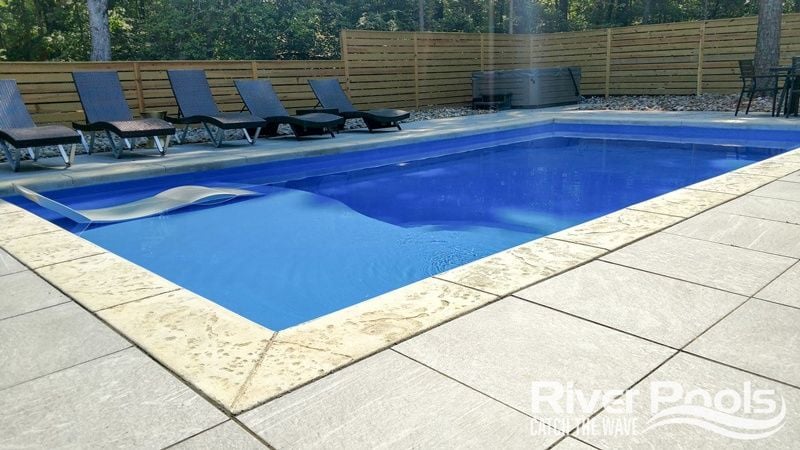 That tanning ledge is good for people and dogs, by the way.
When I fostered a Redbone Coonhound puppy, I would've killed to let him play in a D Series fiberglass pool. He was all legs and all energy. I could've let him play on the tanning ledge and then run to the deep end for 5 seconds of peace on a bench seat.
T Series
The T40 is the largest fiberglass pool that we offer at 16 feet wide and 40 feet long. It's also our deepest pool at 8'6" deep.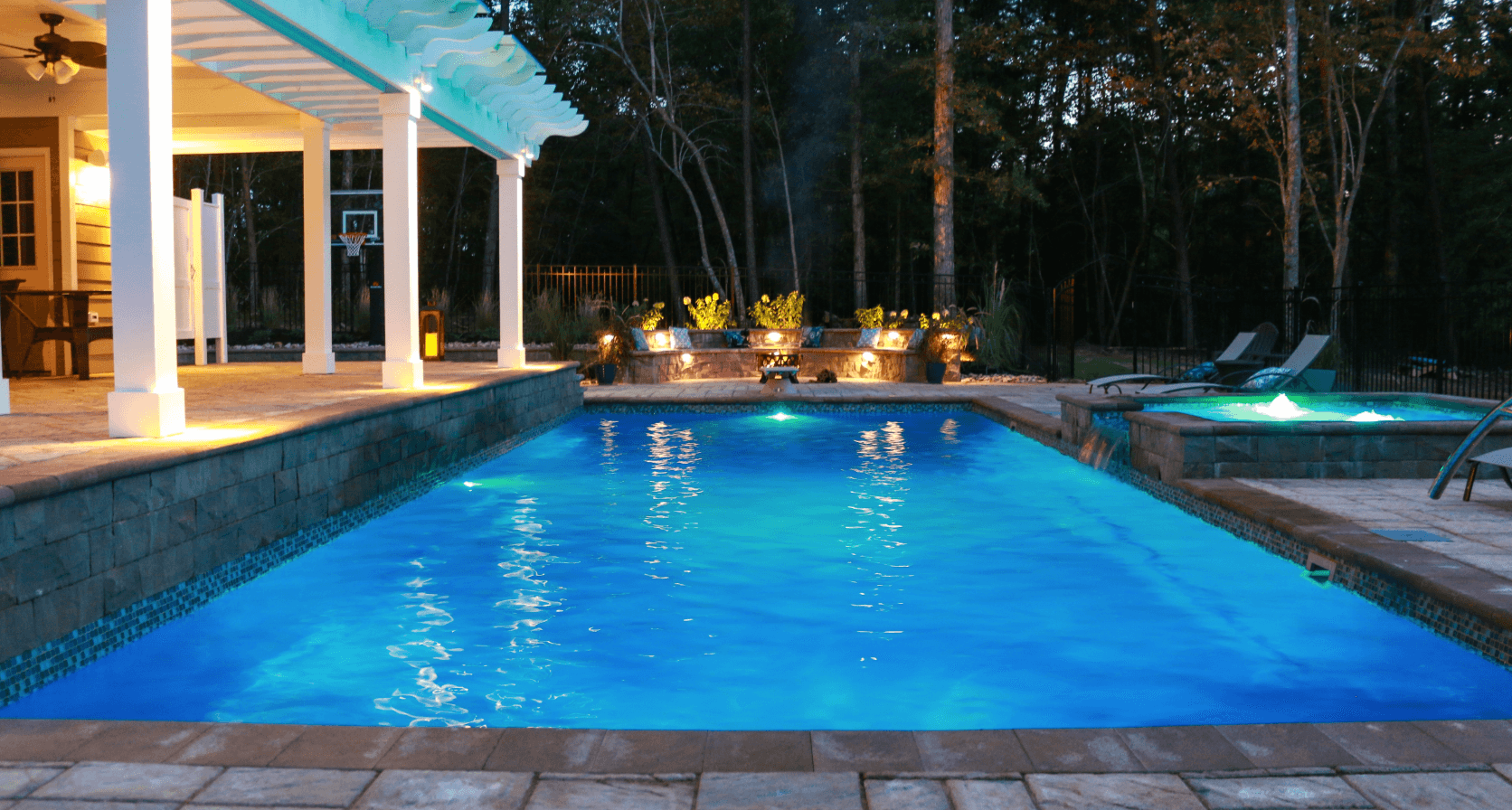 The T40 has plenty of room for everyone in the family with a spacious shallow-end, an open pool interior, deep-end seats, and a large shallow-end bench seat.
Roman fiberglass pool designs
Roman-style fiberglass pool designs are sort of linear. They look rectangular—but the shorter ends are arched half-circles in the style of the Villa dei Papyrei.
Yeah. That's right. We're bringing up Pompeii.
This fiberglass pool design looks fancy—somehow both modern and historical.
River Pools' Roman-end fiberglass pool design
The L36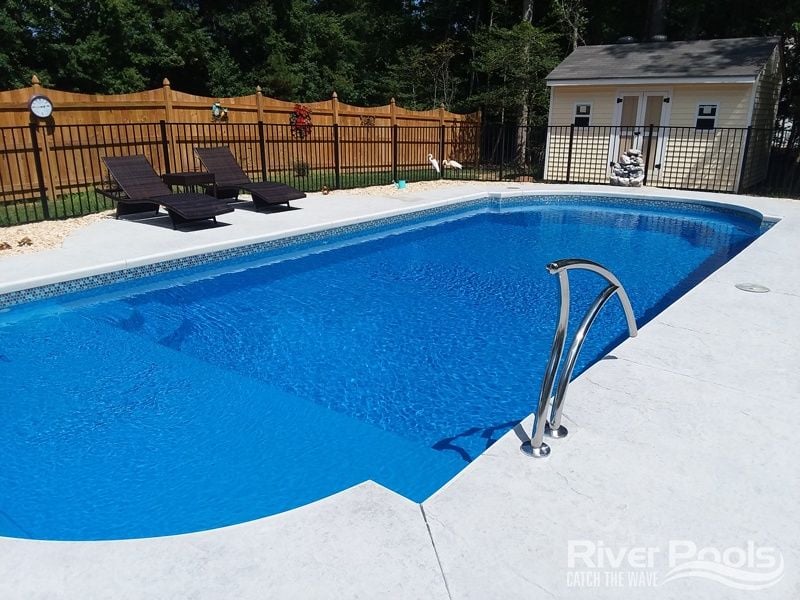 Our 36-foot L36 model includes a tanning ledge on the shallow end.
For me, that's where I'd read The History of the Decline and Fall of the Roman Empire and contemplate whether or not I have enough marble columns along the patio. (I value commitment to theme.)
There's also a looong bench seat inside the deep-end arch, which is where I'd put any relatives who tried to interrupt my light summer reading.
How do I pick the fiberglass pool that's best for me?
Once you have a general pool shape in mind, it's time to vet potential manufacturers! Interview them thoroughly, call up their references, and make sure they make their pools the right way.
Read the warranties and talk to each pool builder about it; the warranty reflects how confident they are about the product.
Based near Richmond, VA, River Pools manufactures and installs fiberglass pools both locally and across the United States through our dealers.
Take a closer look at our pool designs, and get in touch with us if you'd like to learn more. We're happy to hear from you!
Up Next:
Small Inground Pools: Sizes, Shapes, Cost, Pros, & Cons
What's the Best Small Fiberglass Pool for Your Needs? Costs, Sizes, Features
---
Editor's note: This blog article was updated on December 18, 2019.