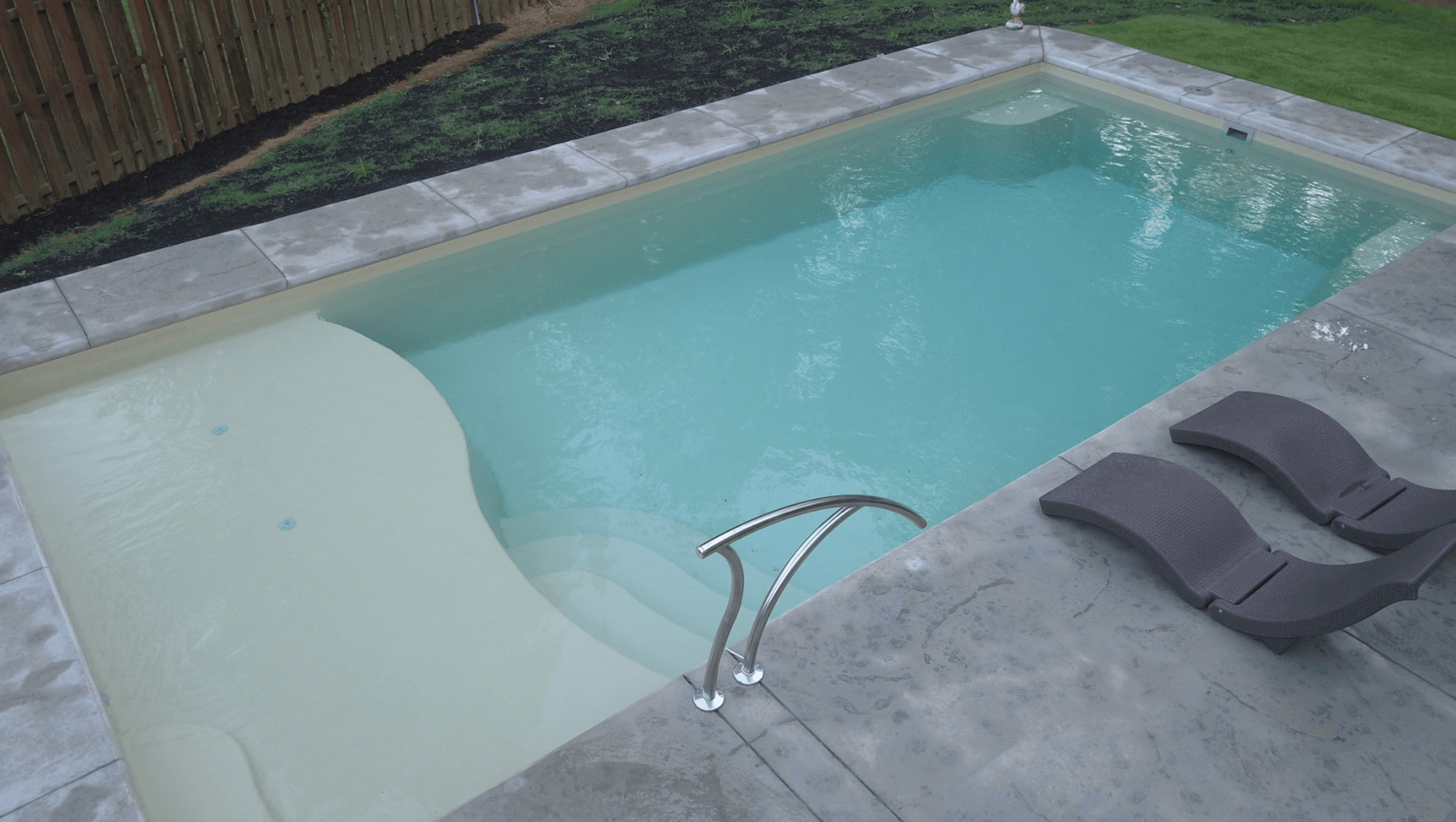 Subscribe
What's the Best Small Fiberglass Pool for Your Needs? Costs, Sizes, Features
Fiberglass Pool Information | Cost and Pricing
Having your own swimming pool is a dream that should be within reach, regardless of yard size or budget. Of course, we know a swimming pool is a big investment, but we also know it will provide years and years of use and countless hours of fun for the family -- if not for your whole neighborhood.
So, what if you dream of owning a durable, low-maintenance inground fiberglass pool, but you have a low budget or a tiny yard?
Since we at River Pools manufacture fiberglass pools of all sizes and shapes, we'll explain some of your options in terms of cost, size, and function.
We hope that by the end of this article, you'll have a better sense of how much your pool will cost and whether fiberglass is the right pool type for your needs.
Let's start off by exploring some fiberglass pool sizes.
Small Fiberglass Pool Sizes
Fiberglass pools come in a wide range of sizes from 10x20 foot pools to 16x40 foot pools. Some of them are around the same size as a cocktail pool, or maybe a little bit larger.
For example, the smallest size that we have to offer is the R20, which is 10 feet wide and 20 feet long. This swimming pool has bench seats on both ends of the pool and a spacious open interior.
The next smallest size that we offer is a 12x24 foot swimming pool.
Since we have a variety of shapes that come in this size, we'll jump right into talking about the design options that you'll have if you want a fiberglass pool in this size range.
Small Fiberglass Pool Shapes
Typically, when it comes to choosing a fiberglass pool shape, you'll get to choose between a rectangular pool or a freeform pool.
Keep in mind that since fiberglass pools are made in a manufacturing plant from a mold, you won't be able to customize the shape or make any alterations to the design.
Small freeform fiberglass pools
If you want a small fiberglass pool shell with a freeform design, you're going to have a wide range to choose from across all fiberglass pool manufacturers (see our list of the top ten fiberglass pool manufacturers).
The smallest freeform design that you'll find at River Pools is the I series pool.
The I25 is 12 feet wide and 25 feet long and 5'2" at the deepest. It also offers a tanning ledge and deep end bench seating on both sides of the pool. The I25s features an additional built-in spa, making it great for homeowners who want both a pool and a spa but have very little space.

Fiberglass pool with tanning ledge
Small rectangular fiberglass pools
One great thing about rectangular pools is that they are automatic cover friendly.
The rectangular shape makes it simple to add an automatic pool cover with hidden and protected tracks underneath the pool coping so that no one will know that it's there.
Our R series design is one example of a rectangular swimming pool with bench seats on both ends and plenty of space for swimming laps (20-24 feet or more, depending on the size you choose).
The R20 can also suit your needs if you're looking for a fiberglass cocktail pool or a fiberglass plunge pool (plunge pools are small pools that are usually at least 4 to 5 feet deep).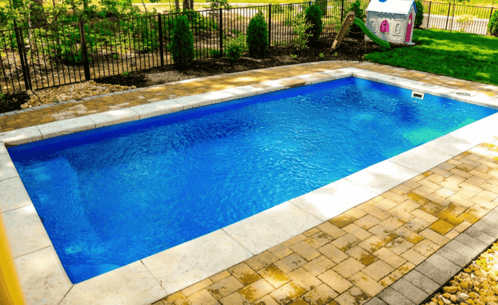 Fiberglass pool with seats
Our D Series pools offer a second rectangular 12x24 model that features deep end bench seating and a spacious tanning ledge with plenty of room for your favorite in-pool furniture.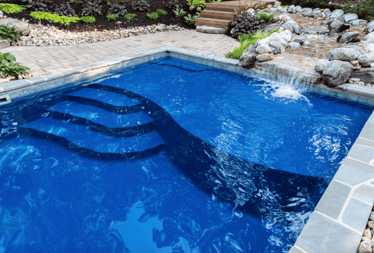 Fiberglass pool with tanning ledge and seating
Want to start pricing out your pool project? Our Design and Price tool allows you to customize your project with any of our available models. Just click the button below:
What's the best small fiberglass pool for exercise?
Your laps may be a bit shorter, but you can get in a good exercise in just about any small swimming pool, as long as it's the right shape.
We think a rectangular pool can offer the most swim space for laps, especially one that doesn't have a tanning ledge built-in.
Take our D24 fiberglass pool with the tanning ledge spanning all the way across. It's great for swimming, playing, and relaxing, but the R24 offers a little bit more space for laps because it doesn't use any of the square footage on a tanning ledge.
Choosing a model like this can maximize your space for exercise without having to upgrade to a larger size.
(If you think that you might want a narrower and longer lap pool that's still budget-friendly, you might want to look into a shipping container pool.)
What's the best small fiberglass pool for social gatherings?
If you're looking for a fiberglass pool that's exclusively for hanging out with friends or that provides the most diverse entertainment space for your family, you might want to consider a pool like our I25s (remember the one with the tanning ledge, bench seating, and built-in spa?).
If you want a small fiberglass pool that's going to offer multiple entertainment options from reading in the pool to playing games to relaxing in a spa, look for a fiberglass pool that has these types of features.
If you don't want the built-in spa, you may still want to consider a model with bench seating and a built-in tanning ledge, like our D24, to make your pool more versatile for everyone.
How deep are small fiberglass pools?
Typically a small fiberglass pool that is no more than 12 feet wide and 24 feet long will be a little bit more than five feet deep. For example, our R20 (10x20) swimming pool is 5'2" deep, and our D24 (12x24) swimming pool is 5'3" deep.
Keep in mind that small fiberglass pool depths also vary by manufacturer, model, and size. Be sure to ask the manufacturer for the exact dimensions of each model to compare and decide what's right for you.
How much does a small fiberglass pool cost?
Depending on where you live, your yard, and the installation package that you choose, your small inground fiberglass pool might cost between $30,000 to $50,000 and up.
The more features you choose and the more work your yard needs to accommodate an inground pool, the more you can expect to pay.
Keep in mind that things like coping and patio can also add to the cost of your project, depending on the materials that you want.
Small fiberglass pool prices also vary by manufacturer, so you can shop around to find the best quality pool in your price range.
We want to emphasize quality here, and we don't recommend that you choose your fiberglass pool based on price alone.
Make sure to do some research on the manufacturing process of your pool before you buy and ask questions about the warranty, the quality of the building materials, and anything else you may have concerns about.
How much space do I need to install a small fiberglass pool?
To start, you're going to need the space for the pool itself, which will probably be between 10x20 feet and 12x24 feet for a small pool.
You also need to consider the space that you will need to walk around your pool as well as the patio area that goes next to it.
To give you an idea of the patio space requirements for an inground pool, most people want between 600 and 900 square feet of patio space next to and around their swimming pools.
Also, it's important to consider any setback rules that apply to your property.
For example, you may be required to keep your pool at least 5 feet away from your property line, so this will be an important factor when choosing your inground pool placement.
You can check with your city or county development services to find out your area's setback rules.
See your first steps to getting an inground pool here.
How long does it take to install a small fiberglass pool?
One great thing about fiberglass pool installations - they're lightning fast.
Okay, maybe not that fast, but they are much quicker to finish than any other inground pool. In fact, your pool will be in the ground and full of water within as little as two days.
To give you a better idea of the small fiberglass pool installation timeline, you can expect your fiberglass pool project to be 100% completed within 2 to 4 weeks.
In comparison, vinyl liner pools take 4-8 weeks to install, and concrete pools take 3-6 months to build.
You can read more about fiberglass pool installations here.
Where can I get a small fiberglass pool?
If a small fiberglass pool sounds like the right fit for you, feel free to take a look at our catalog of models to see what kinds of options you'll have in terms of shapes, sizes, and features.
If you're interested in learning more about the cost of a fiberglass pool, you can try out our pool pricing calculator below or contact us to get the most accurate quote for your pool project.
---

Want to see about how much that cost will be with all your favorite pool accessories?
Use our Design and Price Tool to walk through your options and approximate price!
---
At River Pools, we manufacture and install world-class fiberglass pools for customers across North America. If you want to learn more about how to get started on your journey to a fiberglass swimming pool, be sure to download your free ebook below. If you have any questions at all, feel free to leave us a comment, and we will get back to you as soon as possible.
Up Next:
Fiberglass Swimming Pools 101: Manufacturing, Cost, and More
Should You Buy a Fiberglass Pool? (Infographic)

What Can You Expect From a Fiberglass Pool Kit?