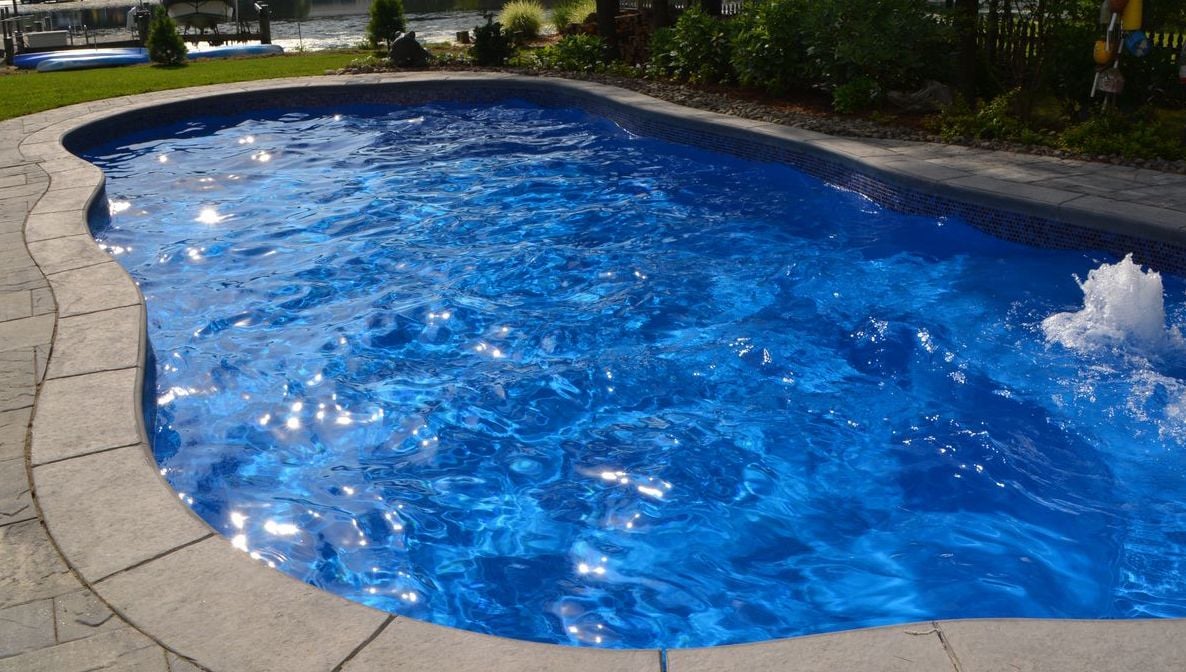 Subscribe
Should You Buy a Fiberglass Pool? (Infographic)
Fiberglass Pool Information | Swimming Pool FAQs
Have you been contemplating getting a fiberglass pool?
Maybe you've already explored the pros and cons of going with fiberglass and have compared it to other inground pool options, or maybe you already know that you like fiberglass, but you're still not 100% sure.
If you have any reservations about getting a fiberglass pool, we're here to help you out.
At River Pools, we're experts at manufacturing and installing fiberglass pools, and we know how they differ from other types of inground pools as well as their key strengths and weaknesses.
We put together this simple infographic to help you decide whether fiberglass really is a good fit for you and which other options may suit you better if it's not.
Follow the arrows to find out!

Fiberglass Pool Maintenance
Between concrete, vinyl liner, and fiberglass pools, fiberglass pools are by far the easiest and cheapest to maintain. Vinyl liners need to be replaced about every 5-9 years and concrete pools need to be resurfaced about every 10 years.
You don't have to worry about resurfacing your fiberglass pool if your pool is made and maintained well. Want to learn more about inground pool maintenance costs? You can read all about the cost to maintain your inground pool here.
How Wide Can a Fiberglass Pool Be?
Because fiberglass pools are manufactured in a controlled facility and transported to your home, they generally can't be more than 16 feet wide. This is usually wide enough for most pool shoppers, so it probably won't be an issue for you unless you need a specific shape or size that isn't already available in fiberglass form.
At River Pools, we have pools of wide ranging shapes, lengths, and depths. Take our T40 Model which is 40 feet long,16 feet wide, and 8'6" deep.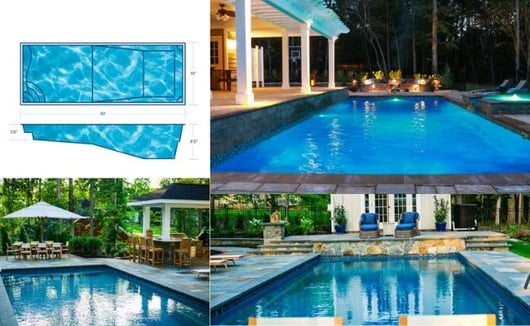 What Fiberglass Pool Shapes Can I Choose From?
While you won't be able to design the shape of your fiberglass pool like you can with concrete, you will have a variety of options to choose from. Not being able to design your swimming pool's shape can be a drawback if you need something specific, like a star or a palm tree, but there's a reason why most pools stick to certain types of shapes.
These shapes are practical and they provide plenty of space for swimming and playing in all zones of the pool. Whether you like freeform or rectangular pools, it's likely that you can find a fiberglass pool shape that suits your needs.
Take a look at some of our pool models below to explore your options: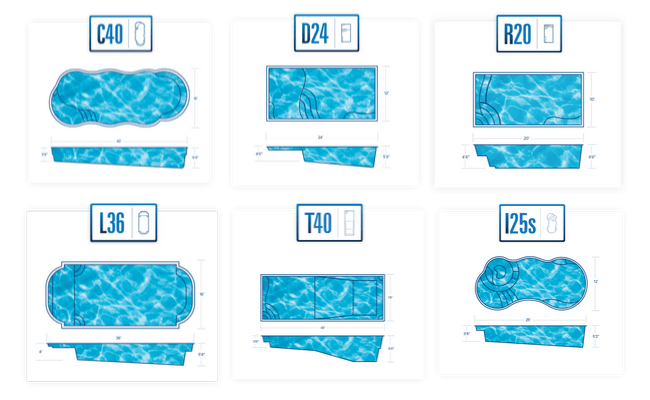 Our fiberglass pool models all come in multiple sizes with the exception of the L Series and the T Series
Another advantage of choosing a fiberglass pool is that most models come with popular features already built-in and at no additional cost. These include tanning ledges, benches, and even spas (our I25s has all three!).
With a concrete or vinyl liner pool, adding these features in usually adds to the cost and time that it takes to build the pool.
How Long Does It Take to Install a Fiberglass Pool?
Another great thing about fiberglass pools is that they have a fast installation timeline. A fiberglass pool can be in the ground and full of water in as little as two days. Overall, you can expect to have your pool done plus the patio around it within two to four weeks. This means that you can have your pool ready for summer no matter when you decide to build it.
Want to compare the construction timelines and methods for fiberglass, vinyl liner, and concrete pools? Read our full inground pool construction guide to learn more.
How Much Does a Fiberglass Pool Cost
Standard fiberglass pool packages typically cost around $40,000 and up. These installations generally include the pool shell, delivery of the shell, full installation, and some concrete around the pool.
Turn key packages cover all aspects of the project and more, and can cost between $45,000-$85,000 and up. Want a more in-depth overview on the different types of pool packages? Read our article on fiberglass pool costs (we also have a great guide to swimming pool loans if you want to read that next).
Looking for pricing information on all inground pools? Check out this article which covers inground pool prices by type and size.
Where Can I Buy a Fiberglass Pool?
At River Pools, we manufacture and install world-class fiberglass pools for customers across North America. To get started on your journey to a fiberglass pool, contact us today to request pricing and discuss the specifics of your inground pool project with our experts.
Also, be sure to download our free ebook below for more information on how to get a high-quality fiberglass pool in your yard.
Up Next:
An Honest Look at Fiberglass Inground Pool Prices and Monthly Pool Payments in 2020
Ultimate Pool Planning Guide: 11 Things to Consider Before Installing an Inground Pool

Your Swimming Pool Color Options: Concrete, Vinyl Liner, and Fiberglass