Subscribe
What is the Best Rectangular Fiberglass Pool Design?
Fiberglass Pool Information | Pool Design Guides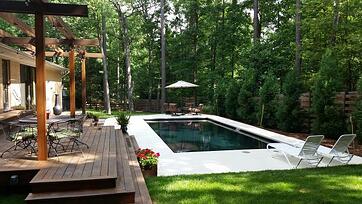 If you are in the market for a rectangular fiberglass pool, you're probably wondering which design will best meet the needs of your family.
After working with hundreds of fiberglass pool customers since 2001, we've basically found that there are five factors that influence which rectangular pool design might make one option a better fit for your family than another.
We're going to discuss each of these elements in this article, so here goes!
Rectangle Inground Fiberglass Pools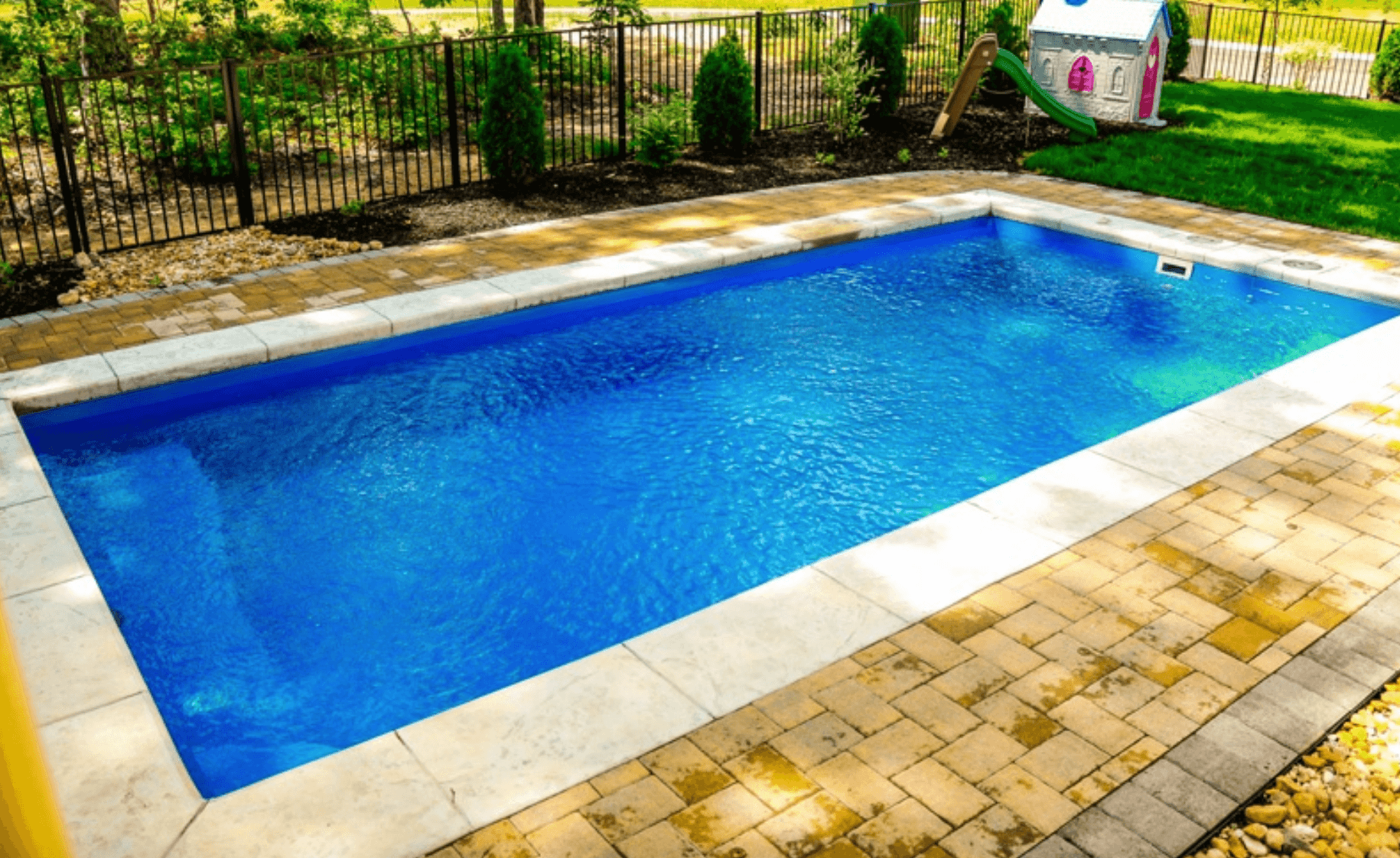 5 Key Elements of Rectangular Fiberglass Pools
Play Area

Pool Depth

Exercise and Lap Swimming

Compatibility with Automatic Covers

Step and Bench Configuration
1. Play Area
With any inground fiberglass pool, it is a good idea to consider how much of the pool area is actually usable for swim and play.
Many pools on the market, both freeform and rectangular, have a great deal of the pool interior taken up by steps, benches, and other features.
If open swim space is important to you, this will impact how much your family enjoys the pool.
2. Pool Depth
What is the perfect depth of an inground pool?
The honest answer is that it depends on how you want to use the pool.
We have found that there are basically two types of pools when it comes to depth: play pools and diving pools.
A diving pool is basically eight feet deep or more and has a diving board. It has a transitional bottom, which means it has a defined shallow end, a steep slope to the deep end, then a defined deep end. This is the only option if you want a diving board.
But when it comes to using the pool for playing games like volleyball, basketball, chicken fighting, or any other activity where people need to stand, diving pools are simply incompatible because 75% of the pool is over people's heads.
In contrast, a play pool is typically around five to five and a half feet in the deep end, has an extremely gradual slope from the shallow to deep end, and is the perfect depth for games while still allowing the kids to take a plunge (but not dive).
Based on our experience, we have found that the only thing to avoid when it comes to pool depth is a design that tries to be both a play pool and a diving pool simultaneously.
Essentially, the pool fails at both attempts because it's too shallow to dive, yet too deep to play…a lose/lose scenario.
Read more: How Deep Are Fiberglass Pools?
3. Exercise and Lap Swimming
What makes a pool great for aquatic exercise and lap swimming?
First, when it comes to lap swimming, the pool needs to be long enough. We suggest at least 30 feet in length.
Second, the swim lane needs to be free of obstructions like steps and weird angles that would prevent kicking off from either side.
Third, there are two requirements for water aerobics: enough open space and a pool depth that allows the bather to perform the exercise.
4. Compatibility with Automatic Pool Covers
All rectangular fiberglass pools do accommodate automatic pool covers but there are minor factors that make some designs a little more compatible than others.
First, because automatic covers cover a perfectly rectangular space, they form perfect ninety degree angles in the corners.
The corners of all fiberglass pools are not the same. Some have a very tight radius, close to a perfect ninety degree corner, and some have very rounded corners.
When it comes to automatic covers, the less rounded the corners of the pool the better.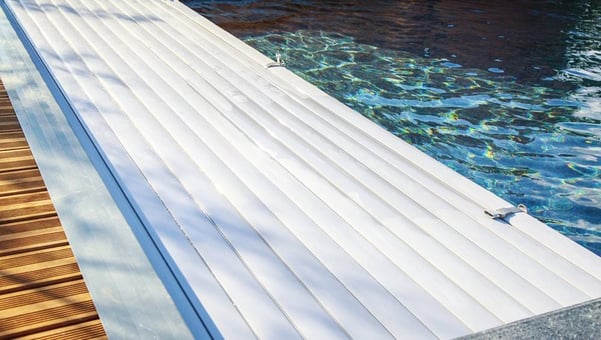 Also, pools with automatic covers need perfectly straight walls so that the cover can run unobstructed through the cover track.
As any experienced fiberglass pool installer can tell you, not all designs come from the manufacturing plant that way. Some are much better than others.
This means the installer must attempt to straighten inferior walls in the field, making the installation more difficult.
Neither of these issues are "deal breakers" when it comes to automatic pool covers on fiberglass pools, but they do make a difference.
5. Step and Bench Configuration
All fiberglass pools have steps and benches integrated into the pool and how they are designed can have a huge impact on how you enjoy your pool.
Here are some questions to ask yourself.
Regarding the steps, do I care about how much room they take up in the pool? Do I want my pool space to be taken up by steps or would I rather dedicate that space to open swim/play area? Do the steps obstruct my swim lane (if that's important to you)?
Regarding bench seating, is there enough bench seating for my family? Does it encroach into the swim/play area more than I'd like?
Rectangular Fiberglass Pool Models
At River Pools we manufacture both freeform and linear fiberglass pools which are available through our nationwide dealer network. We also install pools in Virginia and Maryland.
Take a look at our rectangular pool designs!
D Series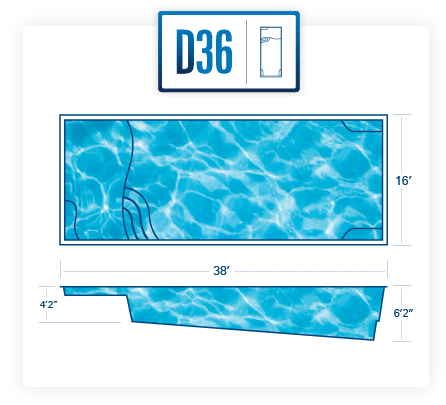 R Series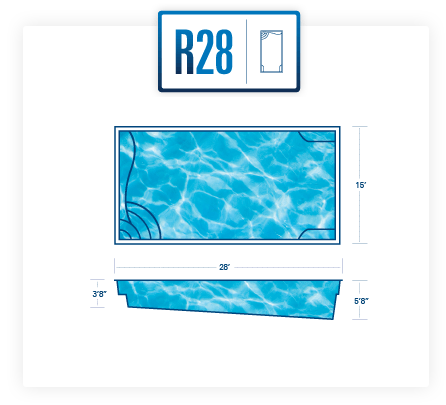 T40 model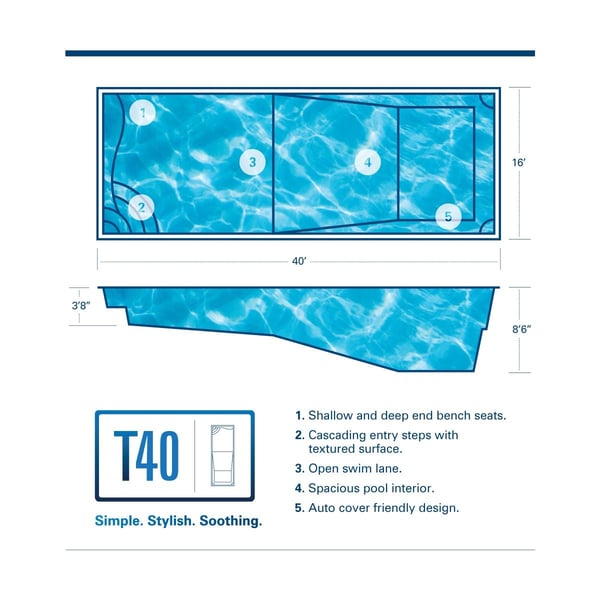 Want even more awesome information?
If so, read through our comprehensive ebook about fiberglass pools, and get in touch with us to see if this might be the right choice for you.
Up Next:
The Basics of Testing Your Inground Pool's Water Chemistry
What's the Best Small Fiberglass Pool for Your Needs? Costs, Sizes, Features
Large Fiberglass Pools FAQ: Cost, Designs, Pros and Cons
---
Editor's note: This blog article was updated on April 17, 2019.